One of the first victims of COVID-19 this year was the annual January Shooting, Hunting, Outdoors Trade (SHOT) Show. While impossible to seek out the relatively new or completely unknown hundreds of vendors who would have set up a booth at SHOT Show 2021, we queried the better-known names in the industry to ask, "What's new?" Unsurprisingly, most have something interesting that missed the trip to Las Vegas.
Bergara BMR Rifle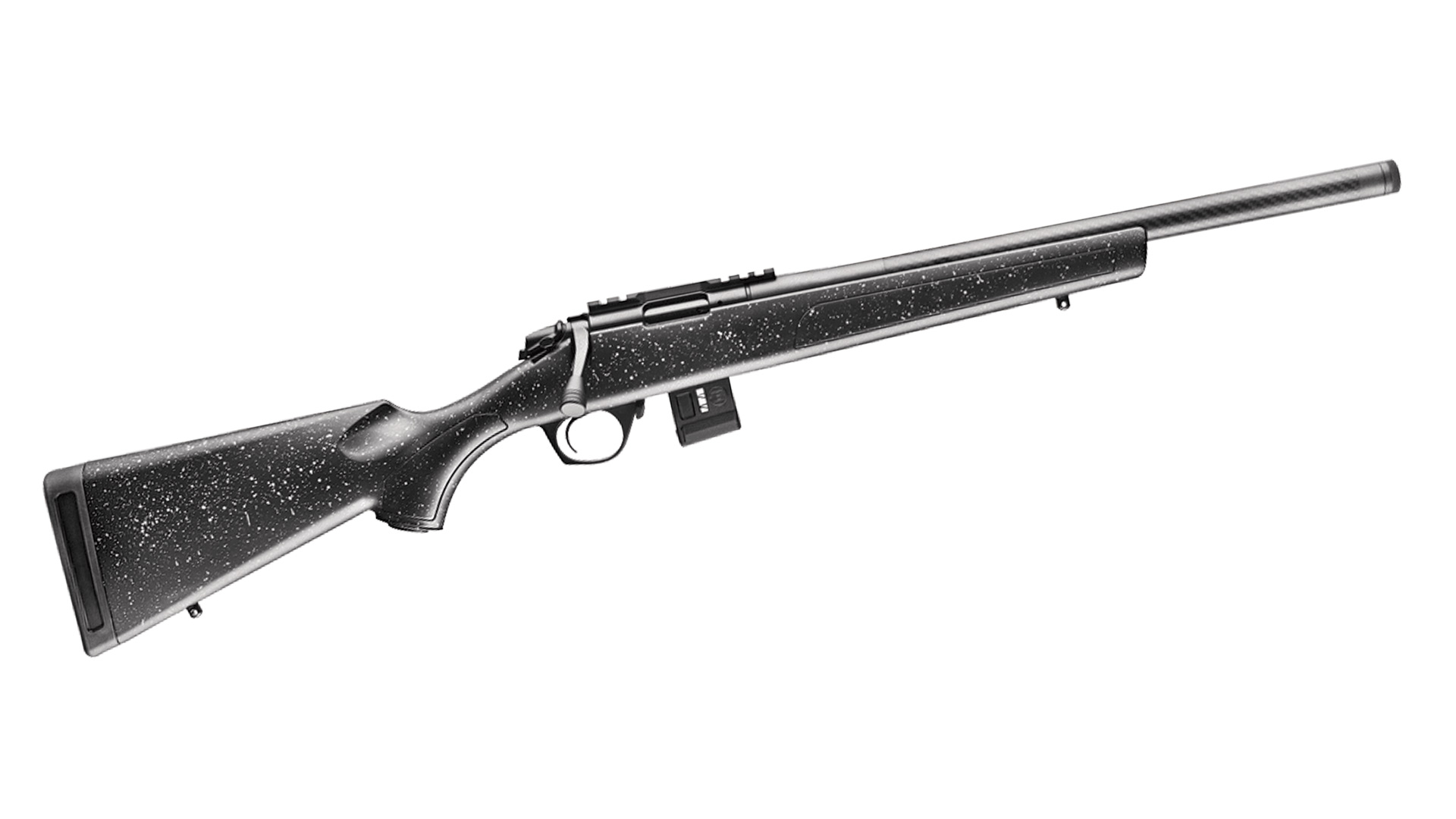 Built around the same match-grade chamber design as the popular B-14R Trainer, Bergara's new BMR (Bergara Micro Rimfire) is a feature-rich rifle that precision rimfire shooters will want to check out. The initial three BMR rifle models are chambered for .22 LR, .17 HMR and .22 WMR. Bergara says the BMR rifle fits the bill of the base class for NRL22 and precision rimfire competition. It's also lightweight, making it easier to carry in the field for small game hunting.
Two versions of the BMR rifle are available, a steel-barreled one ($565) and another with a carbon-fiber barrel ($659). As for the barrels themselves, they are 18 inches long for the .22 LR model, and 20 inches for the .17 HMR and .22 WMR. Barrel twist is 1:16-inch for  .22 LR and .22 WMR, and 1:9-inch for .17 HMR. In addition, the BMR ships with a Bergara 30-MOA rail, along with 5-round and 10-round magazines (one each).
Straight-Pull Savage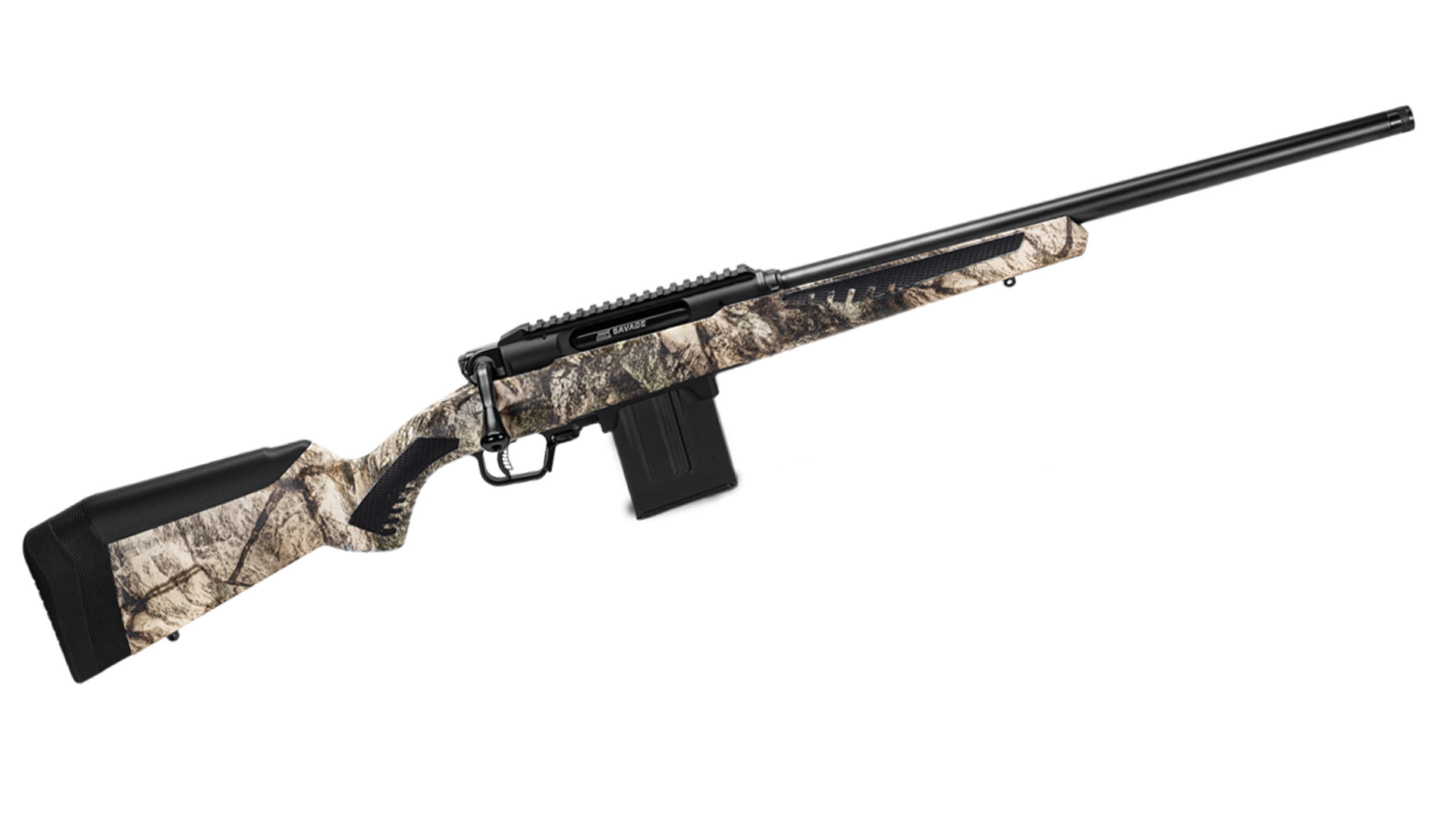 Some firearms manufacturers have elected to delay introduction of new guns in 2021. One notable exception is the Impulse Big Game rifle from Savage, a straight-pull bolt action that incorporates quite a few elements familiar to bolt-gunners into an entirely new rifle. First of note is the straight-pull action, a design that goes back to the 19th century and has been with Savage's new Hexlock system, built upon the 20th century AR-15's concept of an aluminum receiver. The bolt handle sweeps forward like on the French MAS Model 1936 bolt gun, and on the Predator series a large box magazine hangs be­low the action a la the M14 (the Hog Hunter fea­tures a detachable, flush-fit magazine). The fluted barrel attaches to the receiver and headspace is adjusted via the barrel nut as found on Savage's venerable Model 110 series. Modern elements include a 20 MOA Picatinny rail machined inte­gral to the aluminum receiver top, Cerakoted receiver and barrel (the latter threaded for a sup­pressor or other device) and Savage's adjustable AccuTrigger and AccuFit stock adjustable for LOP and comb height. Chamberings include those that can take  good advantage of the 20 MOA rail, such as  6.5 Creedmoor, .300 Win. Mag. and .300 WSM, with Savage also offering .22-250, .243 Win., .308 Win. and .30-06 versions.​
Obviously, the influence of long-range competition rifles continues to flow into hunting rifles. Generally, American hunters haven't been drawn to European hunting rifle features like straight-pull bolts, double set triggers, Mannlicher stocks and multiple barrels (drillings). But with plenty of standard and modern features U.S. shooters like, added to the faster second shot capability of the straight-pull action—plus a timely market—the Savage Impulse might become a hunter magnet in 2021. MSRP starts at $1,380.
Hornady's Mini-Scale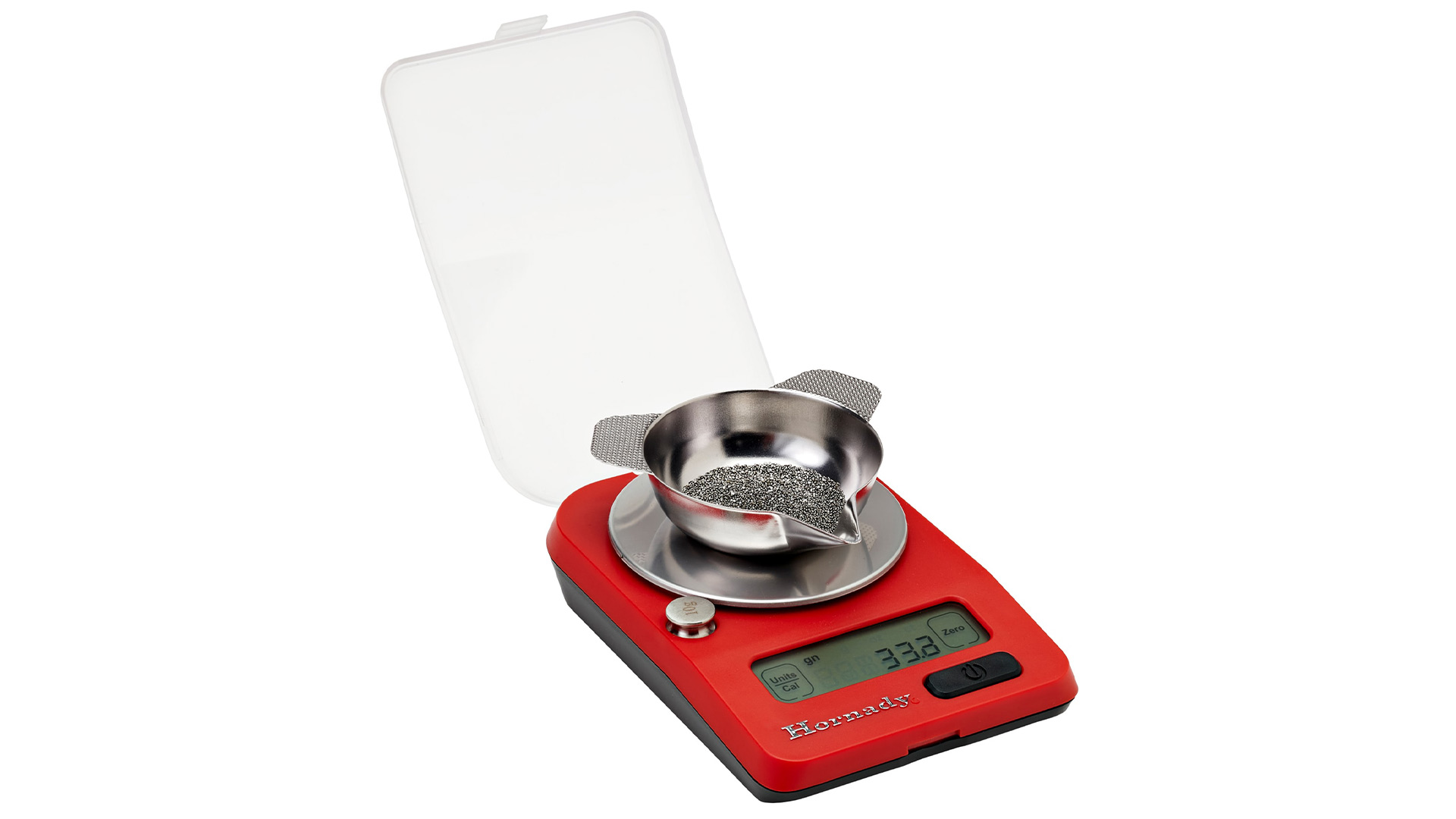 Living in a small apartment during military service, I used to C-clamp a reloading press to my dining room table for a loading session, then pack away the press, clamps, scale and all the rest of the accoutrements in a box stored under the bed until next time. Today, I've got plenty of dedicated elbow room and benchtop acreage, but for those still working in cramped or temporary quarters, Hornady's palm-size G3-1500 electronic scale is a big space-saver. This diminutive scale runs on two AAA batteries, and with a 1,500-grain capacity, it can weigh powder charges, brass and bullets, too. Its constant readout function makes it compatible with powder tricklers; it should pair up nicely with Hornady's also-fairly-compact Lock-N-Load Quick Trickle powder trickler. Retail price is about $41.
Polymer-Base Bullets?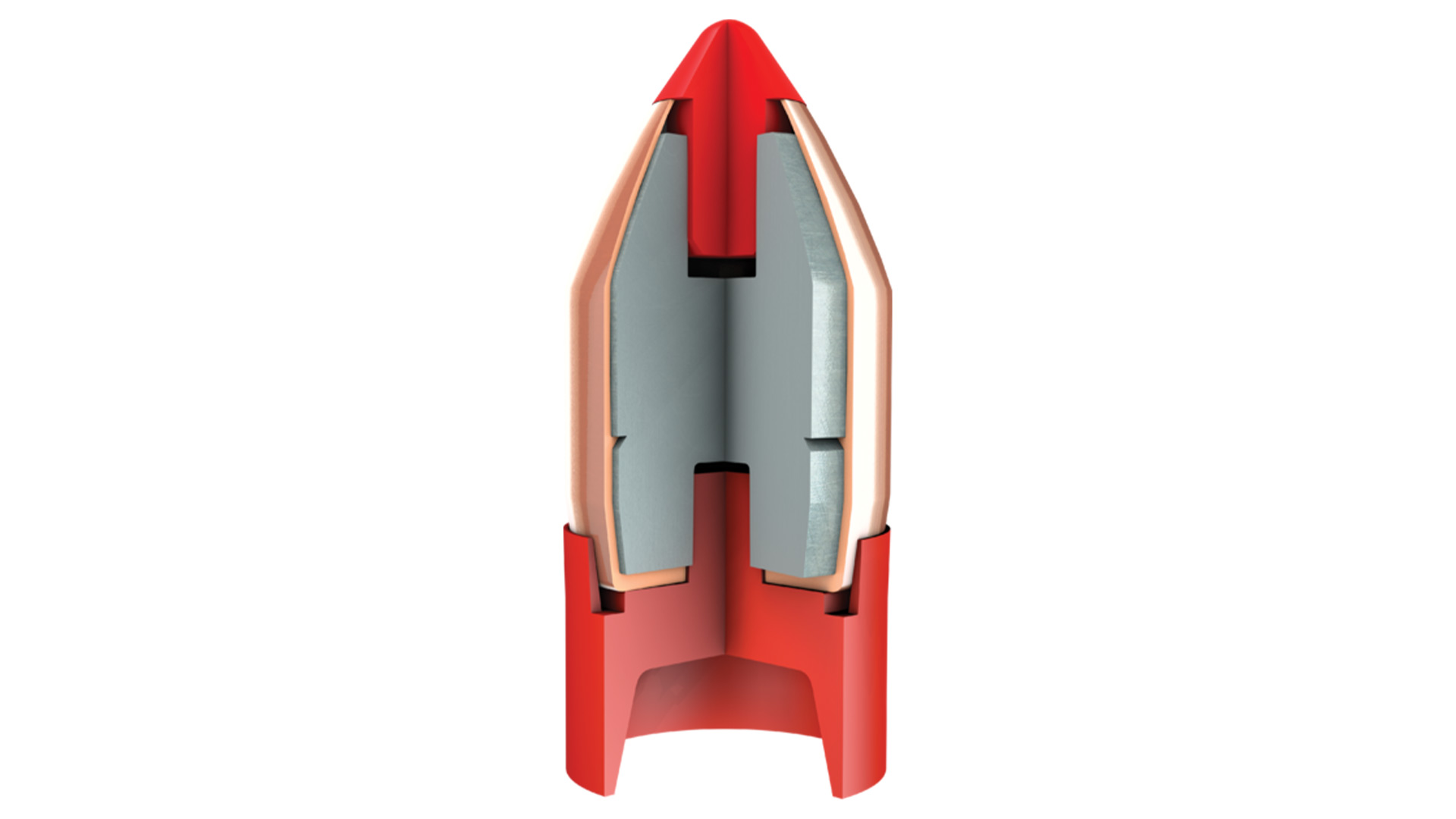 Some bullets have polymer tips, so why not polymer bases, too? Somebody at Hornady must have asked that question, and then someone else there came up with the bullet for muzzleloaders. Hornady's Bore Driver FTX jacketed bullet looks like a sabot-type muzzleloader projectile, but its polymer base does not fall away like a sabot. The base has a post that fits about one-quarter of the way into the lead bullet core; on ignition the post swells to make a tight fit and improve torque engagement with the rifling. The polymer-tip, hollow point FTX bullet design has already proven itself in other calibers; this .50 cal., 290-grainer should perform equally well fired from modern in-line muzzleloading rifles. Expect about $30 per 20-pack when they become available.
Assisted Primer Pocket Swager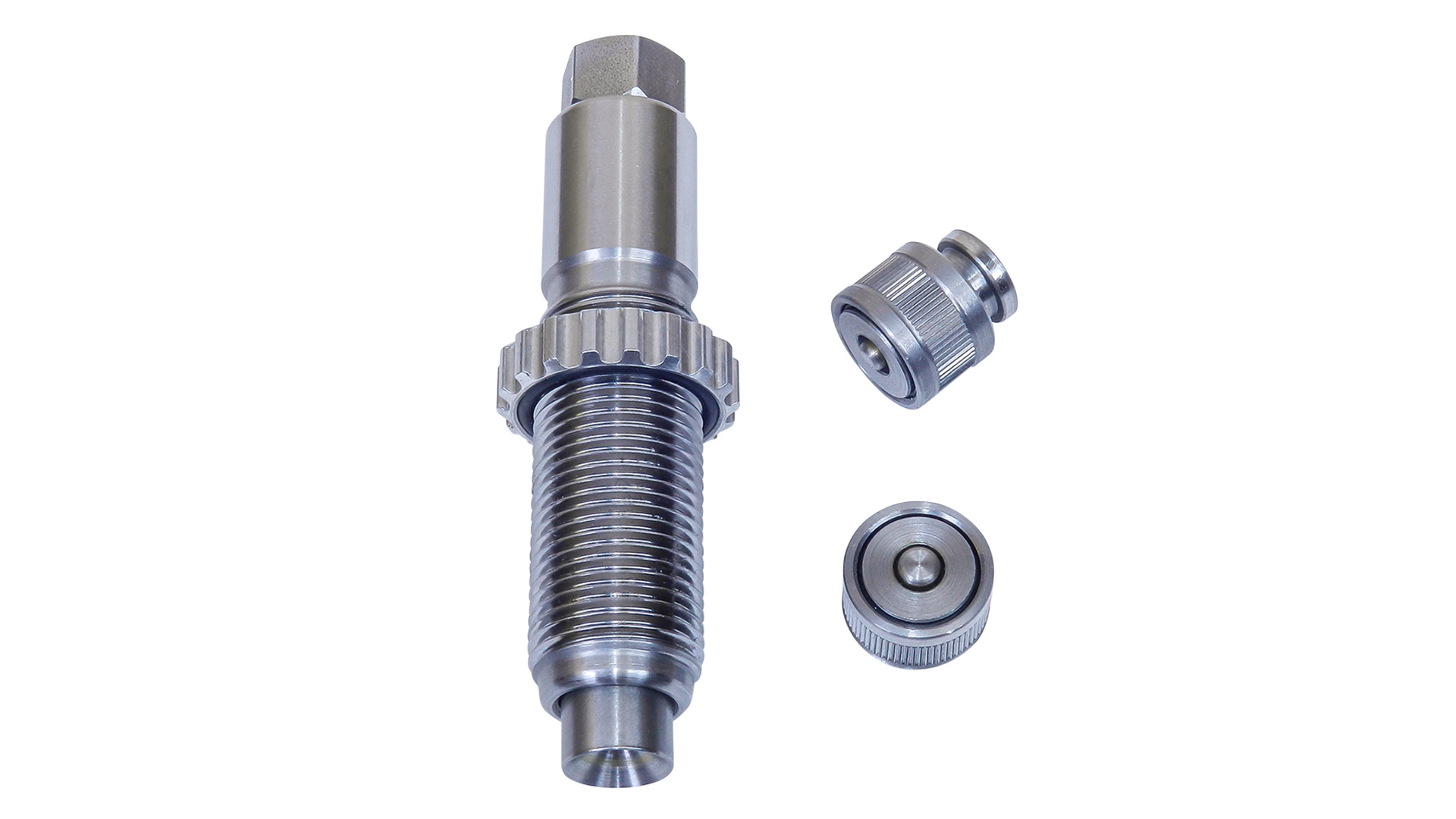 Lee Precision has been bringing handloaders innovative and affordable tools for decades. This decade's first SHOT Show would have seen Lee introduce its Ram Swage primer pocket swager, a spring-assisted device that mounts to any standard 7/8 x 14 press that accepts universal shell holders. The large or small primer pocket swage mounts to your press like a shell holder; what appears to be a die that threads into the press is actually a "guided swage push die" with a steel push rod that keeps the case centered for swaging. A spring at the inside top of the push die assists in case extraction after swaging. It looks like the design should speed up the chore of swaging those crimps out of military and LE brass primer pockets. You'll find a PDF cutaway illustration and user instructions at the Lee Precision website, where the MSRP for the Ram Swage is listed at $50.
N568 High-Energy Powder

The newest member of Vihtavuori's N500 rifle powder series is N568 propellant. According to the company, this short-cut, high-energy powder "excels with heavy-for-caliber projectiles and provides exceptional temperature stability." N568 propellant is an ideal powder choice for modern large-capacity cartridges, including 6.5 PRC, .300 PRC and .338 Lapua Mag., as well as classic belted magnums such as  7 mm Rem. Mag. and .300 Win. Mag. In addition, N568 powder is insensitive to humidity changes. Be on the lookout for reloading data regarding different calibers and bullets, which Vihtavuori says will be coming soon. N568 powder should be be available at dealers by the second quarter of 2021.
Winchester AA Diamond Grade Elite Trap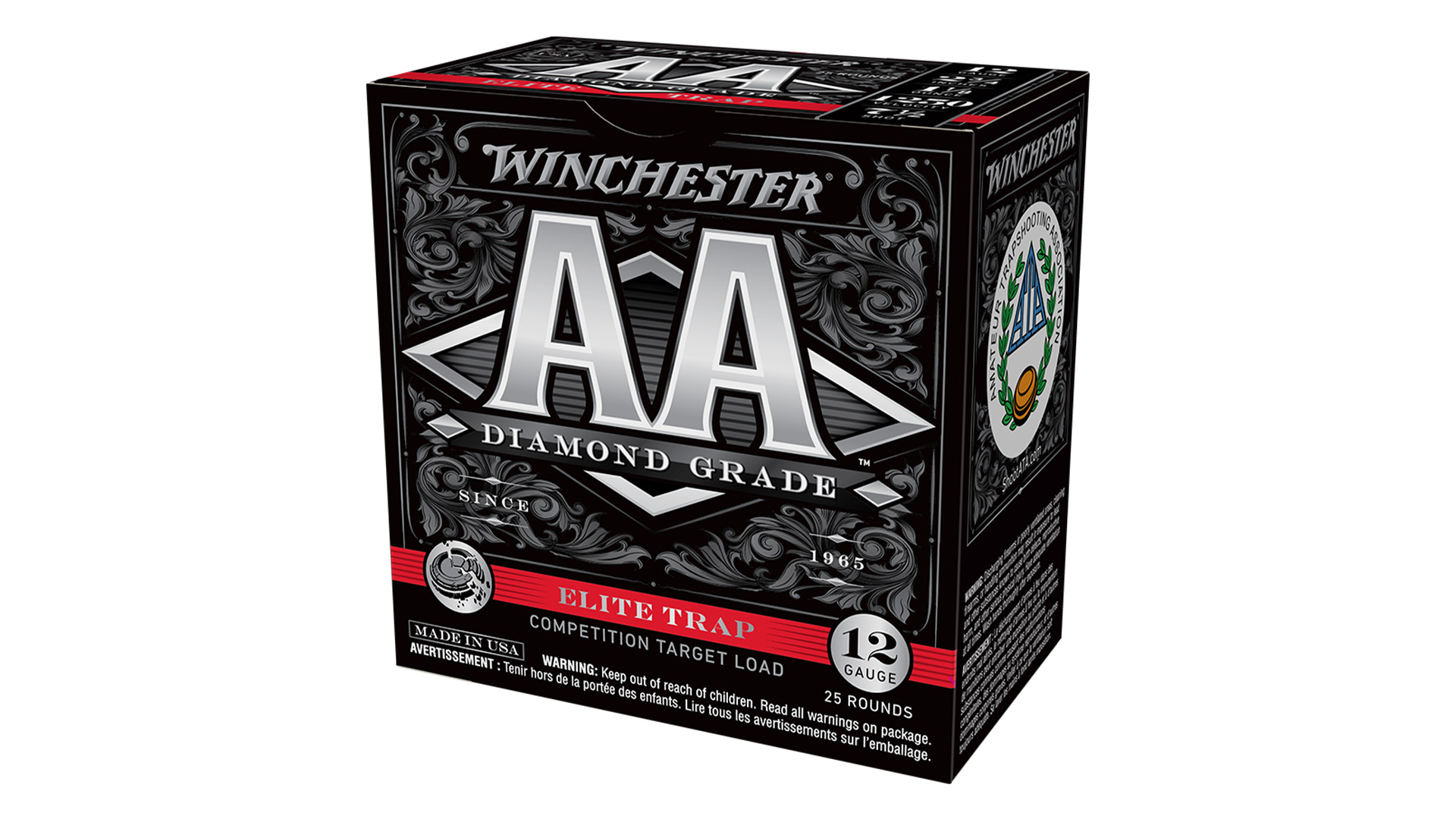 Winchester Ammunition's new AA Diamond Grade Elite Trap is a new competition target load. Using the legendary AA wad and the Diamond Grade line's extremely hard shot, these new shotshells are legal for use in sanctioned Amateur Trapshooting Association matches.
Similar to the original AA Diamond Grade ammo released last year, Elite Trap is loaded with an alloyed 8 percent antimony shot, which is the hardest shot available. Winchester has taken an additional step of precision sorting the shot to make sure that only the most round, consistent pellets make the grade. According to the company, the result is "extremely consistent patterns that are tighter and more uniform for more broken birds and higher scores." To ensure that the new Elite Trap product is legal under ATA rules, it uses non-plated Diamond Grade shot.
Winchester AA Diamond Grade Elite Trap is offered in 12-gauge, 1⅛ ounces, No. 7½ shot at 1,250 f.p.s. This is a perfect 2¾-inch load for handicap shooting all the way back to the 27-yard line. Put simply, Diamond Grade payloads are meant to smoke clay targets. In addition, Winchester uses a nickel-plated head on the outside of the cartridge for smooth feeding and extraction.
High Velocity Match .22 LR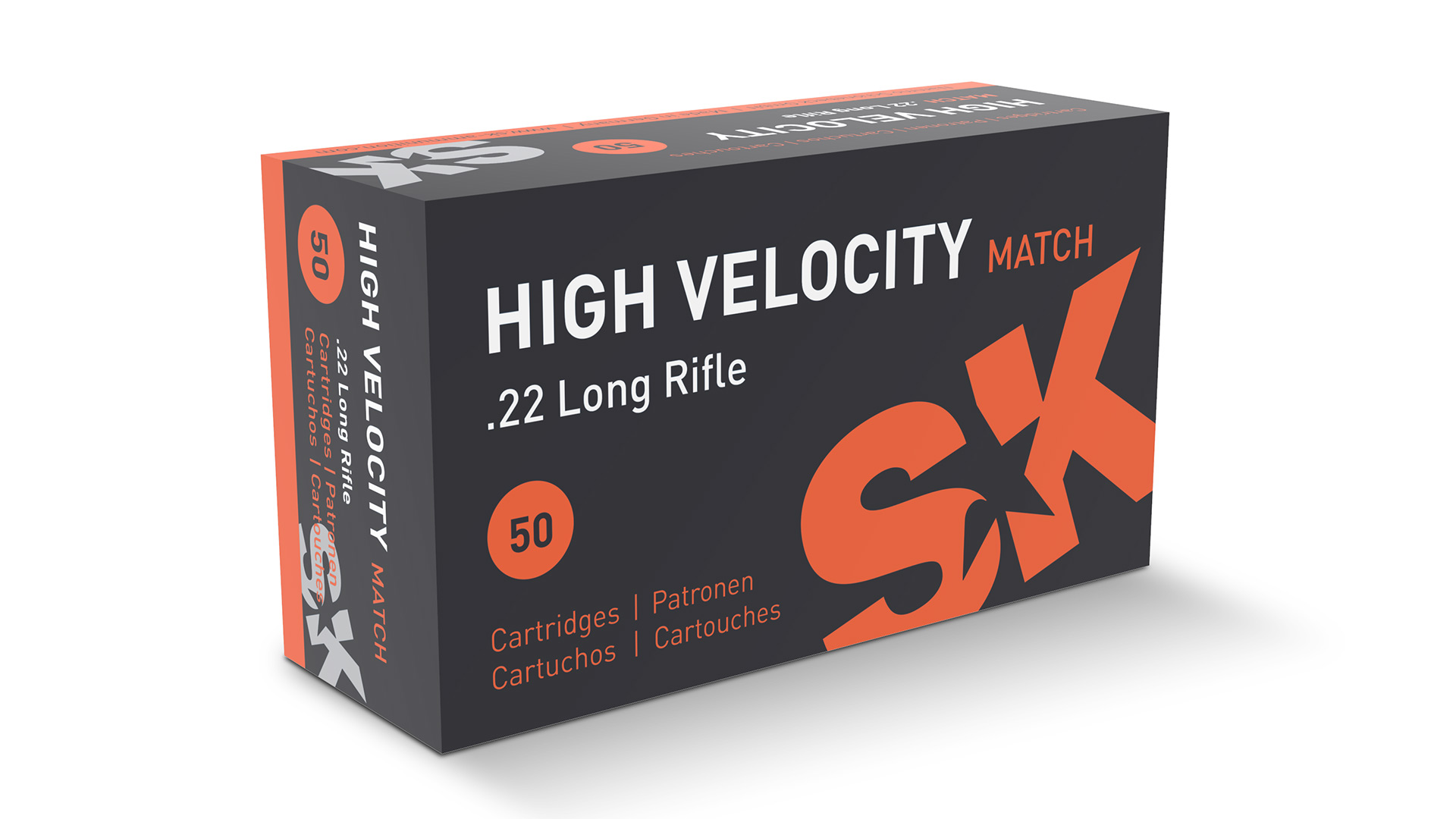 German manufacturer SK continues to focus on .22 LR PRS-, NRL 22- and tactical-style precision shooting competitors, bringing out High Velocity Match ammunition in 2021. A special propellant drives the 40-grain grain bullet to 1,263 f.p.s.; though faster than traditional precision .22 LR cartridge velocity, this is definitely not plinking ammo. We all know that every .22 LR rifle is an individual that performs best with a specific make of rimfire ammunition; if you think your rifle could do better in the accuracy department but can't justify the most expensive stuff out there, SK's High Velocity Match looks to be worth a try.
Magpul PRS Lite Stock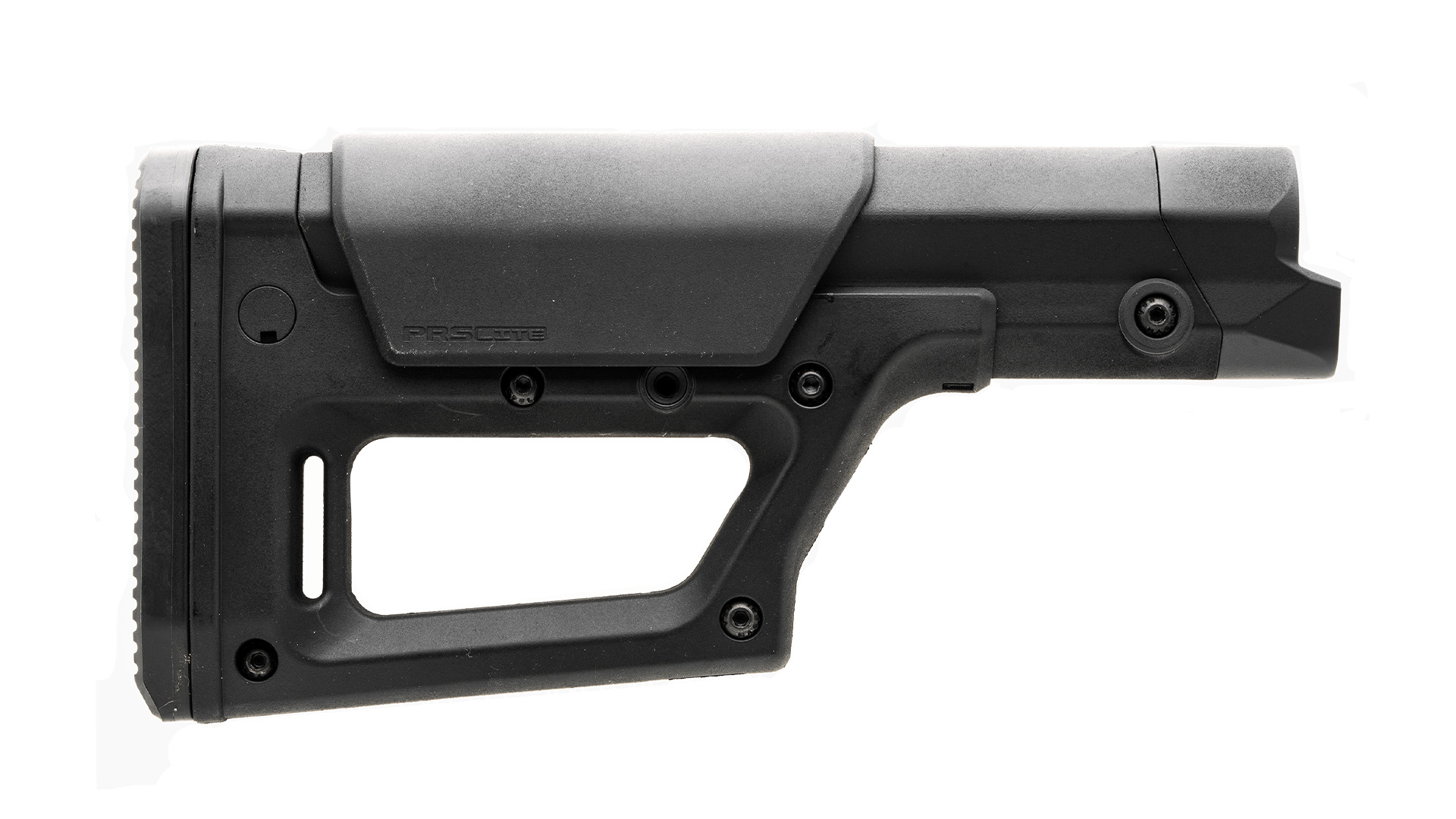 Magpul's new PRS Lite stock provides adjustability and features similar to the PRS Gen3 stock, but with reduced weight  and a lower price at $119.95. Coming in at  18.2 ounces (10 ounces lighter than the PRS Gen3), the PRS Lite sheds weight with a polymer and metal construction, and sports 0.8 inches of comb height and 1.4 inches of length-of-pull adjustments for carbine/SR25/A5 extension tubes for .223 Rem. and .308 Win. receiver-pattern rifles.
With a low-profile rubber butt-pad adjustable for height and cant, this lightweight precision stock provides a stable interface with a shooter's shoulder. As for slings, there are multiple  attachment options, including an ambidextrous 1.25-inch footman's loop, a reversible quick-detach sling swivel cup, along with space for another optional QD sling swivel cup. 
The Kraken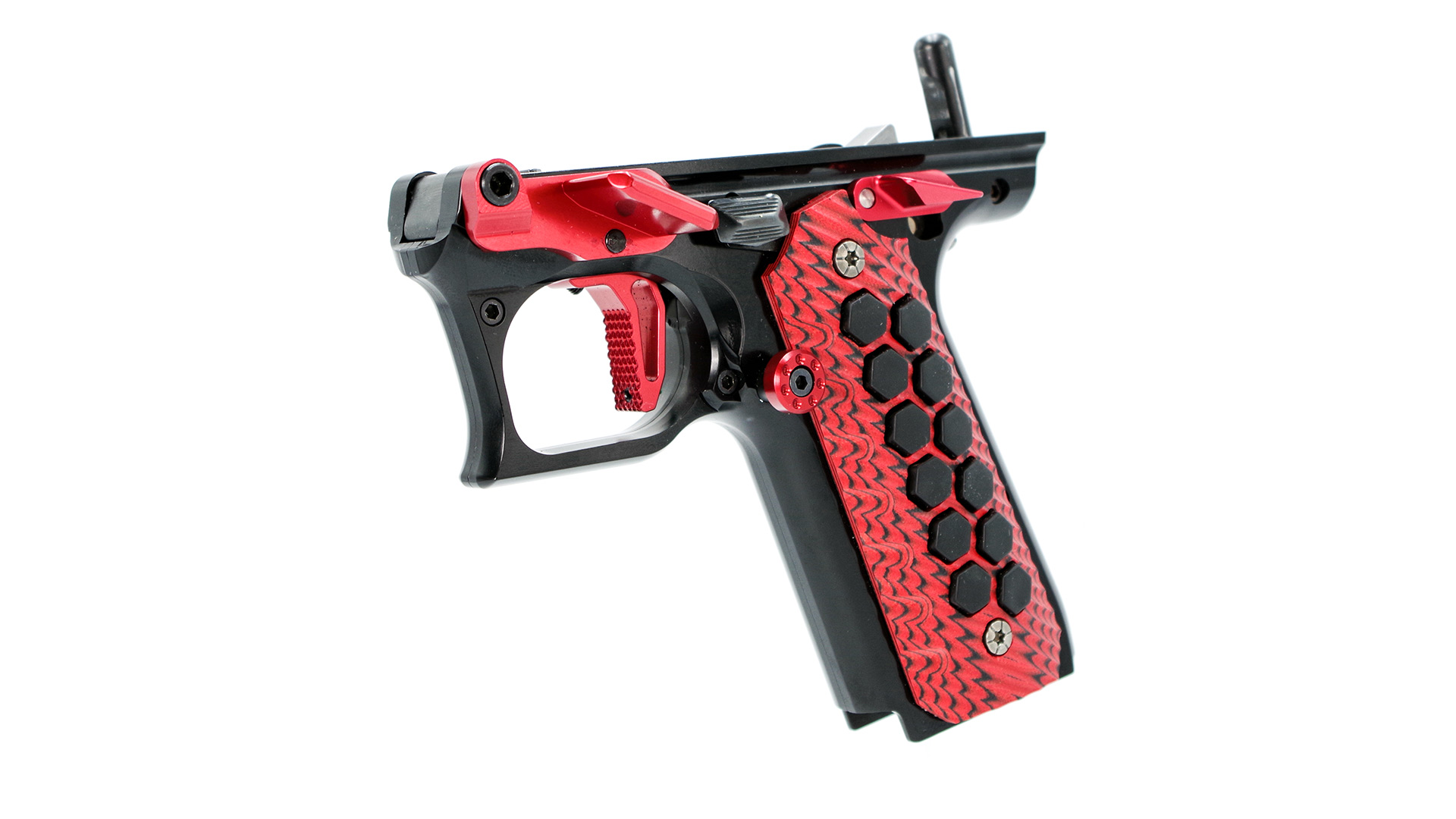 Precision firearms don't need to be pretty, they just have to shoot exceptionally well, but if you can make 'em look pretty cool too, then why not? Case in point for 2021 is a new release from Tandemkross, the "Kraken" Aluminum Lower for the Ruger Mark IV 22/45.
As far as aesthetics are concerned, the accompanying image can speak for itself, and here are some Kraken features that Mark IV pistol competitors and plinkers will appreciate. First, the anodized aluminum lower is a drop-in that readily accepts all Mark IV 22/45 uppers—Tactical, Lite, tapered and bull barrel configurations—and Tandemkross says lockup between upper and lower has absolutely no movement. The Kraken assembles to the Ruger upper with a single takedown screw and includes a through-hole for more easily holding the sear in position when installing the hammer. The Kraken incorporates a hammer stop to prevent over-center travel, an oversize trigger guard (for gloved hands) and comes with a main spring and main spring housing included. The Kraken, of course, accepts additional Tandemkross bells and whistles for the Mark IV 22/45. Tandemkross says the Kraken should be available before second quarter 2021. We look forward to receiving a sample to share hands-on with readers when that happens.
---
Read more: 
Top USPSA Production Handguns In 2020