With so many manufacturers bringing so many new products to SHOT Show every year, choosing a "Best Of" can only be a strictly subjective endeavor, especially as every shooter has his or her own interests and biases. With that disclaimer, and acknowledging that it is impossible to see everything at SHOT, here are some top picks of SHOT Show 2023.
Rifle
Plenty of manufacturers today honestly boast out-of-the-box MOA accuracy for their rifles. Fewer can achieve sub-MOA accuracy, even fewer at extended ranges, and fewer still can do so as non-custom production rifles at production rifle prices. CZ-USA is one of the few of the few, boasting 0.7 MOA with its Range 600 rifle firing factory loaded match-grade ammunition.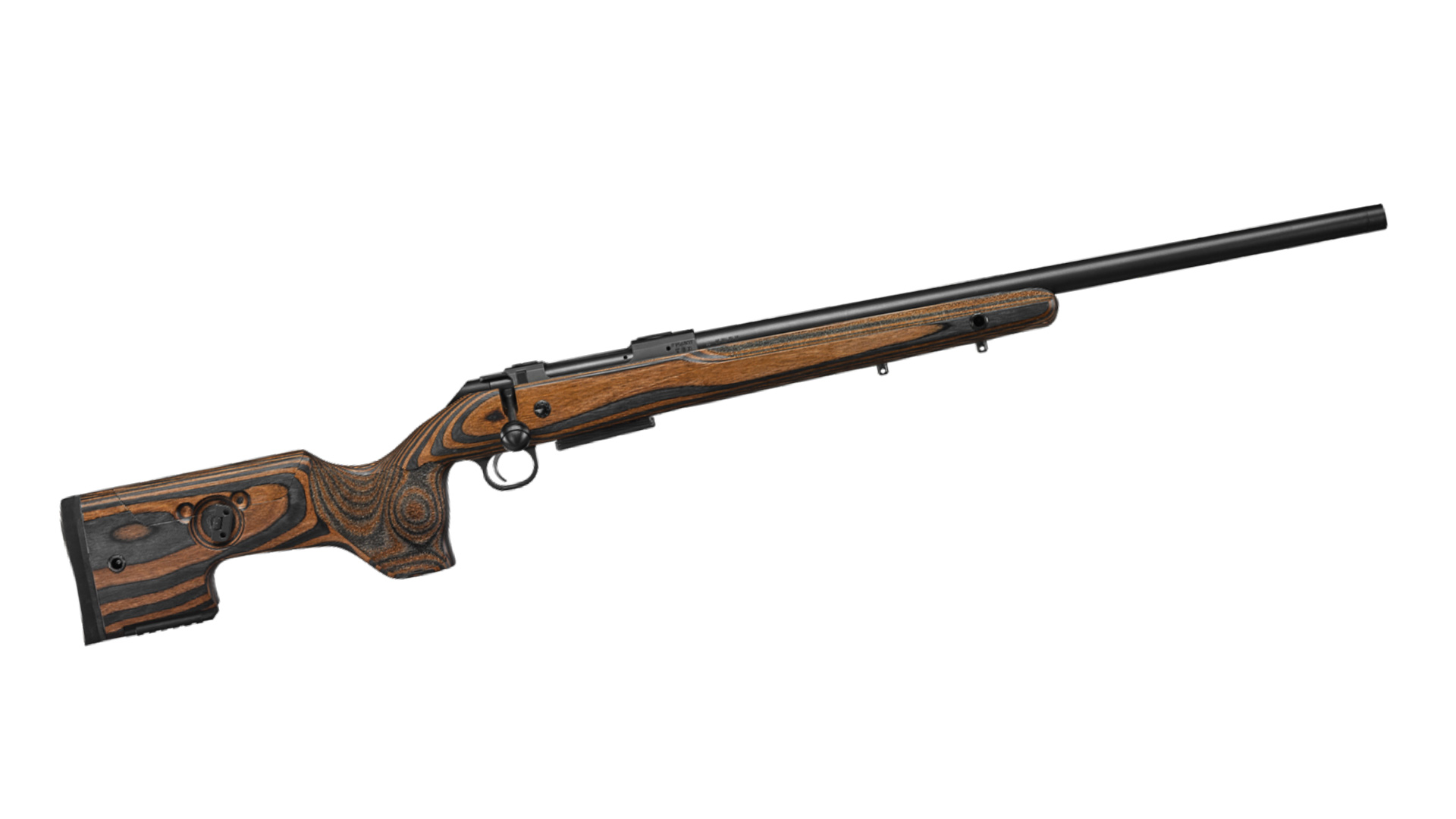 CZ-USA's 600 Range features a beefy, brown-and-black laminate stock configured expressly for prone shooting. Prone configurations include a thick, vertical pistol grip stippled for a positive grip, hooked butt for support with the off hand and with a short synthetic Pic rail for a monopod, an adjustable cheek piece and two studs for mounting bipod and sling on a two-inch wide, flat fore-end. Weight without scope is 10.4 pounds.
Other competition features include a 60-degree bolt throw to clear the ocular lenses found on many long-range scopes, a heavy barrel with a lapped bore and a trigger adjustable in four increments from about 1½ to three pounds. Cartridge offerings are .308 Win. and 6 mm Creedmoor; MSRP is a remarkably modest $1,199. Watch Shooting Sports USA upcoming issues for an evaluation of the CZ-USA 600 Range rifle.
Handgun
Savage gets the nod for Best Handgun of SHOT Show 2023, not for any startling, completely new innovation (there were none at the show this year), but for reintroducing a classic Model 1911 pistol. Savage's first foray into handguns since the Savage Model 1917 was last year's introduction of a polymer 9 mm pistol, the micro-compact Stance. Business is business, and 9 mm polymer pistols are still the most popular pistol platform among American buyers, so it's unsurprising that Savage would re-enter the handgun genre after a 100-year hiatus with a concealed-carry polymer nine.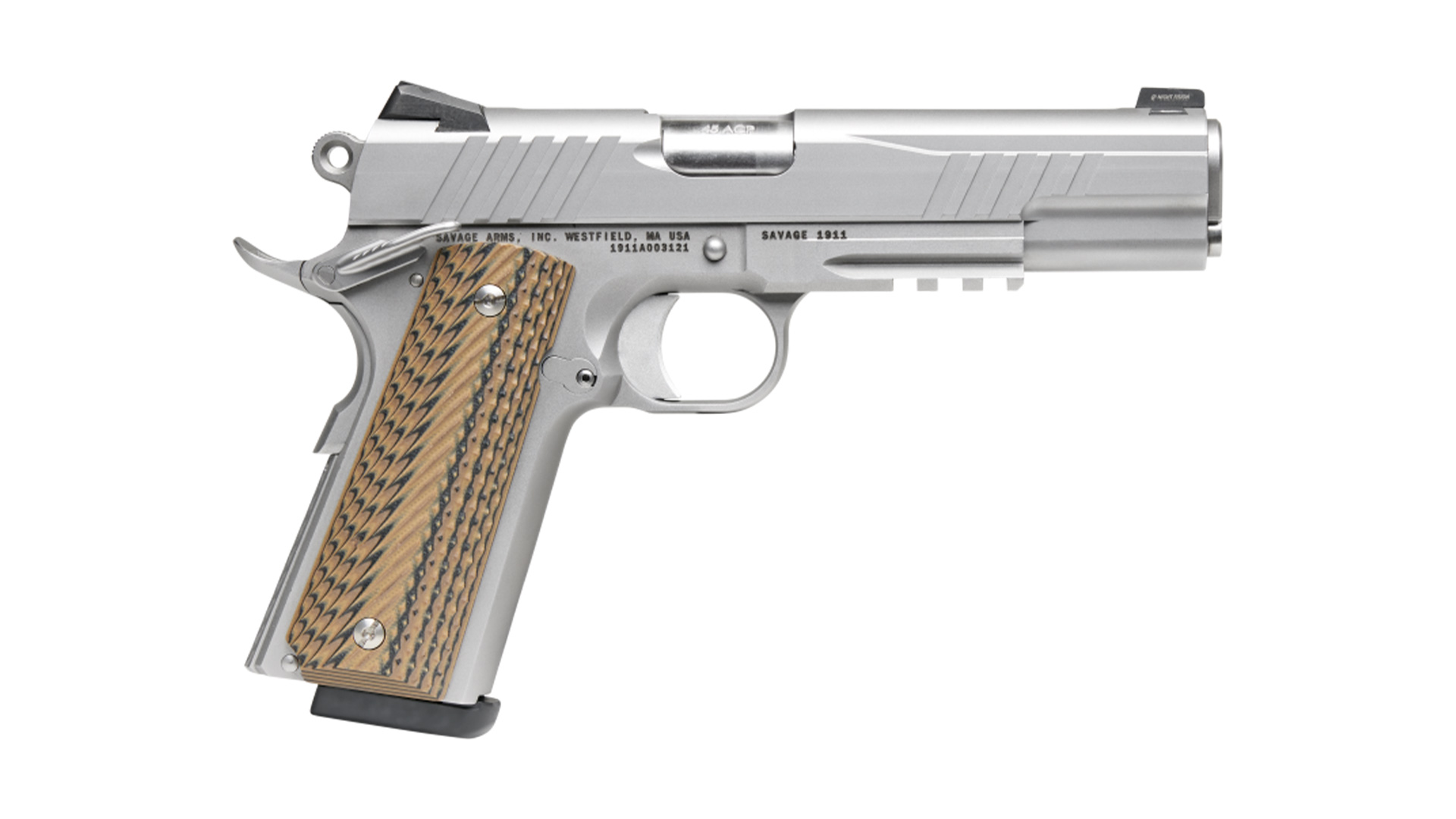 Yet Savage recognizes that, after 112 years, the Model 1911 pistol remains highly popular among those demanding the strength, durability and reassurance of a steel pistol firing a proven and potent caliber like .45 ACP. There is some irony in that Savage's entry into the 1907 U.S. Army trials for a new pistol lost out to the John Browning/Colt entry that became the Model 1911, and now Savage is manufacturing its own improved version of John Browning's ultimate pistol. Visible improvements from top down include Novak-style rear sight and a (readily replaceable, if so desired) dovetailed front sight, front slide serrations, lowered and flared ejection port, dust cover rails (on some models), beavertail grip safety with palm pad, ambidextrous thumb safety, and super-gripping VZ G10 grips, the left one relieved so the thumb can easily reach the magazine release without shifting one's grip in the pistol. Interior improvements include dual recoil springs, machined sear and disconnector and nitride coated titanium firing pin.
Savage offers its Model 1911 in several configurations, with MSRPs running from $1,349 to $1,499. Visit the Savage website for more information.
Shotgun
Though a bit hesitant to include it here because importation has not yet begun, this lever action .410 shotgun from Turkish maker HUGTEK is still worthy of mention as it will appeal to those who admire Winchester's discontinued Model 9410.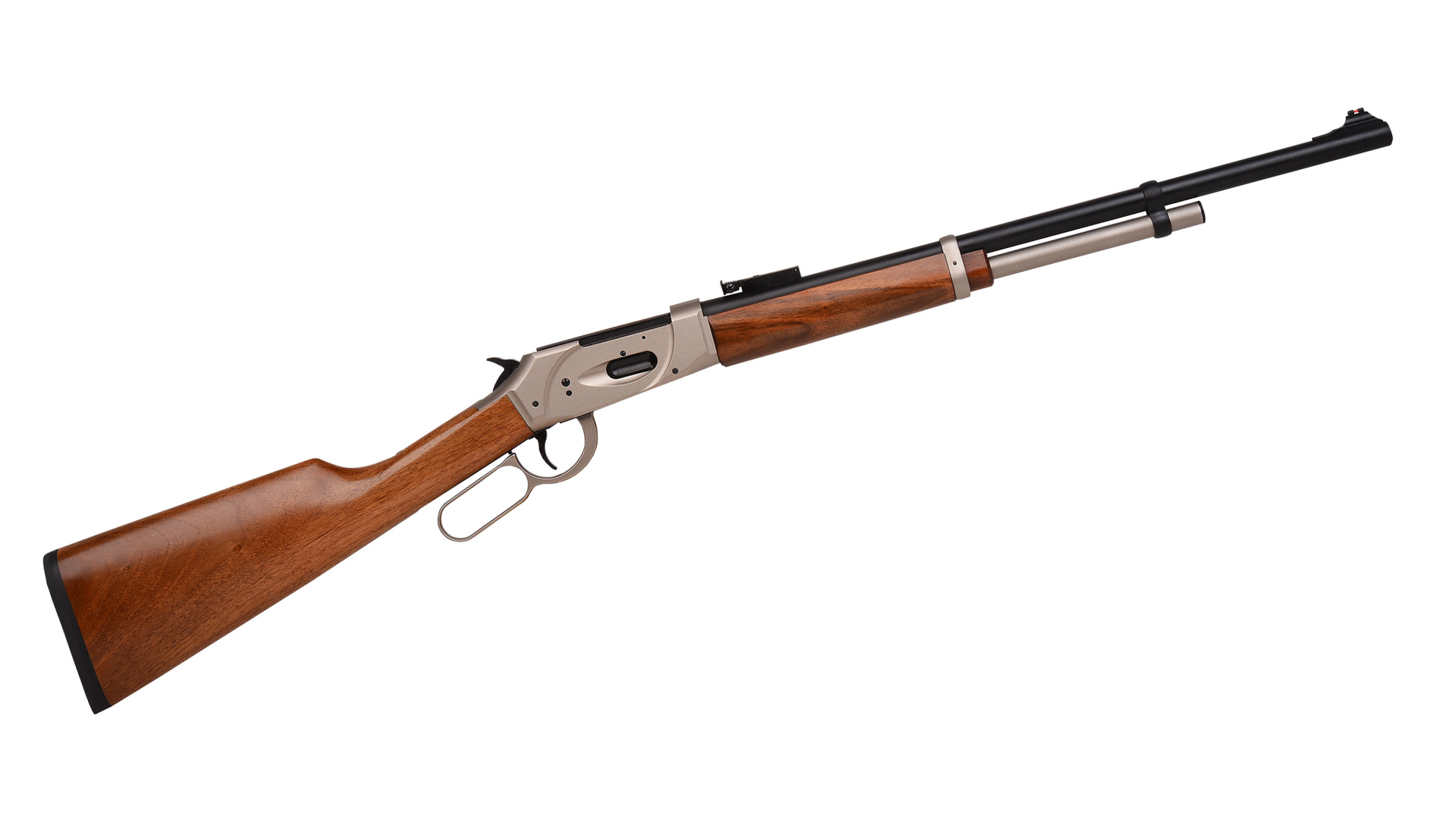 HUGTEK's version of this classic lever-action shotgun—the Model LVR 410—will be available in several barrel lengths and differing features. Basic models sport 20- or 24-inch barrels with magazine capacities of five to nine rounds of 2½-inch or three-inch shells. Optional finishes include matte nickel, black Cerakote and a two-tone combination of both on barrel, receiver and/or magazine tube. Walnut stocks come with solid or ventilated recoil pads, and "tactical" style models with Picatinny rails are available, as well. All models feature rifle-type front and rear sights and cylinder choke.
HUGTEK also brought to SHOT Show 2023 several handsome examples of Winchester Model 1894-inspired lever-action rifles in .357 Mag., including a version with color-case-hardened receiver, and a few examples of "tactical" style lever-action rifles, a type that has recently been drawing more shooter interest. Importation of the Model LVR 410 and HUGTEK's lever-action rifles are worth watching for, especially as many Turkish firearms imported in recent years are being offered at very attractive price points. Go to hugtekleveraction.com to learn more.
Powder
Handloaders have probably noticed that the Enduron line of powders has been discontinued. "It's because the manufacturer, General Dynamics, is focused on keeping up with the needs of the Department of Defense," Hodgdon representative Aaron Oelger said at SHOT Show 2023. To fill that niche of temperature-insensitive powders, Hodgdon announced release of another in the StaBALL line of Winchester Smokeless Propellants, StaBALL Match.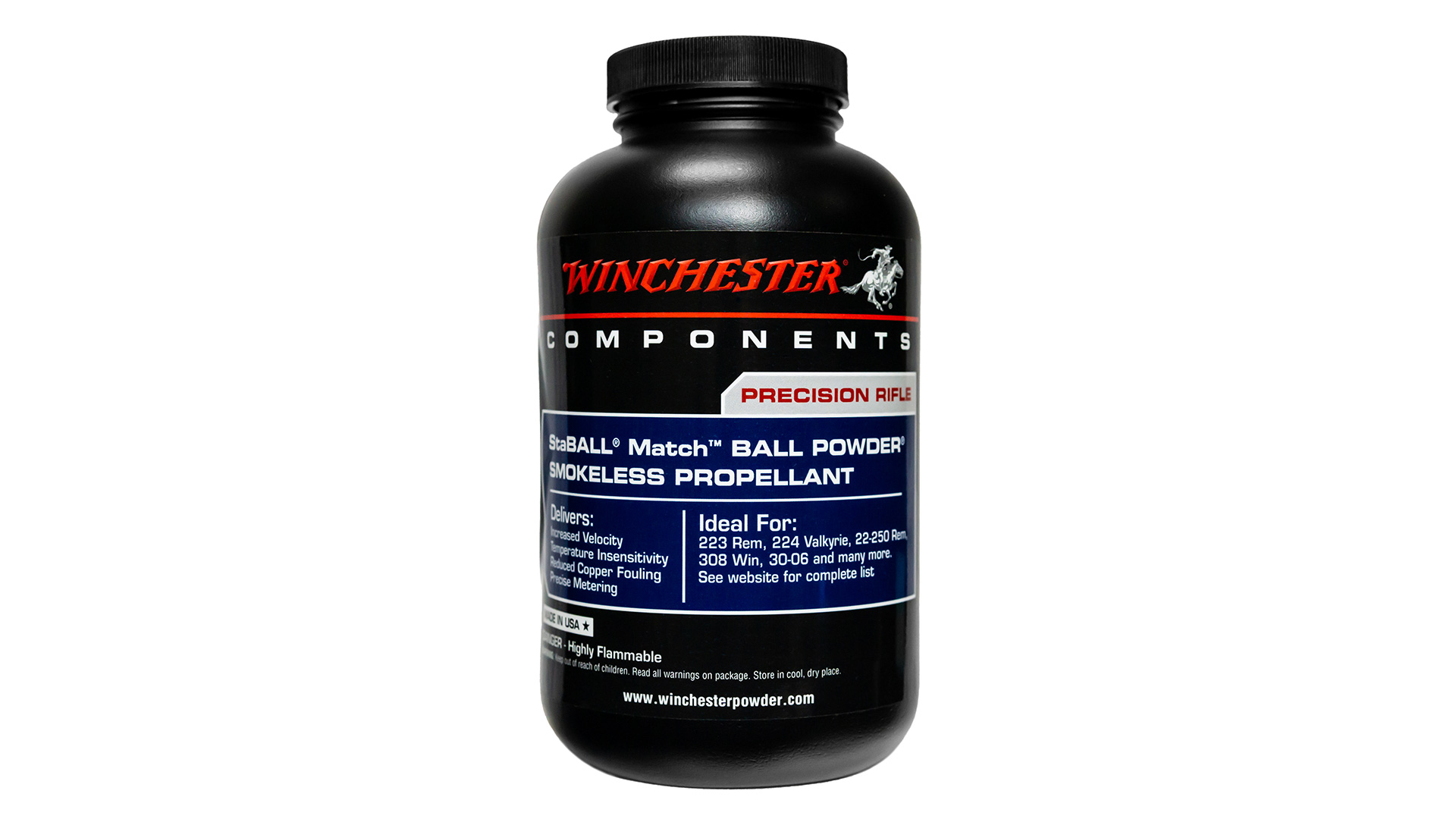 StaBALL Match is intended ideally for heavy-for-caliber, high-BC bullets in the .223 Rem., .224 Valkyrie, .22-250 Rem., .308 Win. and .30-06 cartridge class. In addition to being insensitive to extreme hot or cold temperatures, Aaron said StaBALL Match includes a copper fouling eliminator, a true advantage when shooting those 60- and 80-round matches. Because it is a ball-type powder, StaBALL Match flows well through metering devices and provides optimal loading density in cartridges appropriate for its burn speed. Regarding the latter, Aaron said StaBALL Match is pretty much identical to Varget.
StaBALL Match is available now at retailers in one- and eight-pound containers. For more info, visit the Winchester website www.WinchesterPowder.com, and find Winchester StaBALL Match load data at Hodgdon's Reloading Data Center www.HodgdonReloading.com.
Ammunition
Because the M1 Garand is much beloved by rifle shooters, it's newsworthy to report that Winchester has built upon its 2018 run of collectible Limited Edition .30-06 Springfield M2 Ball ammunition to introduce it this year as a regular offering. Winchester's "M1 Garand" ammunition replicates World War II-era US Government M2 Ball, launching a 150-grain FMJ bullet at a lower-than-SAAMI pressure suitable for the M1 Garand rifle's semi-automatic system. Shooters who compete in John C. Garand vintage rifle matches now have another resource for factory ammo guaranteed to not damage the rifle's op rod with excessive chamber pressure.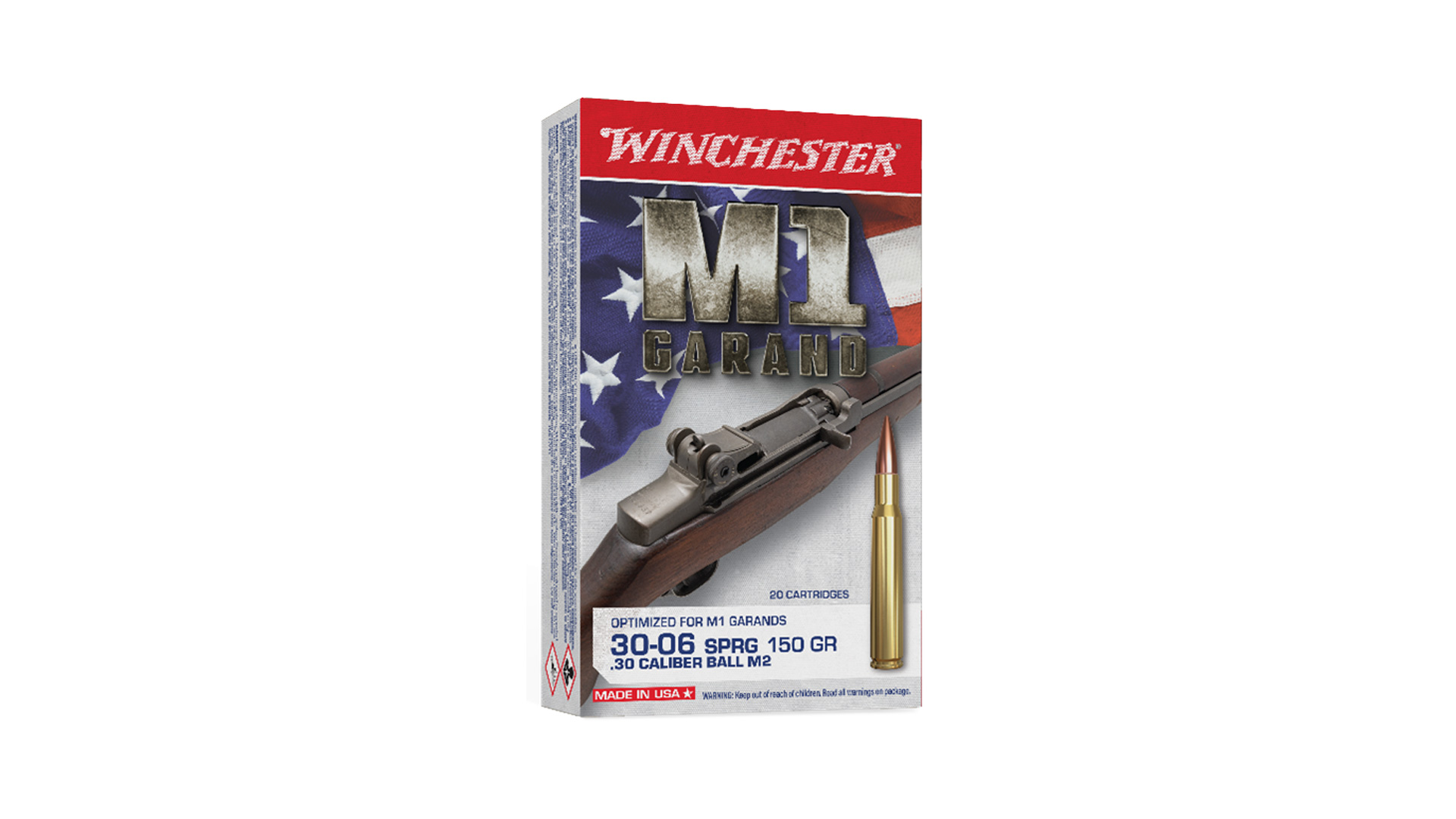 Now, let's get right to the point of this Best of the Best of SHOT Show 2023. "From my Vudoo rifle, I'm consistently hitting a 12-inch steel plate at 600 yards with Norma XTREME LR-22 ammunition," Norma Product Manager Mike Oslizlo said.
Norma introduced at SHOT Show 2023 what is perhaps the first truly new development in match grade .22 LR ammo, a patented 43-grain boat-tail bullet specifically intended for really extended ranges exceeding 300 yards. Certainly, the first question that barges into any competitor's mind is, "How on earth do you put a boat tail on a heel-base bullet?" Norma calls the configuration a "rocket tail." Picture hollowing out the base of the bullet's heel and raising the center of the hollow into a cone that reaches to the base of the bullet, and you've got the concept. Mike said the configuration results in a flatter and more stable bullet trajectory, even though starting velocity is slightly supersonic at about 1,165 f.p.s.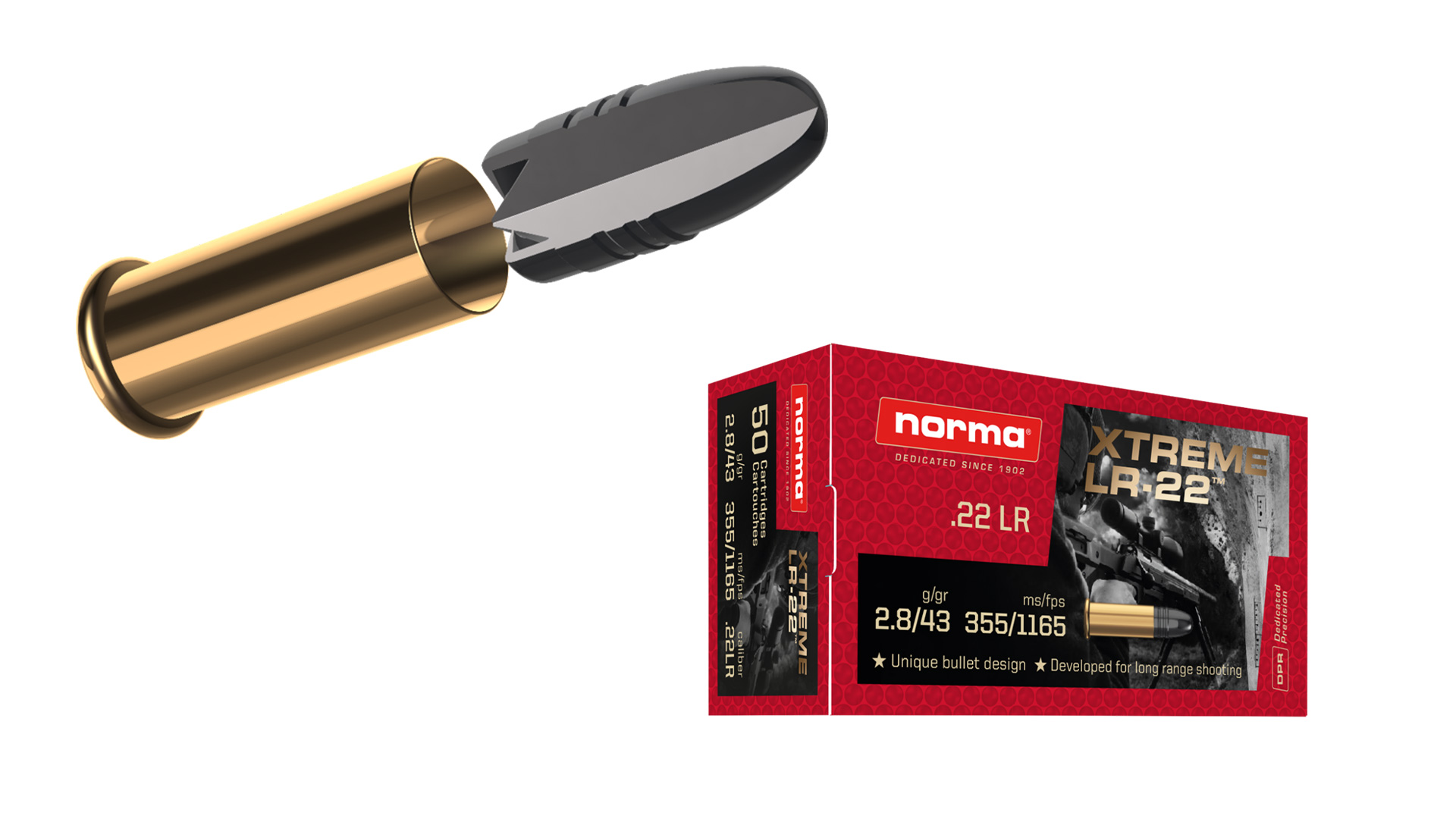 While hollowing the base would lighten a bullet's weight, Norma extended the nose of the bullet to bring the weight up to 43 grains, compared to a typical and traditional match bullet weight of 40 grains. The increased weight, of course, results in lesser sensitivity to crosswind. To put Mike's opening 12-inch claim into perspective for centerfire competitors, he's essentially keeping shots within the 10-ring of the NRA High Power MR-1 600-yard target. Said another way, shooting Norma's XTREME LR-22 ammunition in his Vudoo, Mike would be posting High Master scores at 600 yards with a .22 LR rifle (at least, on a windless day, anyway). Mike has thrown down the gauntlet—Shooting Sports USA will test Norma XTREME LR-22 ammunition and report to readers in a future issue.