It's been a while since Lyman Products has announced new presses, but the wait is over. The company's new Brass Smith line of presses for loading will debut at SHOT Show later this month. There are two models so far, the All-American 8-Turret Press and the Victory Single-Stage Press.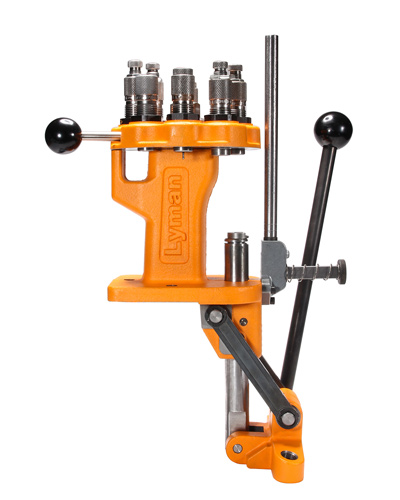 The new Brass Smith All-American 8-Turret Press ($250) is rugged and feature-packed. According to Lyman, their engineers "spent years considering turret press design and how to produce a quality turret press that was feature rich and increases the efficiency of reloading without having to handle the cases constantly." The 8-Turret Press should prove to set up easily, and will have a faster output than a single stage press. The turret is machined out of heavy duty cast iron, weighs 23 lbs., and it's equipped with a removable turret bolt which will make swapping turrets simple.

The frame is designed to work with even the longest rifle cartridges. There's a newly designed straight line primer feed that is completely reliable and simple to use. Push the priming arm forward at the bottom of the ram travel to position it beneath the shell holder. For added safety, the primer feed comes with a heavy steel shield which surrounds the primer tubes. The ball handle can be positioned for either right- or left-hand operation. Additionally the 8-Turret Press is designed for use with any standard ⅞″ x 14 thread dies and accepts standard shell holders.
---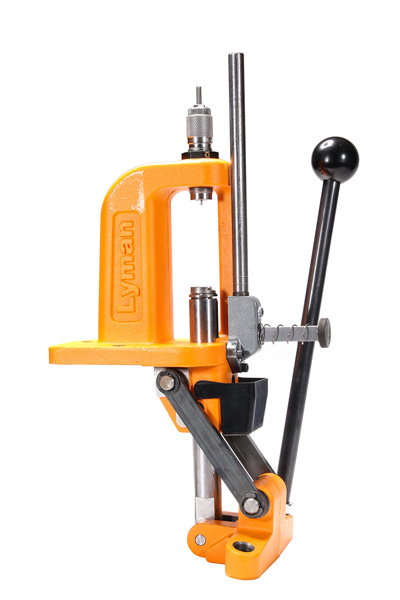 The Brass Smith Victory Single-Stage Press ($200) features a straight line primer feed that's reliable and simple to use. By simply pushing the priming arm forward at the bottom of the ram travel to position it beneath the shell holder, reloaders will experience a tight, precise and smooth operation. Similar to the 8-Turret Press, the primer feed comes with a heavy steel shield that surrounds the primer tubes for safety. A large five-inch frame opening makes even the largest calibers easy to load, and it's designed for use with any standard ⅞″ x 14 thread dies. This press can be set up for either right- or left-hand use. Manufactured from heavy-duty cast iron and sporting a durable powder coat finish, this press is a good choice for both beginners and seasoned reloaders.

Learn more about the new Brass Smith line of presses from Lyman at www.lymanproducts.com