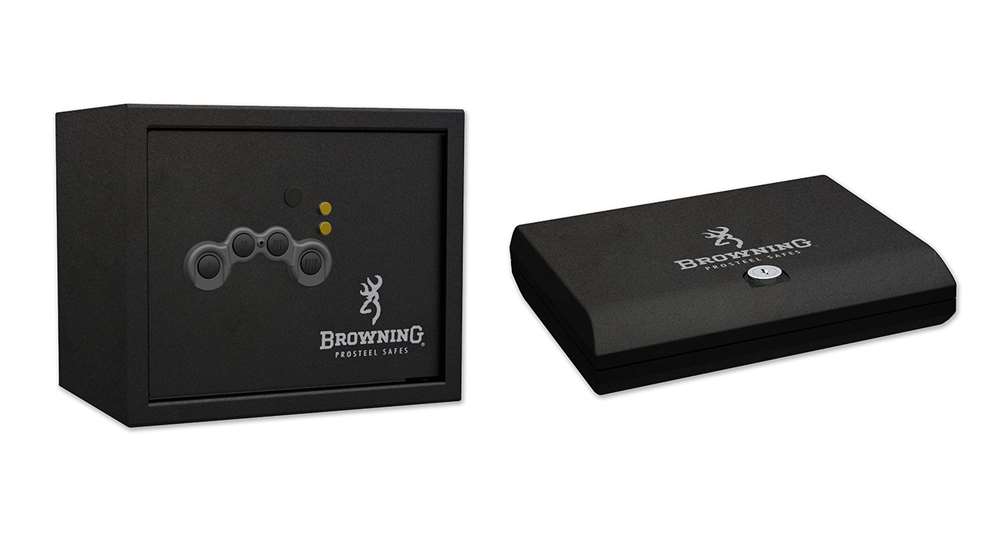 Two new additions for 2017 in Browning's ProSteel safe line are the Pistol Vault Portable and Pistol Vault 900 models. Both are great new options to secure handguns, cash and small valuables with features like sturdy steel construction, tough locks and durable finishes.

The new Pistol Vault Portable gives gun owners on-the-go protection almost anywhere. The clamshell design that allows access to the contents inside quickly once unlocked. The key lock ensures easy accessibility, and the soft interior keeps contents protected and in place. The Pistol Vault Portable has a textured black finish. Dimensions are 2-1/4" H x 10" W x 8-1/4" D with a weight of 6-pounds. MSRP: $75.

The Pistol Vault 900 is available with either an electronic 4-button touch pad lock or a Biometric pad that grants instant access with just the touch of a fingertip. Bright LED lighting illuminates the interior for locating the contents at night or in the dark of a closet. The lid is secured with a pair of 1/2" diameter locking bolts. The Pistol Vault 900 measures 9-1/4" H x 11" W x 8" D and has a center shelf to secure multiple items. Both models are available with a textured black finish. MSRP: Electronic lock model $219, Biometric pad model $379.

Read our guide to selecting the right firearms vault.