by
posted on July 11, 2017
Support NRA Shooting Sports USA
DONATE
Did you know about the three side matches at this year's NRA National High Power Rifle Championship? For 2017 at Camp Atterbury, IN, the NRA will be conducting an America's Rifle Challenge 4-stage match, as well as an NRA 2-Gun match. Additionally, this year will mark the debut of the NRA One-Mile Extreme Long Range shot club.
America's Rifle Challenge 

-

 July 14.
 NRA introduced
America's Rifle Challenge
 to provide an
 action-based course of fire for AR-style rifles. America's Rifle Challenge is meant for rifle owners to get their firearms out of the closet and on the firing line. Unlike simple target practice, ARC is an introduction to action shooting with a diverse mix of standing, kneeling/sitting and prone shooting positions at multiple distances.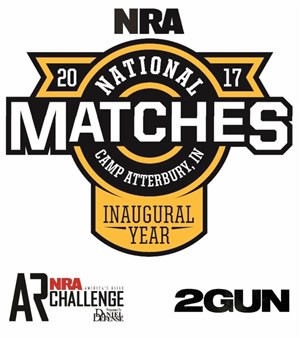 NRA 2-Gun - July 14. 
NRA 2-Gun Matches are made up on stages that incorporate precision pistol paired with AR style rifle shooting. Shooters will see different target presentations and positions utilizing paper and steel at each stage. Rules and penalties will be governed by the NRA ARC Guidebook. Rifle divisions and calibers restrictions will be same as the ARC program. Semi-automatic pistol calibers will be limited to 9 mm, .40 S&W and .45 ACP. NRA will provide all guns and ammo for the match. Registration is free with championship entry, but will be limited to the first 50 shooters, so sign up now! 

NRA One-Mile Extreme Long Range - July 20. Camp Atterbury's Range 3 has a firing point at 1,760 yards

 which the NRA will put to good use. 

Extreme Long Range matches are intended to test the competitor's knowledge of their equipment and ability to adapt to wind, temperature, and light conditions, as well as other environmental surroundings at long distances.

Register for all three at: http://events.r20.constantcontact.com/register/event?oeidk=a07ee03pzl18e08a2bd&llr=ad8fccxab