by
posted on October 24, 2017
Support NRA Shooting Sports USA
DONATE
The finest civilian and military marksmen in the country made the trek to Camp Atterbury, IN, for 20 days of High Power Rifle competition during the 2017 NRA National Matches. Shooting this past August at Camp Atterbury included the National High Power Championships, Mid Range Championships, and Long Range Championships. Additionally, new for this year, side matches that included the debut of the NRA Extreme Long Range One Mile Club.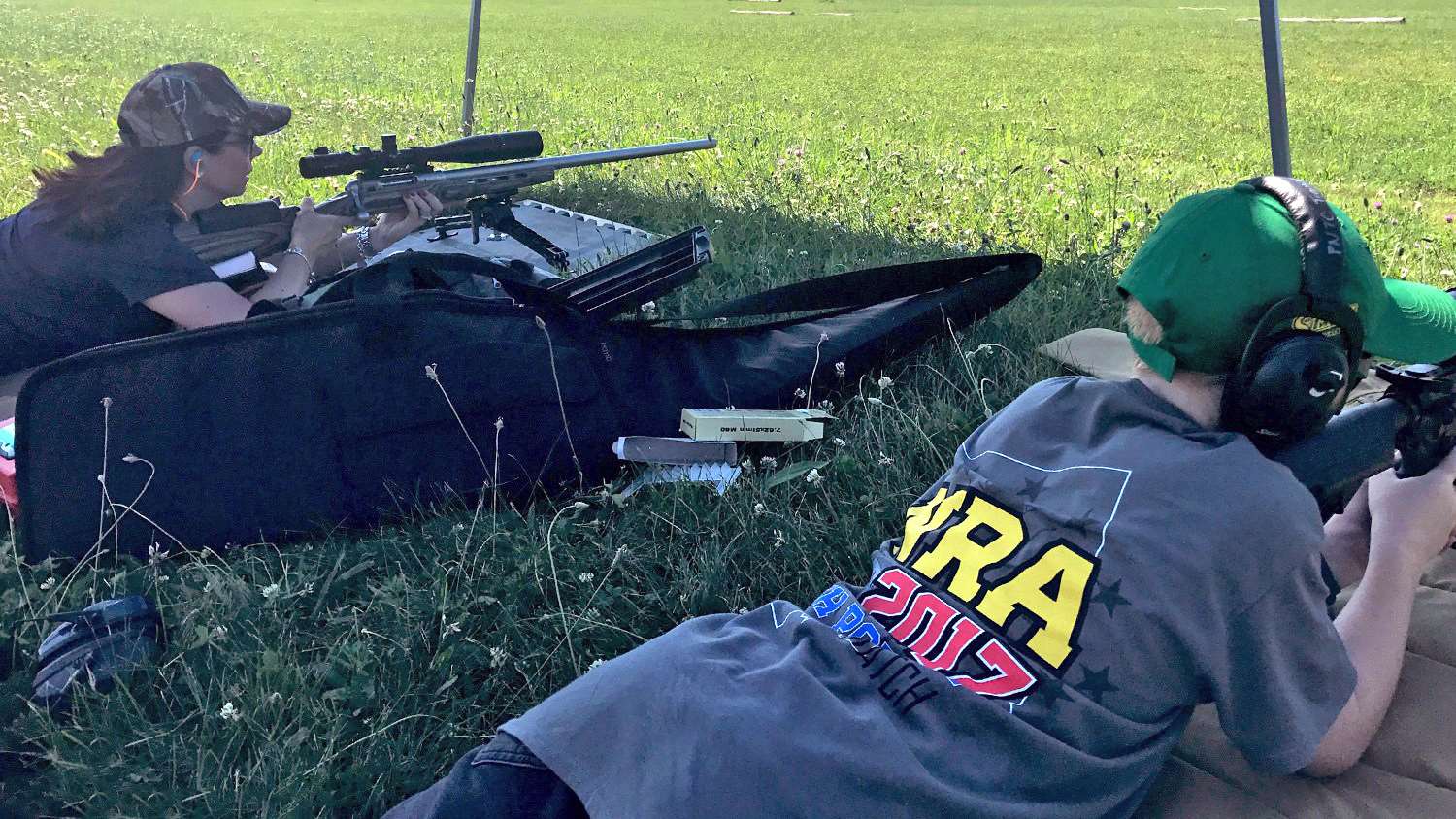 Indiana First Lady Janet Holcomb helped to kick off the NRA National High Power Rifle Championships this year during the First Shot Ceremony. The First Lady is a staunch supporter of the Second Amendment, certified NRA pistol instructor, and a multi-discipline shooter with experience in pistol, shotgun, and rifle. She and her husband, Indiana Governor Eric Holcomb, are both Life Members of the NRA. The First Lady has led training classes throughout the state of Indiana, and especially enjoys sharing her passion for the shooting sports with other women.

Match Director Mid Tompkins is no stranger to the NRA High Power Rifle Championships, his first year was in 1954 and he has never missed a year since. Regarding the move to Camp Atterbury, he said:

"The NRA made the right decision moving to Camp Atterbury, this facility is fantastic and I would know! The surrounding area has more places to eat, more things to do, and the people here on base are very easy to work with. Even better, the airport [nearby] makes it easy to get here."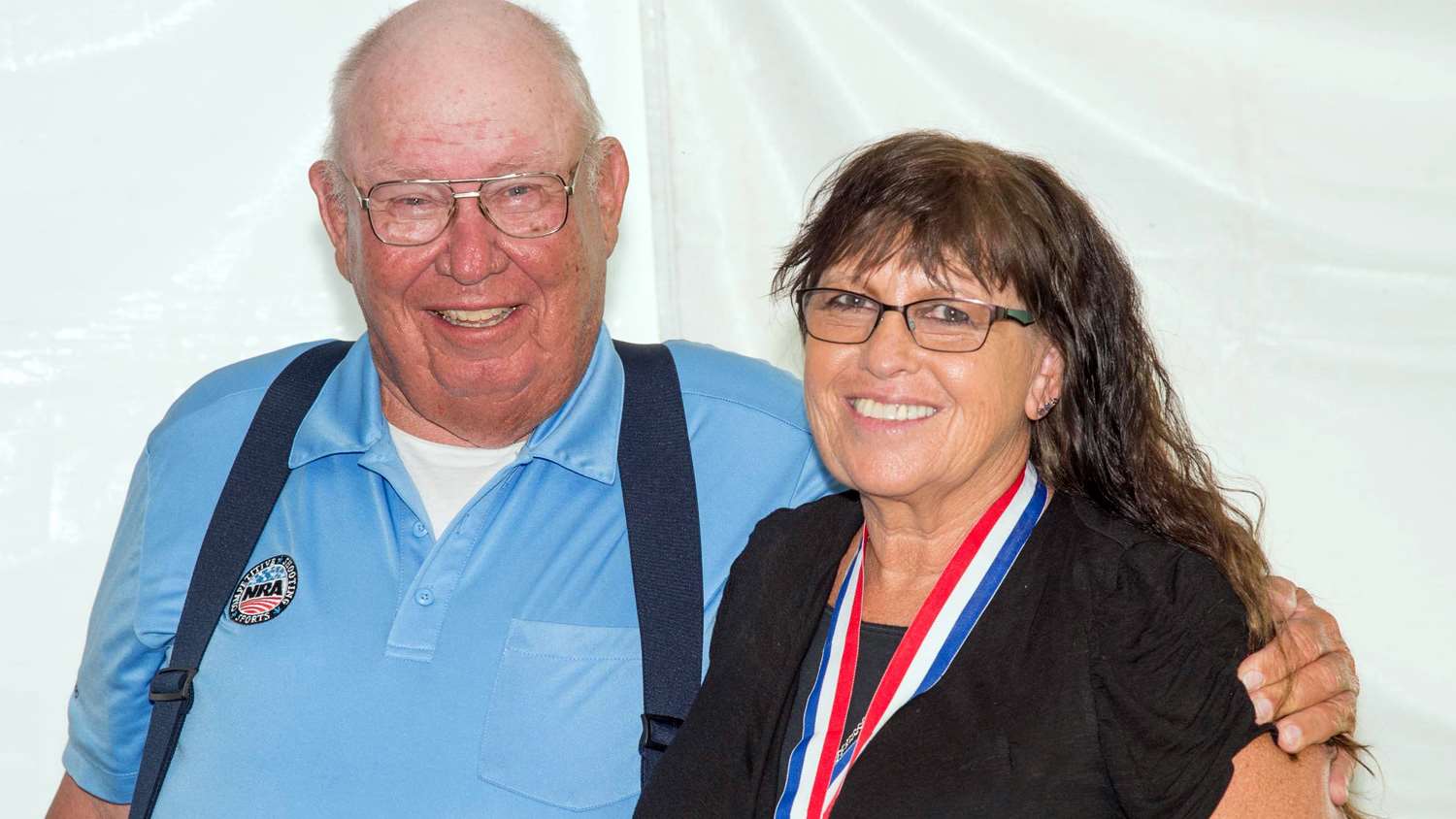 The historic move to Camp Atterbury, which was controversial to some, was embraced by many competitors who participated in the championships at the new venue.

One shooter who wanted to share an objective view of both venues had this to say about Camp Atterbury, via the NRA High Power Rifle Facebook page: "I, no doubt, love Camp Perry. I earned all my distinguished points at Perry, made the Presidents 100 there, and I have [made] countless memories there. However, as a match rifle shooter, I will undoubtedly be back at Atterbury next year."

Additionally, 2017 Long Range Champion John Whidden chimed in on the Camp Atterbury experience. "A nice place and a very nice facility, everything was very well manicured. It was exciting to be at a new venue."

Camp Atterbury Facts

In 1941, construction began on an Army training facility in the state of Indiana about an hour south of Indianapolis, which only a few months prior had been home to more than 500 farm families spread out over 33,000 acres. The name of the new facility—Camp Atterbury.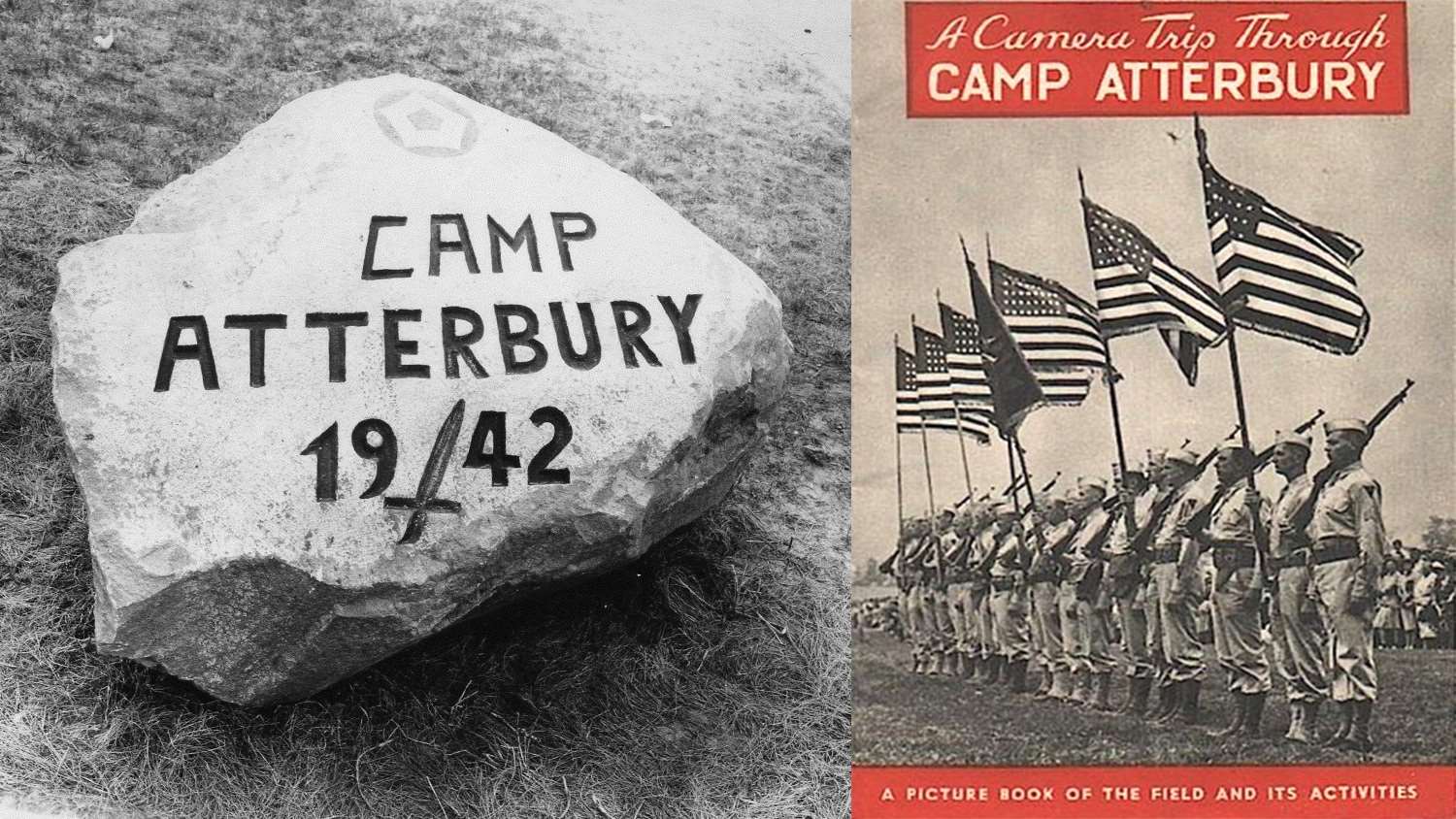 Camp Atterbury was named for World War I veteran and military transportation expert Brigadier General William Wallace Atterbury. Notably, he was a staff member to General John "Black Jack" Pershing during the Great War.

During World War II, Camp Atterbury trained more than 275,000 U.S. troops and was home to multiple facilities that aided the war effort. Additionally, it became the new home for about 15,000 Italian and German POWs interned from 1943-1946. The POW camp section was converted to a Fish and Wildlife park in 1969.

The military permitted Italian POWs at Camp Atterbury to build a small Roman Catholic chapel out of unused building materials in 1943, and it remains standing to this day, even being restored in 1990 by the Indiana Italian Heritage Society. Local legend says the POWs would forage nearby woodlands for berries and flowers to make pigments for hand-painted frescos of religious figures inside of this "Chapel in the Meadow"—and additionally using their own blood.

Today, Camp Atterbury is a training and mobilization facility that continues to support the U.S. military. The facility boasts over 60 ranges on site—making the installation an ideal venue for the NRA to hold the National High Power Rifle Championships.

Across the Course and Mid Range

One of the best rifle shooters in the nation, Norman Houle (West Warwick, RI), won the National High Power Rifle Championships over a talented field of 168 shooters. Houle's score of 1989-93X made him the 2017 National High Power Champion. Finishing second overall was service match rifle shooter SGT Ben Cleland (Ft. Benning, GA), who recorded 1987-116X. Finishing third was Stephen Culpepper (Newnan, GA) with 1986-98X. The 2015 High Power National Champion SFC Brandon Green had the high X-count with 1978-119X, finishing in sixth place overall. High Woman honors went to Brooke Culpepper (Newnan, GA) scoring 1972-63X.

For the Mid Range Championships, Jeff Bartlett (Owensboro, KY) is the 2017 winner with a score of 2394-147X, also earning High Senior honors. For Any Rifle, the Army's SFC Eric Uptagrafft (Phoenix City, AL) took the title with 2396-172X. In Palma Rifle, Kent Reeve (Sparta, NC) was in first place scoring 2396-146X. High Woman was Kimberly Rowe (Wadsworth, OH) with 2389-120X.

Long Range and Palma

The NRA High Power Rifle Long Range Championships kicked off July 21 on a blazing hot Indiana day that had temperatures soaring to a scorching 102° F. Despite the high heat, shooters donned their heavy shooting coats to shoot two 1,000 yard matches—the Remington and the Mustin Trophy Matches.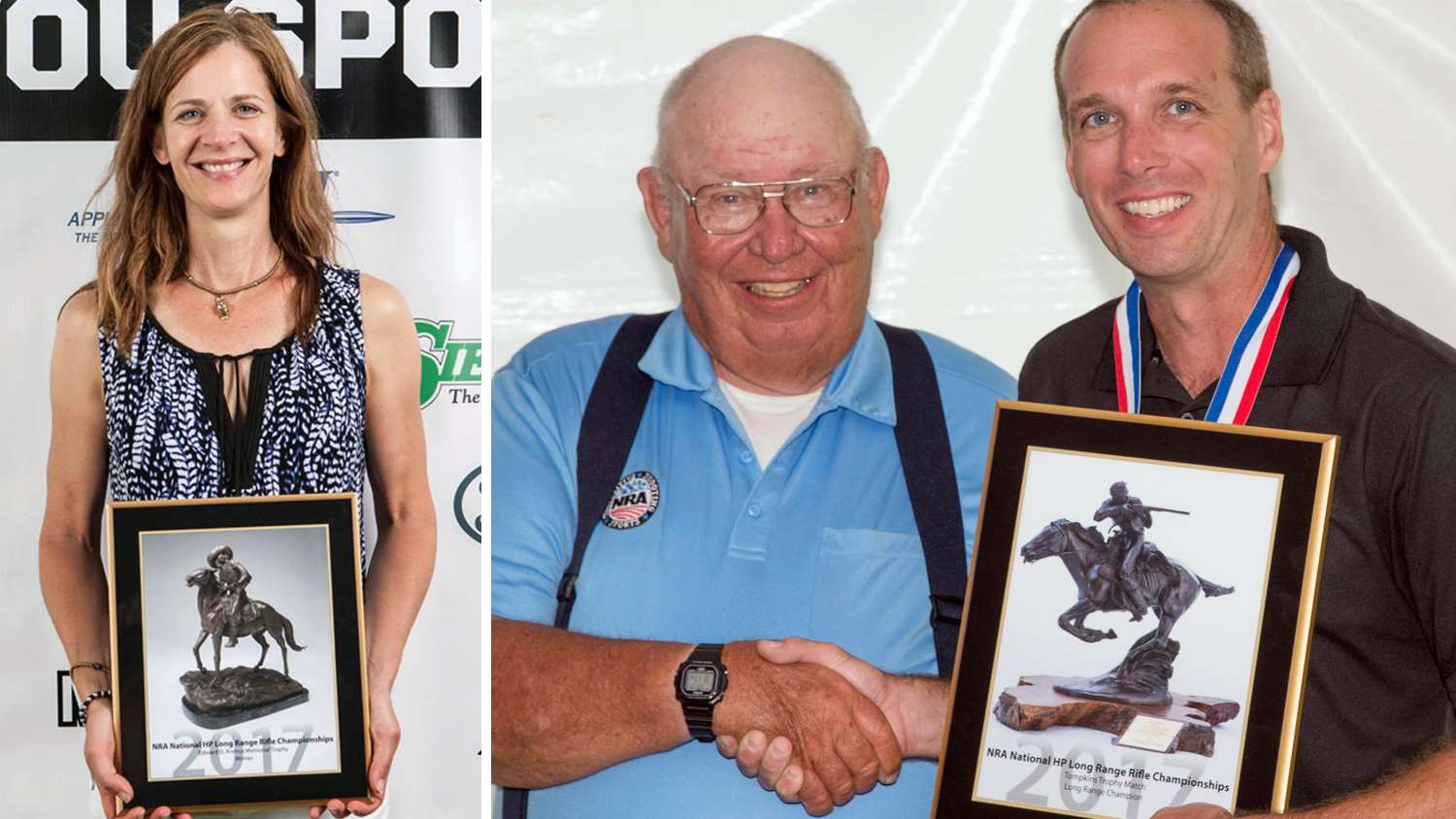 The Remington Trophy Match consists of 20 slow fire shots any sights at 1,000 yards prone. Shirley McGee (Brookville, KS) won the shoot off with a 98-5X for the win over runner up Aubrey Brock (Elizabethtown, KY). In third place and also winning High Senior was Jeff Bartlett (Owensboro, KY). The Mustin Trophy match is nearly identical to the Remington except metallic sights only. John Whidden (Nashville, GA) won with a score of 199-13X. High Service Rifle was Joseph Sopko (Macungie, PA) scoring 187-4X. Kent Reeve (Sparta, NC) won High Palma Rifle with 198-10X. High Woman was Nancy Tompkins (Prescott, AZ) who finished with a score of 199-10X.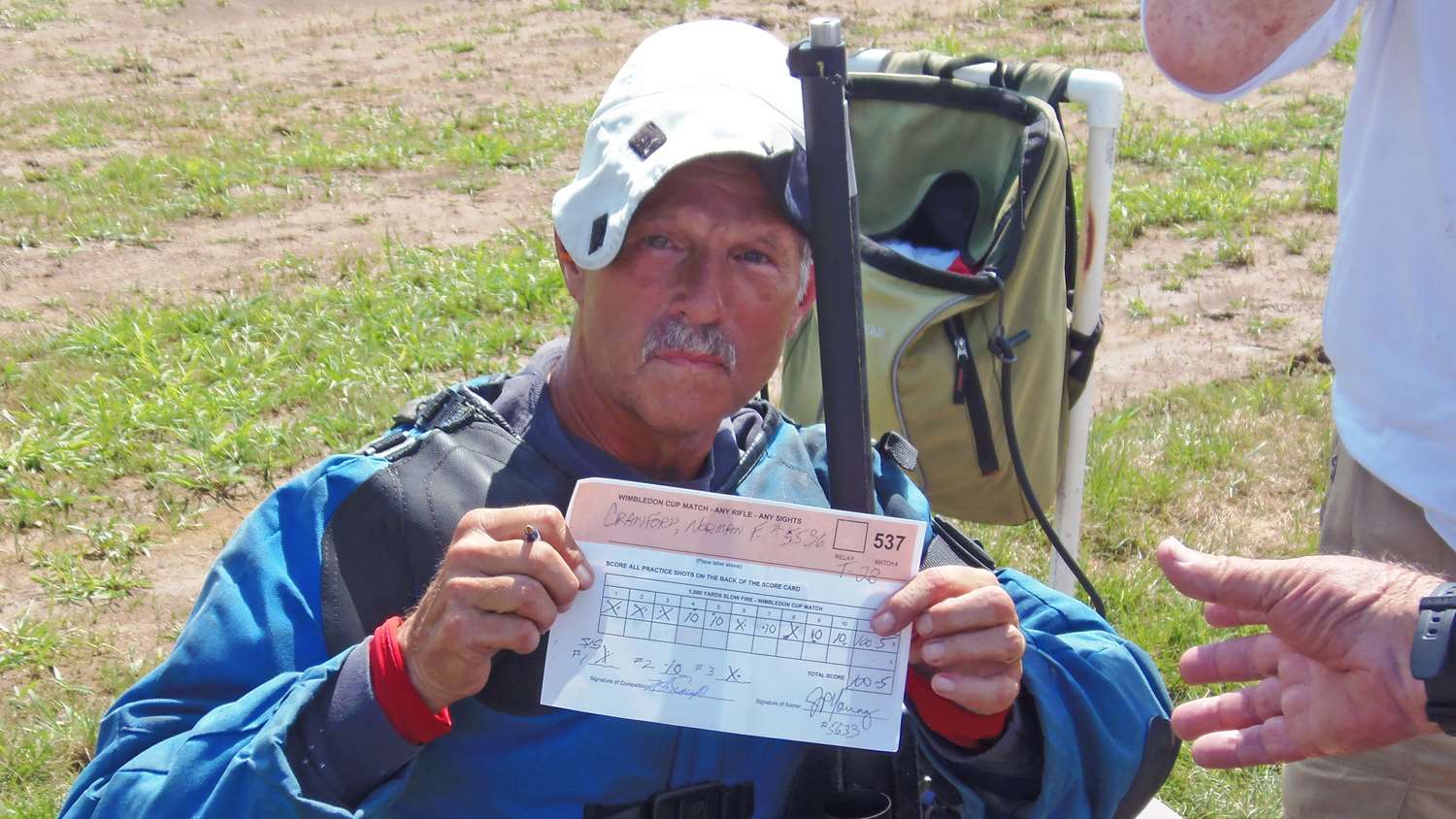 Day two of the 2017 NRA National High Power Rifle Long Range Championships was nearly as hot as day one, with the temperature reaching a high of 91° F, and rough winds that reached 18 mph. The Leech Cup is a metallic sights-only match with 20 slow fire shots prone at 1,000 yards. The Porter Trophy and Andrus Trophy Matches are both fired concurrently with the Leech Cup. The Porter Match course of fire is nearly identical to the Leech Cup, but with Service Rifles. The course of fire for the Andrus Match is also the same—but with Palma Rifles.

Jim Sokolowski (Franklin, TN) was the Leech Cup winner, finishing the shoot off with a score of 98-4X. In second place was Phillip Crowe (Cullman, AL), and in third was Nancy Tompkins (Prescott, AZ). High Senior was 2016 Wimbledon Cup winner Norman Crawford (Fayetteville, NC), and High Grand Senior was Steve McGee (Brookville, KS).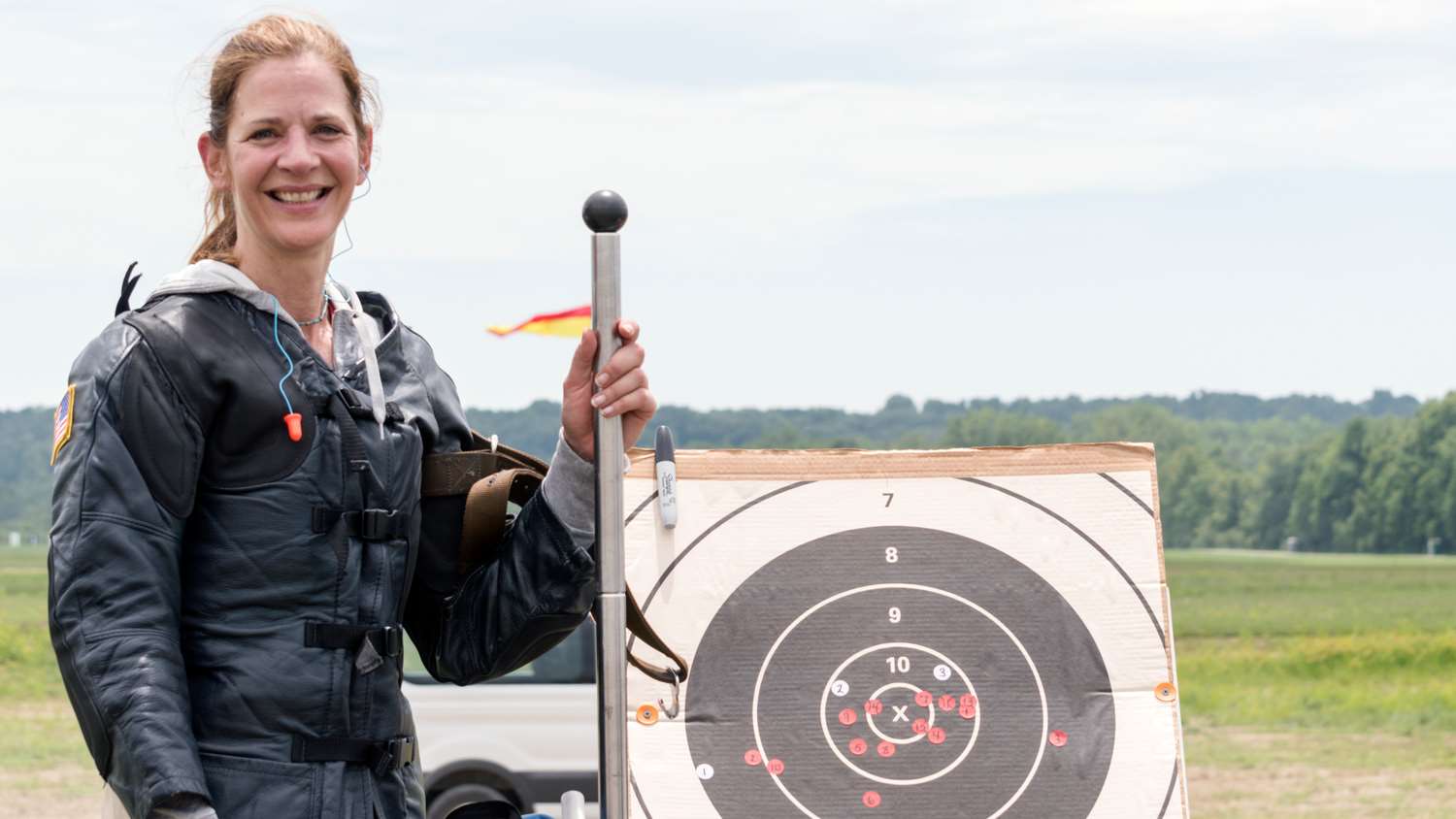 For the Andrus Trophy Matches, Anette Wachter (Mercer Island, WA) won the shoot off with a score of 142-3X. Her score was a single point behind second place finisher Keith Hoverstad (Raleigh, NC) who also won High Senior. In third place was Daniel Altman (Bowling Green, OH), and Blair Clowdis (Randleman, NC) won Grand Senior.

Repeating his victory last year at the same match, John Whidden's 2017 performance crushed his previous score by six points—1246-91X—securing the Long Range Championship. For the any rifle matches he was using a .243 Win. and for Palma he used a .308 Win. The rifles were built in his namesake custom shop, Whidden Gunworks. Whidden is now a four-time NRA Long Range Rifle Champion.

Whidden (Nashville, GA) said, "I want to thank my sponsors, Berger Bullets and Bartlein Barrels. Both companies make great products. I also want to thank my family, for traveling with me and for everything they do to support me."

In second place was Phillip Crowe (Cullman, AL) with a score of 1245-68X. Completing the match in third place was the 2015 champion Nancy Tompkins with a score of 1244-65X.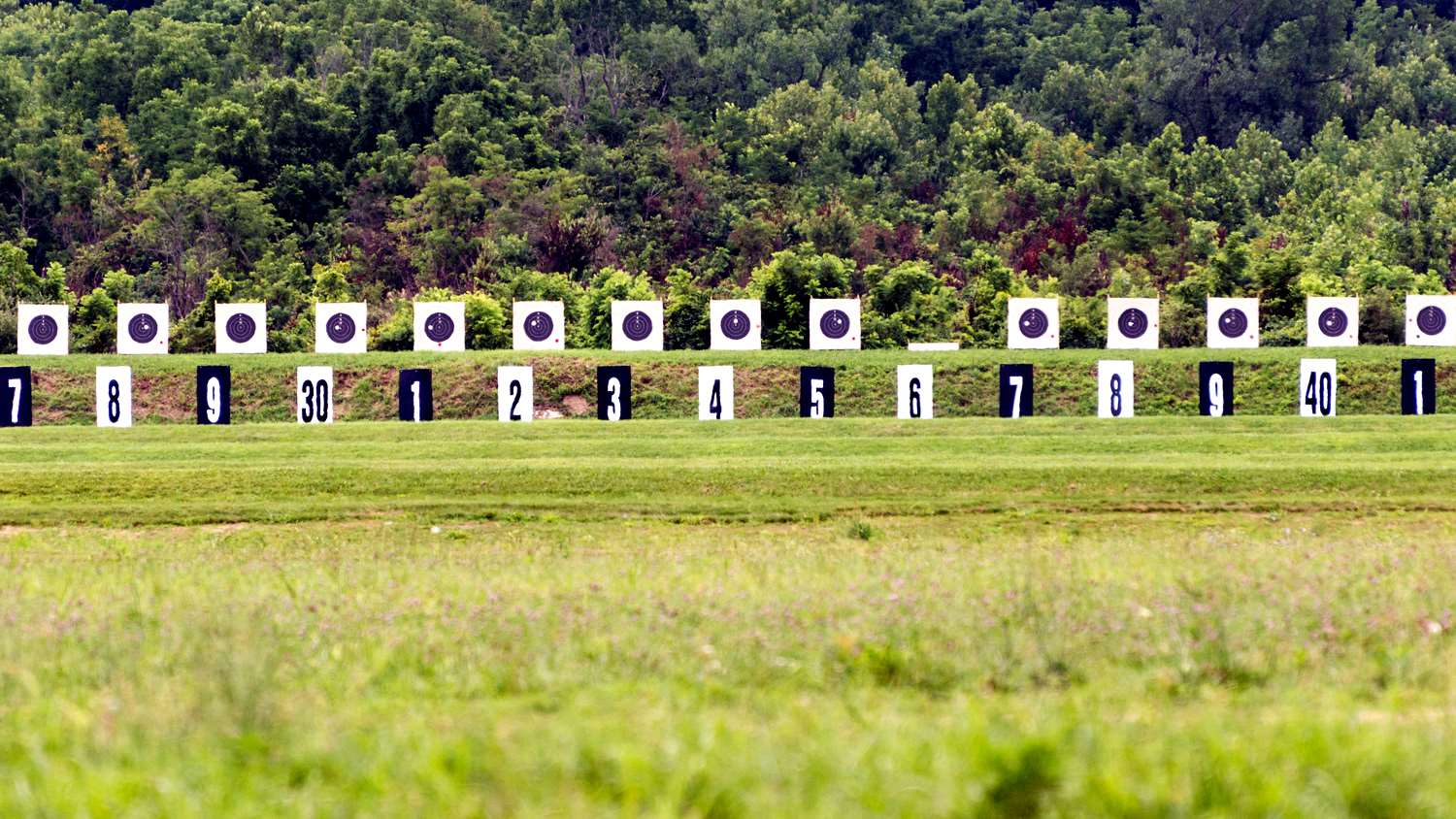 In the Palma Individual Trophy Match, John Whidden took top honors with a score of 450-28X. In addition to the usual trophy plaque and award check, he also won five boxes of Berger Bullets. Only a point behind taking second place was Nancy Tompkins (Prescott, AZ) with a score of 449-26X. In third place scoring 449-22X was Robert Gustin (Shingle Springs, CA). For the Palma Rifle Team Matches, the winner was Team Tompkins with a score of 1783-94X. Team members were Michael Storer, Todd Branin, Anette Wachter (also Team Captain), Robert Gill, and Coach Nancy Tompkins.

Extreme Long Range

Camp Atterbury's Range 3 has a firing point at 1,760 yards which the NRA put to good use, with the debut of the NRA One-Mile Club. Extreme Long Range (ELR) matches are intended to test the competitor's (and team) knowledge of their equipment and ability to adapt to wind, temperature, and light conditions, as well as other environmental surroundings at long distances. ELR is generally thought of as precision rifle shooting beyond 1,500 yards.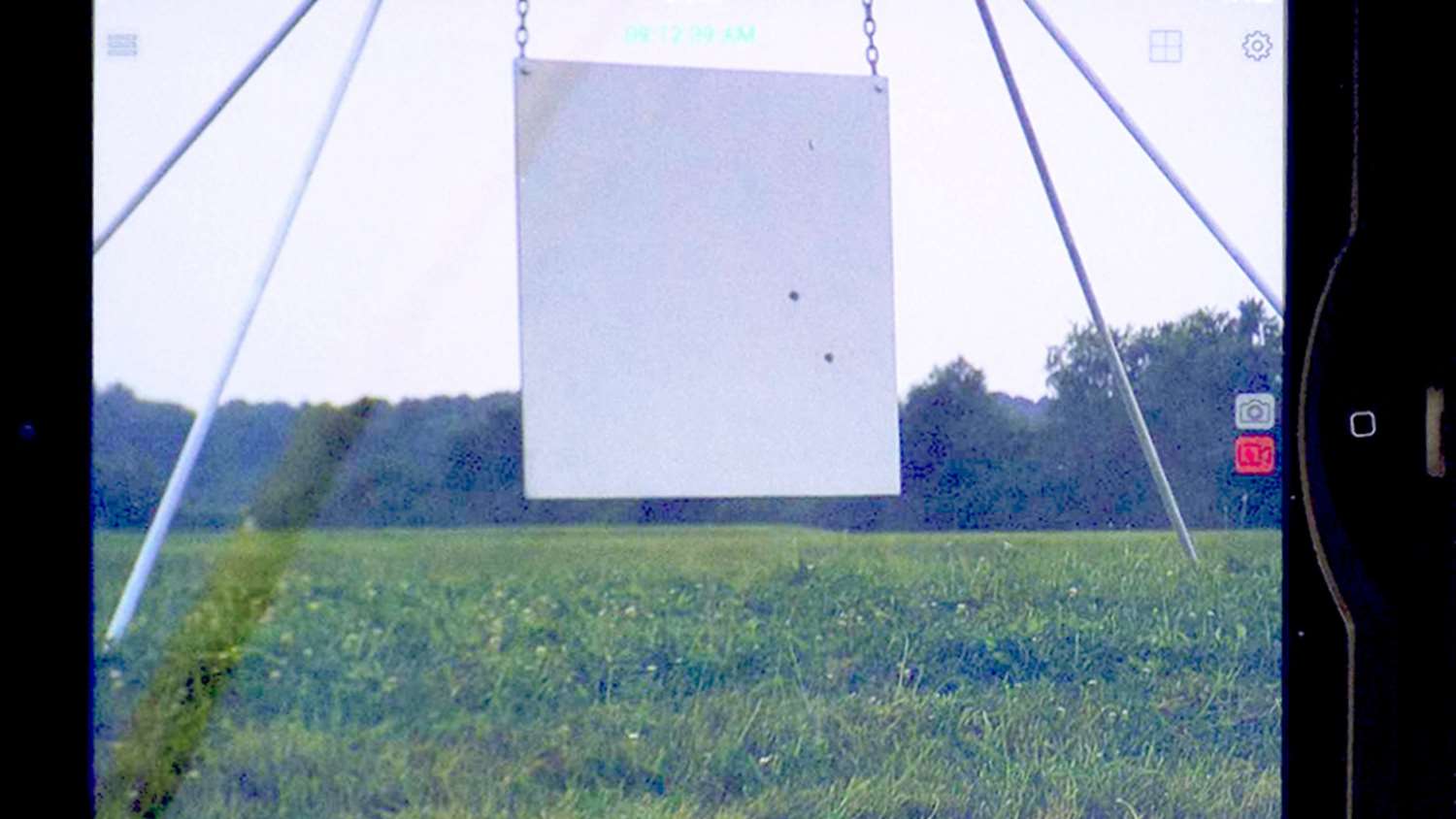 The One Mile Club Match uses 36-inch square AR500 steel targets at distances of 1,400-, 1,575- and 1,788-yards. Rifle calibers must be smaller than .50 BMG, and any sights, bipod, tripod or bench is allowed. The timed course of fire allows for 15 rounds in 10 minutes—five rounds at each of the three distances. Competitors are allowed to continue to the next distance only after confirmed impacts. Hitting the 1,788-yard target nets the shooter a NRA One-Mile Certificate and Club pin. Scoring is point-based with multipliers—5x bonus for making a first shot hit, 4x for second, etc.

Corbin Shell and Mitchell Fitzpatrick were tied with zero misses at all three yardages going into the shootoff. To break the tie, an NRA LR (1,000-yard) target center was attached to the backer at the mind-blowing distance 1,988 yards (1.13 miles). After Fitzpatrick continued his perfect streak, Corbin had his first miss of the day, giving Fitzpatrick the win—becoming the very first NRA One Mile ELR Champion.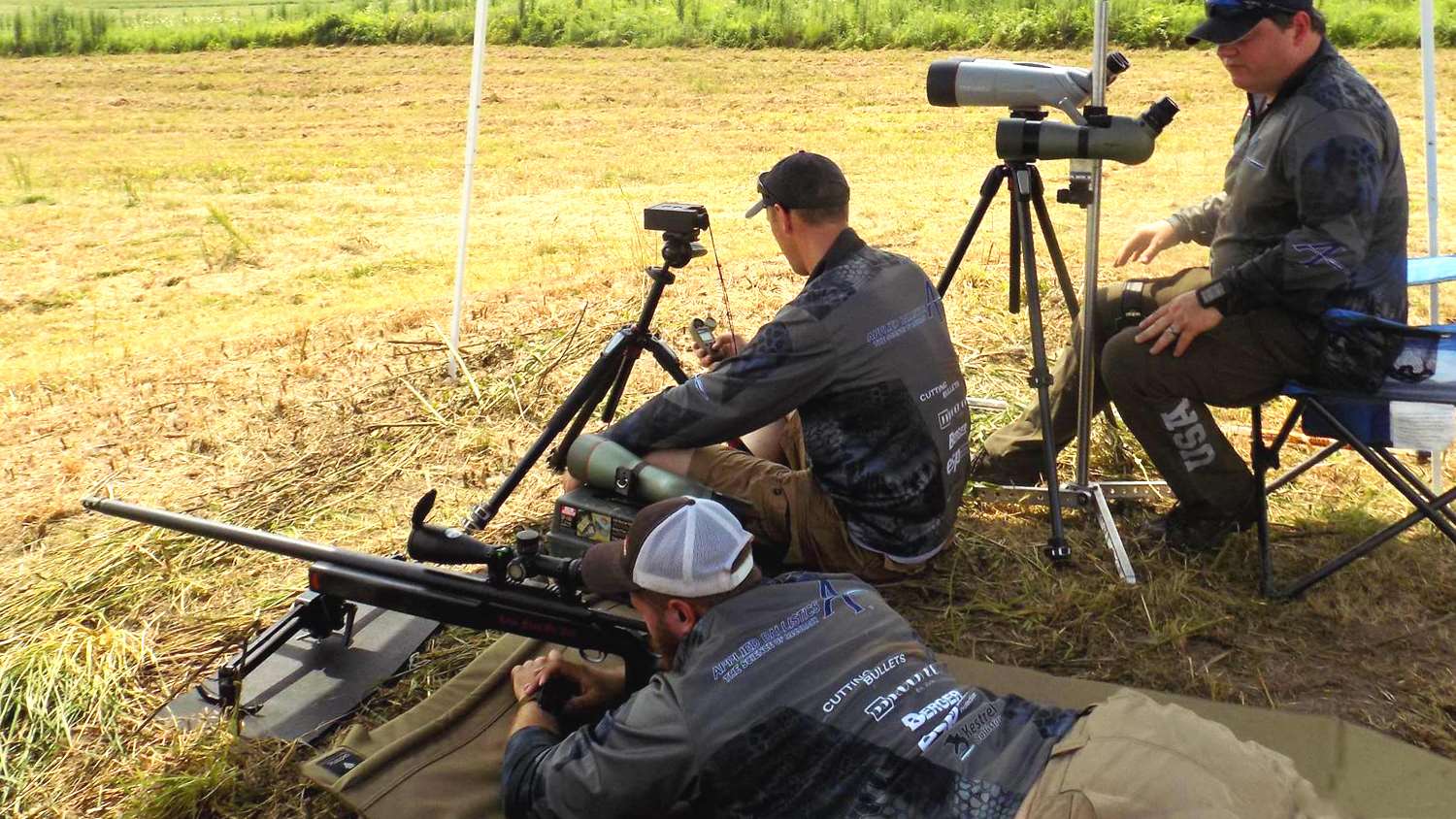 Says Fitzpatrick: "We pulled off the win by shooting clean, never missing a shot! It was a great event and I look forward to competing [here] in the coming years. They are trying to extend the facility to make it a 2,400-yard match. With the NRA having such a rich competitive shooting history … I am beyond honored to have won the inaugural NRA ELR match. As ELR grows … it will be awesome to look back and know we were in at the ground level. Also, it should be noted that my extractor broke on the second shot at 1,788 yards, and I ended up having to fire the last three shots while extracting my cases with a cleaning rod from the muzzle end."

NRA partnered with Targetvision and GSL Technology to aid in confirming hits, with Targetvision providing wireless remote TV cameras that were placed near each of the targets at each yardage. The video feed was sent to monitors and tablet computers, which allowed the scorers to see hits on steel in real time. Additionally, GSL Technology provided a drone to capture aerial footage of the match.

Read more stories about the National Matches online at this link: www.ssusa.org/national-matches