Tactical Solutions recently announced that the company's Pac-Lite Pistol was selected as the firearm of choice to be used in the
American Marksman National Championship
.
American Marksman is a unique shooting competition that pits amateur shooters of all ages against each other. There are four different categories, including Men's Open, Women's Open, Juniors, (12-16) and Military/Law Enforcement. Shooters compete in ten different events that determine the Top 20, who then go head-to-head until the next American Marksman is determined with their final shot at 600 yards. The champion will receive a $50,000 grand prize. The event will be held January 6-9, 2017 at the
Talladega Marksmanship Park
.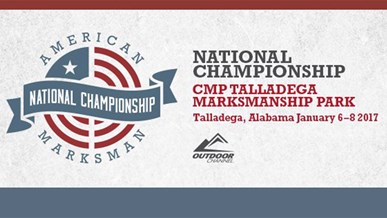 At ranges throughout the country, approximately 2,000 competitors contested the nine regional championships comprised of five stages, one which used the TacSol Pac-Lite Pistol and one, the TacSol X-Ring rifle. The TacSol firearms had close to 200,000 rounds going through them at the matches. Match Director Mark Passamaneck said, "Accuracy and reliability were very important with the rimfire events. It was so comforting to know that any time a competitor claimed the TacSol firearms were inaccurate, or not sighted in, that I could routinely go and shoot a dime sized group (at 10 yards) on demand. Being light, but also very accurate, the TacSol firearms were without doubt the best fit for shooters of all skill levels, and sizes."
Chet Alvord, vice president of
Tactical Solutions
 added, "The TacSol team is very excited to have had our X-Ring rifle and Pac-Lite pistols used in the American Marksman competition. We are looking forward to the American Marksman National Championship and the competitors using our custom Pac-Lite pistols. Our Pac-Lite pistol has been used by many of the top world and national champion shooters and it will be rewarding to see our pistols in the hands of some of the best amateur shooters in January." The event will air on the Outdoor Channel in February 2017.