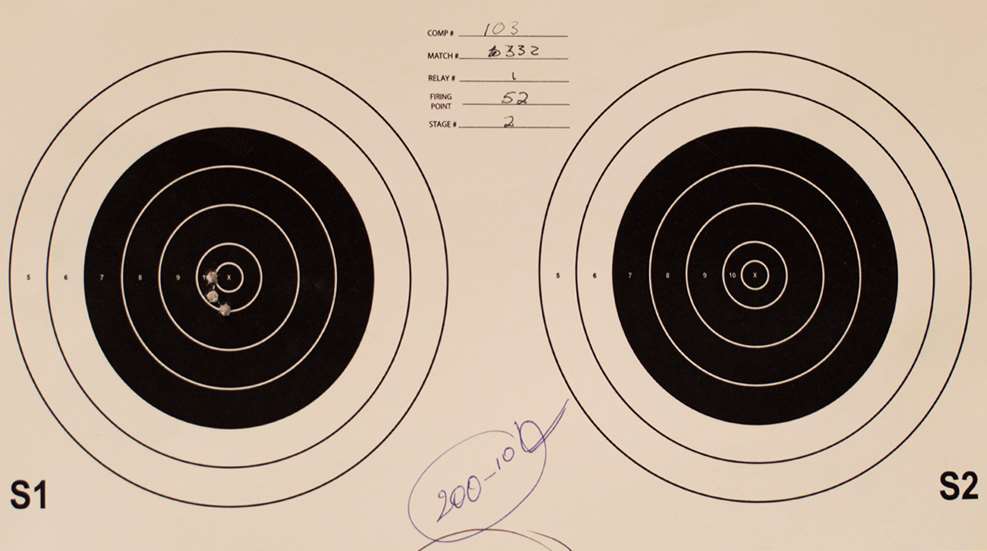 NOTE: This report is based upon preliminary results and may change.

The 2016 NRA National Smallbore Metric Prone Championship, hosted by the Desert Sharpshooters, began March 13 under sunny skies and tough conditions at the Ben Avery Shooting Facility in Phoenix, AZ.

Reya Kempley, no stranger to the winner's circle, opened the day with a 391-24X in the metallic sight Metric Dewar match. She enjoyed a thin margin of victory over Mark Delcotto, a member of the 2009 Roberts Team, and Larry Sawyer who posted a pair of 191-17X for first and second Master respectively. Justin Tracy, a teammate of Delcotto on the Roberts Team, was third Master at 389-19X while Allen Thomas closed out the money winners. British Rifleman Expert Mike Arnstein enjoyed both the change of climate and a class win, shooting a 384-19X, while Marksman Rob Nabower shot a 379-14X to rake his class. Ray Del Rio topped the F-Class category with an outstanding 398-20X.

Richard Fowke, not to be outdone by traveling companion Arnstein, took the iron sight 100-yard match shooting 391-17X with a rifle of his own design. Air Force Academy alumni Mike Seery was two points behind as first Master, 389-20X, just ahead of second Master Kempley, 389-15X. Third Master was Peter Church shooting a 389-14X while Thomas placed fourth posting a 388-12X. Arnstein continued his control over the Experts with a 385-14X just as Nabower's 384-10X held sway over the Marksmen. Del Rio kept a strangle hold on F-Class carding a 395-22X.

With the targets at 50 meters the leaderboard changed with Seery jumping up from second in the 100-yards to first in the short range match on the back of a 397-23X. Long-Range specialist Nancy Tompkins emerged from the pack to take first Master shooting a 393-21X. Tracy notched a 391-23X for second in class while Church, 391-10X, and Army Marksmanship Unit shooter Erik Uptagrafft, 391-18X, finished third and fourth respectively. Ken Nelson pushed Arnstein aside and took the Expert class with a 384-11X. Nabower pulled off a hat trick winning his third class award in as many matches with a 381-12X. Former National Guard All Guard shooter John Andres put together a near perfect 399-30X to depose Del Rio and win F-Class.

At the end of day one, Seery emerged triumphant posting an 1173-58X. Tracy had a four point deficit, 1169-53X placing him first Master. Church's 1168-38X was good for second. Reigning National Conventional Smallbore Champion Kevin Nevius was third, 1164-38X, Kempley slid into fourth shooting an 1163-52X. At press time there was a scoring issue being ironed out which might push Uptagrafft up into the money displacing Kempley. As expected Arnstein, 1151-47X, Nabower, 1144-36X, and Del Rio, 1187-63X, ruled their respective classes and category.

Day two has all the makings of a real dog fight with so many at the top just a few points away from each other and, as we all know, in prone shooting humility is often just one shot away.