Dedicated to all law enforcement officers, the National Rifle Association's new "Law Enforcement: Service, Competition & Training" digital magazine can be viewed for free online via Nxtbook.
This special edition online magazine highlights the NRA's long association with law enforcement through competitive shooting and training programs.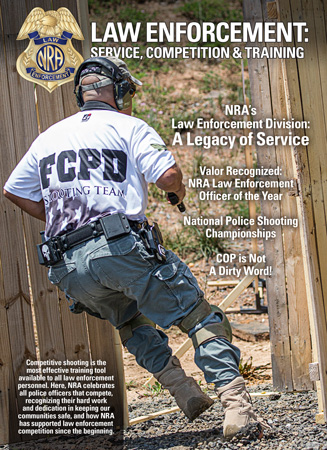 From the cover of the new Law Enforcement Competition and Training digital magazine from the National Rifle Association of America: "Competitive shooting is the most effective training tool available to all law enforcement personnel. Here, NRA celebrates all police officers that compete, recognizing their hard work and dedication in keeping our communities safe, and how NRA has supported law enforcement competition since the beginning."
NRA programs were developed about 100 years ago at the National Matches to set training standards for law enforcement officers. These standard were rapidly adopted, and countless police departments around the country, including the Federal Bureau of Investigation, modeled their training ranges after the famous "Hogan's Alley" course at Camp Perry, providing realistic tactical situations for participants. Today, many thousands of police officers have received NRA training or participated in an NRA-sanctioned competition, including the National Police Shooting Championships.
The "Law Enforcement: Service, Competition & Training" online magazine begins with welcome letters from NRA Executive Vice President and CEO, Wayne LaPierre, and the Executive Director of General Operations, Joseph P. DeBergalis, Jr.
Also not to be missed in the pages of this online book are six features that highlight the achievements of police officers in the line of duty and on the firing line in competition and training. Topics include how the NRA Law Enforcement Division has trained firearm instructors for more than 60 years, current NRA Directors that have distinguished themselves with their law enforcement backgrounds, the origins of NRA police competitions, a classic feature article by Harlon B. Carter entitled "Cop Is Not A Dirty Word," the results of last year's NRA National Police Shooting Championship and 12-time champion Rob Vadasz interview, and a feature about the 2021 NRA Law Enforcement Officer of the Year, Deputy Tyler Thoman, a police officer who exhibited outstanding bravery and courage while facing an armed and violent suspect during a traffic stop.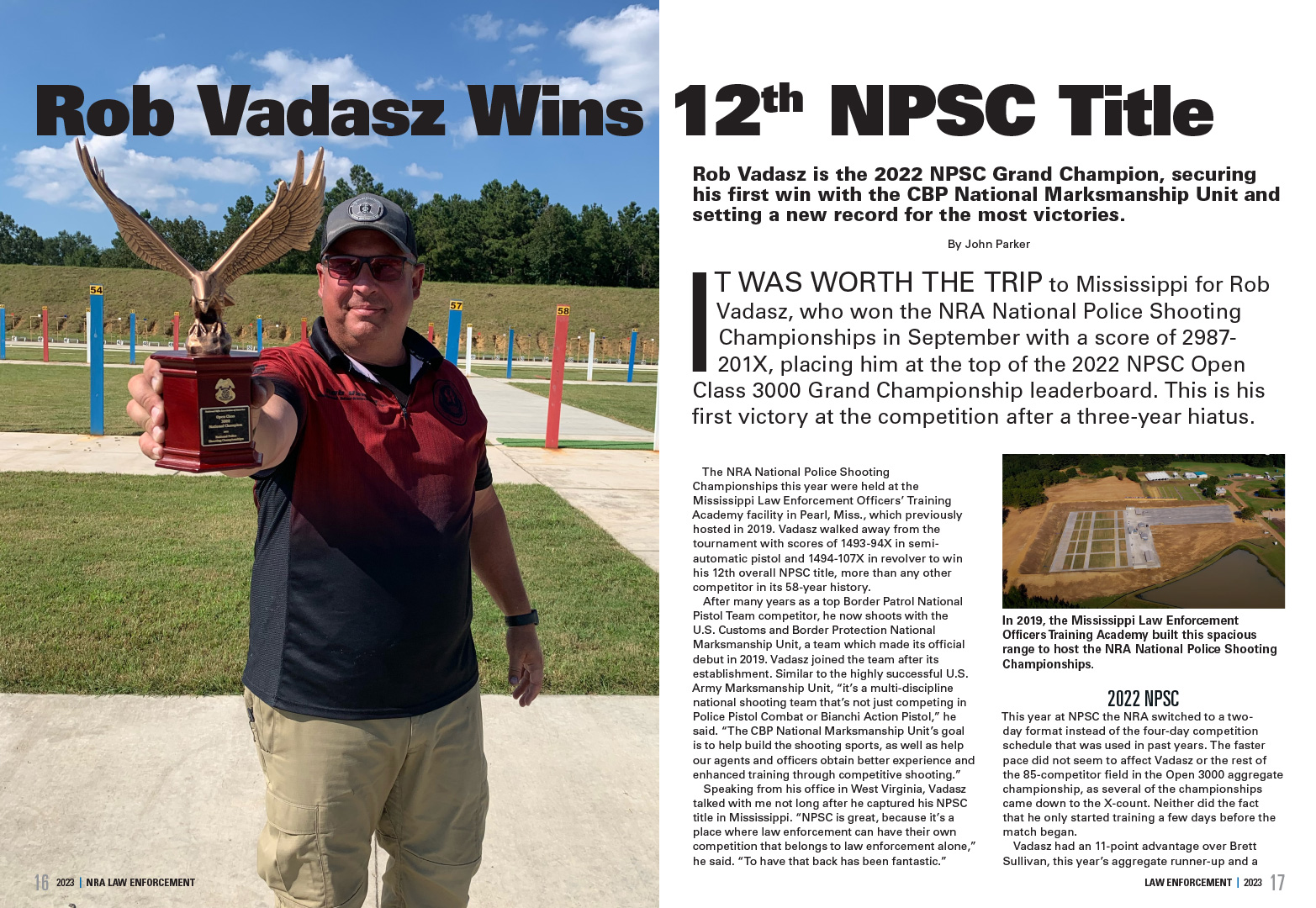 Head to this link to read the "Law Enforcement: Service, Competition & Training" digital magazine for free: www.nxtbook.com/nxtbooks/nra/lawenforcement_2023.
In addition, you won't want to miss the 2022 NRA National Matches at Camp Atterbury digital recap, also viewable for free at Nxtbook. Go to www.nxtbook.com/nxtbooks/nra/campatterbury_2022.
To learn more about the NRA Law Enforcement Division, go to le.nra.org. For additional information about the NRA National Police Shooting Championships, head to this link: lecompetitions.nra.org/national-police-shooting-championship.