This past September in Albuquerque, NM, U.S. Senior Border Patrol Agent Robert Vadasz won the 2015 NRA National Police Shooting Championship (NPSC) with a score of 3471-230X. This is the seventh NPSC championship for Vadasz, who is also the tenth NPSC champion to hail from the U.S. Border Patrol pistol team.

In his interview with SSUSA, Vadasz—now with the second most wins in NPSC history—speaks about this year's championship and how competitive shooting is an excellent training aid for law enforcement.

What firearms and gear did you use this year?

The rules changed for 2015 at NPSC. This year you had to choose between semi-auto and revolver. I'm a semi-auto generation guy, so that is what I picked. I shot a Nowlin 9 mm long slide with a full rib; it's the first one I started out with in 2002. My pistol is on its third barrel, but is still shooting great. I also used an Aristocrat sight rib set front sight separate, with a 1911 6-inch barrel.

Good shooters tend to wear out their gun barrels quickly. What other shooting gear did you use this year?

I also used the Safariland Model 014 Open Class Competition Holster, Model 002 Cup Challenge Competition Holster, and the speedloader was a Comp III with Model 773 Competition Open Top Magazine Pouch. Additionally, I used ammo from Atlanta Arms for all portions of the match, except for shotgun.

Let's step back for a moment. Why do you say semi-auto is your generation?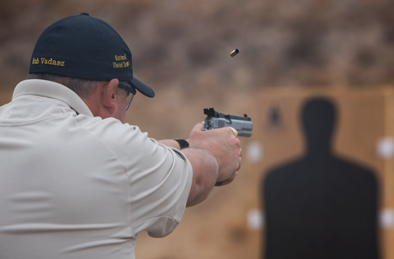 Some history: Action pistol was created around the six-round count course of fire for revolver. Eventually PPC grew to host semi-auto 1500s as well, and the revolver remained in the course of fire. When I started competition, semi-autos were the more popular gun for law enforcement. NPSC match officials changed the course of fire this year, competitors had to compete in either semi-auto or revolver. Personally, I wish they would switch it back to both, because it was a more difficult championship that way.

But for the most part I always shoot semi-auto at Bianchi, because that is my bread and butter.

Did you ever have a competitive shooting mentor?

I had a few. One of the benefits of being a member of the U.S. Border Patrol pistol team is having an entire network of mentors.

Clay Tippet was my first teammate on the team, and was the first one that taught me how to focus aggressively on my competitive shooting. He was very concentrated and focused, I had no experience with that before and it was helpful.

Shortly after that, another NPSC championship legend, Philip Hemphill came and helped me out. He was sort of like a father-figure in competitive shooting for me. 

What was the most difficult part of NPSC for you this year?

Surprisingly, there were no difficult stages for me this year. Things went pretty smoothly. When you get to a certain point, it's about not getting in the way of yourself. For me, it was more about avoiding complacency, and not falling asleep at the wheel. 

Do you have any advice for law enforcement competitors interested in competing at NPSC that have never been there before? 

Definitely. Step one is just to get involved. Reality vs. perception is very different in competition. Many law enforcement officers think they are not good enough to compete skill wise, and the reality is that is just not true. The vast majority of LE officers would enjoy it and should give it a shot.

Anyone who is hesitant to get involved in the shooting sports, shouldn't be. They will see that people are operating at various skill levels in competition. It's not all about being at the top of the heap. I've always believed an officer needs to focus on their firearms skills, and there is no better place than at NPSC. Competition is the best, regular way for law enforcement personnel to be prepared for real-world problems that could possibly save their life, or the lives of others.

Step two is to get rid of expectations that you have of yourself, or what others think of you. Look to get better every day, find improvement, and that makes it worth it. For example, in a typing class, no one expects to be the best typist at the beginning of instruction. It's the same with firearms.

The public has an expectation that law enforcement officers are automatically a good shot, and we need to keep that up. You can gain confidence with a firearm in this sport. Some think it might make you more apt to pull out your firearm in a real life situation, but the reality is you will be more reluctant. Too often, LE officers involved in firearms engagements have accidents that result from nervousness instead of calmness. Calmness would come to these officers if they did competitive shooting. 

In addition, officers that are not familiar with gun culture can benefit from competitive shooting. Border patrol agents have become safer and more effective when they have to be accountable for every round fired. That is because accountability is something that competitive shooting teaches every shooter.

This year's championship win was your seventh, which is the second most wins in NPSC Championship history. Any tips for success to share with our readers?

I've always believed that the one thing that has helped me the most, is when I realized perfection does not exist. I tell myself to strive for perfection, but realize that it does not exist at the same time. Particularly in action shooting, the more you make the shot perfect, the less perfect it will be. You can't force it. Follow the process you have learned, stand, breath and watch the trigger.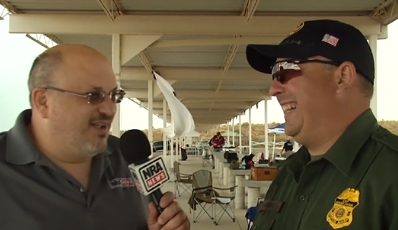 Here is a parallel from baseball. The worst thing for a pitcher to do in baseball, is to aim the pitch. The pitcher needs to trust himself and use muscle memory to get the ball to go exactly where they want it to go. It is the same in competitive shooting. You have to trust yourself, because you are not in total control.

That is similar to what Rob Leatham has told us previously. How did you get into competitive shooting, anyways?

I was twenty-two when I started, a supervisor at the border patrol saw me train during quarterly qualifications and asked if I wanted to get involved in competition. It didn't automatically click with me, but I felt that if I kept at it, it might help save my life or maybe someone else's. Physical encounters can be scary, and I thought that competitive shooting might be a way to prepare.

As my career has progressed, people I never thought I would be able to help out have asked about accuracy-based competition information. I've helped everyone from your non-competing patrol officer, to Joe Q. Citizen who wants to become more knowledgeable and increase their proficiency in competition.

People need to know this is the reality of who we are. If you want to be proficient at this event, as well as exercise your Second Amendment rights—you have to get out there and compete. There is no substitute.

Overall, there's a competition for everyone, at every skill level. There are no barriers, although some perceive there are, which is a shame because competitors are the friendliest people around.

SSUSA thanks U.S. Senior Border Patrol Agent Robert Vadasz for taking the time to share his thoughts on competitive shooting and NPSC.