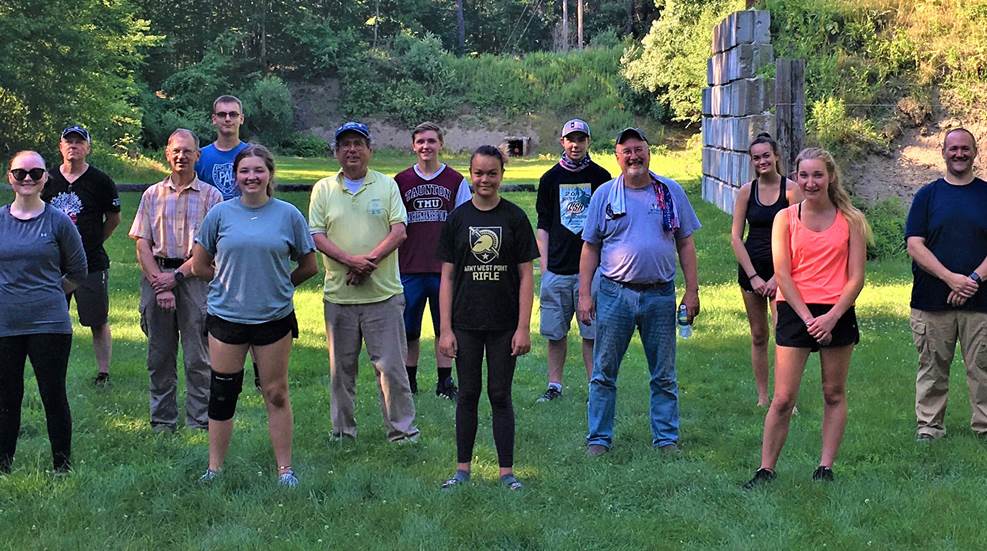 With temperatures hovering in the low 90s by the end of the day there seemed to be almost as many discarded empty water bottles as expended brass filling the collection buckets at the Smithfield Rhode Island Sportsmen's Club after the 2020 Rhode Island Metric Prone Regional on July 19.
The match opened with 2017 U.S. Roberts Team Coach Shawn Carpenter posting a match winning iron sight score of 393-19X. Dave Czerwonka challenged him with a 389-21X for first Master, while New Hampshire gunsmith Frank Garbouchian kept close with 387-12X. Tavish McCoy, a Taunton Massachusetts Marksmanship Unit junior, topped the combined Sharpshooter/Marksman class posting a 384-14X. Zachary Osvalt, a junior who shoots for Connecticut's Blue Trail Range grabbed onto the top spot like a hungry dog a bone and spent the rest of the day fighting off all Unclassified Masters for domination of that class.


Joe Graf, of the host club, grabbed the Dewar match with a fine 391-20X, closing the gap between him and match leader Carpenter. Former National Three Position Jeff Doerschler made his play and scored a first Master win with a 389-24X while Garbouchian was tight on his heels with a 389-16X. New Hampshire's Ashlie Peters jumped to the fore in the combined class with 388-13X. Osvalt's 384-14X kept the other Unclassified Masters at bay.
Going into the final match, 40 shots at 100 yards, the heat increased while the mirage became quite squirrely, and all the wind flags seemed to point in different directions. Doerschler skimmed out a tight win shooting 388-19X while Garbouchian and Carpenter were in a tight battled with both ending up with identical 388s. Carpenter managed 16 Xs to Garbouchian's 10Xs which gave him first Master honors and proved pivotal in the aggregate. McCoy's 379-6X took the combined class while Osvalt swept the Unclassified Masters carding a 378-10X.
At the end of the day Carpenter edged out Graf for the Gold Medallion 1165-52X to 1163-46X, because of his strong start. It was close run match for Graf as Garbouchian harried him the whole juts falling short and taking home the Bronze with 1162-38X. Although McCoy topped the combined class twice, a constant Peters posted a 1149-32X to best his 1144-29X. Osvalt's 1145-37X gave him comfortable lead as Unclassified Master winner.
With 10 juniors competing Peters took that category title with a five-point pad on second place junior Osvalt.
The match also doubled as the Rhode Island Metric Prone Championship with those laurels going to Graf.
Nicole Panko ably supervised the statistical office while Match Director Hap Rocketto ran the line.
---
See more:
Looking Back At The Inaugural NRA National Metric Championship