The 2020 USPSA Western Pennsylvania Section Match was hosted by East Huntingdon Sportsmen's Club and took place July 24 to July 27. This was a fun, challenging and well-organized match that, in my opinion, could even revolutionize the way future matches are run. The innovative stage rotation loop envisioned by Match Director Rodger Elder was ingenious.
Due to the size of the club property and the location of the stages, it was decided there should be two range masters. Range Master Dave Dorisio was assigned to Stages 1 through 6 on the bottom part of Club property, and Range Master Chuck Brooks was assigned to Stages 7 through 12 on the upper part of the property. This stage layout was coined the "Elder Loop" after Match Director Rodger Elder.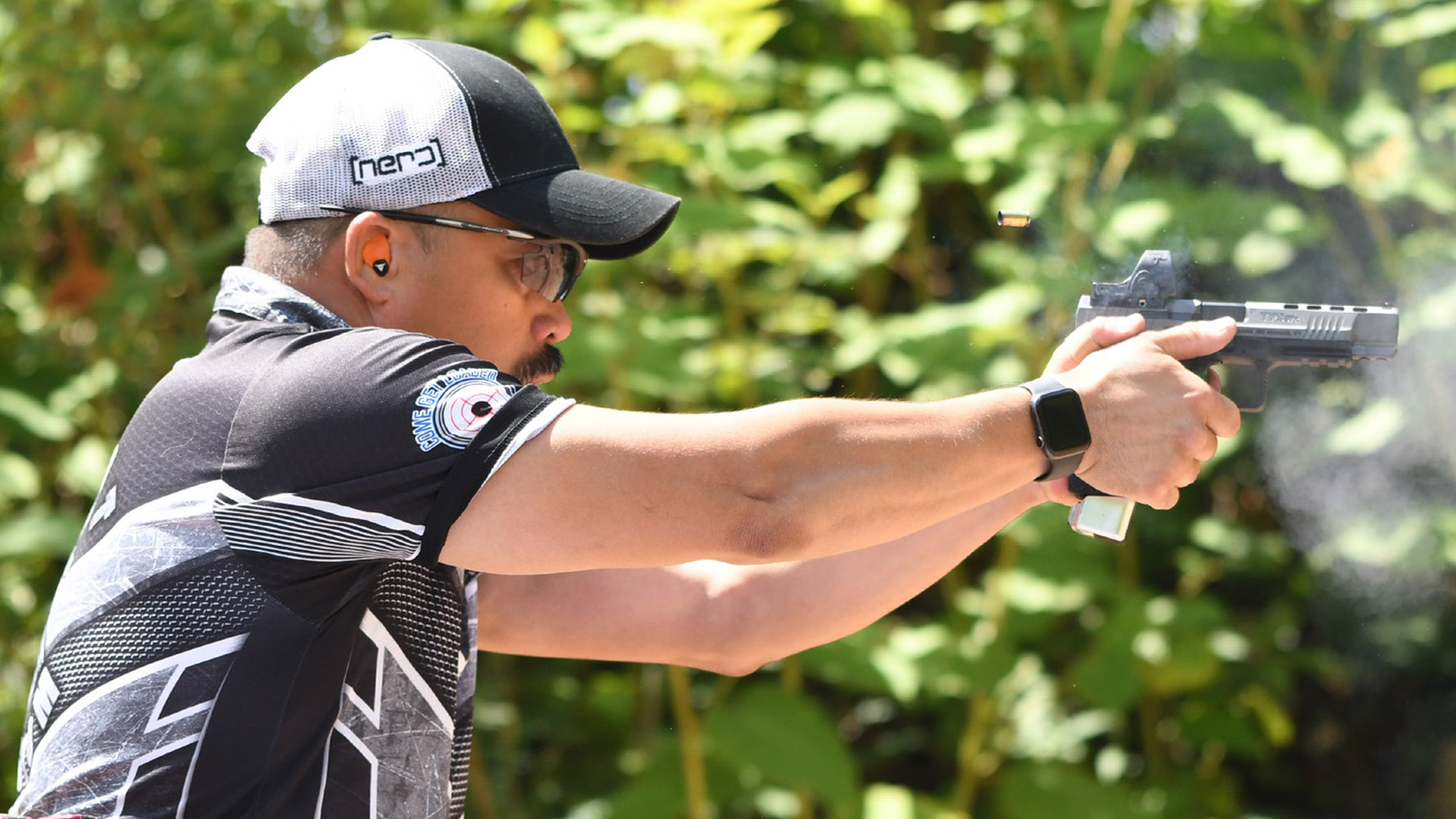 Co-Range Master Chuck Brooks described the Elder Loop as two mini-matches happening at the same time on two different areas of the club property. The squads assigned to Stages 1 through 6 rotated the lower loop until each stage was shot. Squads assigned to Stages 7 through 12 rotated the upper loop until all stages were shot. There was no extra walking or doubling back. Stages 7 through 12 in the upper loop were smaller, less complicated stages, allowing the squads to finish early and go directly to lunch. Stages 1 through 6 in the lower loop were larger, and these squads continued to shoot. This meant that both squads avoided being in the clubhouse at the same time during lunch. Not only did this arrangement help the club meet COVID-19 mandates, it made it easier for the club members who were preparing lunch, who did a fabulous job.
I met with some local shooters and staff to ask them a few questions, and all the feedback was positive. CRO Vince Lucchetti was exceptionally pleased with how smoothly the squads moved through his stage, with no backups. Lucchetti is a fan of the Elder Loop. He believes other clubs should consider Elder's innovative stage layout and pattern their matches accordingly. As a staff day shooter, Lucchetti liked that the match was not a track meet which showed off running skills. Instead, it was a fun and challenging shooters' match.
One of my favorite local shooters is PCC Grand Master Chris Triantifilou. It is hard to believe he has only been shooting USPSA for three years. He began shooting Carry Optics and then switched to PCC. Within one shooting season, he went from an unclassified shooter to a PCC Grand Master. Triantifilou was quick to praise the staff and the great job they did moving squads through each stage efficiently. I was eager to know how Triantifilou shot, but he was not eager to talk about his day—it was not going well. I had a similar experience with a jam, and then to make matters worse, I failed the chronograph stage. Since I struggle with the mental game and shaking off a bad stage, I was curious about how Triantifilou handled the pressure of not shooting well. He explained that when something bad happens during a match, he does not let it ruin his day. He makes something good out of the remaining stages. Once the pressure is off, it is easy to relax and shoot the match. Overall, a relaxed shooter will be a better shooter.
When I asked Triantifilou if there is anything new to learn now that he is a Grand Master, he laughed and said he has only scratched the surface of what there is to learn. One area he is working on is stage interpretation and the ability to move more efficiently and smoothly. He finds stage interpretation to be most challenging, and being efficient is a skill that will only come with time. Listening to Triantifilou made me think, maybe there is a recipe for a well-rounded, consistent shooter? If there is a recipe, I believe it would consist of the following qualities—confidence, shooting skill, unwavering mental game, not taking oneself too seriously and the ability to relax and have fun.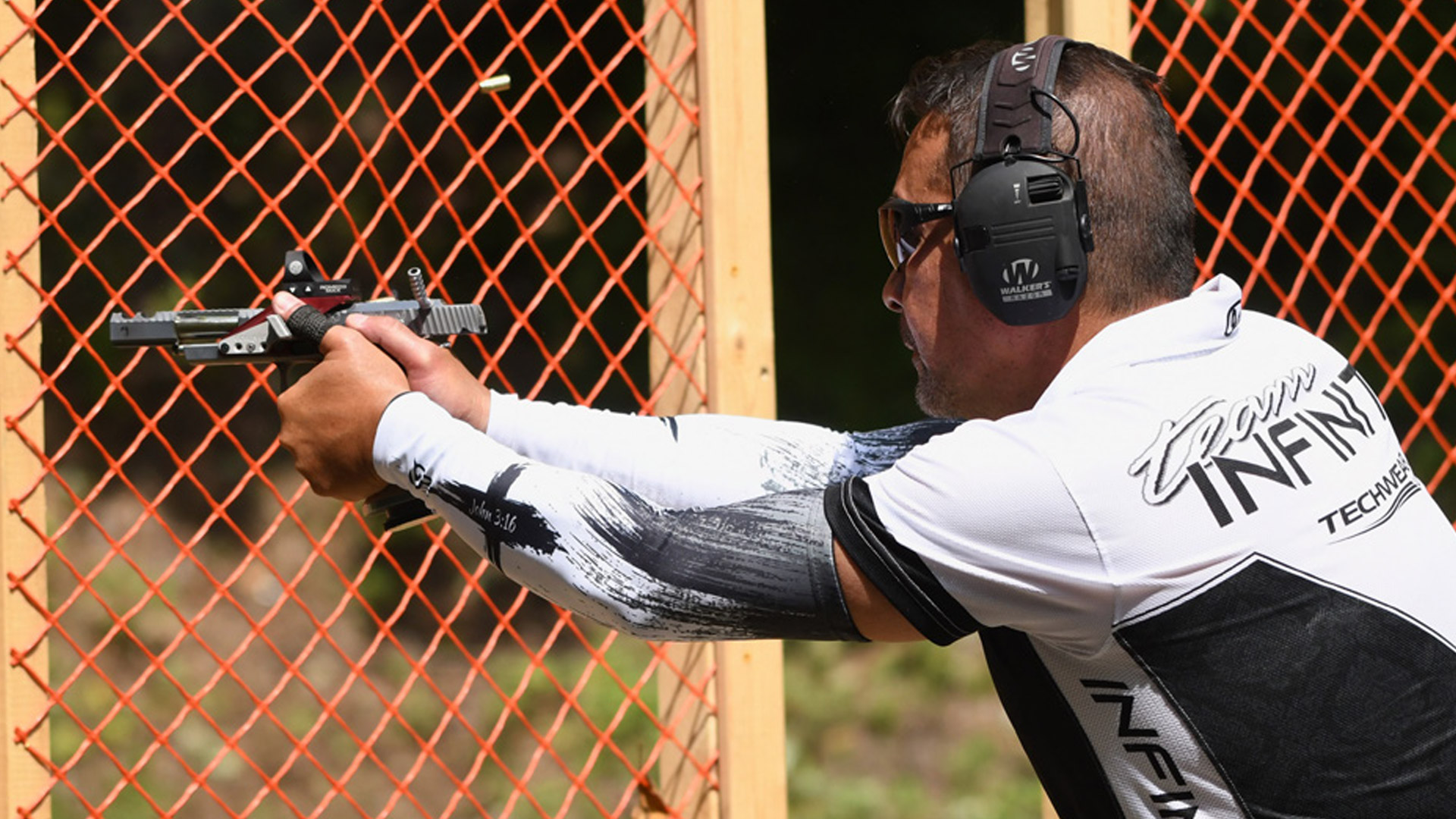 Another local shooter I should mention is the surprise High Lady winner, Kelly Radinsky. She has only been shooting PCC since March of this year. Prior to picking up a PCC, Radinsky shot Limited and Production. She confided she was ready for a change and decided to try shooting PCC. I have shot with Radinsky at local matches and have been impressed. Not only is she fast with her double taps and transitions, but she is accurate. She does not spray bullets like some PCC shooters, she makes her hits count, with most of her shots being alphas.
There was plenty of positive feedback on stage design, so I tracked down assistant Match Director Rich Alloway to ask a few questions. He designed three of the stages for the match and described the stages as deceptively simple. He also emphasized the time and effort Rodger Elder contributed to make the match a success. Elder worked for weeks rebuilding all the bays that were overgrown and unrecognizable from the days when East Huntingdon hosted the Nationals. Elder cleaned out the bays using his own equipment, a bulldozer and a tractor. Every day he worked in 90-degree temperatures with high humidity. Additionally, his wife, Deb, also performed her share of hard work.
Alloway continued by praising the Range Officers and staff for their efforts to make the match a success. The Saturday prior to the match, helpers arrived to build all 11 stages in seven hours. And on the last day of the match, staff stayed for several hours afterward breaking down stages and storing equipment. I was impressed to see Doug Sestock, Michael Ford, Vince Lucchetti, Range Master Chuck Brooks and Dave Dorisio breaking down the stages at 7:00 p.m., a full two hours after the match was over. Rodger Elder never stopped working, and was cleaning up until dark. It was a true love of the sport that compelled them to stay.
Rick Steel, Area 5 Director, also praised the match, stating it was a good match with good flow and the stages had a little bit of everything. I had signed up for the Area 5 match and asked Steel why it was canceled. He mentioned they were forced to cancel due to the COVID-19 restrictions in Ohio. The local matches were running, however, they received warnings several times from the Health Department. To prevent being completely shut down, the host range asked the advice of the Ohio Health Department, which turned out to be negative. The host range decided to cancel the match to avoid having problems at the last minute. Fortunately, communication lines were open with the Kentucky Blue Grass League, and they decided to move the Area 5 match to their facilities. It was an easy move, since the Kentucky club recently had their state match, and the facility was already set up.
Co-Range Master Dave Dorisio summed up the match by saying Rodger Elder had big shoes to fill and he filled them well. His predecessors, David Fries and Ron Rodgers, hosted many section and area matches at East Huntingdon, including the Nationals in 2000. Dave Dorisio said, "David Fries left the range many years ago, but I am sure he is smiling down at the great job Rodger Elder is doing with the club."
Without a doubt, the 2020 CODA Evolution Western Pennsylvania Sectional was a match to remember.
2020 Western Pennsylvania Sectional Leaderboard
Division Winners
Limited: Nick Reynolds
Open: Andrew Hyder
Production: Rob Epifania
Revolver: David Olhasso
Single-Stack: Michael Danjczek
Carry Optics: Stephen Van
PCC: Corey Scheel

Category Leaders
Senior: Jim Civitello
Junior: Matthew Wolff
Super Senior: David Blair
High Lady: Kelly Radinsky
Law Enforcement: Brandon Higbee
Military: Jeremy Shoff

Article from the September/October 2020 issue of USPSA's FrontSight magazine.
---
See more:
New Mexico ELR: Mimbres River Mile Shootout