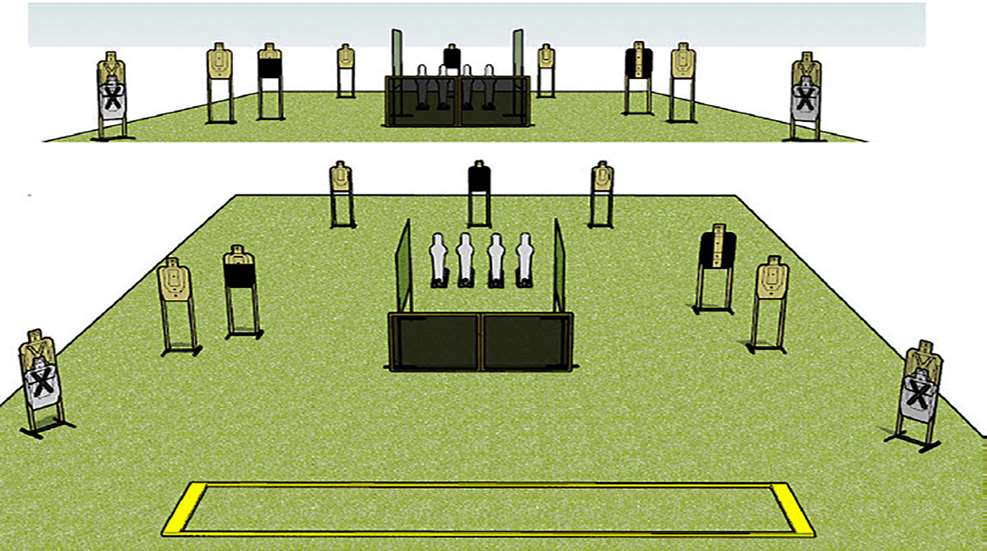 When I first started shooting, the last thing on my mind was how to digest a stage, a.k.a., stage interpretation. I remember the first stage clearly. There was a Texas Star, and I remember thinking, "Maybe I should go home now—it moves." I literally turned around and started to leave when I was stopped by another shooter who attempted to explain to me how to shoot the Texas star. The next thing I knew, I was on a squad consisting of all range officers—that was even more intimidating. I had just watched a shooter be disqualified, and now I am shooting with range officers. As you can see, stage interpretation isn't the first concern of a new shooter.
It wasn't until I moved on to Pistol Caliber Carbine (PCC) that I was ready to think about digesting a stage. As my skill improved, I saw the importance of shaving off as much time as possible to achieve a better score. It was a no-brainer, because accurate stage interpretation is a must if you want to finish on top. The only problem is that I was not ready to be on my own with respect to interpreting a stage. When shooting PCC, both my husband Dave and I are left-handed. We came into this world right-handed but were cursed with left-eye dominance. Our shooting friends are right-handed so watching them did not help me learn. I had to lean on Dave for stage interpretation, because right-handed shooters interpret a stage differently. It never fails during a walk-through of a stage to find myself bumping into a right-handed shooter. We both start at opposite ends of a stage and end up somewhere in the middle.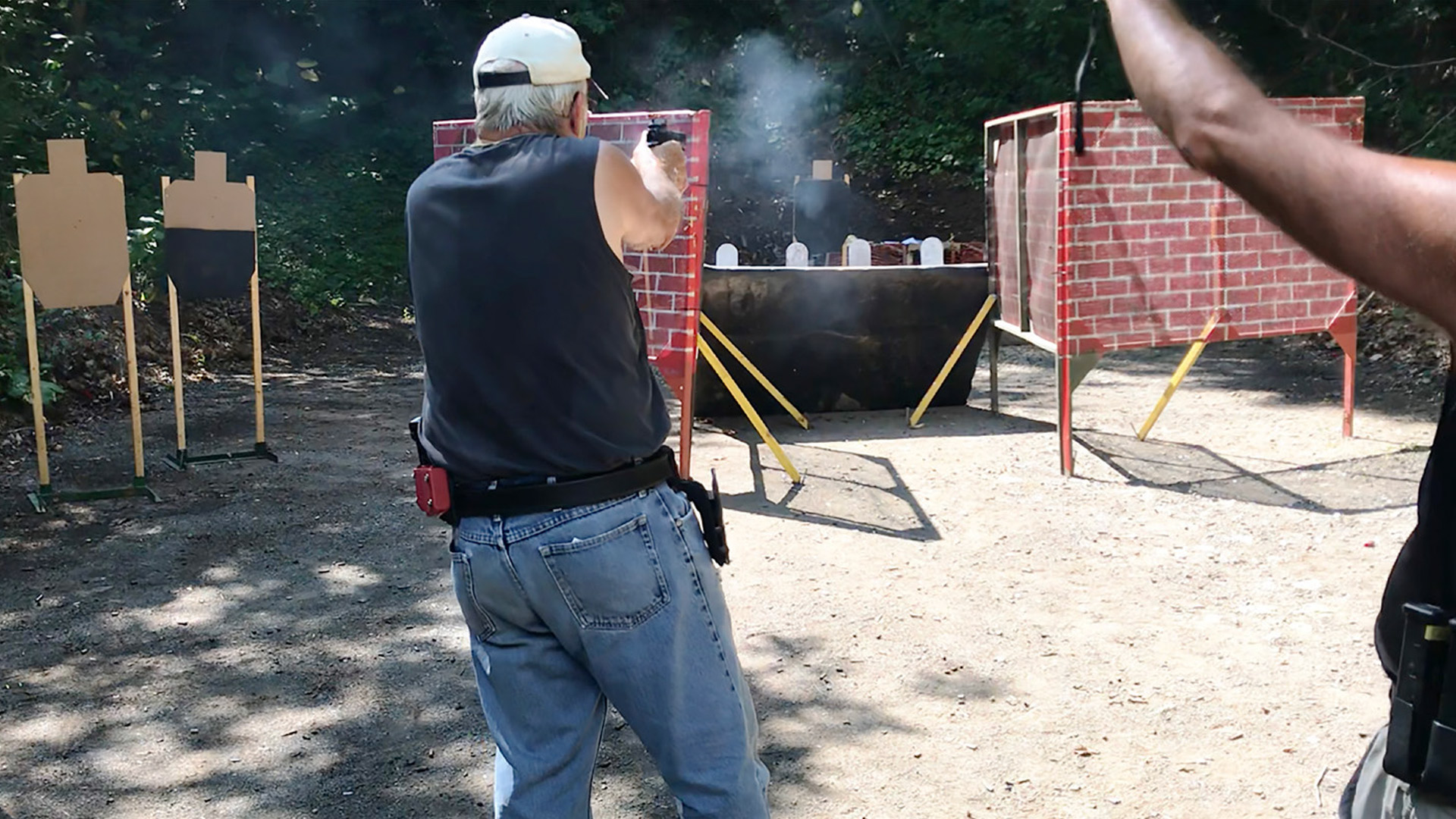 When shooting a pistol, eye dominance does not matter. Shooting a rifle is another story. As a PCC shooter, the gun must be shouldered to correspond with the dominant eye. Therefore, I was forced to become left-handed. I tried shooting PCC right-handed, but experienced issues. My splits were faster right-handed, but my target transitions were slow because I experienced a ghosting of multiple targets, almost like going cross-eyed. I continued to rely on Dave for help until I realized that his interpretation of how to shoot a stage was good for him but not always good for me. When Dave interprets a stage, he looks for a way to minimize running. On the other hand, I am more athletic and can run a bit faster. It didn't take long for me to realize that I had to find my own way to interpret each stage.
Things changed for me when a local match director asked Dave to design a stage. Dave's computer skills are limited, so he asked me, the computer nerd with an IT background and a love for graphic design, to help him. I love designing so much that I used to design websites for free because it was fun. I was more than eager to make Dave's stage design idea digital, and I asked Dave if I could design my own stages. At first my stages were simple, but I have since started using freeware CAD software called SketchUp Make, and my stages are evolving and becoming more challenging. I cannot begin to tell you how much I have learned from designing stages. Not only has it helped me become a better range officer, most importantly, it has helped me tremendously with stage interpretation. I began to realize that a lot of the stages I shoot are not left-handed friendly, nor are they friendly for the Single-Stack and Production folks. When I design a stage, I try to make it an even playing field. I believe the shot should be challenging for both left- and right-handed shooters. There should be balance.
I learned when designing that it is important to determine what path the shooter might take, what obstacles or difficulties they might encounter and what skills they will need to use. I noticed that it is the same with digesting a stage that is not my own. I ask myself: What is the designer's intent? What obstacles has the designer set forth?
Dave told me that when he first started shooting, stage design wasn't about running, backing up while running, laying on benches, etc., rather it was about shooting skill. I tend to agree with him. Why should a shooter be a track star to score well? After all isn't this a shooting sport? Movement is necessary, but not to the point where it is more a running game than a skill game.
If you are interested in digesting a stage, try designing one. The stage does not have to be fancy. To get motivated, ask your local club if they need stages. Believe me, in most instances, the club will be thrilled to have your input. When you first begin, find someone who is experienced in stage design to proofread through your design and to make sure it adheres to USPSA guidelines.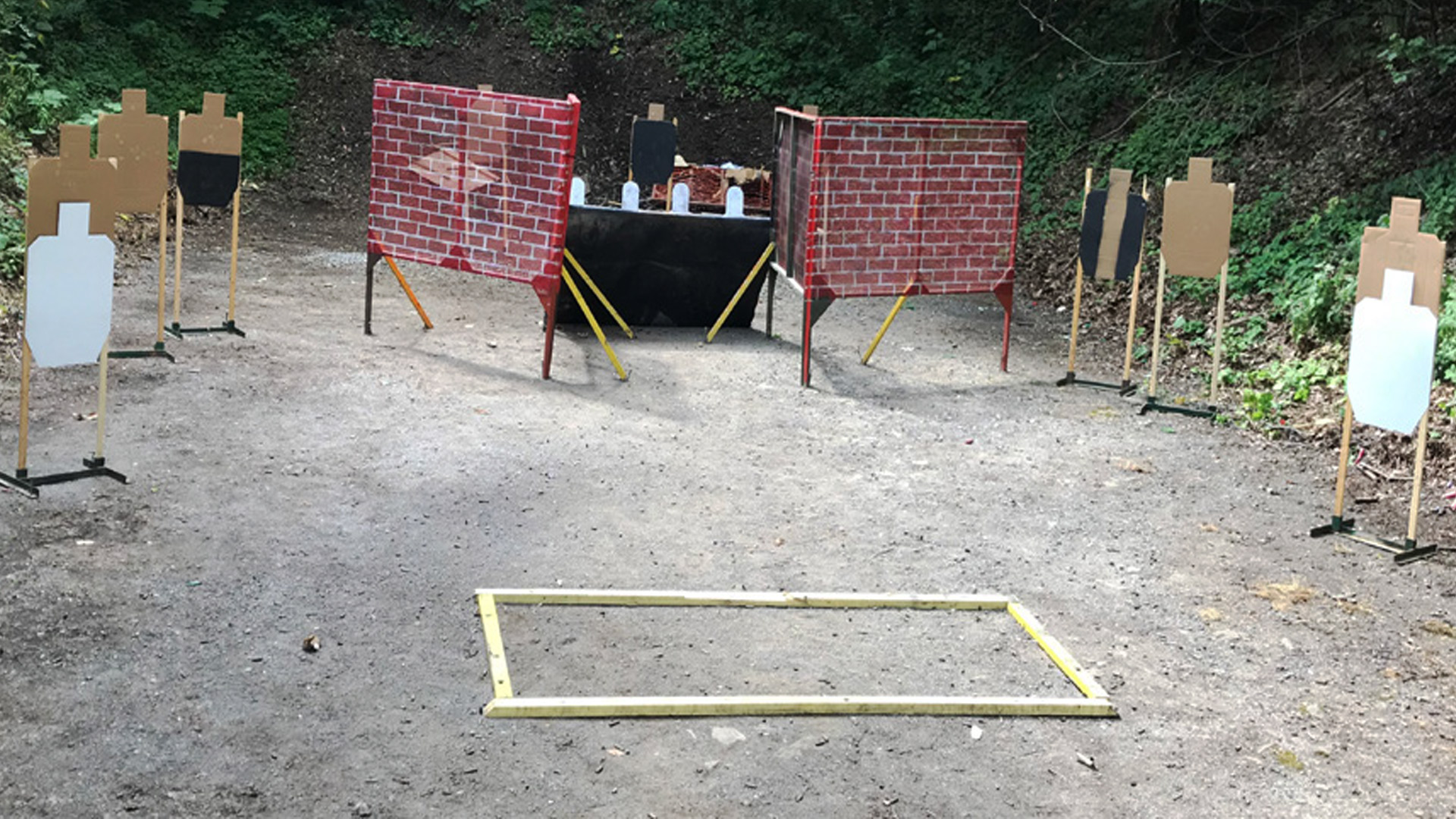 There are many options for stage design tools available; I started out using Microsoft PowerPoint, using a template online with stage props. And, the free software tool I use, SketchUp Make, can be challenging at first, but if you search the internet, there are articles and YouTube videos that will help you get started. There are other online paid options, but I have not tried them. For those of you who are not up to speed with the digital age or refuse to become a computer nerd, there is a stage design tool called 3D Stage Builder. It is on the pricey side, but it may be worth the money. I have never tried 3D Stage Builder, but have seen photos of stages designed with it. 3D Stage Builder consists of miniature 3D props that can be positioned to your desire. Once the stage is built, take a photo, and the design is finished and ready to be posted or printed.
To show you how much of a nerd I am, I started out the New Year designing stages and so far, I have built 54 stages in under two months. It isn't always that easy to design a stage, there are times when stage design block rears its ugly head and I am blank for a design. Then there are days when I am able to think of five or six stages and create them one right after the other. To make it easier on myself, I made up a template that has a general stage briefing, and I adjust the template to correspond to the stage.
For me, designing stages has been a tremendous help in stage interpretation—so to sum everything up, if you want to improve your stage digestion—start designing stages.
Article from the September/October 2020 issue of USPSA's FrontSight magazine.
---
See more:
KC Eusebio Becomes 1st Competitor To Break 60-Second Barrier In Rimfire Pistol