We first brought you the story of Custom Metal Products back in 2017 after meeting company founder H.R. Eddens at the Bianchi Cup. In addition to automated plate racks, CMP boasts an impressive lineup of Texas Star steel targets. SSUSA recently had the opportunity to check one out in person. Watch the video above.
The CMP Steel Targets Texas Star has five 8-inch diameter, ⅜-inch thick AR500 steel plate targets mounted on the rotating arms of a wheel fixed to a sturdy base. Like all Texas Stars, when you shoot one of the targets off the arm, the wheel begins to rotate. The goal is to try and keep up with the moving targets. The bane of action shooters for decades, the wheel is unpredictable—it may speed up, slow down or even reverse direction. Best practice for beginners is to start at the top, commit to one side (either is fine) and aim to connect at the top of the upswing for the remaining targets. Essentially, you shoot a plate and let gravity bring the plates to you and you shoot them while they're at the apex of their swing. While there are other methods more advanced shooters use to tackle the Texas Star, for newbies it's much easier to let gravity do the heavy lifting.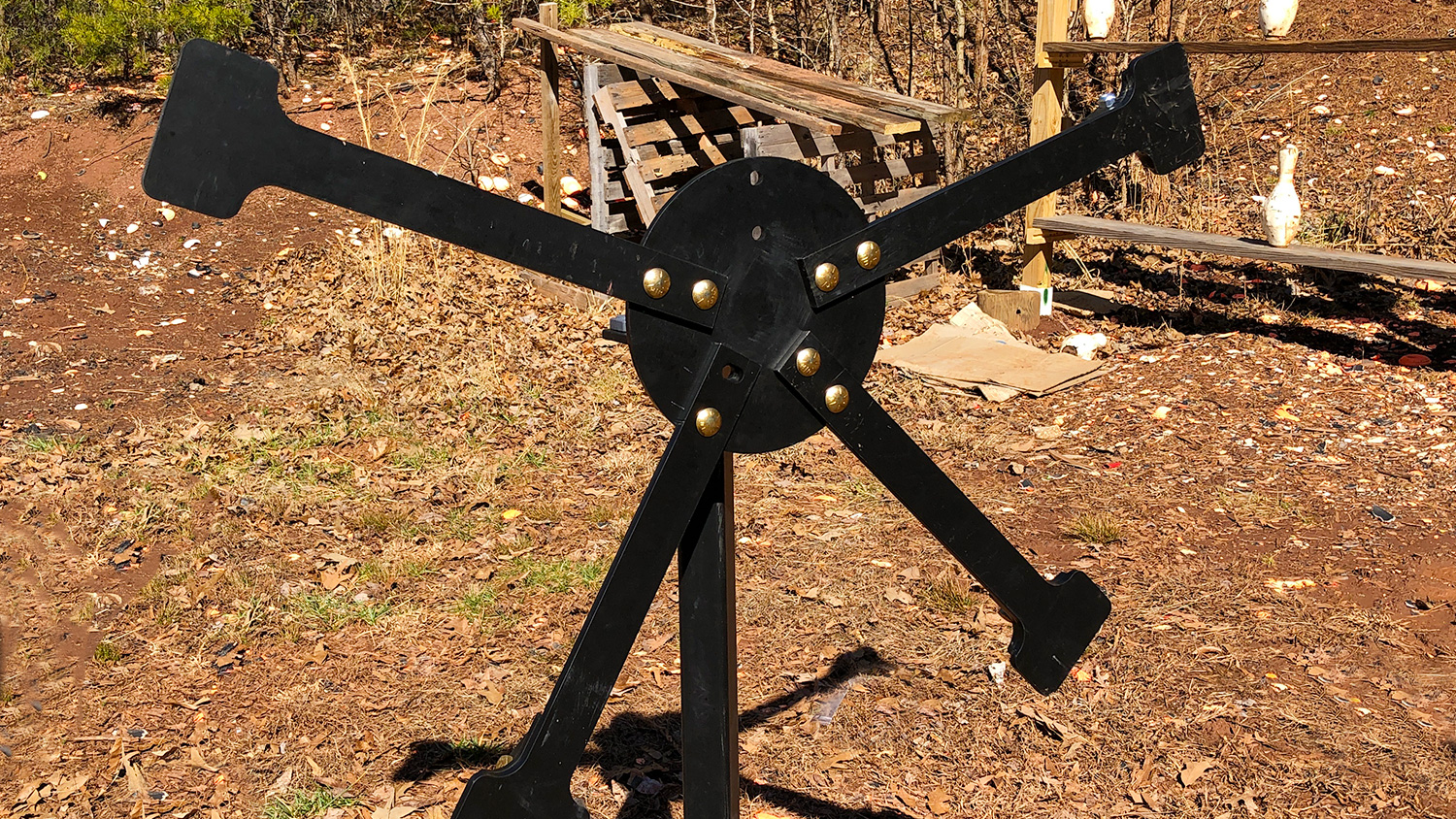 Assembly of the Texas Star is straightforward. The legs of the base slide into sockets on the bottom of the post. Bearings are installed on the top of the base along with the wheel, and next the target arms are mounted using Grade 8 hardened carriage bolts that provide heavy impact resistance. The target plates themselves are installed by fitting the stem into a socket on the back of the target arm. To reset the Texas Star, simply slide the target under the retaining spring and you're ready to shoot again. The entire package was easy to transport to the range, and setup took less than an hour.
For the centerfire Texas Star that we were shooting, the minimum safe firing range is 15 yards for handguns and 100 yards for rifles. Safe maximum impact velocity is 3,000 fps.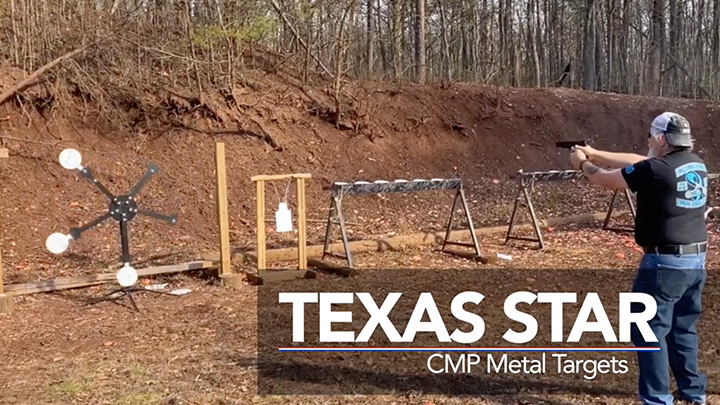 Our group gathered a nice selection of firearms for the Texas Star shoot, including the Ruger Custom Shop Super GP100 9mm revolver, LWRCI SMG 45 hybrid pistol in .45 ACP (recently named NRA Gun of the Week) and the Springfield Armory Range Officer 9mm semi-automatic pistol. My personal favorite was the LWRCI, but all of the guns we had on hand were a blast to shoot that afternoon.
The MSRP for the Custom Metal Products Texas Star is $715. A .22 LR rimfire version is also available. Learn more at custommetalprod.com.
---
See more:
Our Guide To Improving Your Carry Optics Scores