About an hour north of Atlanta, set on nearly 400 acres of wooded rolling hills in Dawson County, Ga, is the River Bend Gun Club. The range is bordered by the Etowha River and has covered pistol bays, action and silhouette ranges, as well as multipurpose rifle, plinking, big bore, shotgun and a 600-yard high power range. Match Director Randy Gamble and his staff set out with three goals:
Fun and challenging stages.
Half-day format with all stages shot in approximately four hours.
Happy staff.

They set out to accomplish this by doing certain things to ensure they met their goals. The two biggest goals were smaller squads and more staff on each stage. Georgia State has staff reset the stages instead of the common practice of competitor reset; they were able to do this by having four or five staff on each of the 10 stages. The squads were limited in size in order to accommodate the half-day schedule and keep the match on time.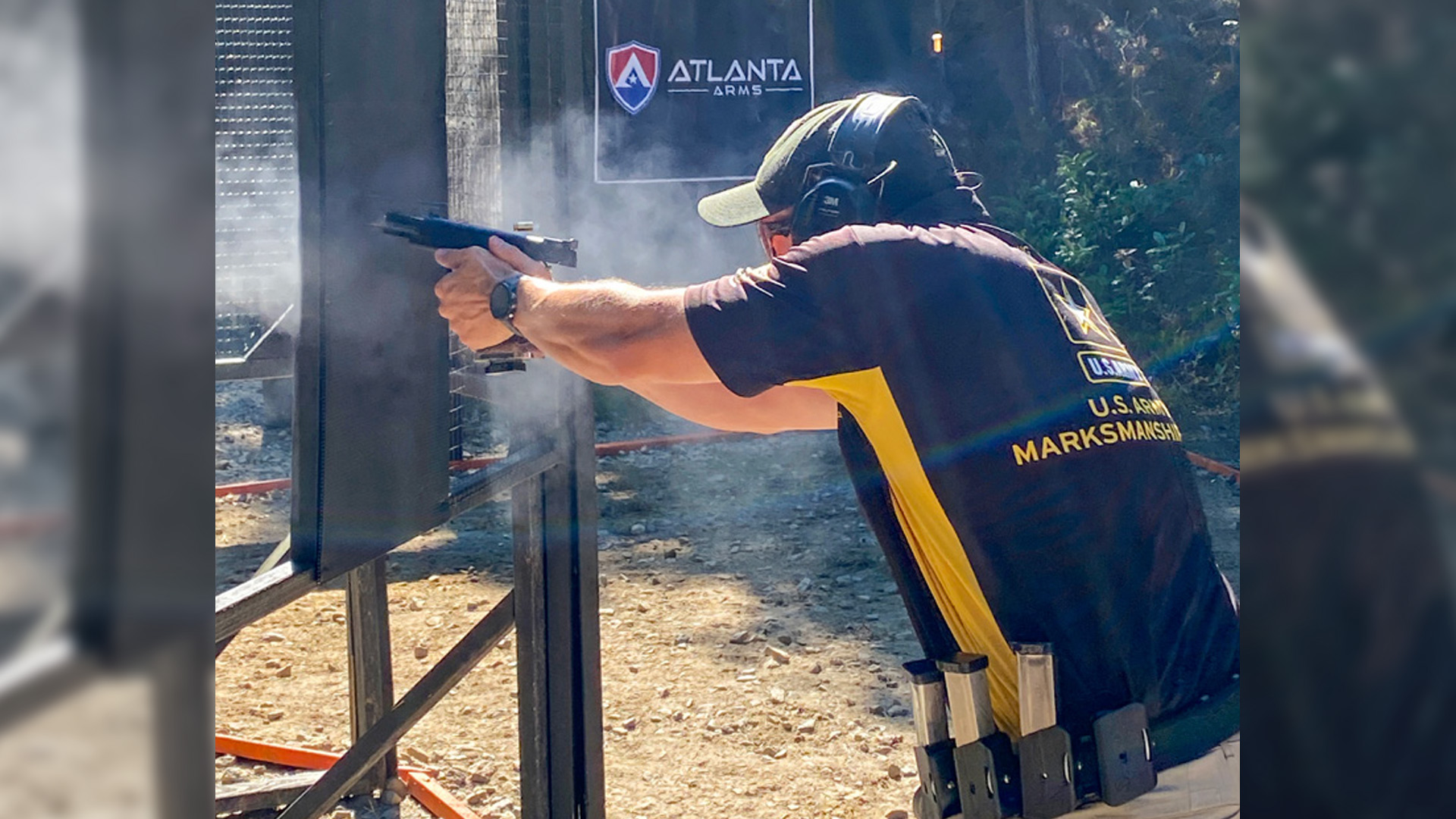 The stages were designed to be challenging but nothing over the top with props and that every level of competitor would be able to take on the task. Randy Gamble designed most of the stages, while Brad Griffin helped with getting the stages on the ground. Two-hundred and sixty-nine competitors took on the 10 stages that made up the match requiring 260 rounds at a minimum. The breakdown was 105 competitors in Carry Optics, followed by 49 Open shooters and 43 in PCC. The iron sight divisions had 36 competitors in Limited, 24 in Production and seven in Single Stack, while Revolver had three and L10 with two shooters.
Stage 1, "More Human Than Human," had the longest shots required in the match. This 26-round, 130-point stage had 12 IPSC targets and two mini-poppers ranging from close three-yard targets to long 30-yard cardboard targets that were only available from the far-left start position. The shooting area was an inverted "T" shape that required hitting your spots to engage the downrange targets before working your way downrange with some hard left to right transitions to work through and not miss on the mini-poppers. Brantley Merriam didn't have the fastest time in Carry Optics at 17.04 but managed a stage win here with only four C's.
Randy Gamble's Stage 2, "Blue Monday," was appropriately named, with its two fast-moving activated swingers, one of the only two stages with activated targets. This 27-round stage had 12 IPSC targets and three mini-poppers. There were several options on how to tackle this stage, even the "start anywhere" in the shooting area. Almost all shooters started on the left back corner to take the first outside left target before moving right to the port in order to engage a group of targets laid out in a near to far type of array, followed by a quick side-step to the right to catch a longer downrange target prior to leaving the side of the stage. At this point, competitors had to decide to either go forward, taking the steel to activate the swingers, or move to the far right for the three tucked-away targets. Some activated the swingers and then moved right, with the plan to move forward to hopefully catch the activated targets when they had slowed down. Others moved directly forward, taking the poppers to activate the swingers, then moved back uprange to the far-right position. You could also work your way across the middle of the stage, breaking up the engagement of the poppers and swingers and avoiding moving forward then having to retreat back up range. Open division saw Michael Garro's 16.17-second run take the stage win over Christian Sailer and KC Eusebio. In addition, Rob Romero took the stage win in PCC on this stage with an 18.51-second run.
"Even Flow", Stage 3, designed by Carlton Jones, was a 22-round, 110-point stage that made perfect use of the narrower bay it was set in. A "start anywhere in the shooting area" had about a 50/50 split on either the back left or right side of the shooting area. The left side had a target tucked back against the vision barrier down range with a no-shoot target, and another obscured by a barrel stack. The right side would have you drawing into a "tuxedo" IPSC target for your first shots. The downrange vision barriers were broken into two small openings, one in the middle and the other to right. The middle position had targets spread out that were going to make you work across the back of the bay, engaging them from the center opening. Targets were close enough to suck you into shooting too fast and dropping points on the IPSC scoring zones. Paul Kerr took a stage win here over John Browning in Limited with a 10.33-second run, compared to Browning's 11.01. Both shot the same points.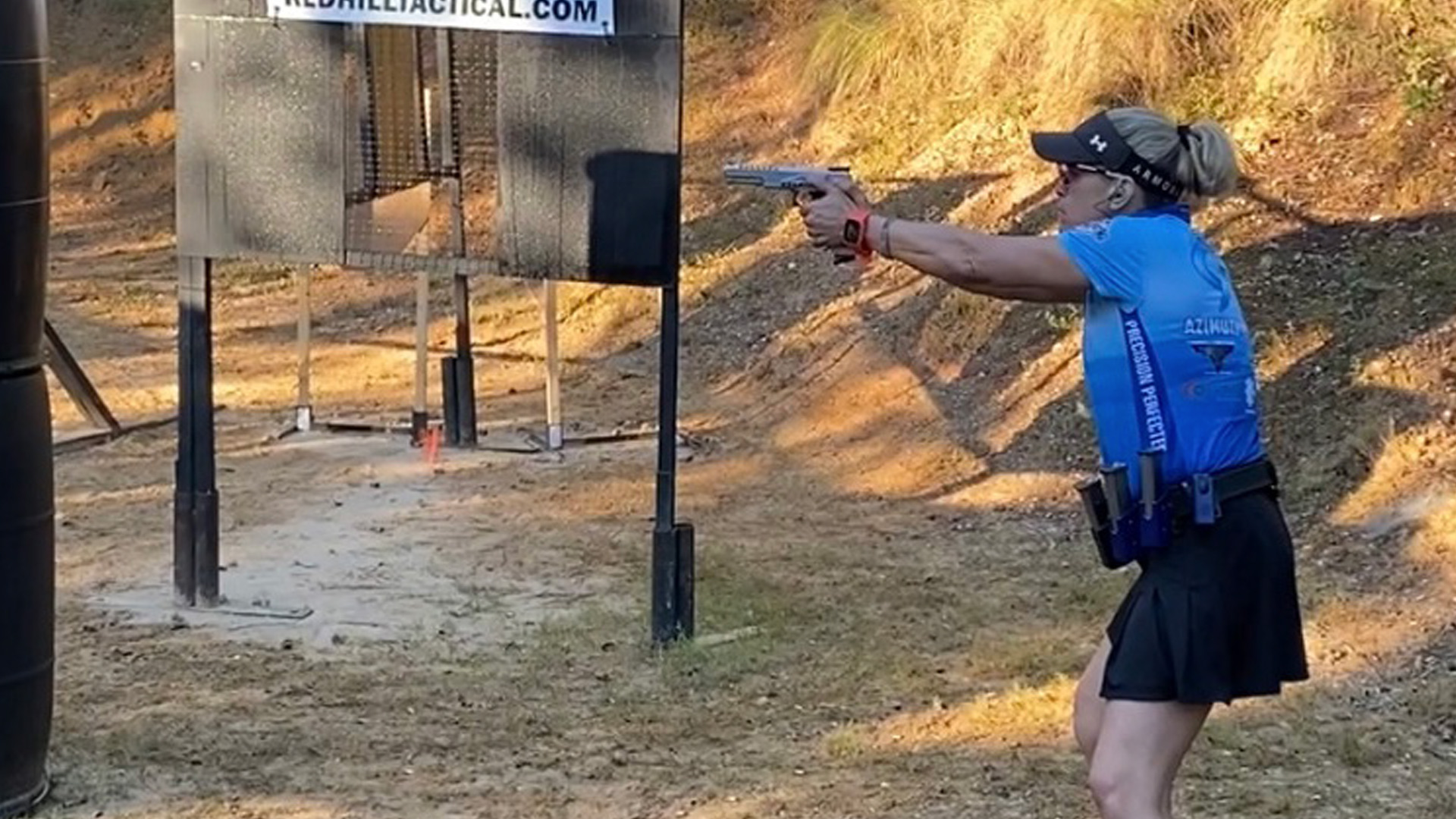 Stage 5, "Lateralus," was the other stage that had activated targets on it, but they were disappearing. This 24-round stage with nine IPSC targets and two mini-poppers scored the best two hits, except on those disappearing targets, where it was best four hits. This is an interesting way to make those disappearing targets worth engaging; otherwise, you are giving up 40 points on a 120-point stage. John Browning took the stage win here over Kerr, getting seven of his eight hits on the disappearing targets. Additionally, Christian Sailer nailed all eight of the hits in 12.62 seconds in Open.
Stage 6, "I Wanna Be Sedated," was full of options for the shooters, but no matter where you started you were going to have to retreat in this 130-point, 26-round stage with all cardboard targets. The start was anywhere in the shooting area and there were four downrange positions that you were going to have work your way out of, retreating back uprange as you worked your way through the stage. Tight shots, along with two ports and targets obscured by barrels on both sides of the bay, made this a tricky stage. Trace Decker took a stage win on this course in Carry Optics in 20.11 seconds with only three Cs for a stage win. With his impressive 20.74-second run in Production, Tyler Meisenheimer won the stage.
Stage 8, "Living In Another World," had a "toes on marks" start centered upon the uprange vision barrier. Twenty-six rounds and all cardboard targets required you to work, moving forward and retreating back to move up the opposite side, depending on which way you went on the start. Again, there were several tight shots with targets stuck back behind barrels and tough angles created by ports and vision barriers. The stage, like many of them, required you to hit your positions in order to not skip over a target. With a 14.77-second run in Open, Kyle Leite won the stage, and Hernan Delgado grabbed a stage in here in PCC.
This was the first time I have had the opportunity to shoot at the River Bend Gun Club and I really enjoyed the range and the match. They did an excellent job of putting 10 fun and challenging stages on the ground for the competitors. Using all IPSC targets puts a premium on accuracy, especially for minor-scoring divisions. The stage designs pushed competitors, gave them many options and tested shooting skills over anything else. Keep an eye out for 2022 Geogia State USPSA Championship announcements for the location and time.
Article from the November/December 2021 issue of USPSA's magazine.
---
Read more:
4th Annual Battle For The North Coast Attracts 241 Competitors