by
posted on June 23, 2019
Support NRA Shooting Sports USA
DONATE
With the first-ever Under-25 (U25) Nationals is in the books, by all measures the match was a success. This initial U25 National High Power Rifle Championship was a great experience for both the kids and the parents.
The NRA Whittington Center in Raton, NM, can be a difficult range to shoot, but all the kids handled it like true champions. There were rapid directional changes and high velocity winds that kept all of the shooters on their toes.
When all of the shots were downrange, it was Madison Bramley of Mesa, AZ, who snatched the win in the F-Open rifle category by out X-ing Kaycie Blankenship of Wittmann, AZ. Both fired a 1411 with Madison at 65X and Kaycie at 50X. The grand aggregate was fired over a course of 600 and 1000 yards for three days. Katie Blankenship, sister to Kaycie was third place winner firing 1406-46X.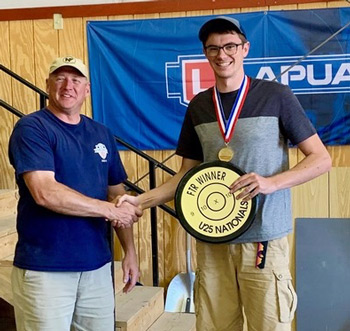 Andrew McLain of Helena, MT, was the overall winner in the F-TR rifle category with an outstanding score of 1379-39X over the same course of fire as F-Open. He was followed by Austin Nelson at 1362-37X in second place. Paydin Gillespie, with 1340-35X finished third.
The two-person team matches were fired at 600 and 1000 yards. F-open winners "Team .284" consisting of Madison Bramley and Quinn Mayhall had an outstanding score of 779-26X. The F-TR Team "Michigan Juniors," with Austin Nelson and Paydin Gillesgie took the win with a score of 763-23X.
Congratulations to everyone who shot. We hope to see everyone at the U25 Nationals next year.
Special thanks to Walt Walter for his help reporting this story.
See more: U.S. Rifle Team Wins Creedmoor Cup Match