Shotguns have played an important part in the heritage of American firearms. They've put food on the table, defended home and hearth, served our military and been a big part of our competitive shooting history. Shotguns also played a major part in the history of Mossberg Firearms. In 1962, Mossberg introduced the Mossberg 500, a shotgun that's served sportsmen, law enforcement and the military for decades. The Mossberg 500, 590 and 590A1 models have been the only pump-action shotguns ever to pass all U.S. Military Mil-Spec 3443 requirements.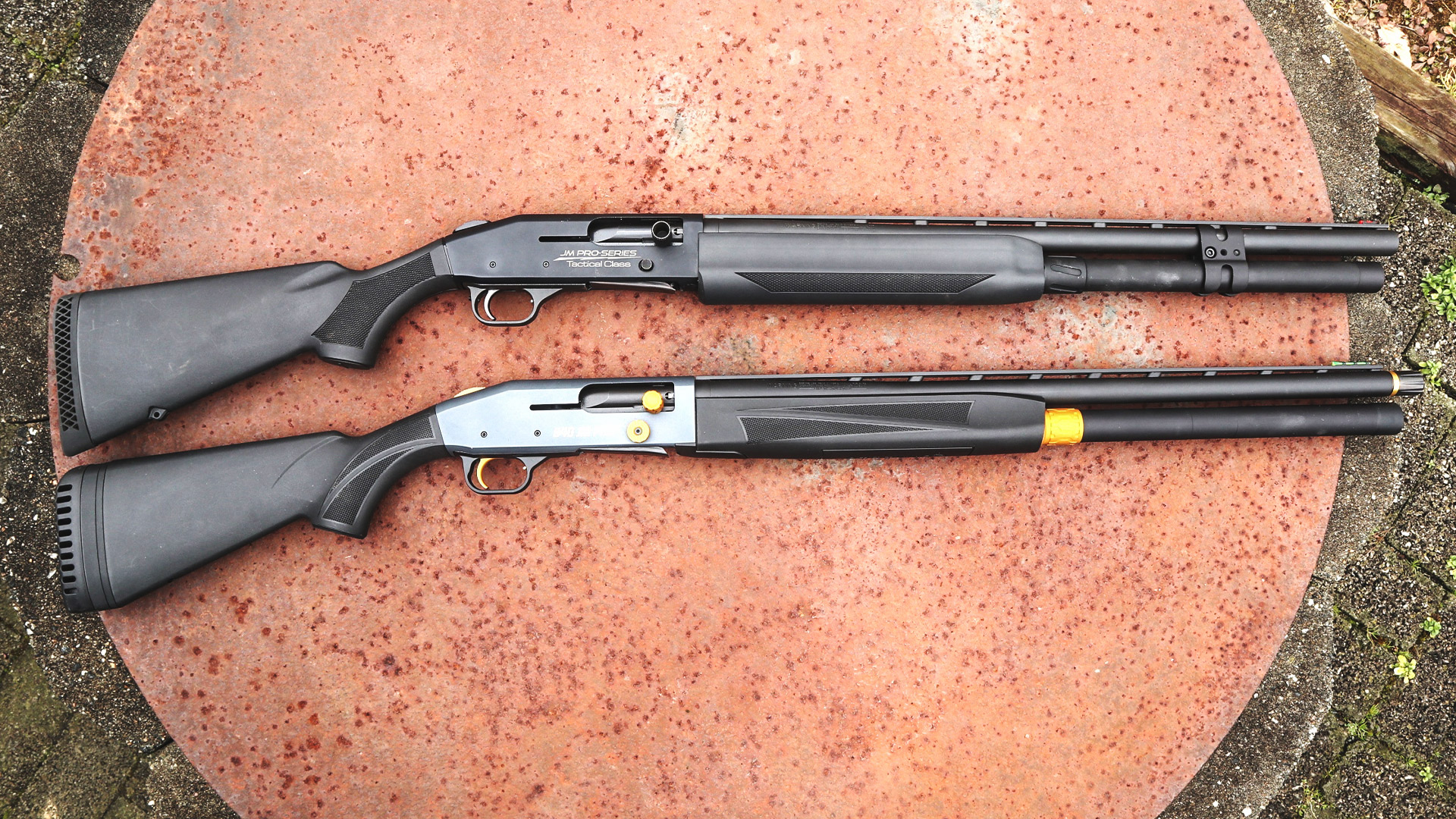 In 2013, Mossberg introduced the 930 JM Pro, a competition-ready version of the company's 930 gas-operated semi-automatic. Upgraded by Jerry Miculek, it boasted competitor-friendly features such as an extended magazine, bolt-release button and oversized bolt handle. Similar to nearly everything in the Mossberg shotgun line, it sports a tang-mounted safety on top of the receiver—absolutely the best location for a shotgun safety. It had an MSRP of just over $700 and represented a great value.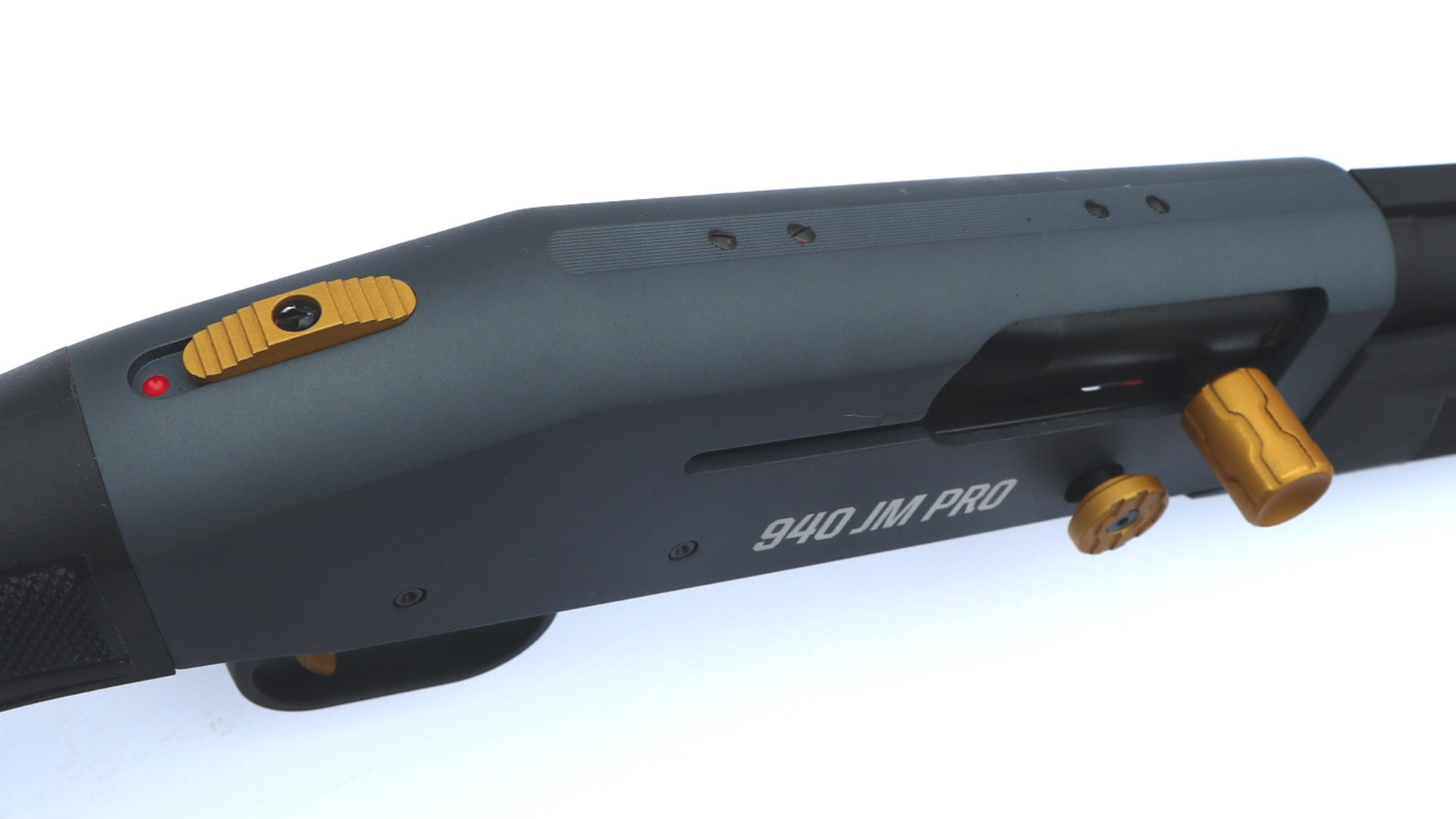 The 930 was a great shotgun for the money, and was scarfed up by entry-level 3-gun shooters and those looking for a high-capacity home defense gun. While it worked well for entry-level shooters and has less recoil than almost any other option, it wasn't the same gun Jerry Miculek was using in matches.
Where the 930 really shined was as a multi-purpose gun that was capable of 3-gun competition, but was also an effective home defense gun, a viable choice for law enforcement use and an out-of-the-box snow goose gun. It was perfect for shooting a 3-gun match on Saturday, clay targets on Sunday and carrying to the goose pits on Monday.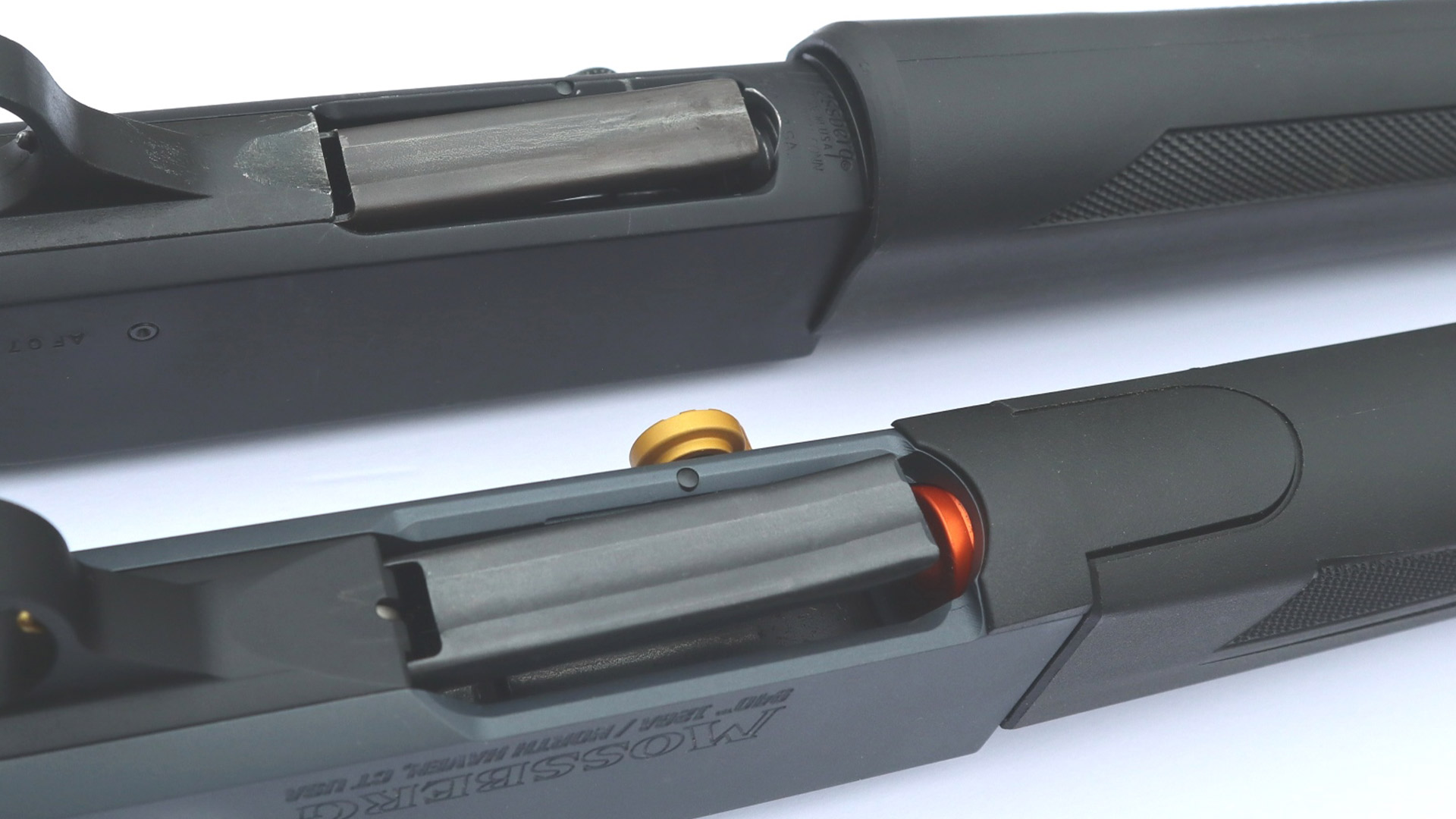 This brings us to the upgrade—Mossberg's 940 JM Pro—and the improvements are considerable. Starting at the front, there's a new HiViz front sight with extra light tubes in a variety of colors. The 940 comes with three Briley Acu-Set extended choke tubes for the 24-inch barrel.
The oversized bolt handle and bolt release speed up loading, as does the re-machined and beveled feeding port. At this time, the 940 JM Pro is the only out-of-the-box shotgun that's capable of quad loading. The extended shell lifter has lost the notch that had a tendency to grab thumbs. The forearm is also slimmed down cut loading times and the magazine has been re-engineered as has the magazine follower. For easy cleaning, the steel portion of the magazine tube, gas piston, gas ring, hammer and sear are boron nitride finished. The receiver is drilled and tapped to accept a rail for an optic, and the stock is adjustable for length-of-pull, drop and cast. Plus, the gas ports have been enlarged for better reliability with light loads such as ⅞-ounce slugs. Slugs are a big part of 3-gun competition, and Mossberg has also removed the clamp that connects the magazine tube and barrel to improve accuracy. While I didn't shoot any slugs in my test gun, Chris Cerino told me it was great at ringing steel out to 125 yards.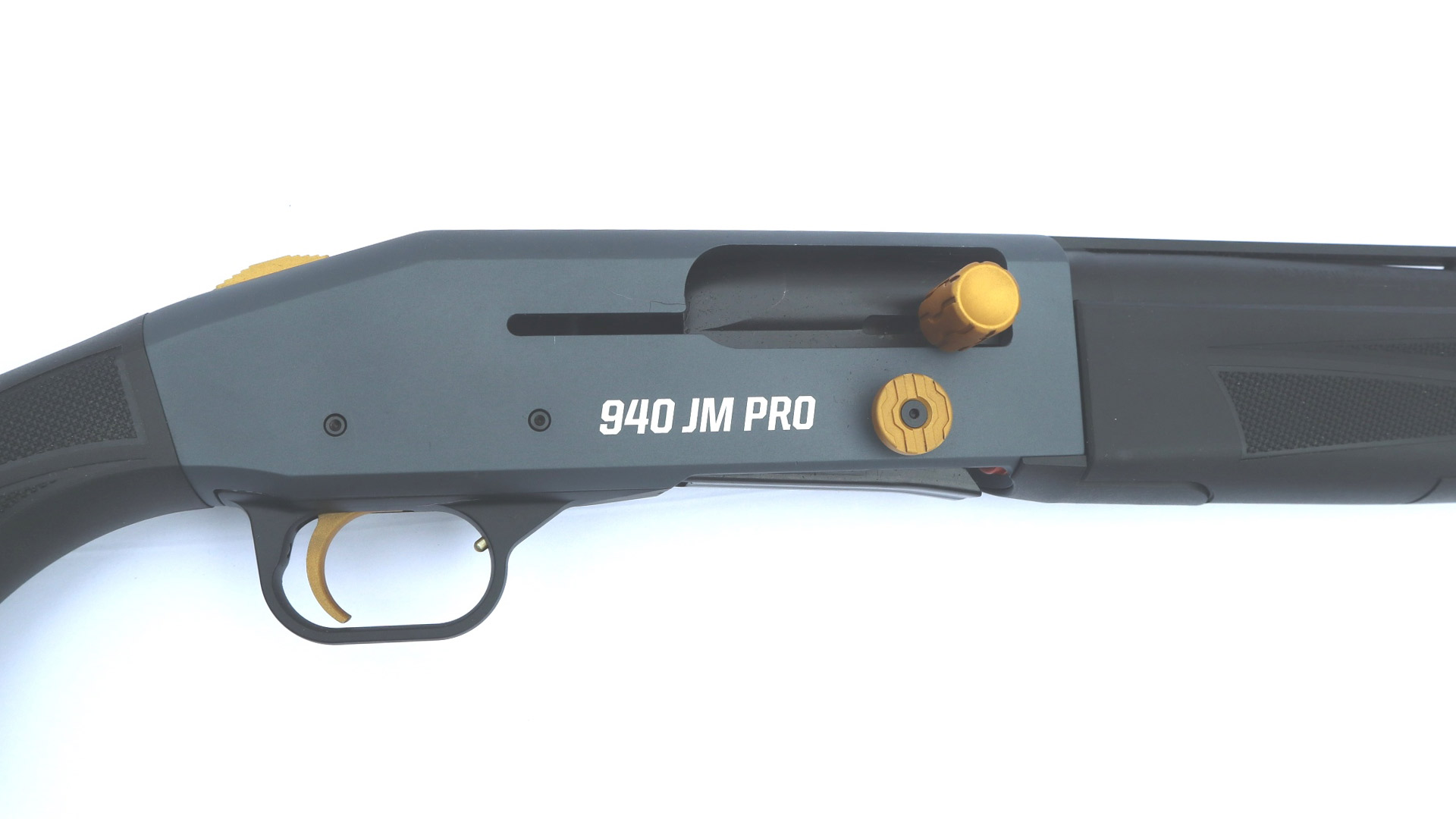 I did shoot clays and an improvised shotgun stage with the 940 JM Pro, and was pleased with the low recoil, as well as a trigger that was noticeably better than most semi-automatic shotguns. My test gun's trigger broke at just over four pounds, with a slight creep and zero over travel—certainly good enough for accurate shooting with slugs.
At 5-stand, the 940 JM Pro did a great job. For clay shooting, gun fit is important, and having the ability to adjust the stock for drop, cast, and length-of-pull is an asset. For me, the stock straight out of the box was a great fit. The HiViz front sight is easy to pick up  and the extended magazine tube helps smooth out the swing. Recoil with standard  1⅛-ounce target loads is downright soft.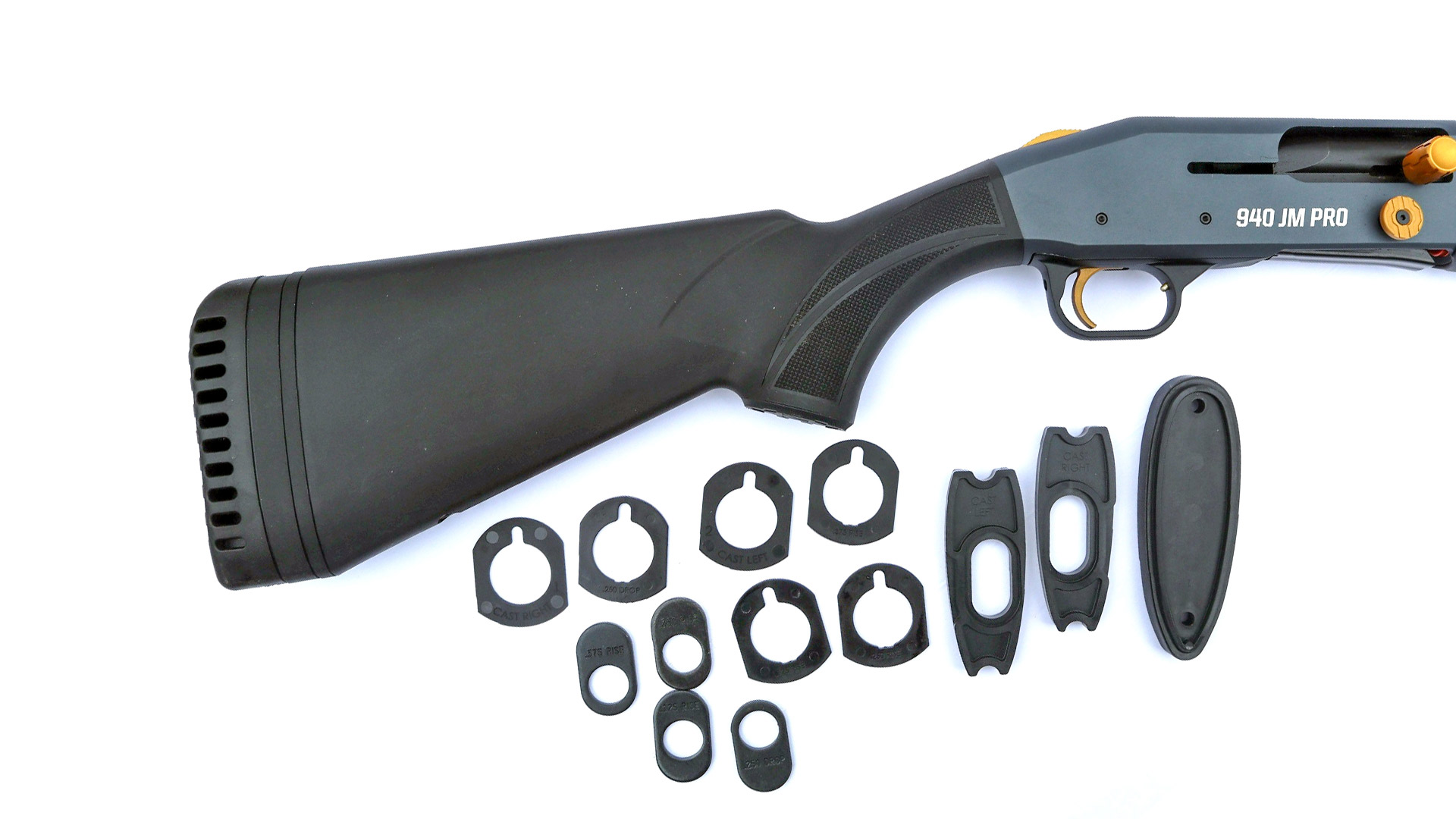 While I haven't taken the JM Pro 940 to the hunting fields, the 930 was my grandson's choice for the September Resident Goose season in North Carolina. Resident Canadas are considered a nuisance in our state, and in the September season we can hunt with unplugged guns and use electronic calls. The nine-shot magazine capacity and mild recoil made the 930 a great choice, and the 940 would be even better.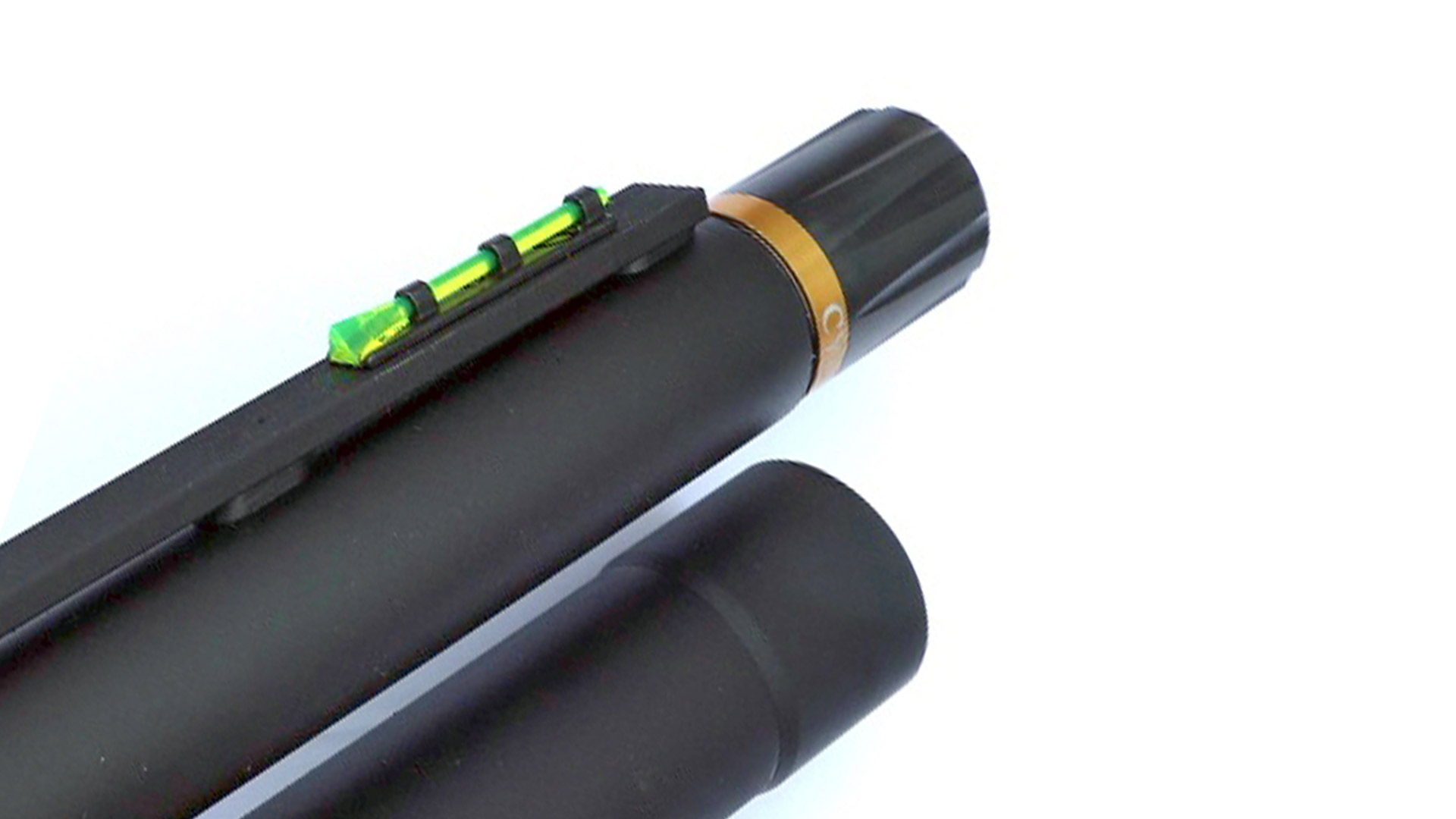 From taking game for the family table, to guarding freight and stage travel from bandits, to Sunday afternoon friendly competitions, to trench warfare and S.W.A.T. team use, the shotgun has been a versatile tool for generations of Americans. As a broad-based, general-purpose gun the Mossberg 940 JM Pro is capable, reliable and best of all—affordable.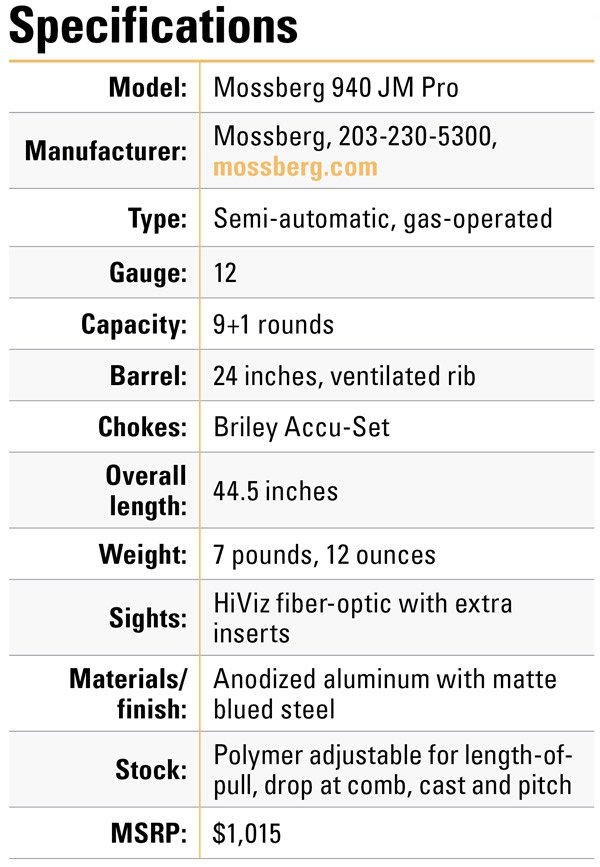 ---
Read more: How Much Do You Know About Shotgun Choke?