Support NRA Shooting Sports USA
DONATE
Established in 2016, Shadow Systems is a designer and manufacturer of premium firearms and firearm parts, headquartered in Plano, Texas. The company operates a specialized manufacturing facility where a host of components—such as slides, triggers and internals—are manufactured for their popular 920 series firearms. This process also incorporates proprietary Metal Injection Molding (MIM) and injection molding tooling techniques, used for the creation of their frames and small parts. Every aspect of their production, from springs to connectors, adheres to their stringent engineering specifications, ensuring a superior level of quality and performance in each product.
Shadow Systems has developed a broad range of products that cater to consumer needs. Models are offered in a range of sizes, including subcompact and compact, as well as models that feature compact slides on full-size frames. Shadow Systems continues to push the boundaries of innovation in the firearms industry. An ongoing commitment to develop and expand the product lineup demonstrates the company's dedication to meet and exceed the evolving demands of firearm enthusiasts worldwide. Recently, we covered the DR920L pistol, and now Shadow Systems has brought another new offering to the table, the DR920P.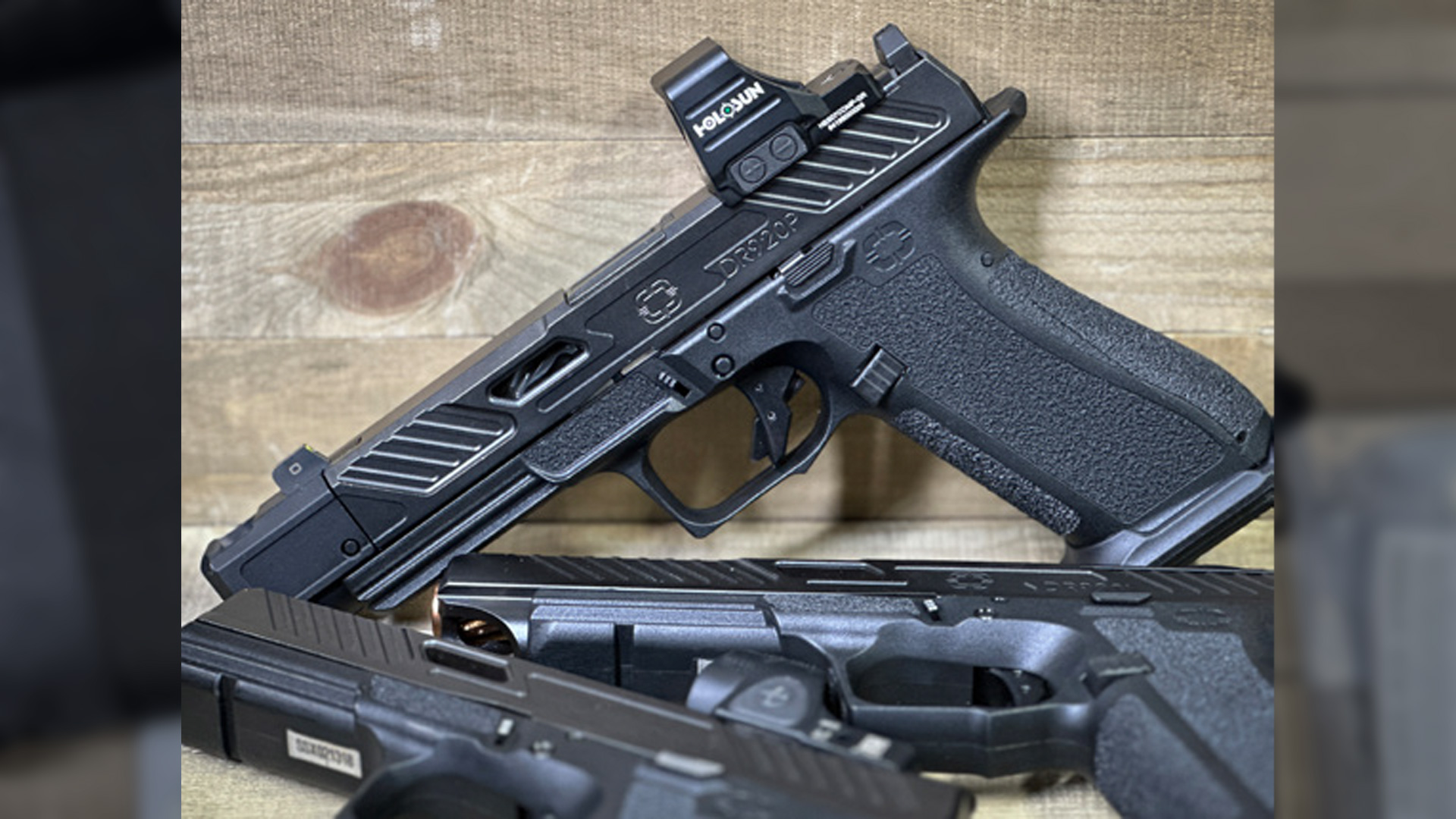 The DR920P is a full-sized pistol from Shadow Systems, featuring an integrated compensator built into the barrel. This innovative feature eliminates the need for a threaded barrel, thereby making the DR920P compliant with laws in jurisdictions where threaded barrels are restricted.
Crafted with detailed precision, the compensator and slide on the DR920P are designed to provide a seamless, single-piece appearance. The unique design allows for quick disassembly and reassembly of the compensator for cleaning purposes. The patent-pending integrated compensator self-aligns, eliminating the need for set screws or friction devices. With the front sight mounted directly on the compensator, shot-to-shot tracking is significantly faster.
Shadow Systems' DR920P comes equipped with premium features. These include an aggressively-textured frame with interchangeable backstraps for customizable grip and aim, an extended beavertail and a textured recoil control ledge. The flat-faced trigger, which is both drop-safe and carry-safe, offers a crisp trigger with a tactile reset.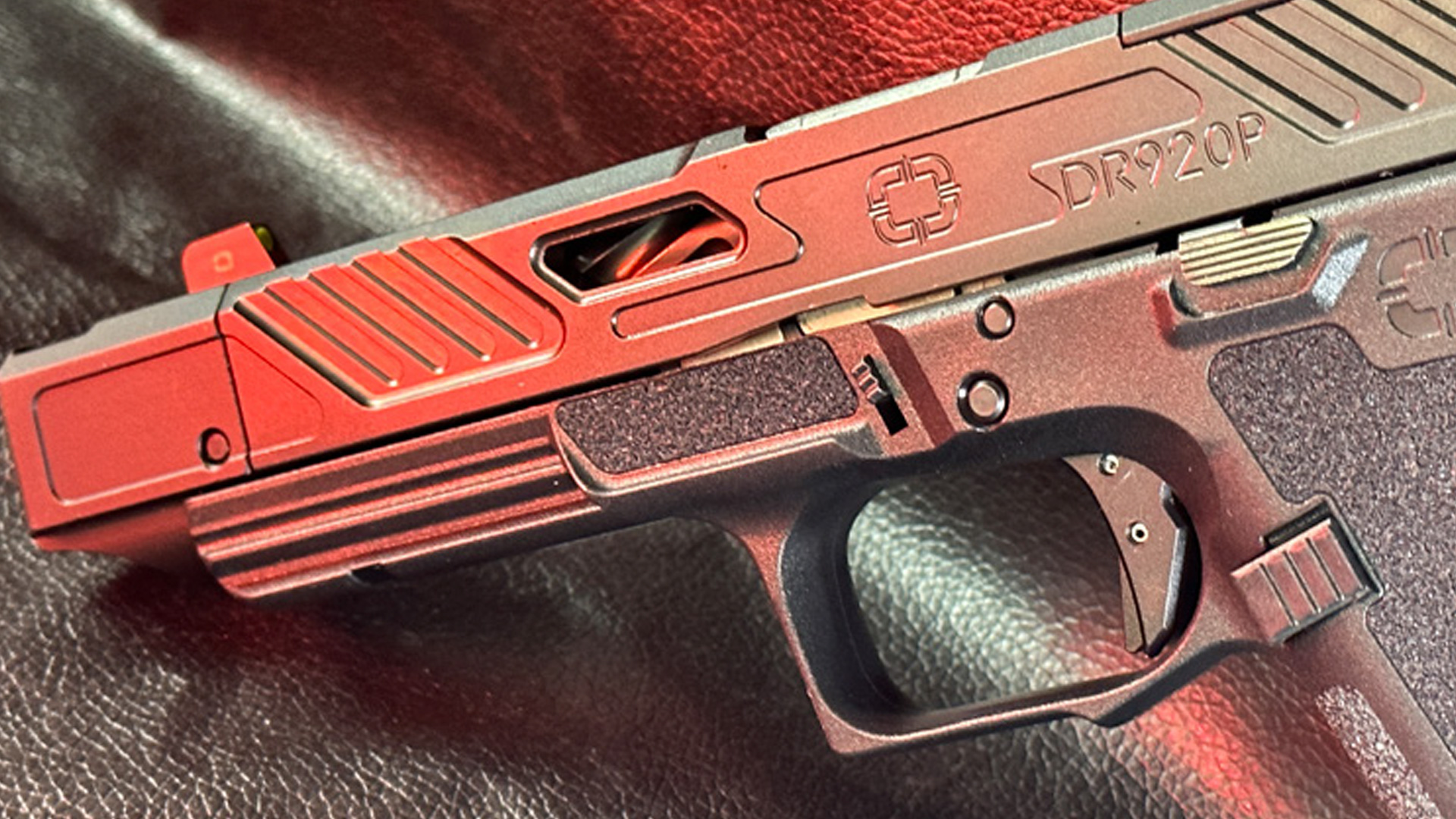 The DR920P also boasts a match-grade, spiral-fluted barrel with a patent-pending comp attachment system, plus an easy-to-detach pin for compensator mounting. The pistol is offered with the Elite model slide with front and rear directional serrations, a weight-optimizing window cut, and Shadow Systems' patented multi-footprint optic system.
This optic system allows direct-to-slide mounting of most major red dot optics, negating the need for intervening plates or adapters. A green tritium front sight is mounted directly on the integrated compensator and pairs with a blacked-out serrated rear sight for precise targeting. The DR920P is designed to fit Gen 4 G34 holsters, ensuring wide compatibility for carry options.
Similar to the DR920 and DR920L, the grip of theDR920P's frame sits ultra-low in the hand, allowing for better control and steadiness during handling. This is further helped by an extended upswept beavertail and an undercut trigger guard, enhancing the hand's grip. Shadow Systems has also incorporated an aggressive wraparound texture on the frame. This design feature ensures a positive grip in all weather conditions, providing users with the confidence that their firearm will not slip, even in adverse conditions and rapid firing.
The DR902P, like all Shadow Systems, features the NPOA (Natural Point of Aim) backstrap system in its frames. This innovative system changes the grip angle of the gun to align with the shooter's natural point of aim, moving beyond the usual comfort and sizing considerations. One of the features discussed in the previous reviews of Shadow Systems frames is the inclusion of a textured recoil control ledge. This feature is designed for the support-hand thumb to engage, helping to reduce muzzle rise between shots. This contributes significantly to allowing for faster, more accurate follow-up shots. The DR920P features a large internal magazine well, as well as a removable magwell. The magazine release is nicely textured and easy to hit for fast and secure reloads.
Shadow Systems slides, machined from 17-4 stainless steel, are designed for improved control, comfort, and minimized recoil. They feature directional serrations that provide a secure grip for slide manipulation. These serrations sit in shallow pockets on the slide, creating a thinner and easier-to-grasp surface. The DR920P features the Elite Slide; Shadow Systems' Elite slides are crafted with an eye towards enhancing both performance and user experience. They come machined with directional serrations at the front, rear and top, which not only add an visual appeal but also provide a practical function. These serrations are designed to offer a secure grip during slide manipulation under various conditions.
One of the features of the Elite slides is the weight-optimizing window cut. This is a design feature that reduces the reciprocating slide mass. This reduction in weight plays a role in minimizing sight movement during recoil. The reduction in slide mass helps facilitate the function of the firearm in conjunction with the compensator. Both together help reduce recoil and make the DR920P a soft and flat shooting handgun.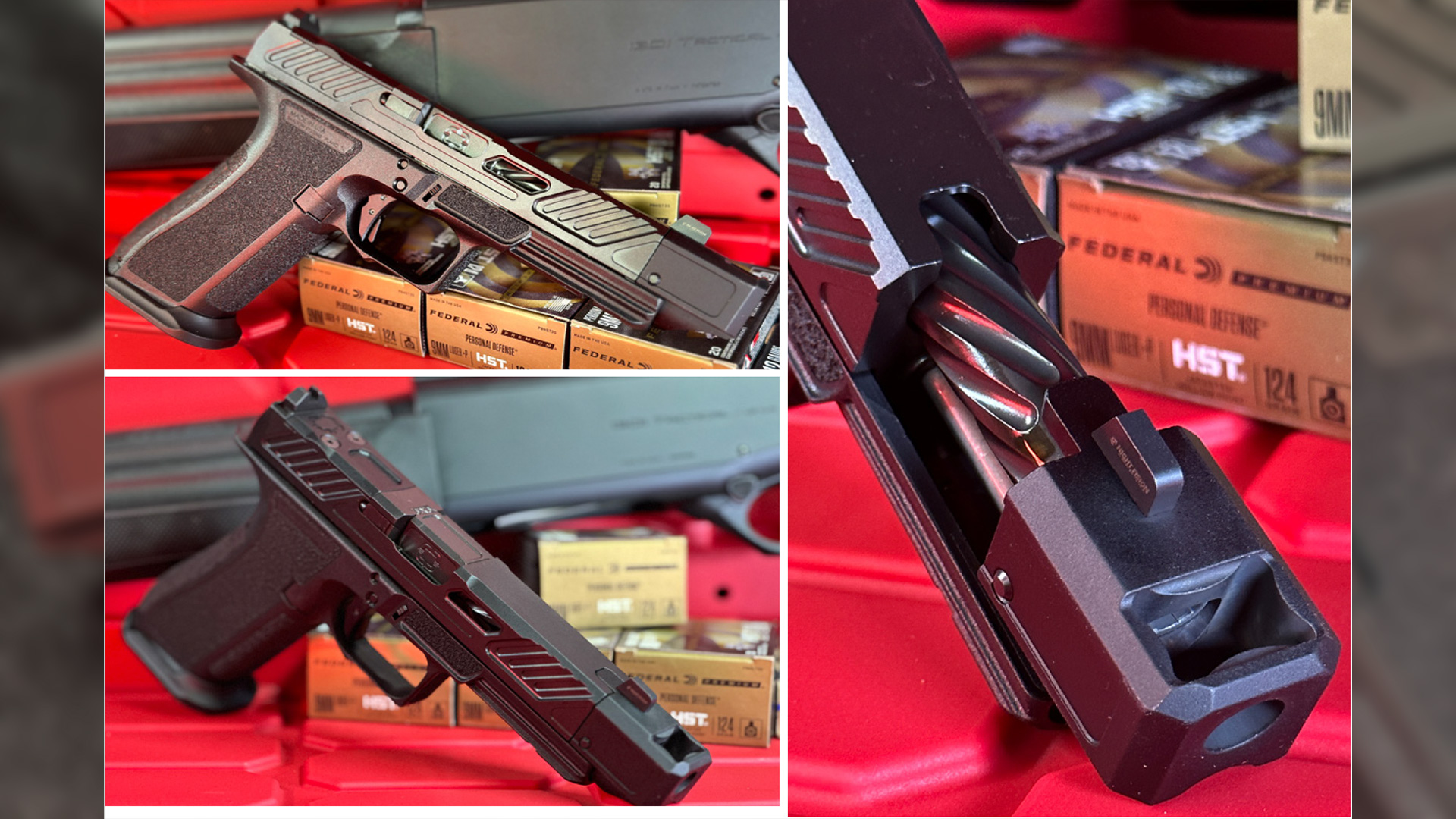 As previously discussed, the Multi-Footprint Optic system is a gamechanger. Shadow Systems revolutionizes the optics game with its patent-pending multi-footprint optic cut, an industry-first solution that allows the mounting of most leading red-dot optics brands directly onto the slide. This avoids the use of intermediate plates or adapters. This optic cut is designed to mount the optic low into the slide, ensuring a stable and sturdy platform for the optic. This system has been tested and proven to work with an array of prominent optic brands, including Trijicon, Vortex, Leupold, Holosun, SIG Sauer and Shield.
Another edge of the Shadow Systems' optic cut is its ability to allow a lower 1/3 co-witness with factory sights. This allows the standard sights to still be utilized as a sighting system, providing a back-up aiming mechanism in situations where the optic might fail. Shadow Systems equips its pistols with a bright green tritium night sight on the front and a blacked-out rear sight.
The integrated compensator is attached to the Shadow Systems match grade spiral-fluted barrel. The barrels are precision machined and rifled at 1:10-inches for improved accuracy. The lug geometry and barrel hood are slightly tighter than conventional barrels for enhanced precision, without compromising reliability. There are several videos on Shadow Systems' YouTube channel that go over company firearms, along with Technical Tuesday Tips videos. There is an informative video on the removal and installation of the compensator. The Technical Tuesday videos are usually walkthroughs and demonstrations lead by Trevor Roe, the chief executive officer of Shadow Systems.
The DR920P pistol was put through its paces at the range, testing it with various 9 mm factory rounds, including ELEY 124- and 147-grain Competition Minor, 147-grain Precision Delta, 124-grain MagTech, 150-grain Federal Syntech and 147-grain AAC. The handgun was fun to shoot and performed well, feeding all ammunition types without issue. However, during the initial 100 rounds, there were two instances of failure to extract with the 147-grain ELEY and 150-grain Federal rounds, likely due to the shooter's grip combined with the heavier bullets and compensator. When I switched Tracy to the 124-grain ammunition, there were no further extraction problems.
The compensator did its job by noticeably reducing felt recoil when compared to the DR920. This resulted in faster handling and quicker follow-up shots. The ease of tracking the sights was noticed by both myself and Tracy, who is newer to shooting handguns. A novice shooter, Tracy found the DR920P to be significantly easier to handle than the other guns she had used that day. Her performance during a three-target El Prez-style drill demonstrated this, with most shots hitting the A-zone and her shooting speed significantly improving when using the DR920P compared to the DR920.
The DR920P is delivered with a padded case, extra backstraps and the appropriate tool for setting up the grip as you like it. While the magwell comes pre-installed, an additional tool and component are provided if you prefer to detach it. Necessary spacers and screws for mounting a variety of optics are included in the package, along with a comprehensive manual. This manual gives you step-by-step instructions on how to uninstall and reinstall the compensator, as well as guiding you on which optics are compatible with particular spacers and screws. There is an additional recoil spring shipped to allow the user to tune it based on their ammunition selection. Additionally, two additional O-rings are shipped, which are recommended to be changed at 5,000-round intervals.
The DR920P fits perfectly in Open division in Steel Challenge or Multigun matches. Its lightweight and swift handling—combined with an efficient compensator—allow for rapid successive shots. Fully equipped with all the desired features and upgrades a competitor might want, this gun carries an MSRP of $1,099. Beyond competition, the DR920P is a perfect self-defense gun, suitable for everyday carry or home defense. To check out the complete lineup of products offered by Shadow Systems, visit shadowsystemscorp.com.
Article from the July/August 2023 issue of USPSA's magazine.