On her way to a gold in skeet at Changwon, six-time Olympic medalist and NRA Board Member Kim Rhode didn't just bust some clays, she busted a world record as well.

The gold medal showing, and her second back to back ISSF World Cup victory, saw 38 year old Rhode come back from a bleak qualification run to break the standing world record of 56 clays, by dropping 58 in an authoritative fashion. Who held that previous record, you may ask? She did.

Meanwhile, Amber Hill of Great Britain placed just behind Rhode, shattering 55 clays for the silver medal. The second U.S. finalist, Amber English, won the bronze with a 44-clay score to round out the podium.

The staggering number? Over 800 athletes from 70 nations had competed in the ISSF World Cup Changwon before the final day even dawned.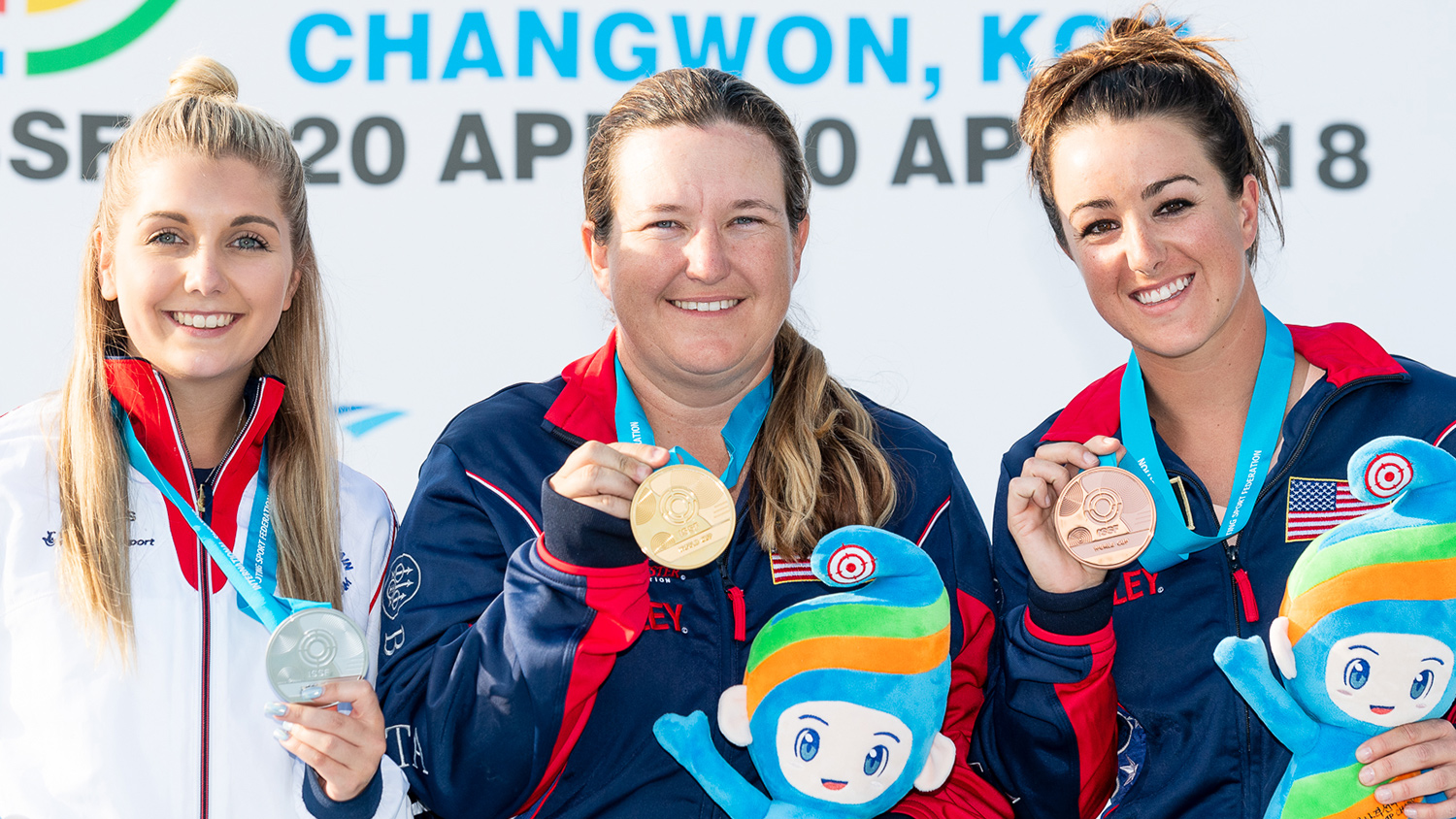 When asked about the contest, Rhode stated, "I am amazed, it just keeps going and I am trying to ride that wave, one world cup after another. I couldn't be more thrilled, it has been an amazing competition at a beautiful range here in South Korea."

Demonstrating the modesty and poise so typical to her, Rhode added, "Walking out of here with a new world record wasn't something that I expected, it's just something that happens." She continues, "When I was out there, I was focusing on one target at the time, and I didn't really know where I stood until the very end."

Of course, the top slot on the podium is nothing new to Kim Rhode. As was previously mentioned, this gold was her second in a row, the previous coming at the ISSF World Cup in Guadalajara, Mexico.

Both these wins come on the heels of arguably her greatest season ever, in 2017, when Rhode won ISSF Shooter of the Year. This was a crowning achievement on a career that had previously seen her win three World Championship medals, 33 World Cup medals, and become the first summer Olympian to medal in six straight Olympic Games (with her bronze at 2016 Rio).

This would be quite a feat for any shooter, but for Rhode it is particularly impressive considering she did not start out as a skeet shooter, but instead switched to skeet from the double trap women's event when it was discontinued in 2004.

All this success does not come without intense training, however. When asked about her "off-time", Rhode jovially responded, "What offseason? That's one of my biggest things, I don't take a lot of time off. I shoot through the winter. Shooting is always there, I do it as much as I can and I like keeping my chops up for the competitions."

In terms of what the future will hold, from Kim's perspective, things look quite bright. She plans on competing in the 2020 Olympics in Tokyo, and probably even the 2024 Games as well. According to her in a 2016 interview with SSUSA, "The oldest medalist in the history of the Olympics was a shooter—Oscar Swahn—he was 72, so by his standards I have nine more Olympics in me [Laughs]. I'm just going to take it one at a time for now."

Photos by Nicolo Zangirolami/ISSF