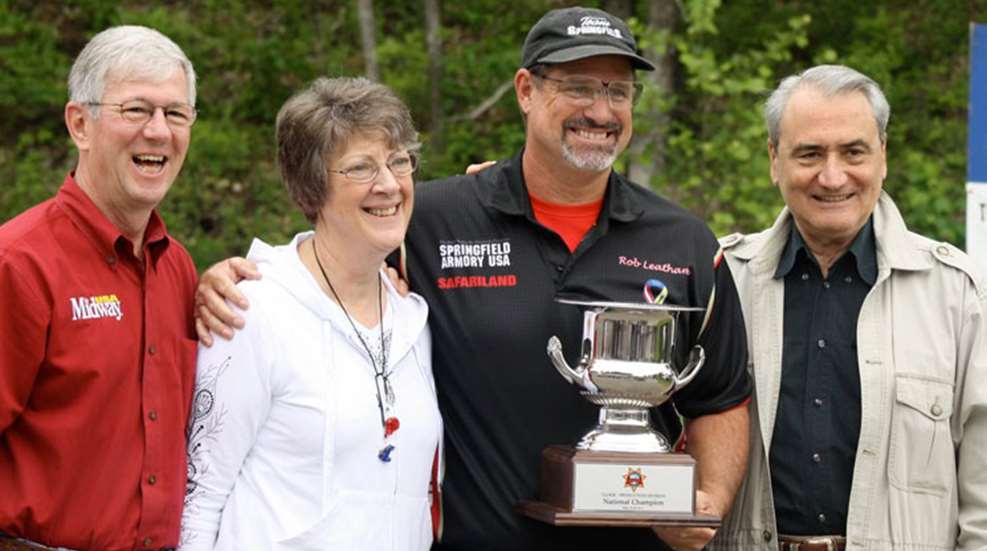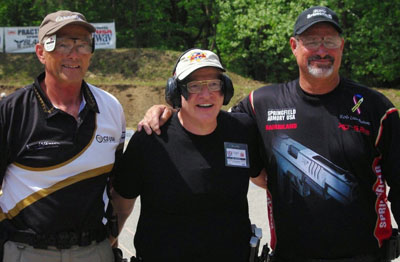 SSUSA:
The gun you shot at Bianchi in 2014, can you tell us a little about that?
ROB:
It was an XD(M) 5.25, in 9 mm. I had Dave at Springfield Armory tune the trigger, but other than that, it's pretty stock. SSUSA: That extra ¼ inch, do you notice it in the sight radius?
SSUSA:
That extra ¼ inch, do you notice it in the sight radius?
ROB:
Not at all. The XD(M) line has different barrel lengths than the XDs. Standard XD barrels come in three, four, and five inch versions. But, with the XD(M) line, they wanted to be different so the barrel lengths on those are 3.8", 4", 5", and 5.25". When designing the 5.25" model, for the barrel length they asked me, "How long do you want the barrel to be, Rob?" I said "Here's the deal. It can't be bigger than the USPSA box, nor longer than what the NRA production rules allow." Someone asked, "Does 5.25 inches sound alright?" To me, it didn't matter; a fraction of an inch will not make a difference. We just wanted the gun to be distinct. I think someone liked the way "5.25" sounded.
SSUSA:
Are you going to use the same gun at the next Bianchi Cup?
ROB:
Well, (laughs) that is another story in itself. Dave Williams from Springfield, one of the nicest guys in the industry, has built me amazing guns for about 20 years, and not once was I ever disappointed. He also deals with a weird program I have in place. When I win a national championship or a world title, I never shoot that gun again. That gun goes in the safe, along with the other 40 or so assorted pistols. Then Dave will have to build me another gun. So if I have a very successful year, I'm a big distraction to his custom shop. Occasionally I'll get a gun that I just really like. It may look like every other one next to it but, for whatever reason, I bond with it. The XD(M) I shot with at the Bianchi Cup in 2014 has the cleanest trigger I've ever shot on a polymer pistol. I shot phenomenal scores with it—I cleaned the barricade! It's sad that I have to retire it, since I liked to compete with it.
The tradition of retiring my gun after winning a championship comes from my constant experimentations. From one year to the next, there are little things I like to change. So, let's say I win a match and keep shooting with that gun for five more years, but then I never win another match with that gun. It's probably because that gun is no longer in the configuration it once was.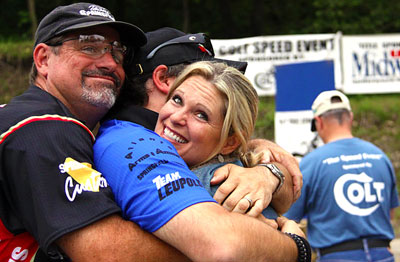 SSUSA:
All those championships under your belt just go to show that your "weird program" is working. It seems like the timer speaks directly to your inner brain. Do you just go on autopilot before you pull the trigger at a match, when at the firing line?
ROB:
It does, it reprograms everything I know and replaces it with, "Ok, just go really fast and everything will be alright." For some reason, that's what happens. I think of it as a tether, and when that buzzer goes off that means it is okay for me to go. I don't have to move quickly, but it tells my hands to start moving. It drops the shackles and lets me start the competition process. For many shooters, when the buzzer goes off, they have to beat something or someone. They attempt to compete in a manner they were never intending to. All of a sudden they stop aiming, stop holding the gun steady, and pull the trigger in a way they never would. They stop paying attention to the target they're shooting at, and they're worried about the next event or stage. I always tell people that you don't have to multi-process to be a good shooter. You need to have a fast processor to be a fast shooter, but if you're shooting slowly, you don't want a rapid thought process—you don't want that information to come in too quickly. Shooters need to be able to block out that urge, because it can, in fact, overwhelm them.
SSUSA:
Are there any other championship shooters that have a "fast processor"?
ROB:
Doug Koenig for sure. When Koenig goes up to the line, some shooters can be put off by his attitude. While he is at the line, completely engaged in his competition process, others can't get a response out of him, and he won't talk to them. He is so intently focused on what he's doing at the match, that he has no capacity to talk to others. That is Doug's way of dealing with the stress. My version is that I can talk to anyone until it's my turn to shoot, and that's when I throw the switch. I then go into a personal solitude which brings me to a heightened level of concentration. However, I can't remain in that quiet state for longer than 10 minutes or so. I don't see the buzzer or the timer as a foe, rather I see the whole event as an opportunity. When that timer goes off, it's just letting me know I can start my process. I never have problems with the speed element, so I'm never worried about finishing within the time parameters. My normal mode is to shoot faster than those time parameters, so I have to fight back, and slow myself down.
I recently shot a match with my .45, but I knew I shouldn't have competed. I was tired, and I didn't want to shoot, but I told myself, "You need to go." As a result, it was the worst score I've shot in 20 years; a 7-60X. I did not have one good string throughout that entire match. That's an inconsistency in my shooting career, but I looked at it from the standpoint of, "That night I had the jerks." I can't explain it, even with all my experience in the sport. In my opinion, I should be able to pull the trigger without even flinching. As for the targets in that match, I had some hits off the repair center. I know I didn't hold the gun as tight as I usually would, but I rarely have a case of the "jerks". When I shoot the rapid fire portion in NRA bullseye, instinct from 30 years of hauling ass in speed shooting competitions takes over. The problem for me is, when my support hand is taken off the gun, the things I do wrong become very obvious. I get frustrated, and the end result is during bullseye drills, I'll shoot a series of sixes and sevens.
I suppose this is what other competitors feel like at the Bianchi Cup. At the National Pistol Championships at Camp Perry, I'm absolutely stunned when I manage to hit the targets. The movement of the gun, when I shoot a rapid fire string in bullseye, sometimes just makes me want to stop, put it down and leave. On the other hand, at the Bianchi Cup, I'm able to control my pace and flinching with both hands on the gun. I know I need to shoot a couple of inches low, but two-handed.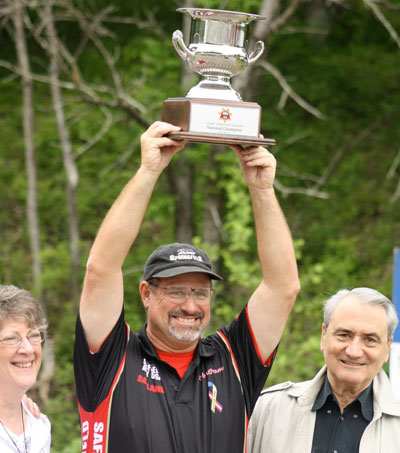 Bullseye shooters, such as Brian Zins, will tell you that they would not shoot conventional pistol better with two hands. They actually see the other hand as a distraction, and it won't help to steady the gun. When I've shot bullseye two-handed, my scores were higher than when I shot one-handed, and those scores were enough for an NRA High Master classification.
SSUSA:
Speaking of Brian Zins, after his first Bianchi Cup, when he returned to shooting pistol one-handed for bullseye, he mentioned that his little finger became a whole lot more important.
ROB:
Yes. The two games, conventional pistol versus action pistol, truly have nothing in common, except that you're shooting at a target. Other than that, nothing in my shooting career has helped me during my bullseye endeavors.
SSUSA:
How tight is your grip? Zins mentioned that he squeezes the life out of his grip when he shoots one-handed, do you take that approach as well?
ROB:
I do. I can tell you that flinching is the most common fallacy when holding a gun. As I watch people hold the gun, it will flop around as they shoot. It's not because they are pulling the trigger poorly, it's just bad shooting technique. They're pulling the trigger while the recoil is forcing the gun to come down, and then it settles on the target, which is incorrect. People I train will say, "I want to shoot faster," and I tell them they can't. Their gun isn't pointing at the target, so they can fire the gun faster, but it's not going to hit the mark. So, they ask "What's the solution?" It's very simple, make the gun stop moving. I tell them to watch me shoot, and after they watch their response is, "Do you move the gun faster than I do?" "No," I tell them, "I never let the gun move initially."
In my classes, I will take a student's hand and tell him or her to hold my hand, just as if it is a gun he or she is about to shoot. Then I'll show the class how I hold it for a string of fire, and I have never had any of my students say to me, "That's how I hold my gun." Every one of them responds with, "Really?" I explain to them, this is why I can't hold the gun like that for 30 seconds. I'm gripping the gun so tightly, that I can only hold it for a few seconds at a time.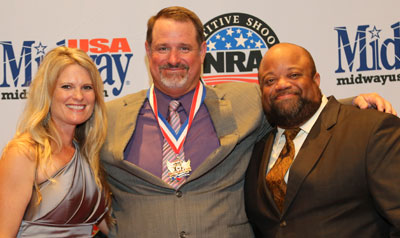 SSUSA:
That tight grip must really keep your aim steady. For bullseye, do you use a dot or iron sights?
ROB:
It depends on the day. For example, I was having the "jerks" one night while using iron sights, and I couldn't see the severity of the jerk. So I switched to the dot on the pistol, and then it was really easy to see how "jerky" I was. As you fire the gun, the dot moves from into the black, to three or four inches away from it, and then it fires. Since the dot has shown your movement out of the black, you don't have to wonder, "Why did that happen?" Everything I have learned to be a top-level speed shooter has been detrimental in all my bullseye experiences.
SSUSA:
Maybe we should just call this interview "How Not to Shoot Bullseye" with Rob Leatham. So, why do you continue to shoot bullseye?
ROB:
Yes (laughs) maybe we should, because I cannot shoot bullseye. Bianchi is funny because it's an "in-between" type of pistol sport. It can be slower, yet more accurate than IPSC, but is much faster and requires less accuracy than bullseye shooting. So, the reason I shoot bullseye isn't because I'm out there to prove anything to anyone, it's because I see it as another white whale. It makes me angry I can't do it, and that is why I keep at it, day in and day out. That might not make sense to some people, but I see the challenge.
Each year after the Bianchi Cup, I look forward to trying something way out of my wheelhouse. I have an expert classification in bullseye, but I don't feel like an expert class shooter. I don't care what classification I'm in. For me, it's really about getting a higher score.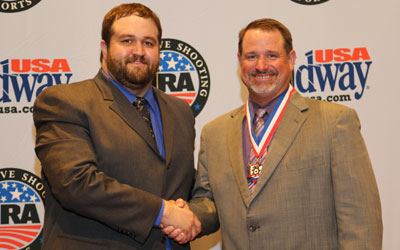 SSUSA:
Earlier, you said you shoot a lot of bullseye. How much one-handed pistol practice do you get in?
ROB:
Between now and Camp Perry, I will be practicing bullseye just about every day. The day I come home from Camp Perry, I will immediately dive in to IPSC mode from the end of July, to early August. Then, in September, the USPSA Nationals start, so of course, I will be there.
SSUSA:
That is a lot of pistol shooting! It is no secret that you have a room full of shooting trophies at your house. Over the thirty years of your career, how many USPSA championships have you won total?
ROB:
I have won six USPSA division championships, over 30 years. I have won Open many times, even before it was separated into different divisions. So, I won Open in 1995, and prior to that I won the only division available at the time.
SSUSA:
Which gun did you shoot with when you won all those division championships? Revolver or semi?
ROB:
Revolver. It was a dream come true for me when they added the revolver division. I grew up shooting revolvers, even though my dad had a luger that he hated. Lugers are inaccurate and unreliable—why would anyone want one of those instead of a finely-tuned revolver? My dad also loved the M-frames of the revolvers, we had them in every size. But most of all, he loved his 1911, and to this day I do as well. Since I grew up shooting revolvers, it's become my fallback gun. I find it very easy to pull a revolver trigger; I've done it since I was a kid and I still shoot revolvers to this day. I even shot revolvers in the Bianchi Cup, until Springfield Armory told me I really shouldn't be shooting those in the match. I said "But I always have …" and Springfield responded with, "Well now that you're working for us you probably shouldn't." I realized they made a good point. Shooting revolver was like coming home to me, and it has never been difficult. I was happy when USPSA separated the revolver match out, and made it a separate event. I jumped on it!