by
posted on July 13, 2018
Support NRA Shooting Sports USA
DONATE
At the 2018 NRA Bianchi Cup presented by Colt, there were 169 competitors shooting in conditions that varied from scorching 90° F heat, to scattered showers and thunderstorms. Thirty-three states and eight countries were represented at this historic 40th shooting of the match, held at the Green Valley Rifle and Pistol Club in Hallsville, MO.

SFC Adam Sokolowski of the U.S. Army Marksmanship Unit (AMU) finished the match with a perfect score of 1920-176X. Additionally, Sokolowski won the Multi Gun Championship with a combined score of 3822-329X.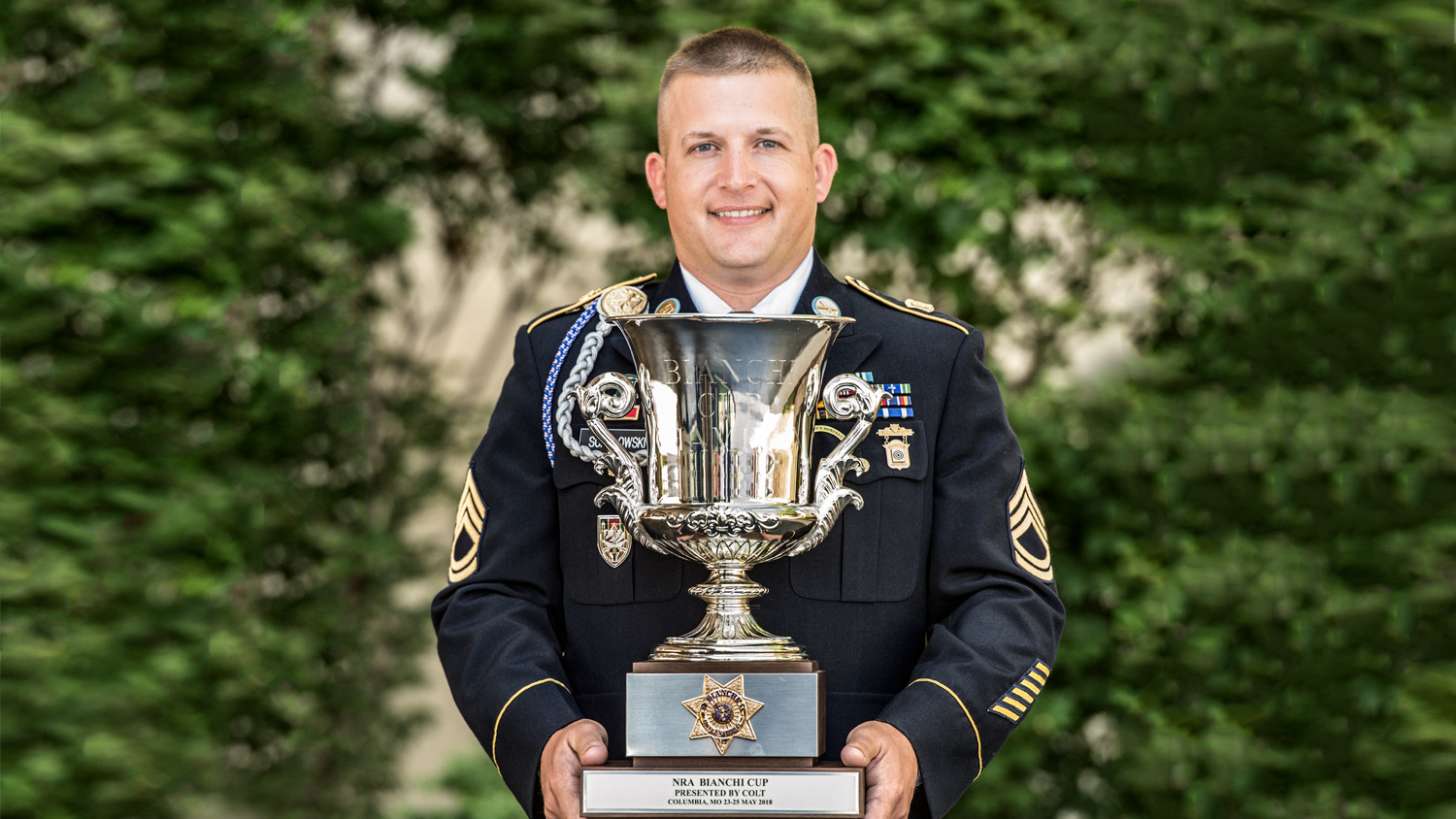 NRA Action Pistol fans will note that last year, Sokolowski made 
history
 when he won the Metallic Championship firing the first-ever perfect score in Metallic, and in 2016 he was the Production Champion.


Here's what's truly remarkable—in the span of only four years, Sokolowski has won all three Bianchi Cup divisions—Open, Metallic and Production. We probably will not be seeing anyone win all three divisions in such a short amount of time again any time soon. Sokolowski is in rarefied company—the only other person to ever win all three divisions is the one and only Rob Leatham.


"To think somebody else will have that kind of talent, versatility and drive to learn how to do that, and be good at all [the Bianchi divisions], is very unlikely," Leatham said in an interview with the AMU.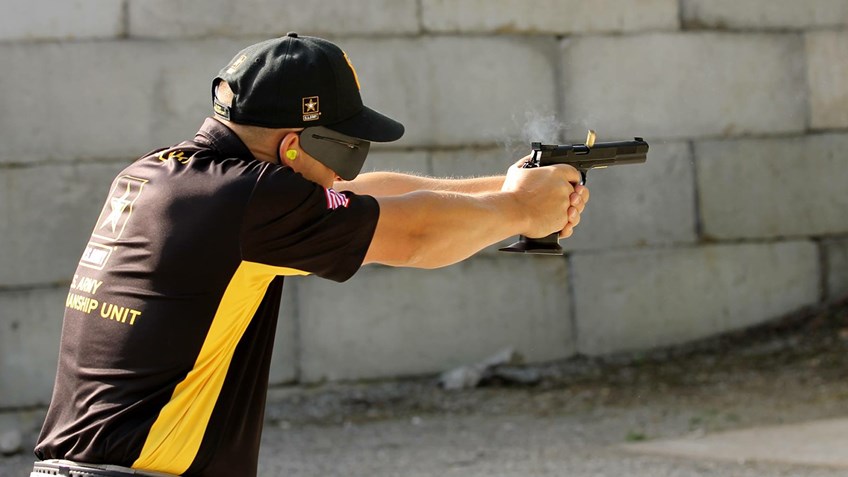 Sokolowski noted the AMU Custom Firearms Shop built his match pistols for the Bianchi Open and Metallic divisions. "They are both 1911 models chambered in 9mm. Each pistol is custom tuned to the needs of our shooters, and mine were no exception," he said. "The Open gun is a 5" with compensator while the Metallic is a 6" bull barrel longslide. These pistols are very heavy, and we added extra weight on top of that with tungsten guide rods. The extra weight helps with balance and recoil management."


In second place was Mark Blake with a score of 1920-172X. Eighteen-time champion Doug
Koenig tied Blake's score, and when the officials
went to the scorecards he placed third overall.

2018 Bianchi Cup Leaderboard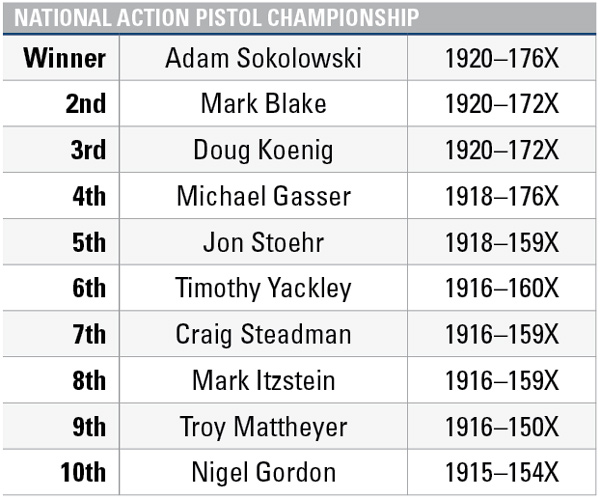 Metallic
Senior Agent
Robert Vadasz
of the U.S. Border Patrol 
Pistol Team
 is this year's Metallic Champion, finishing with a score of 1912-155X. This score, which also netted him High Police shooter, was 15th overall among the combined field of 169 Bianchi competitors this year.
Previously, Vadasz won the Bianchi Metallic Championship in 2008 and then four more consecutive times in 2010-2013.


His best event this year was the Falling Plates, scoring 480-52X. "The Plates for me were the most stressful event at the 2018 Bianchi Cup," said Vadasz. "I knew I had to clean the Plates to win and after it happens there's a flood of emotions."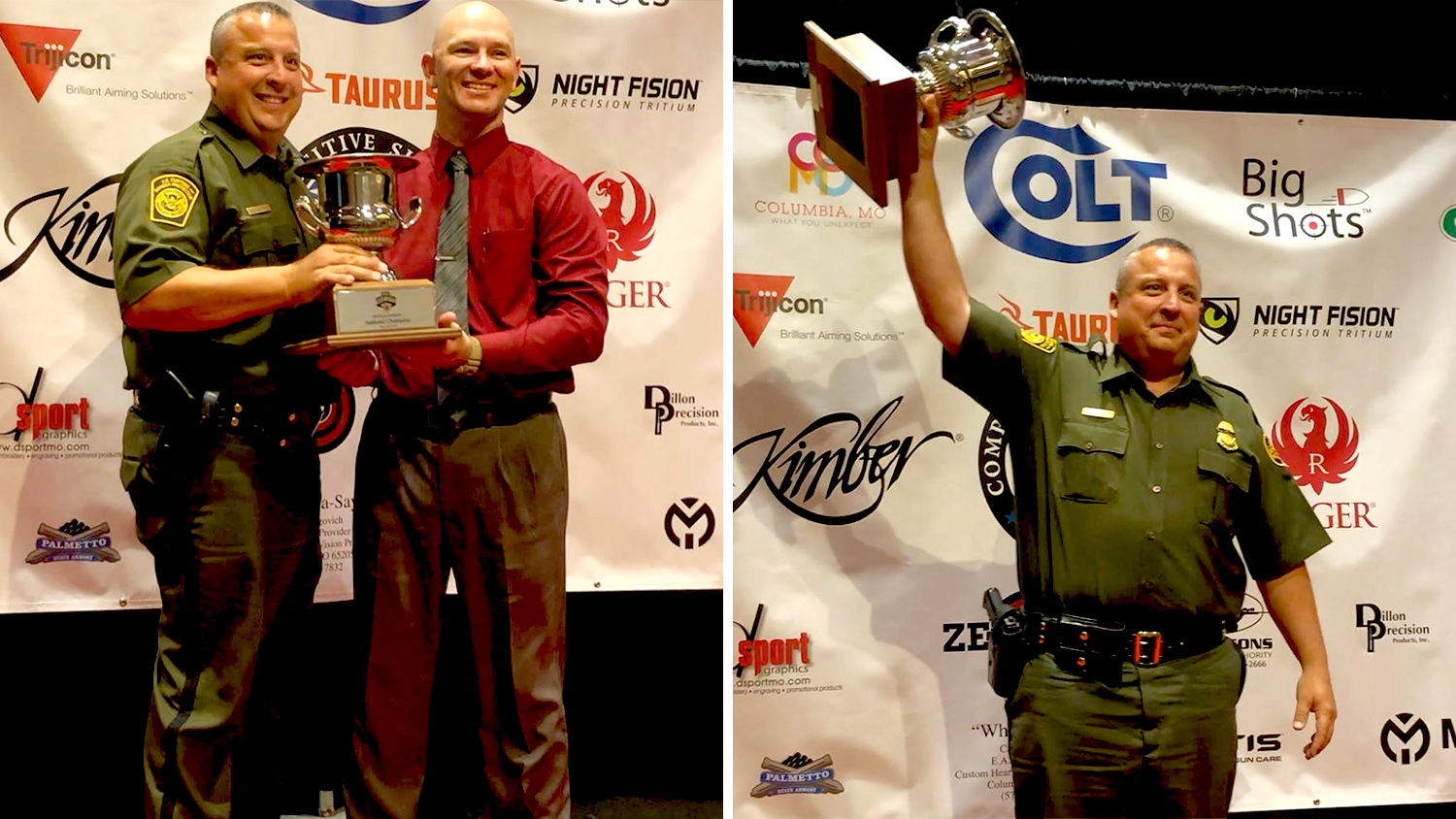 Vadasz said his gun is the same one he's been using since 2001 with no major changes.


"It's a Nowlin World Cup PPC 6-inch 9mm, and Aristocrat sight rib. The gun is old but recently had a tune-up from Jes Clark of Clark Custom Guns," he said, adding, "I use 
Atlanta Arms
 Elite 115-grain 9mm—it's the best ammo on the market."


About Bianchi Cup,
Vadasz said, "If you haven't shot this match then
you have to give it a try. It is a true challenge."


Finishing second in the Metallic division was Enoch Smith with 1907-150X. In third place was unclassified shooter Roman Hauber scoring 1906-141X.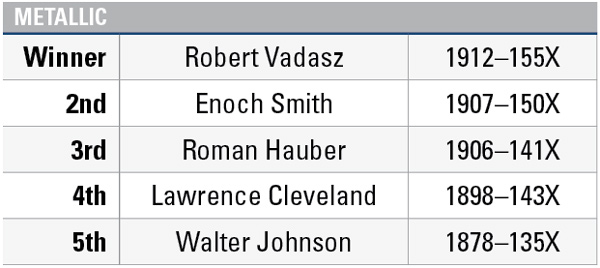 Production
Complementing the 
success
 of his teammates at the 2018 Bianchi Cup, SFC Patrick Franks of the AMU's Service Pistol Team earned his first Bianchi Production Championship win. Previously, Franks won two consecutive 
Bianchi
 Metallic Championships and he's also a past National NRA Precision Pistol Champion.


Although he did not break the record Production score set by 
Rob Leatham
 last year, Franks' 2018 score of 1894-136X was enough to pass the seasoned Bianchi competitor for the win. Leatham finished in second place, scoring 1862-129X. Seiichi Ishikawa finished in third place with 1822-109X.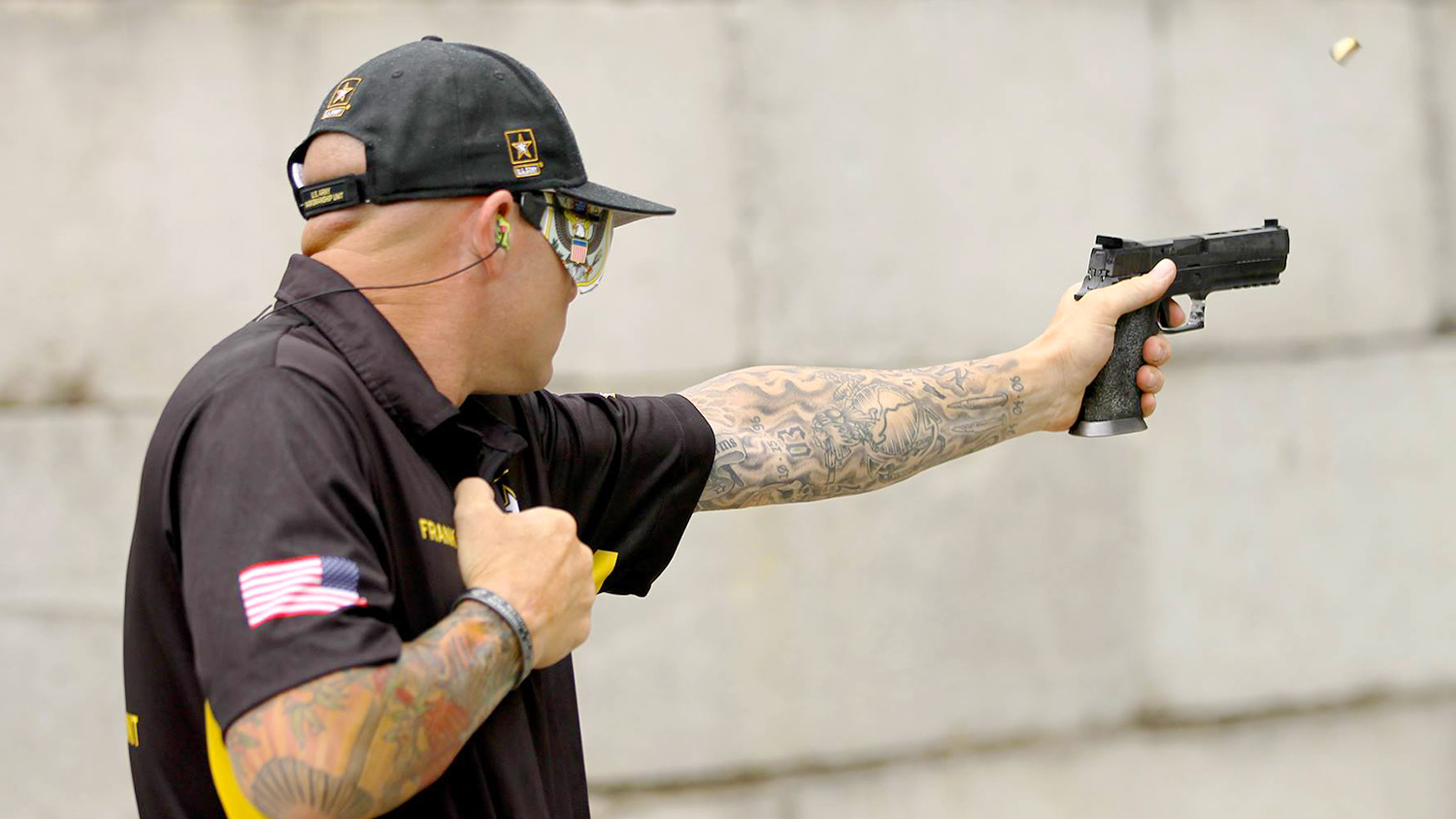 Franks was using a 
SIG Sauer P320 X-Five 9mm
 pistol for both the Bianchi Cup and the World Action Pistol Championships.


He also was the high Production shooter for the following events: Barricade (478-33X), Falling Plates (470-47X) and the Practical Event (478-27X). For the Mover, Franks scored 468-29X, where Leatham had 476-25X for the high score in Production.


As if all this wasn't enough, Franks is the 2018 NRA World Action Pistol Production Champion. That 
match
 was fired immediately before the Bianchi Cup, making the two events held together at the Green Valley Rifle and Pistol Club in Columbia, MO, especially grueling for those that were firing both of them.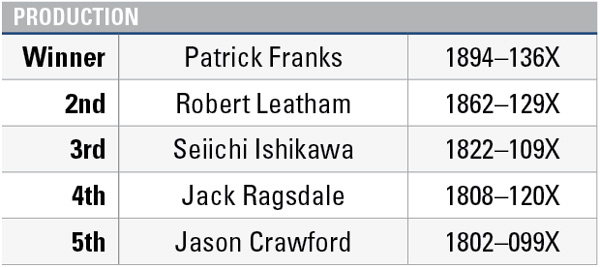 Women's Championship
Anita Mackiewicz won the Women's Championship with a score of 1911-153X. She's now a three-time champion, previously winning in 1998 and 2015.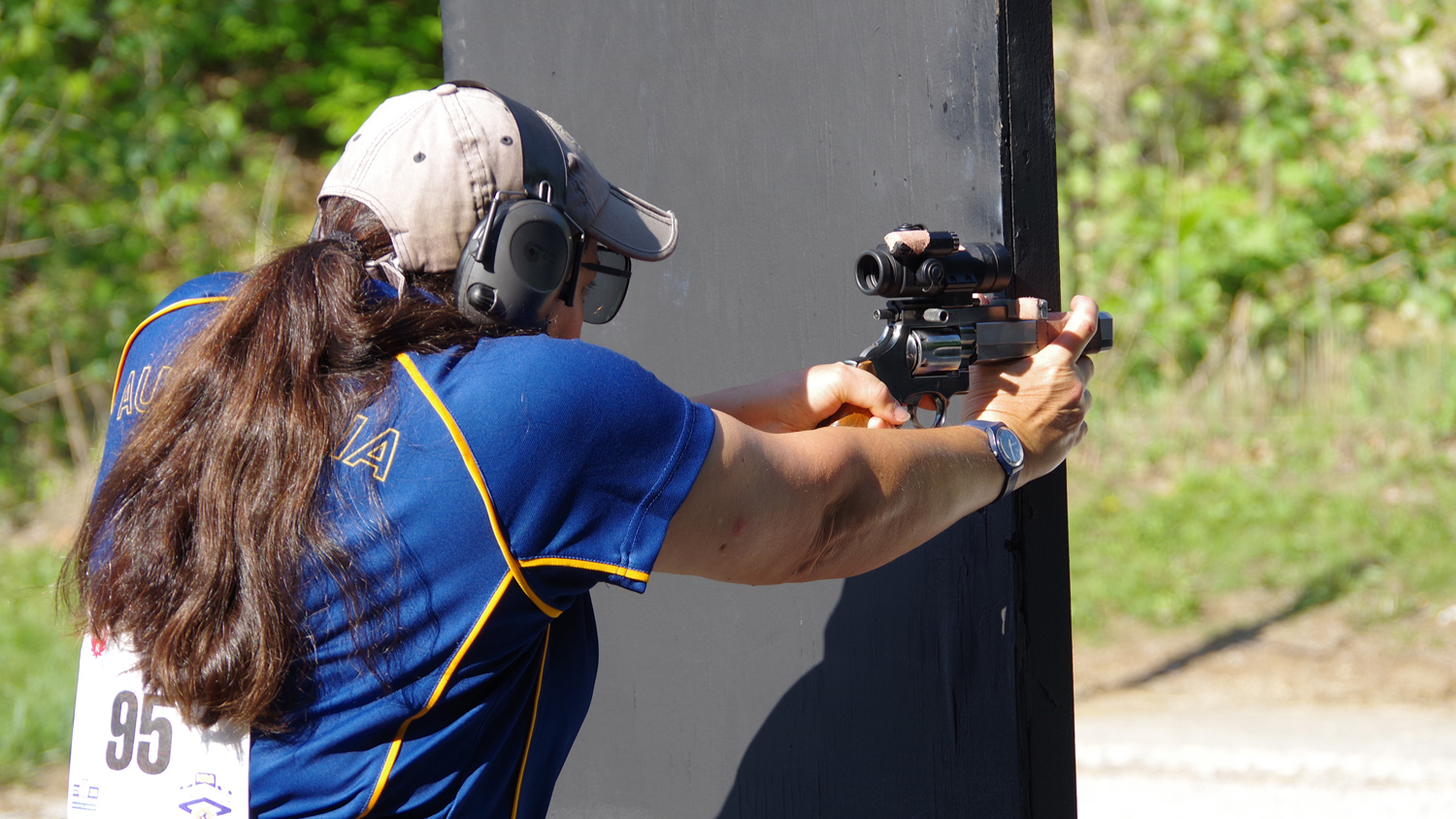 Second place went to last year's champion
Cherie Blake
with a score of 1910-137X. In third was 2016 Bianchi Women's champion
Tiffany Piper
with 1903-154X.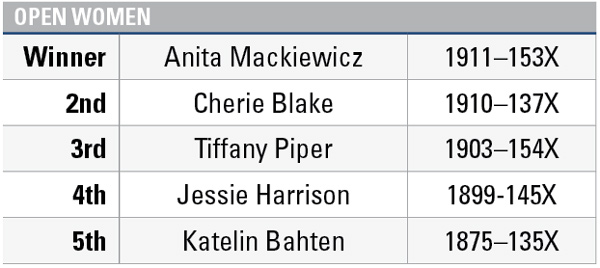 Junior Championship
Tim Yackley won the Junior Championship with a score of 1916-160X. His best event was the Falling Plates scoring 480-100X. In second place was Jonah Avenell with 1900-142X. Third place was
Sean Yackley
with 1855-133X
.


Senior/Grand Senior Championships
For Seniors, Jon Stoehr was the winner with an impressive 1918-159X. Mr. Stoehr had one perfect event, the Falling Plates with 480-48X. Vance Schmid was the runner-up with 1912-153X. Finishing in third place was Warren Moore with 1902-139X.
The Grand Senior category is defined by NRA Rule 2.2.2 for those aged 70 and over. This year's Grand Senior Champion was Adam Lennert with 1888-131X. Leon Ovens was in second place with 1883-137X. In third place was Thomas Blizzard scoring 1864-119X.


World Action Pistol Championship
The 2018 NRA World Action Pistol Championships (WAPC), held before the Bianchi Cup at the Green Valley Rifle and Pistol Club, was dominated by an impressive showing from United States shooters.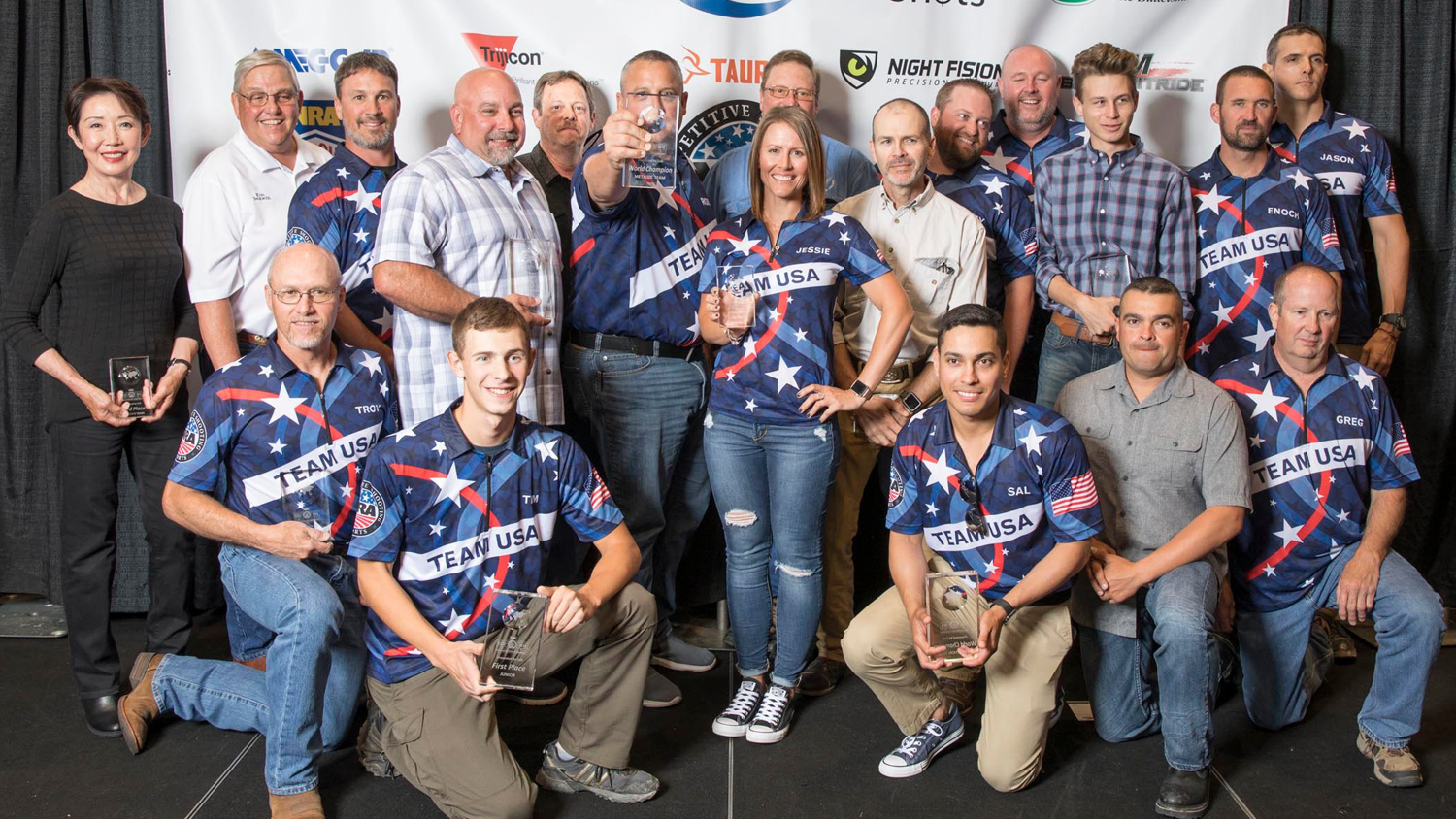 Like the 
Bianchi Cup
, the WAPC course of fire is the four events that comprise the Action Pistol Championship—the Practical, Barricade, Falling Plates, and Moving Target Events. Seven countries were represented at this year's two-day event, which was previously held in 2016 in Whangarei, New Zealand. Previous championships have been in Australia, Germany, Italy, New Zealand and in the U.S.


Doug Koenig
 was the overall winner with a perfect score of 1920-180X. In second place
overall was 2018 Bianchi Cup Champion 
Adam Sokolowski
 with a score of 1918-175X. Additionally, Sokolowski was the WAPC Multi Gun Aggregate winner. In third place overall was 2014 Bianchi Champion 
Kevin Angstadt
 with 1918-167X.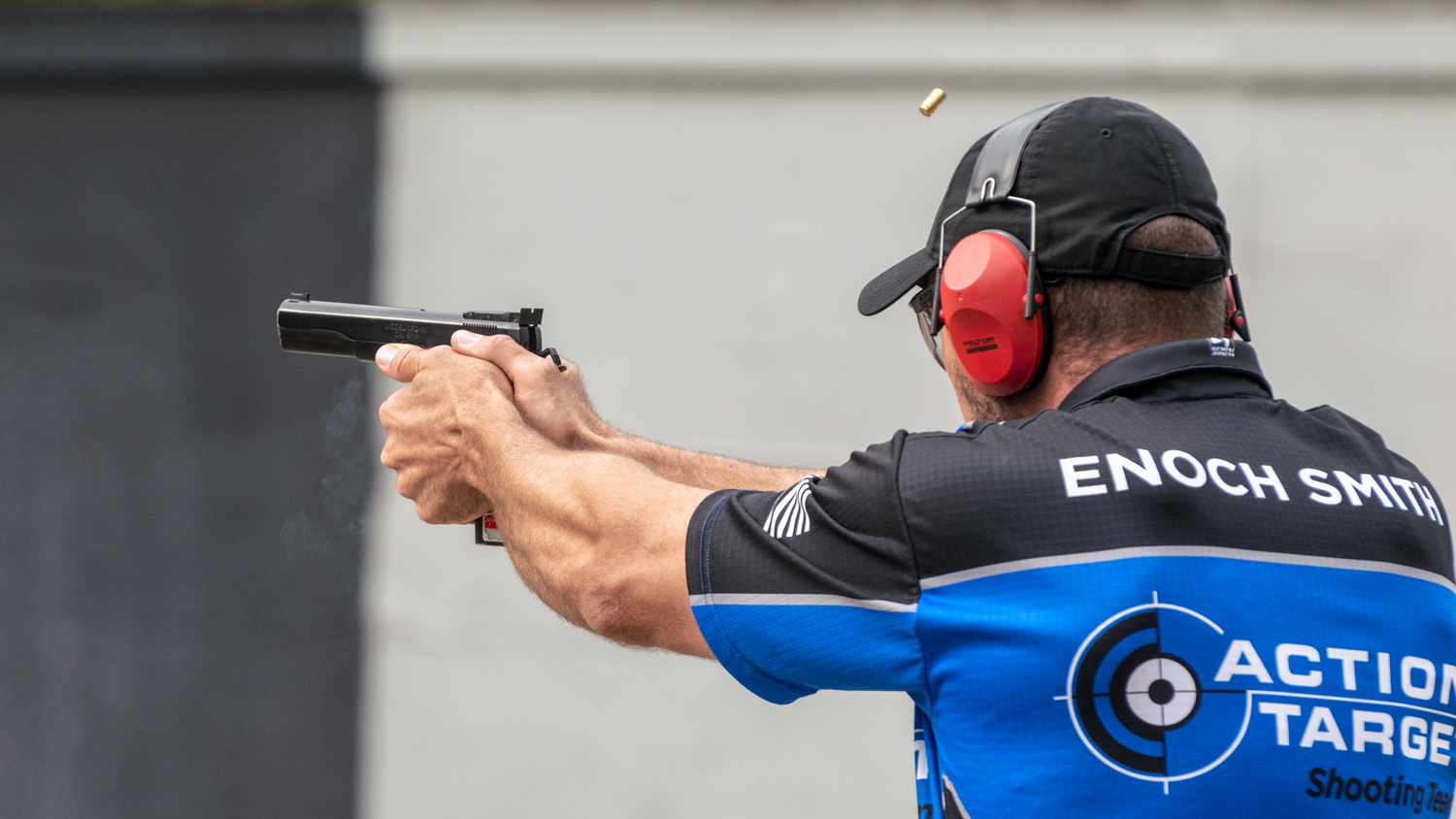 In Metallic, the winner was Enoch Smith with 1918-155X. The runner-up in Metallic was SFC Lawrence Cleveland of the AMU with 1912-142X. Finishing in third was
Robert Vadasz
 with 1904-152X.


In Production, as previously mentioned the AMU's SFC Patrick Franks won with a score of 1875-126X. Salvador Luna Jr. was in second place with 1861-119X. Jack Ragsdale finished in third with 1843-111X.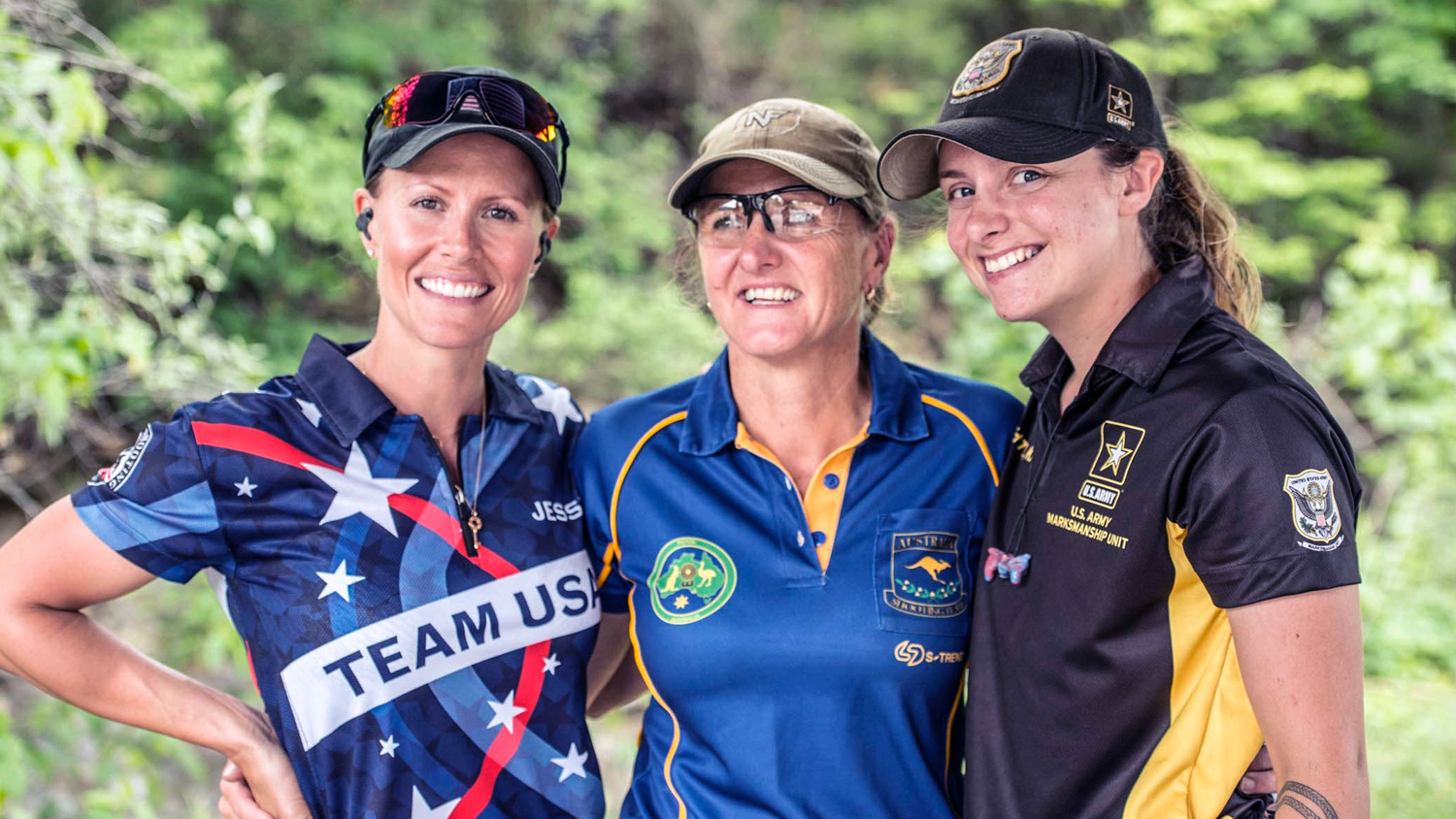 For the Women's Open division, the winner was 
Cherie Blake
 (Australia) with 1907-142X. Second place went to 
Anita Mackiewicz
 (Australia) with 1905-154X. Taurus shooter 
Jessie Harrison
 rounded out the top three women, finishing in third place with a score of 1897-155X.


View the full results of both the Bianchi Cup and the WAPC at bianchicup.nra.org/documents/pdf/compete/bianchi/2018Results.pdf