by
posted on June 12, 2018
Support NRA Shooting Sports USA
DONATE
SFC Adam Sokolowski with the U.S. Army Marksmanship Unit (AMU) won the 2018 NRA Bianchi Cup Action Pistol Championship on May 25 in Hallsville, MO, near the city of Columbia. Facing a tough and talented field of 163 athletes from eight countries and 33 states, Sokolowski finished the match with a perfect score of a 1920-176X.

Most impressive: not only did Sokolowski unseat the reigning 18-time Bianchi Cup Champion and second place finisher Doug Koenig, but he became the first competitor to consecutively win all three divisions—Production, Metallic and now Open—in the entire 40 years of the event.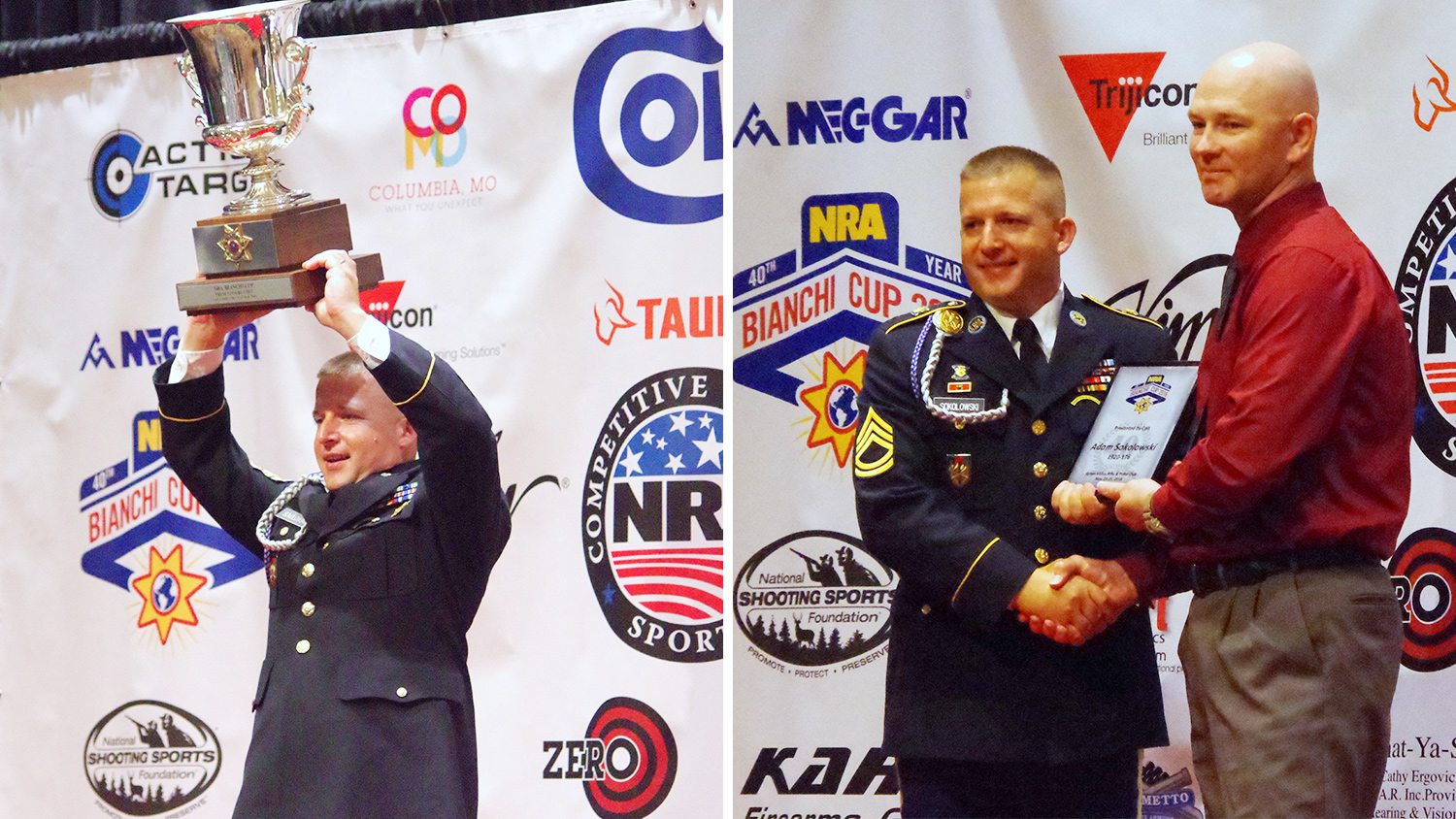 In those 40 years, only Rob Leatham (who placed second in the Production Division with a score of 1862-129X), has ever won all three divisions, and even he says those wins, which came over a 37-year career, should be looked at in a different light.

"When I won Open [in 1985], there were no divisions. It was all Open," said Leatham about the three-day, four-event action pistol competition with a course of fire that has remained virtually unchanged since its 1979 inception. "Adam [Sokolowski] coming in and winning three different divisions, in three consecutive years, it's safe to say that nobody will ever do that again, because nobody has done it in the 40 years of the match existing."

Leatham, a professional shooter who has competed in the Bianchi Cup since 1982, has several Production and Metallic Division Champion titles under his belt, and with his 1985 Open Division Champion title, he stands as the only other "Triple Crown" Champion who knows exactly what Sokolowski really accomplished.

"To think somebody else will have that kind of talent, versatility and drive to learn how to do that, and be good at all those, is very unlikely," said Leatham.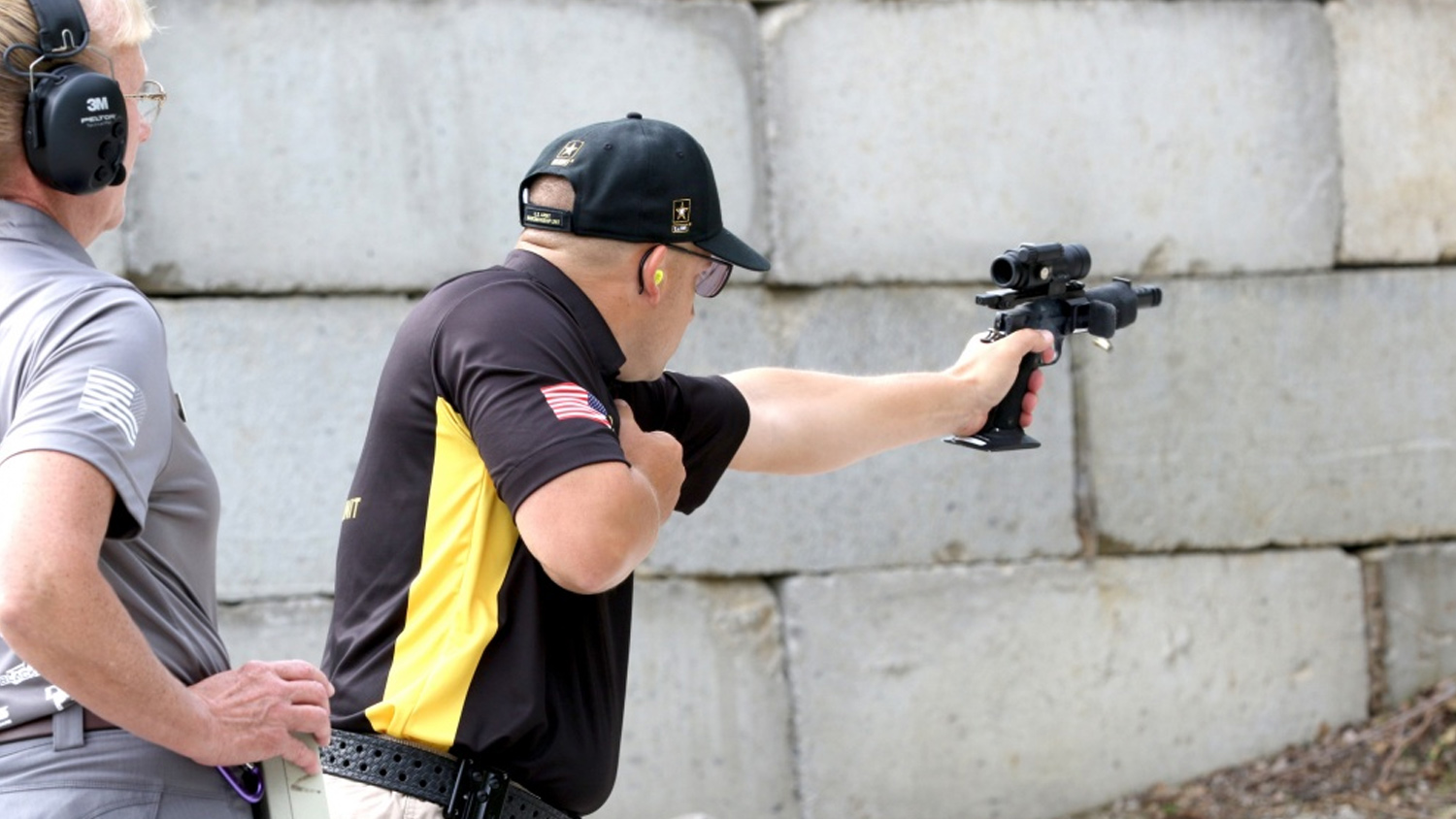 To add even more to the feat, Sokolowski only started shooting the discipline of NRA Action Pistol (which is a precise, fast paced, two-hand fired pistol match) four years ago when AMU leadership asked the Service Pistol Team to branch out from their traditional Bullseye discipline (which is a precise, slow, one-hand fired pistol match). When the unit asked the Service Pistol Team to try something new, the Somerville, NJ, native did what any good soldier would do—he did some research.

"The first thing I did was pull out a rulebook and speak to every competitive shooter I knew," said Sokolowski. In that process, he prepped his team for a new challenge, and set himself up to make history.

With rack grade guns, Sokolowski and his fellow AMU teammates shot their first Bianchi Cup courses of fire in 2014 and 2015. By 2016, Sokolowksi had become so well-versed in the discipline, that he claimed the Production Championship. In Production, the competitor uses an out-of-the-box pistol/standard top-draw holster.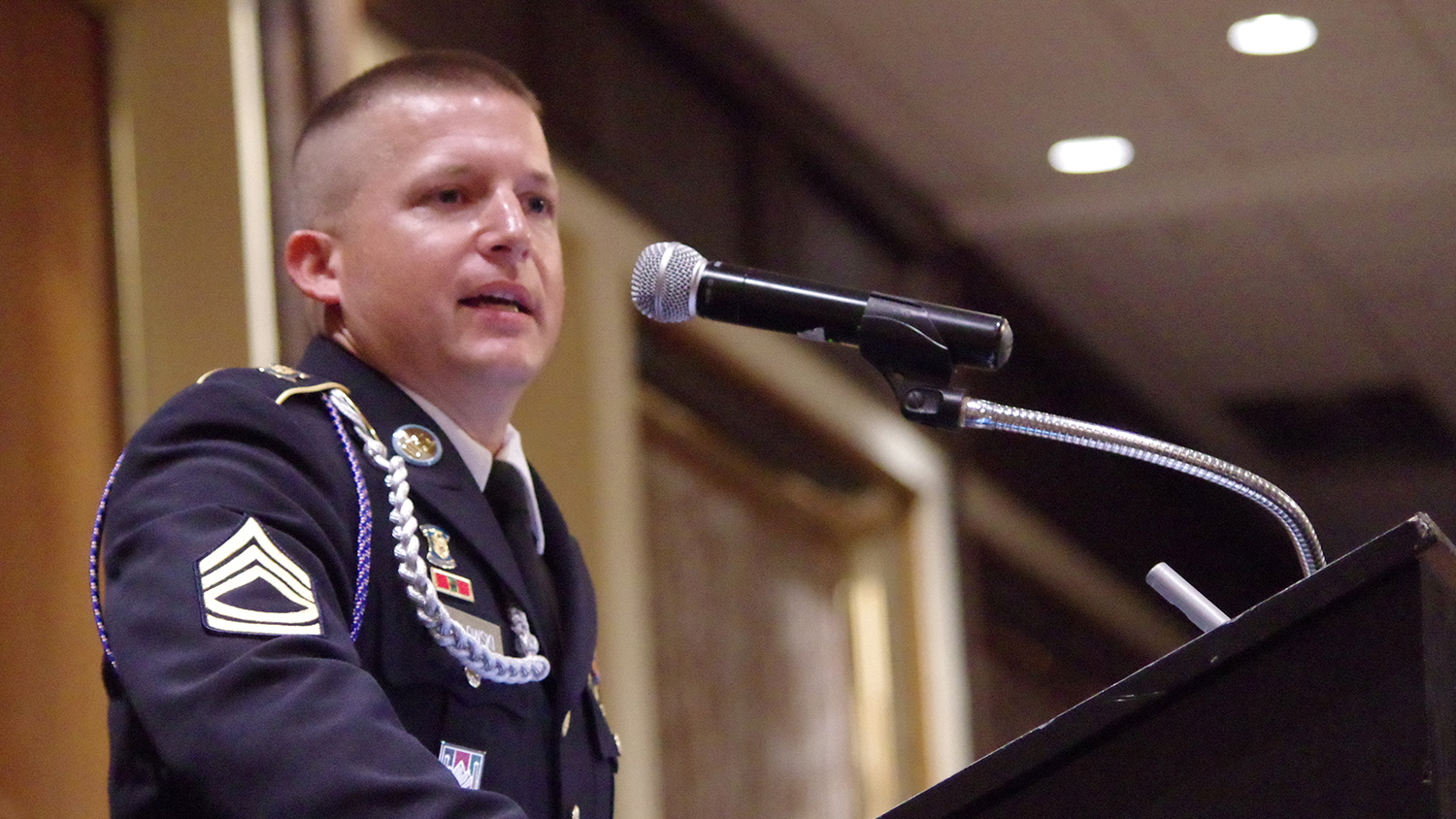 After achieving his goal of winning the Production Division, in 2017 he decided to change things up and compete in the Metallic Division, meaning the competitor uses an iron sight pistol/open face holster. This is where he made Bianchi Cup history the first time. In his first Bianchi Cup Metallic Division showing, he not only claimed the Champion title, he won it with the first-ever perfect score of a 1920 with an iron sight gun, an accomplishment no other Metallic competitor has managed to date.

Before his historic Metallic Division win, Sokolowski said he briefly considered shooting the Open Division, which means the competitor uses a pistol with a red dot sight along with an open-face-draw holster. But that was mainly just to understand the division.

"As the team chief, it's my job to understand the sport, especially since I have soldiers shooting it."

However, after his Metallic Division victory, it was a fellow competitor and shooting sports legend who suggested that Sokolowski go for the "Triple Crown."

"I really didn't give it much thought until last year when I won Metallic … and Rob [Leatham] said, 'You know, you could go for three in a row,'" explained the Sokolowski. "So I took up what Rob said to me and figured, why not—I'll give it a try. And, it worked out pretty well."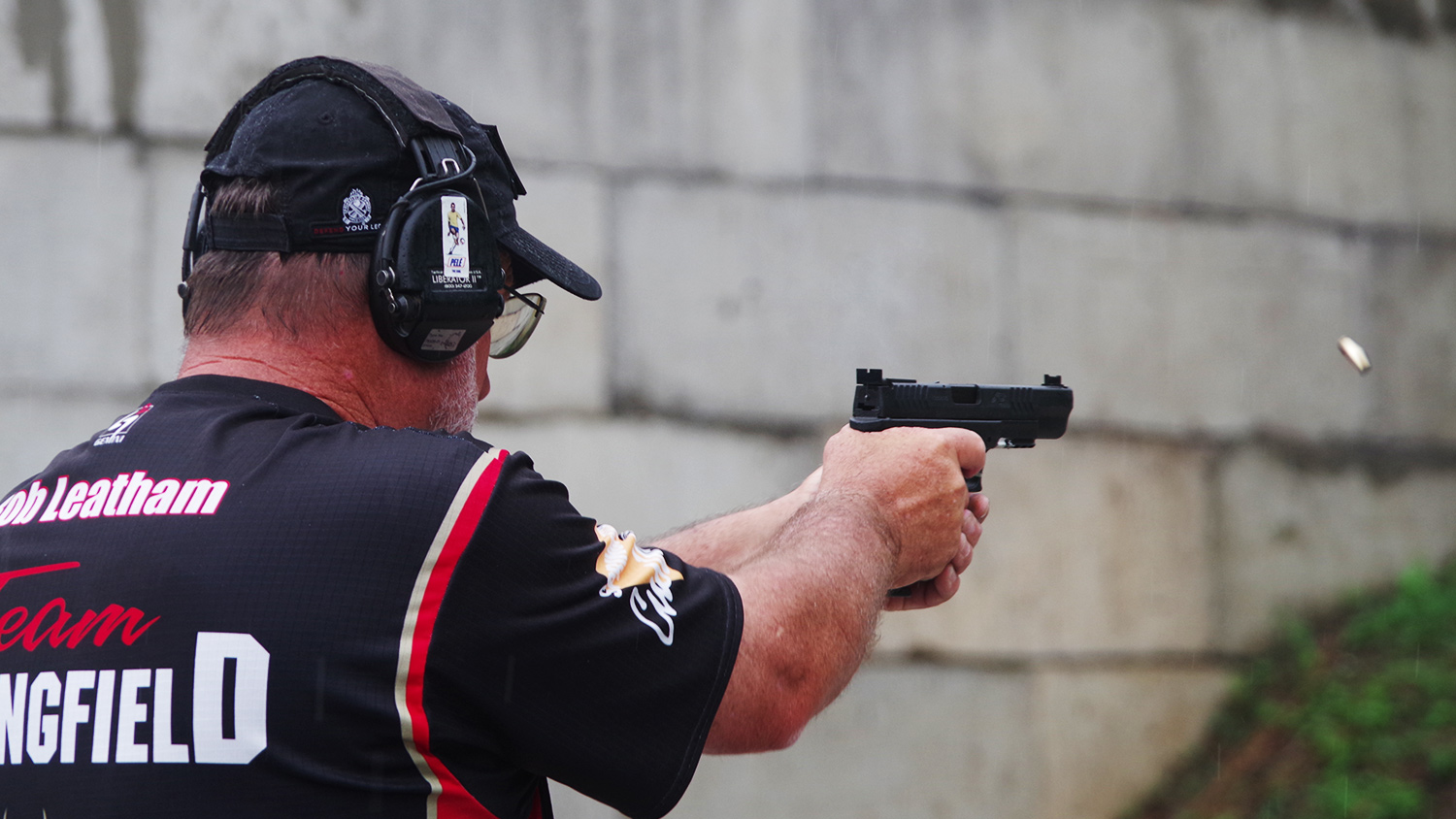 Working out well does not mean it was easy though. Competition at the Bianchi Cup is known to be fierce, as top shooting sport athletes from across the United States travel to the annual competition to vie for titles. Over the years, the event has also drawn competitors from across the globe, making faces and jerseys from Barbados, Australia, Sweden, Germany and Japan a common sight.

With the competition being held over three days and with rotating schedules, each competitor must shoot the four different events in various conditions and times. Then, the events themselves—The Moving Target Event, Falling Plate Event, Barricade Event, and Practical Event—test the competitors' skills at different distances, positions and speeds. On top of testing the competitors' marksmanship skills, there is this whole other "mental game" to win, said Sokolowski.

"I've been able to practice it and shoot it really well. But, being able to actually come here, when it matters with all the other top competitors—you can make very few, if any mistakes … It's more of a pressure game to be able to deliver when you need it, and that's what's mentally challenging."

The challenge and competition is just what seems to draw in top shooting talent. Combined with the long history of the match, many competitors find the Bianchi Cup to be the must-go-to match every year.

"There is just something about this match that is bigger and better than any other match," said Cherie Blake of Australia who placed second in the 2018 Women's Division with a score of 1910-137X (also last year's Bianchi Women's Champion)—right behind her fellow Aussie teammate and 2018 Bianchi Women's Champion Anita Mackiewicz with a score of 1911-153X.

"It's hard to put it into words, but something happens here that makes it a terrific match," said Blake.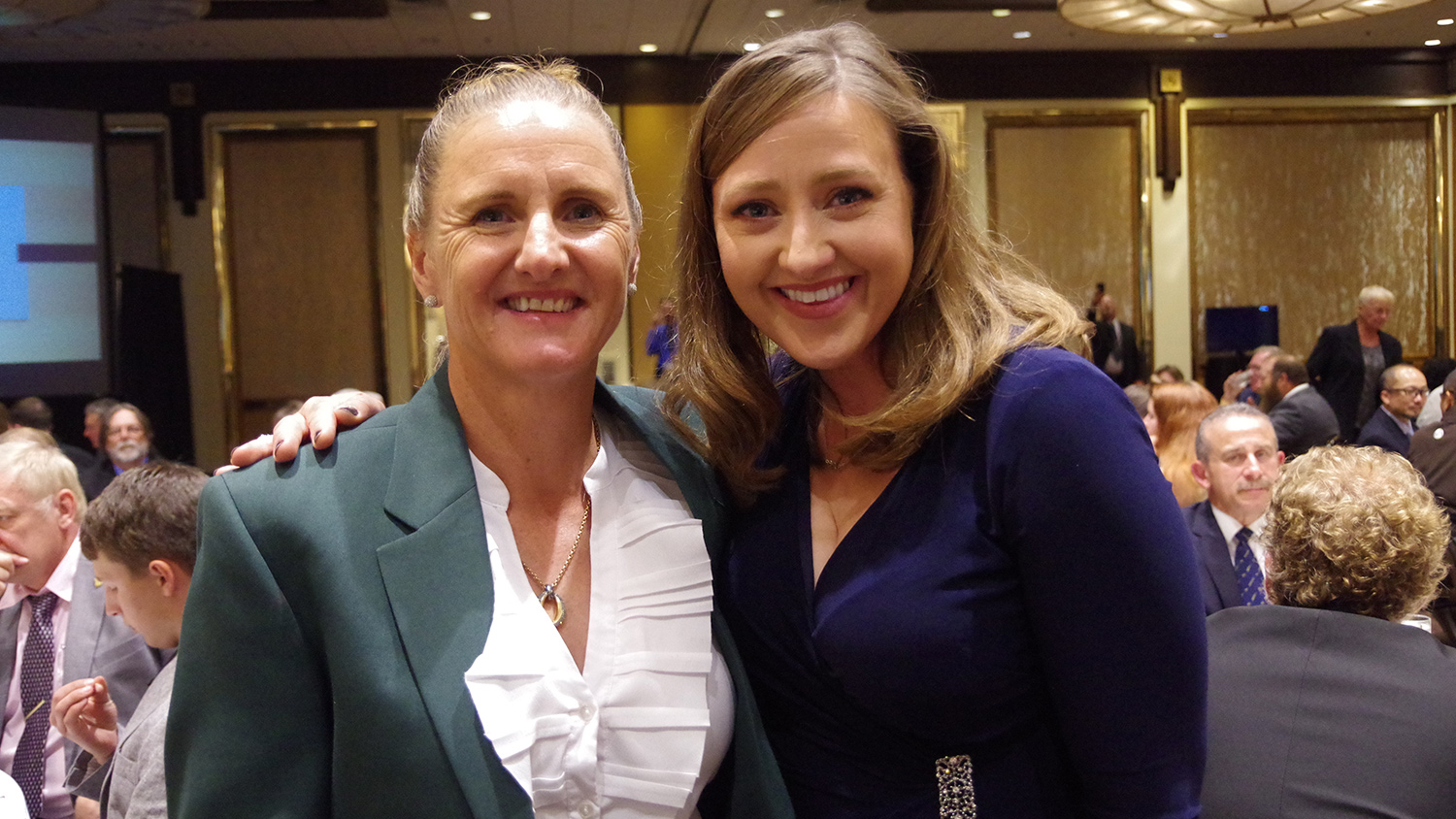 The stress at the Bianchi Cup doesn't only come from the match. Many competitors agree that a lot of stress comes from an internal struggle of trying to achieve a personal best in scores.

"The Bianchi Cup is the one match you can truly shoot for yourself. There's a score. There's a goal that you want to achieve and you try to meet it. Whereas everywhere else you can be a little faster, more accurate … but not here," said former AMU shooter Julie Golob, who is now the captain of Team Smith & Wesson. Golob placed sixth in the Women's Division with a score of 1872–137X.

Sokolowski said he was certainly feeling the stress when he stepped up to do his final event, the Falling Plates, and it started to rain. Though shooting 48 eight-inch steel plates in timed series in sets of six from distances of 10, 15, 20 and 25 yards is a task that Sokolowski has practiced countless times, the added factors certainly created tension.

"You are at the Bianchi Cup, and oh, now it's raining," said Sokolowski. With only seconds to get into position, and a historical win on the line, every shot mattered. He had to be perfect and hit every single shot to win. There was definite concern about the rain. Would the mat slip when going down in the prone? Would the gun be wet and slick? Would rain get into the sight?

"There was a little bit more pressure than I expected just because of that extra dynamic," explained Sokolowski. "I mean, I knew the capability was there. I had the X count. But doing it at the match when it matters … in the rain …"

Performance under pressure is what competition is all about though. Train, train and train some more. Practice cannot always make things perfect, but they can certainly make people proficient. Sokolowski's recent historic win is just another example of that, said SFC Patrick Franks of the AMU Service Pistol team who claimed the 2018 Production Division Championship with a score of 1894-136X.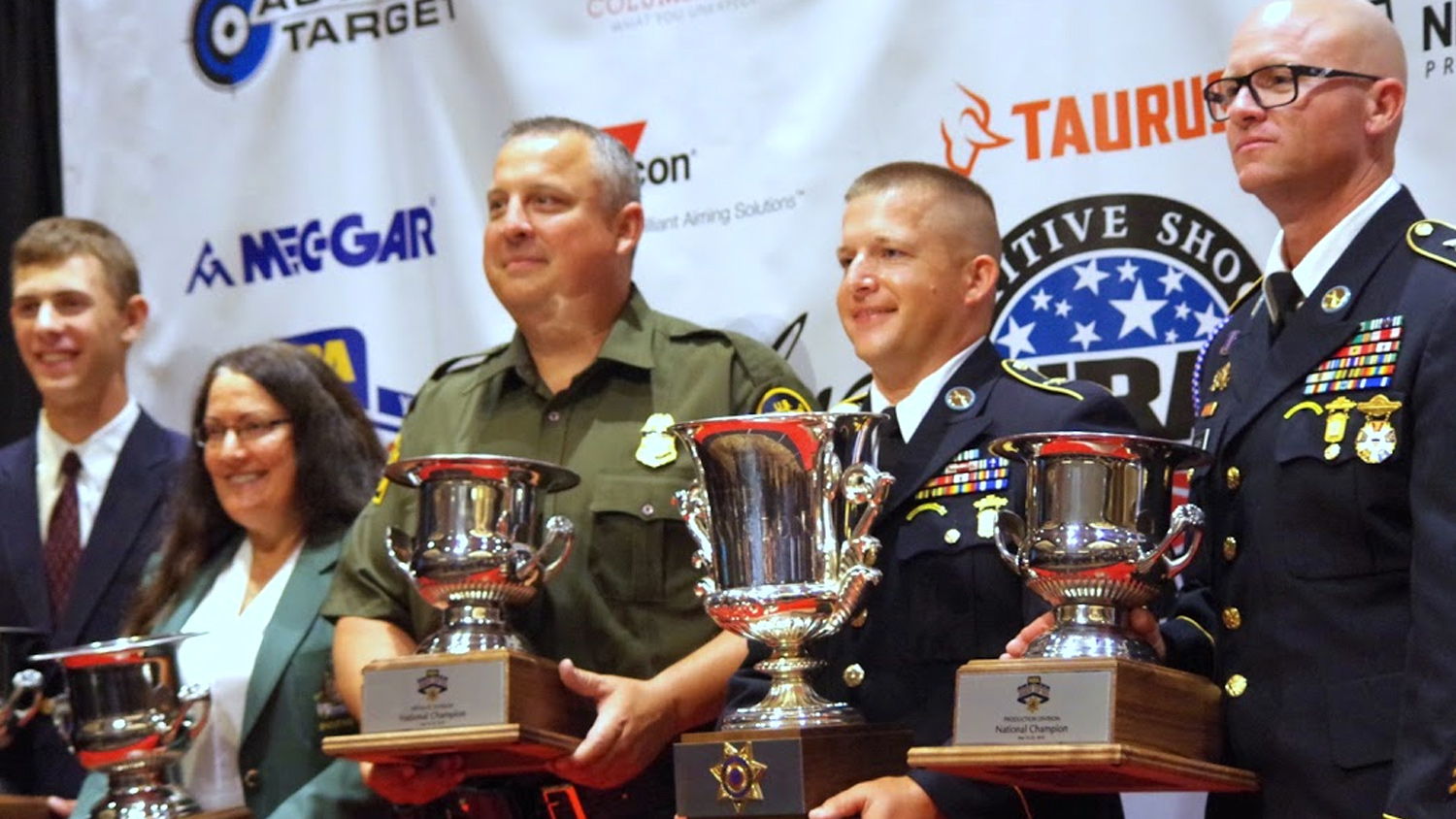 "Sokolowski being able to [win three divisions consecutively] in such a short amount of time really tells us that our methodologies, our program, our training [at the AMU] works," said Franks who hails from Las Vegas, NV.

Knowing that the U.S. Army team has only been shooting this discipline for four years and frequently claims podium spots, makes Leatham proud as he helped the team prepare for their first few Bianchi Cups.

"I was involved in the beginning, kind of getting them on the right track," said Leatham. "I certainly did not make them what they are today, because that's drive from themselves and their own skill levels."

But from an experienced professional, Franks' Production win and Sokolowski's historic Triple Crown win are just added proof that AMU shooters have the skills and the drive to excel.

"To see people come in and be as dominate and consistent, and shoot as well as the AMU guys and girls, is really quite an accomplishment," explained Leatham. "Not only should the unit and their families be proud of them, but competitive shooters as a whole should be proud of them."

Lead photo courtesy of Michelle Lunato/AMU