When he was a boy, Adam Sokolowski looked forward to his annual trips to Camp Perry, OH, where he'd compete in pistol matches. Back then, it was just something fun for a father and son to do too. However, those summer trips wound up defining that young boy's skills, career, and ultimately, his life.


It all officially started 20 years ago. In 1997, the young Sokolowski attended Camp Perry's Small Arms Firing School along with his dad, Frank. There, father and son practiced their pistol skills by learning techniques from soldiers on the U.S. Army Marksmanship Unit's (AMU) Service Pistol Team.


The AMU, who annually taught the pistol portion of the school, had become acquainted with the young Sokolowski and his father over the past several summers. However, it was that specific summer where the prestigious Army unit really took notice of the young Yeagertown, PA, native's growing talents.


"It was actually my father who was kind of bragging on my behalf, about how well I was shooting," said Sokolowski who had then just won the 1997 Lewistown Pistol Club Regional 2700 with a personal best score (at that time) of 2628-137X.


Though his father's proud comments and his recent win caught the attention of AMU Pistol Coach, Ray Arredondo, now it was the young Sokolowski who had to back up those accolades with consistent skill. As time progressed and he improved even more, Sokolowski seized the 1998 Camp Perry National Junior Pistol Champion title.


With the Army's pistol coach watching him continuously improve, the young Sokolowski's hard work earned him a direct assignment to the AMU upon graduating from high school and completing his Army Basic and Infantry Training. Just a few months later in 1999, he won the National Trophy Individual title at Camp Perry. And during the same week, he seized the National Junior Pistol Champion title one final time, but this time, he did it as an AMU soldier—setting 10 national junior records on top of that.


As a member of the Army's elite shooting unit, Sokolowski's natural talent was honed and developed even further. The young bullseye shooter was taught detailed marksmanship techniques, soldier skills and Army values. He then combined all that training into achievement at multiple competitions across the United States.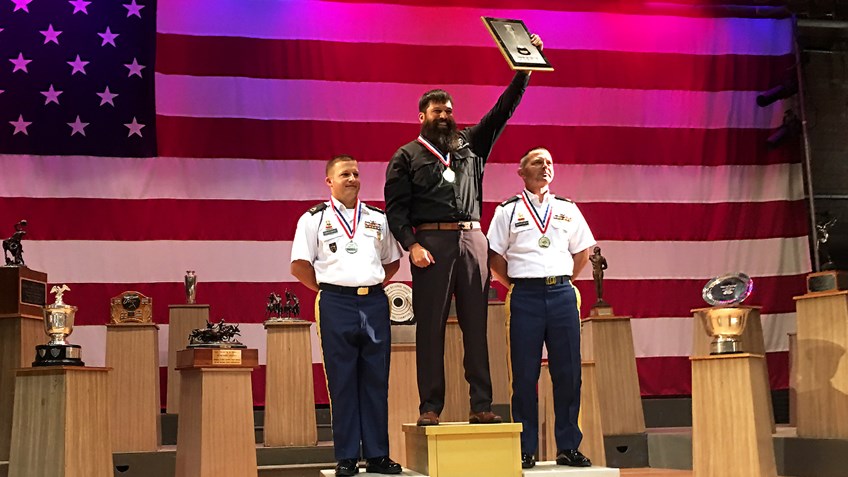 Over the years serving in the AMU, Sokolowski worked his way up through the ranks going from private to sergeant first class. Now, Sgt. 1st Class Adam Sokolowski serves as the Service Pistol Team chief and coach, the same position as the former AMU pistol coach who watched and recruited him as a junior shooter back in 1997. Sokolowski finished in second place overall this summer at the NRA National Precision Pistol Championships.

Bullseye and action pistol competitor


Most recently, Sokolowski started shooting action pistol style (two-handed shooting) while also still competing in the traditional bullseye style (one-handed shooting) he grew up with. "The two sports complement each other, the precision from bullseye has really been instrumental in my success in action pistol."


Shooting in both bullseye and action pistol styles is not always common for competitive shooters. However, this AMU soldier enjoys challenging himself and continues to excel at each. Some of Sokolowski's most notable accomplishments include: Distinguished Pistol Shot Badges—Service Pistol Excellence In Competition (EIC) [1999], Production [2016], .22 EIC [2017], and Metallic [2017]; President's One Hundred Tab; member of the 2600/2650 Club; National Trophy Individual Champion at Camp Perry, OH, [1999 and 2006]; bronze medal finish in the Interservice Championships at Fort Benning, GA, [2002, 2003, 2008, 2015]; silver medal finish at the National Pistol Championships in Camp Perry, OH, [2016-2017]; Production National Action Pistol Champion at the Bianchi Cup in Columbia, MO, [2016]; Multi-Gun Aggregate Champion at the Bianchi Cup in Columbia, MO, [2017]; McKinley Regional Champion, Canton, OH, [2017]; and both the .45 Caliber and High Service National Championship titles at Camp Perry, OH, [2017]. In addition to these titles Sokolowski also set 23 national individual and team records, and has been a firing member of numerous interservice and national championship winning teams.


His most recent record was the biggest of all though. 
That big record was at the 2017 NRA Bianchi Cup, where Sokolowski made history by shooting the first-ever perfect 1920 score in the Metallic division (iron sight pistol/open face holster). His score of 1920-148X was 10 points over the previous record set by legendary action shooter Rob Leatham in 2005.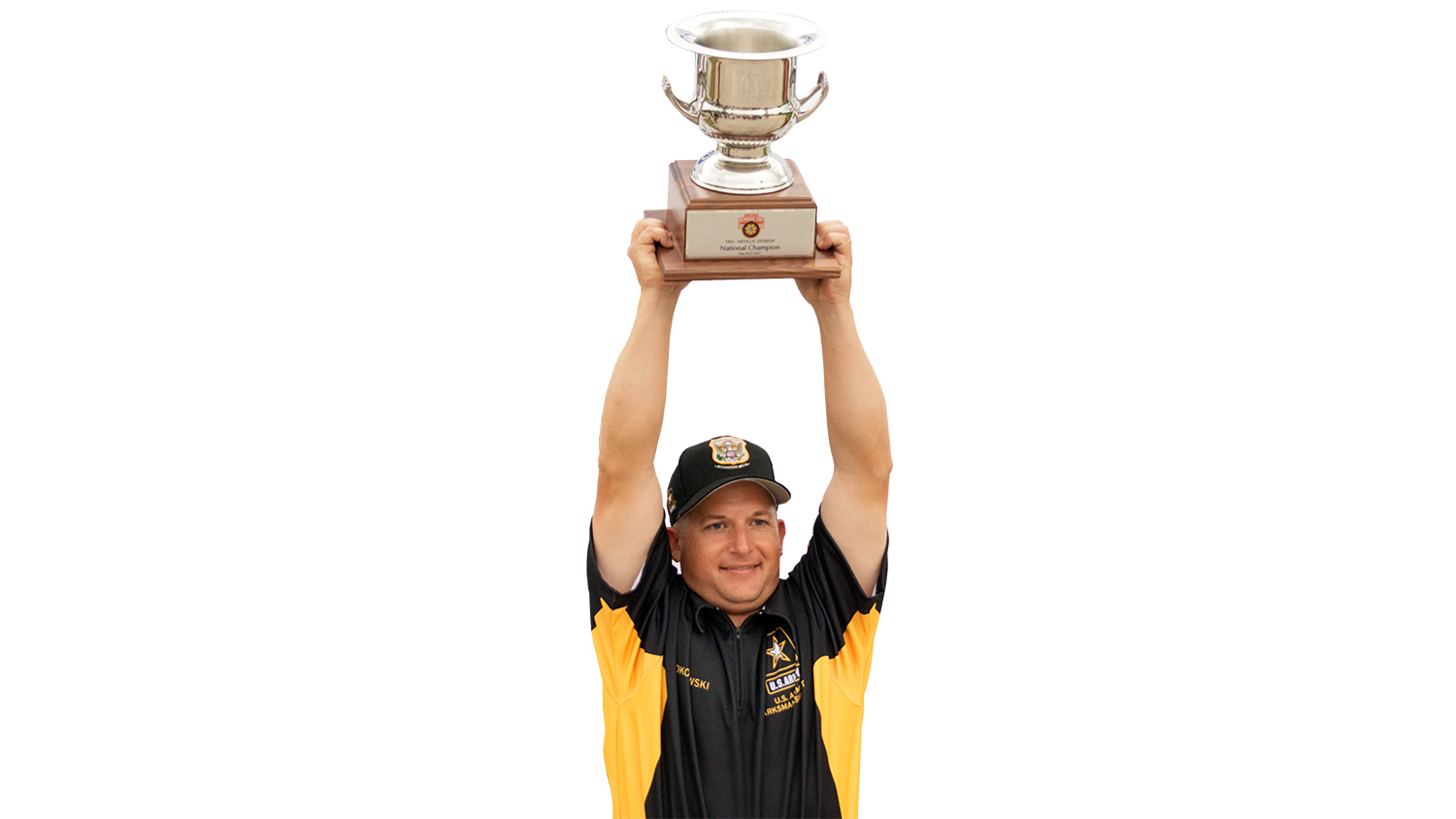 As if making Bianchi Cup history wasn't enough, Sokolowski claimed the title of 2017 Metallic Champion at that three-day competition as well after he completed the Colt Championship Final with a score of 1914-143X.


When asked why he didn't just try to repeat his 2016 Bianchi Cup Production Champion win, it all went back to the young Camp Perry boy who just loved to shoot and challenge himself.


"The last two years I competed in the Production Division (out-of-the-box pistol/standard top-draw holster), and I achieved my goal when I won it last year. I could have gone for the repeat, but I decided to change it up and go Metallic," said Sokolowski. Something to note: he only started training in action pistol in 2015.


Sokolowski said his years of experience in Precision (bullseye) pistol certainly helped him achieve his recent successes in action pistol.


"I think shooting bullseye has really made the difference," he explained. "It has made me so much more accurate. Being able to put two hands on the gun, the 10-ring is a little bit more forgiving."

Changing hands


Unfortunately though, life hasn't always been as forgiving to Sokolowski. In 2007, Sokolowski was diagnosed with an extreme case of tendinitis in his right hand and wrist. For a competitive shooter, this was potentially career-ending news. But Sokolowski's passion and dedication to the shooting sports were still flourishing, and the soldier side of him just couldn't quit yet.


So in 2008, he transitioned to shoot with his left hand to continue to compete. In March of that same year at the River Bend Gun Club in Dawsonville, GA, he fired his first 2700-style competition and earned a score of 2625—with his left hand. He continued to improve and won the Dixie Regional 2700 in Jacksonville, FL, by April with a left-handed score of 2641. By the end of the year, Sokolowski validated his switch to left-handed shooting by achieving an impressive score of 2650 at the North Carolina State Championships held at Camp Butner, NC.


That constant drive to improve and a never-quit attitude are what motivates the AMU soldier. "It's an inner challenge. There are a lot of different sports out there, but what keeps me coming back to competing is—it's a challenge."
The future
Now that Sokolowski has won both Metallic and Production at the NRA Bianchi Cup, the AMU soldier said he may as well challenging himself to win the only remaining division—Open. Open allows for red dot sights on pistols and an open-face-draw holster.


"I'm compelled to go towards Open. I already planned on shooting in the Open Division this fall just to understand it more."


As the AMU's Service Pistol Team chief, Sokolowski is responsible for other soldiers who regularly shoot in Open Division.


"As the team chief, it's my job to understand the sport. If it goes well, then 
I'll focus on that entirely as I did on Metallic, and maybe now that focus will be even more driven."


With this new focus, Sokolowski thinks he has a chance to be among the few competitor's to have claimed all three division titles at the Bianchi Cup. It will not be an easy mission, but that's just the way this soldier prefers it.


"You have to train hard every single day and put in the hours. It doesn't come easy. But that's why I do it, because it's hard, and because it's challenging. If it were easy, it wouldn't be as much fun."


Of course, the fun of challenge is not all this soldier enjoys about competitive shooting. "It's very rewarding to do this job and do it for the Army. I've had the privilege of using the skills I've learned at these competitions to help train thousands of soldiers and civilians. And that has been very rewarding."