by
posted on May 30, 2017
Support NRA Shooting Sports USA
DONATE
At the conclusion of the most memorable
Bianchi Cup Action Pistol Championships
in recent memory, Doug Koenig made history once again
—
winning the Bianchi Cup for the 18th time. Koenig's win netted him another silver Bianchi Cup for his trophy room, as well as a cash prize of $10,000.
The first portion of the match was the four main Bianchi Events, as in years past (Match X). Carl Bernosky had the high score going into the
Colt Championship Final
, finishing Match X with a score of 1920-175X. Koenig finished Match X with a score of 1918-175X. 
During the Awards Ceremony Koenig said, "I want to thank Green Valley, the match staff and the NRA. There was some concern about what we might find when we got here, but as usual the match was awesome and everything went off without a hitch
—
I tip my hat to everyone involved." 
Saturday's Colt Championship Final became a race to beat an incoming thunderstorm.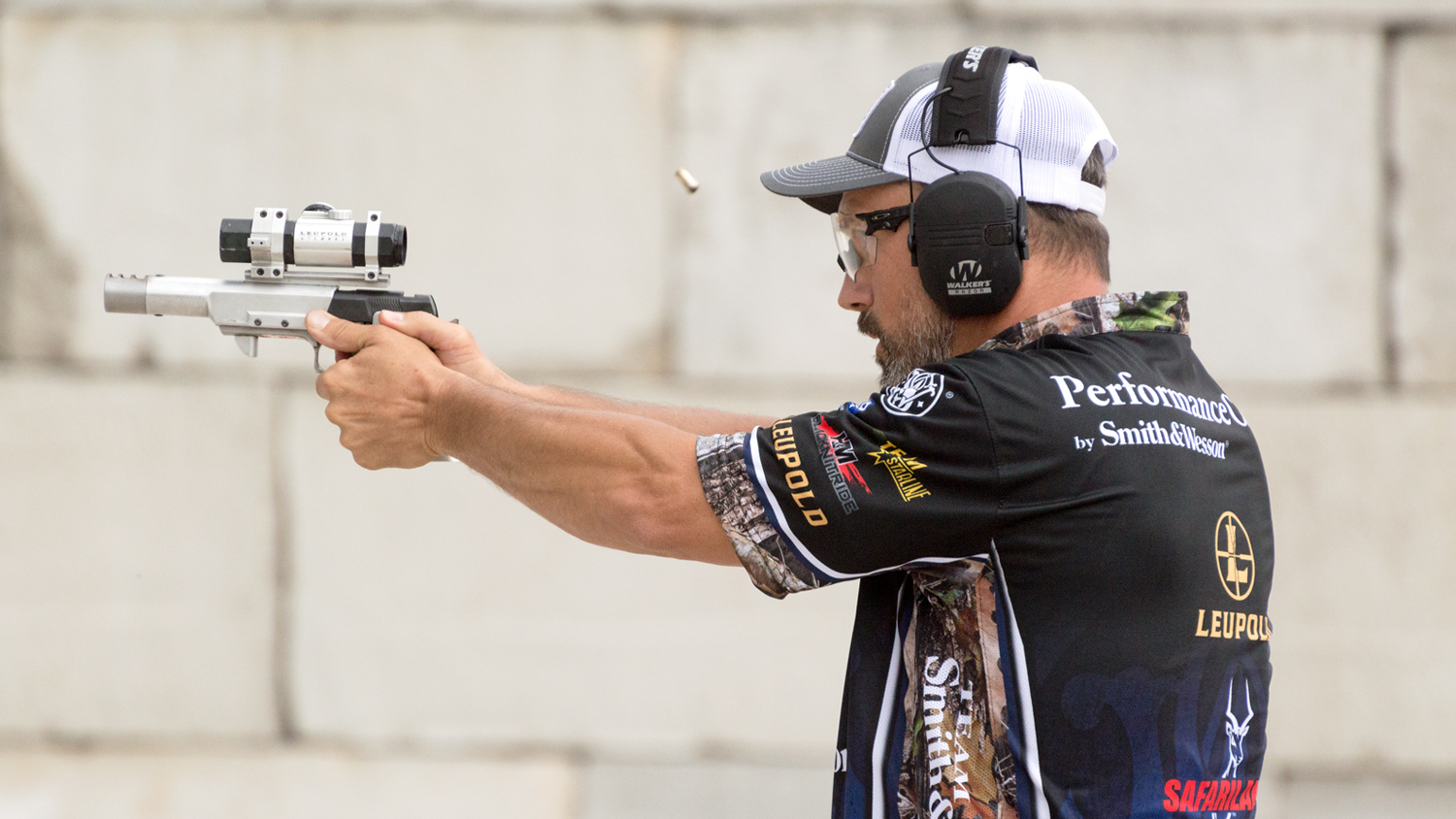 Koenig added: "When we went up the hill for the Mover at the Finals, I could see the sky starting to change. As it got closer and closer, it kept getting darker and I was hoping to get through this before the storm arrived. Finally, after Bruce [Piatt] was done shooting, and it was my turn to go out, I thought 'Please God, let me get through this!' Bruce told me he made a few prayers himself, although with a slightly different tone!"
Finishing in second place over all was five-time Bianchi Cup Champion
Bruce Piatt
. In a very close finish, Piatt's score of 1920-181X was only separated by three X's from Koenig. SFC Michael Gasser of the U.S. Army Marksmanship Unit (AMU) finished in third place with a score of 1920-178X.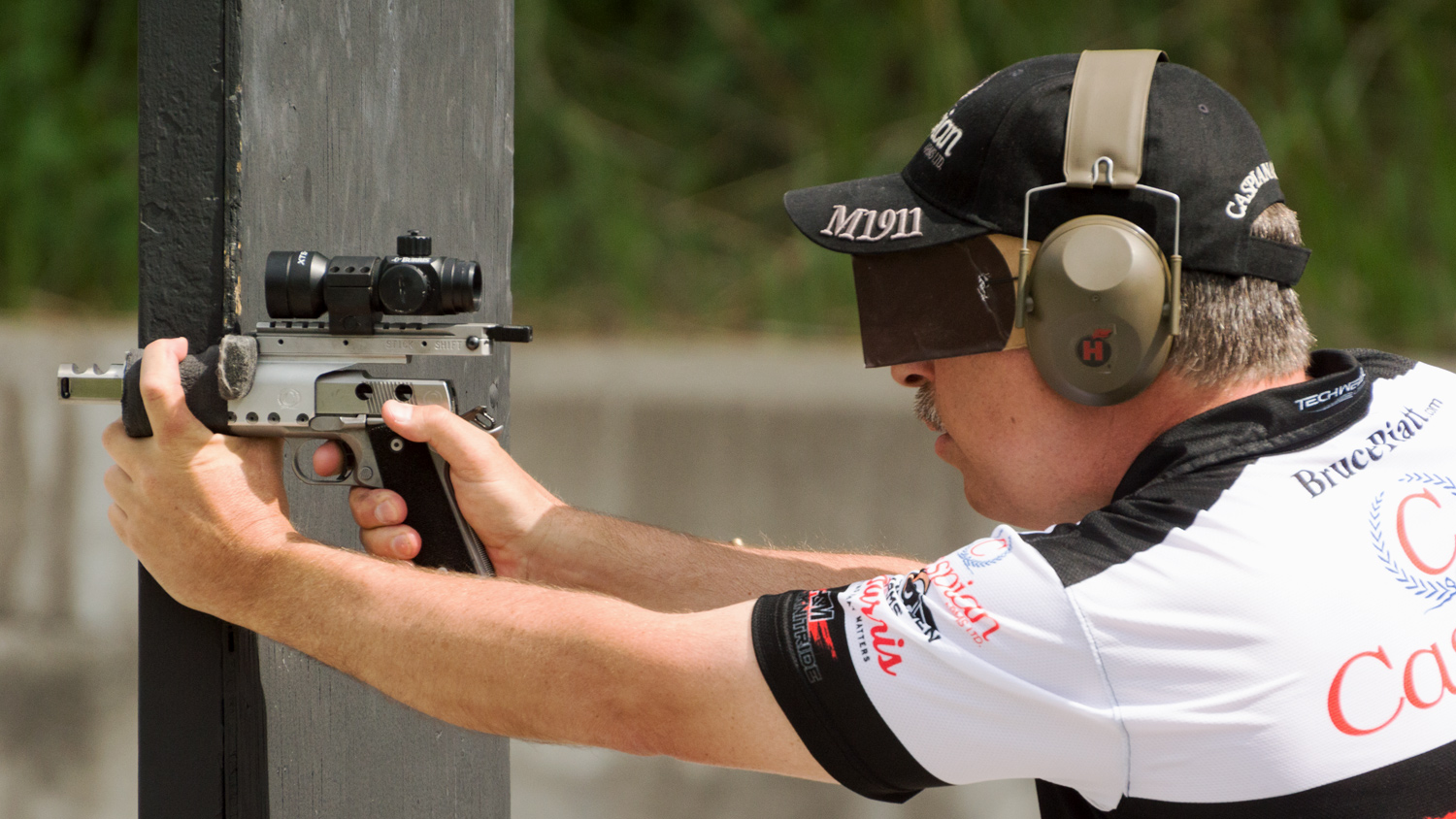 Last year's Production Champion, AMU shooter SFC Adam Sokolowski switched to Metallic this year and
made history by shooting the first-ever perfect 1920
in the division, with a 1920-148X score at the end of Match X. He finished the Colt Championship Final in first place for Metallic, making him the Metallic Champion with a score of 1914-143X. Fellow Metallic shooter Robert Vadasz of the U.S. Border Patrol Pistol team finished in second place with a score of 1907-149X. Third place was won by Kyle Schmidt with a score of 1901-144X.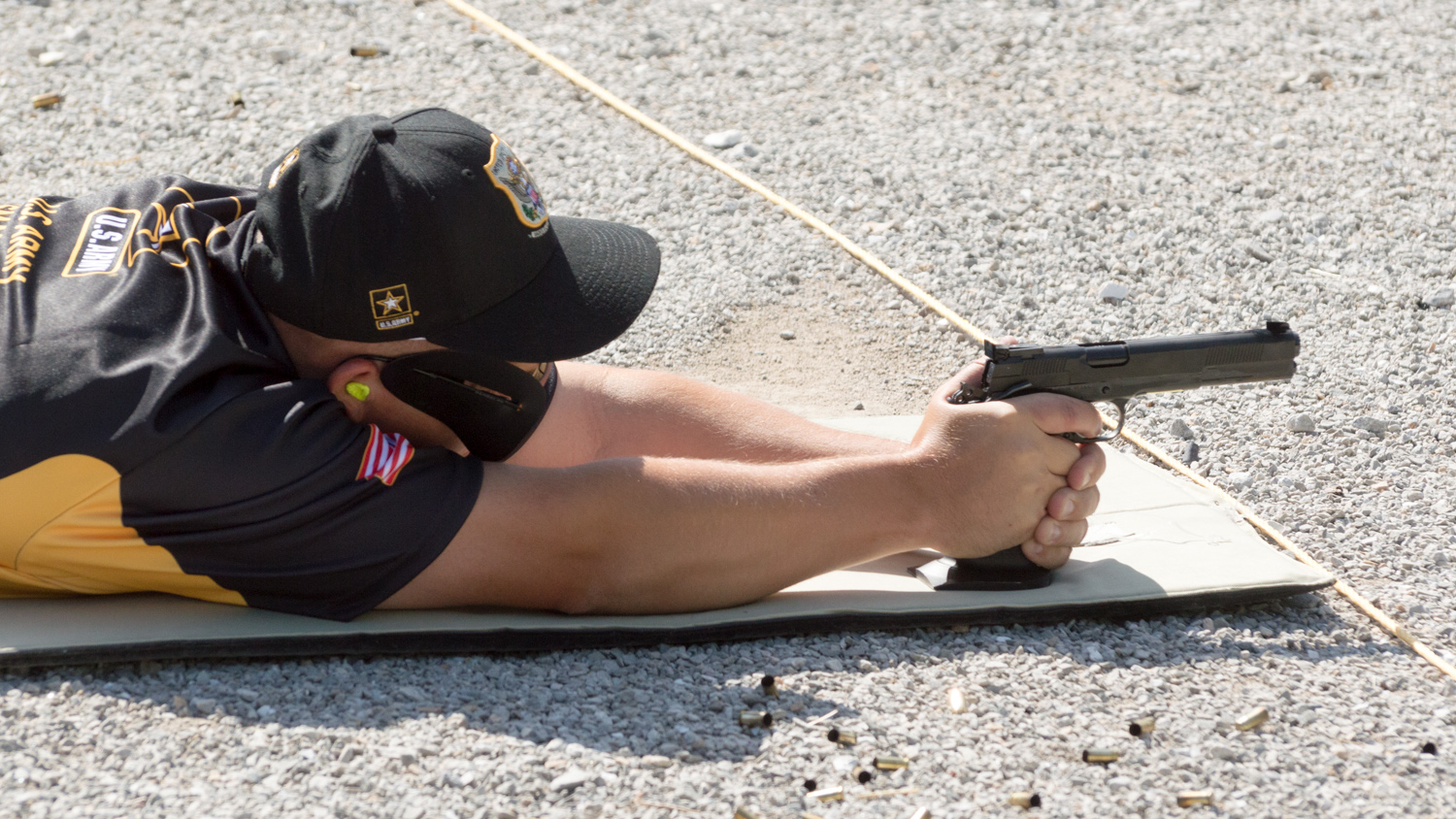 Rob Leatham
was the Production Champion, finishing the Colt Championship Final with a score of 1908-140X. SFC Sokolowski's AMU teammate SFC Patrick Franks was the Production runner-up with a score of 1887-140X. SFC Franks was the Bianchi Metallic Champion in 2015 and 2016. SFC Franks younger brother, SSGT Ryan Franks, also on the AMU team, was in third place scoring 1884-115X.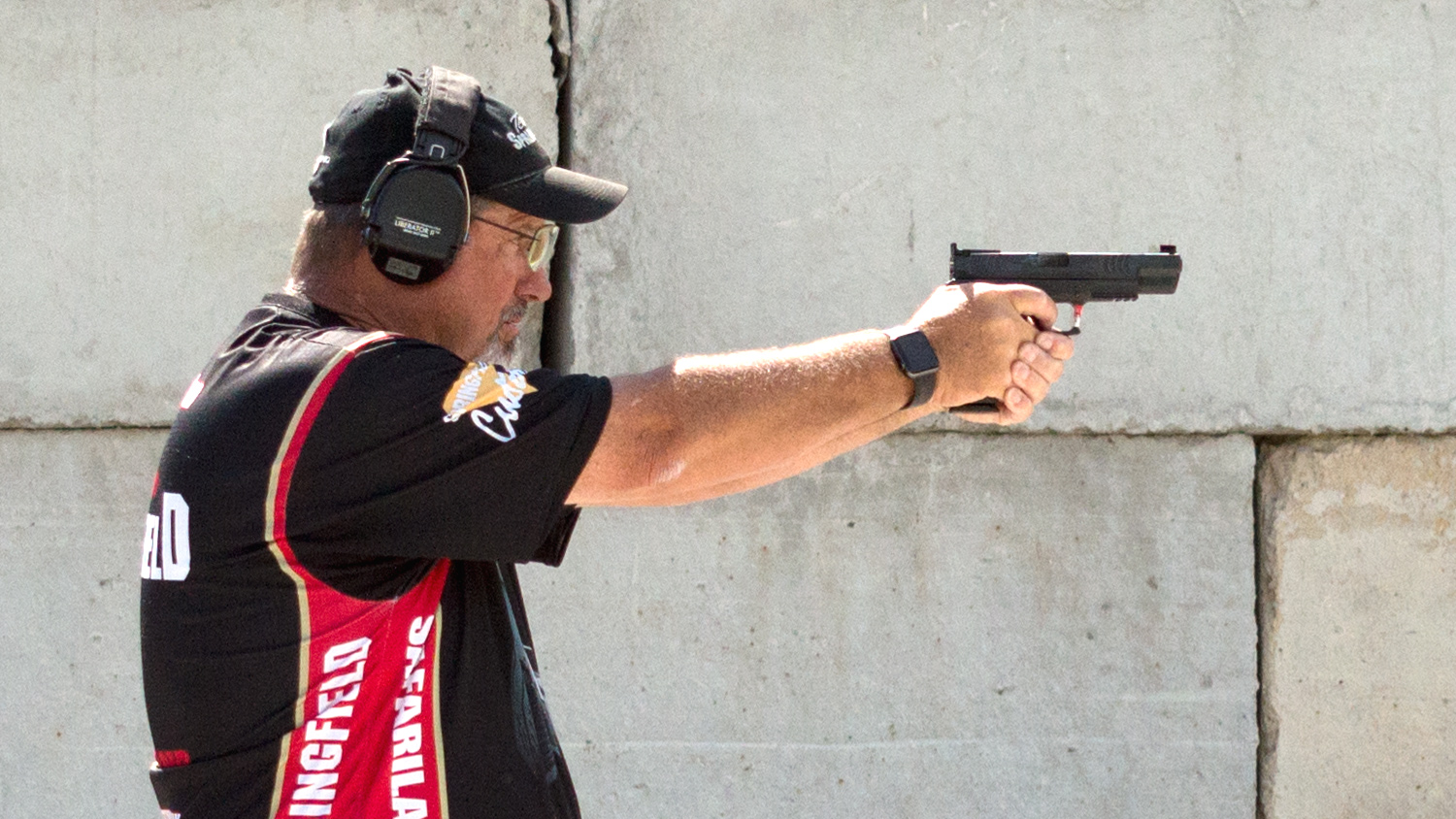 Cherie Blake of Australia won the Women's Championship, with her score of 1904-145X over 21 points ahead of the runner up, fellow Australian Anita Mackiewicz. SGT Katelin Bahten of the AMU finished third with a score of 1876-148X.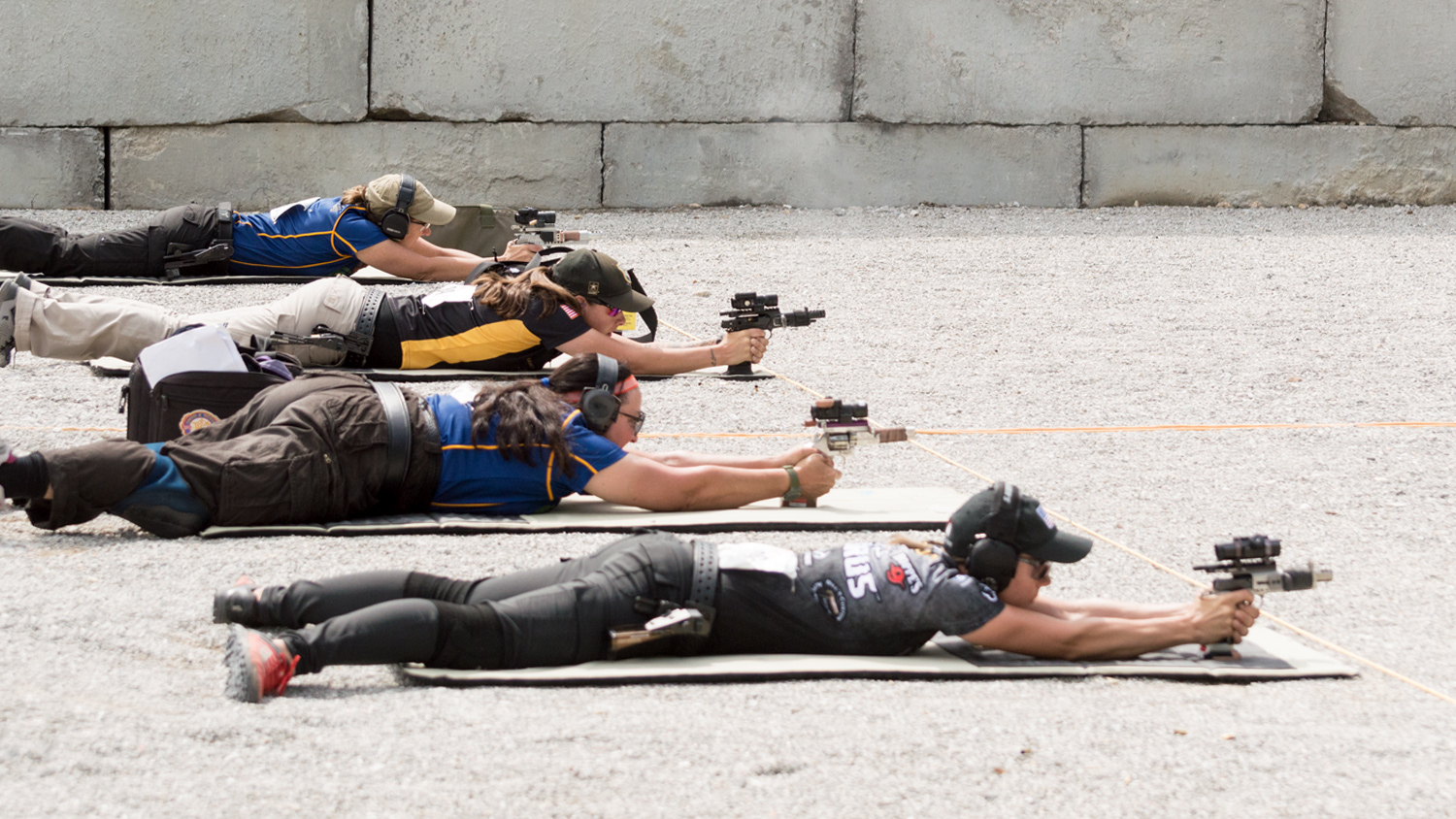 For the Seniors, Vance Schmid was in first place with a score of 1916-161X, followed by Jon Stoehr with 1908-158X, and Kim Beckwith in third place with a score of 1899-140X
In an impressive feat of endurance, 80 year old John Sanders won the Grand Senior Championship with a score of 1908-135X. Kenneth Fowles finished second with a score of 1903-147X, and Japanese shooter Ichiro Nagata was in third with a score of 1859-121X.
In the Junior Championship, Tim Yackley repeated as the winner with a score of 1906-163X. In second place was his younger brother, Sean, who scored 1894-144X. Third place was Jonah
Avenell
with 1892-139X.
Shooting Sports USA will publish the full results of the 2017 NRA Bianchi Cup National Action Pistol Championship in a future edition of the digital magazine.


All photos by John Parker.