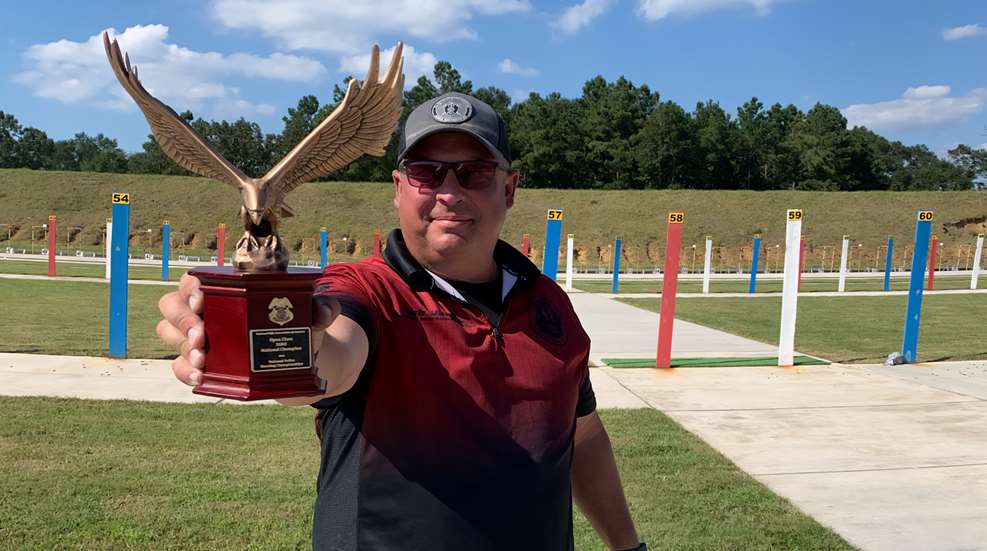 It was worth the trip to Mississippi for Rob Vadasz, who won the NRA National Police Shooting Championships in September with a score of 2987-201X, placing him at the top of the 2022 NPSC Open Class 3000 Grand Championship leaderboard. This is his first victory at the competition after a three-year hiatus.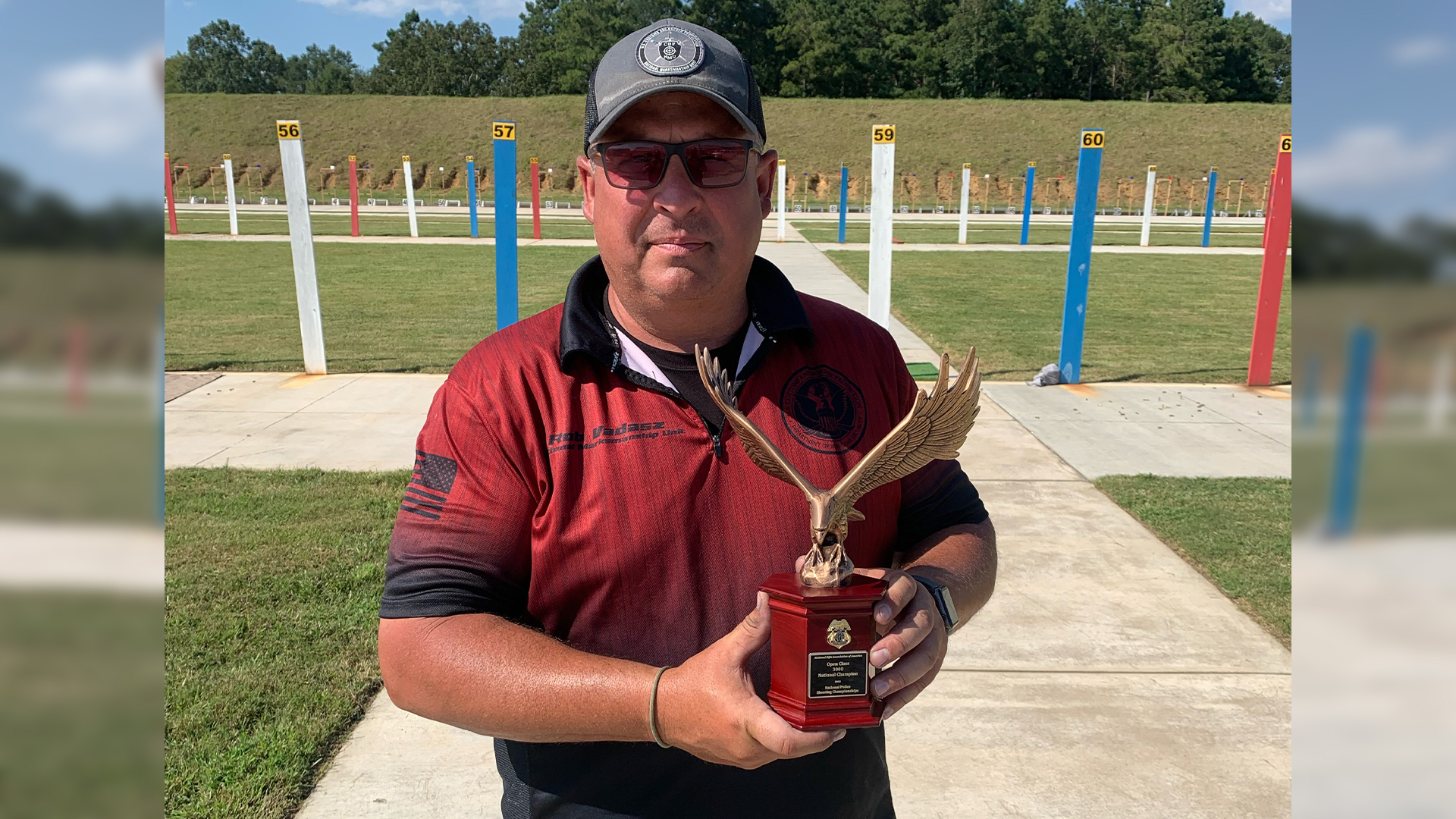 The NRA National Police Shooting Championships this year were held at the Mississippi Law Enforcement Officers' Training Academy facility in Pearl, Miss., which previously hosted in 2019.
Vadasz walked away from the tournament with scores of 1493-94X in semi-automatic pistol and 1494-107X in revolver to win his 12th overall NPSC title, more than any other competitor in its 58-year history.
After many years as a top Border Patrol National Pistol Team competitor, he now shoots with the U.S. Customs and Border Protection National Marksmanship Unit, a team which made its official debut in 2019. Vadasz joined the team after its establishment. Similar to the highly successful U.S. Army Marksmanship Unit, "it's a multi-discipline national shooting team that's not just competing in Police Pistol Combat or Bianchi Action Pistol," he said. "The CBP National Marksmanship Unit's goal is to help build the shooting sports, as well as help our agents and officers obtain better experience and enhanced training through competitive shooting."
Speaking from his office in West Virginia, Vadasz spoke with Shooting Sports USA not long after he captured his NPSC title in Mississippi. "NPSC is great, because it's a place where law enforcement can have their own competition that belongs to law enforcement alone," he said. "To have that back has been fantastic."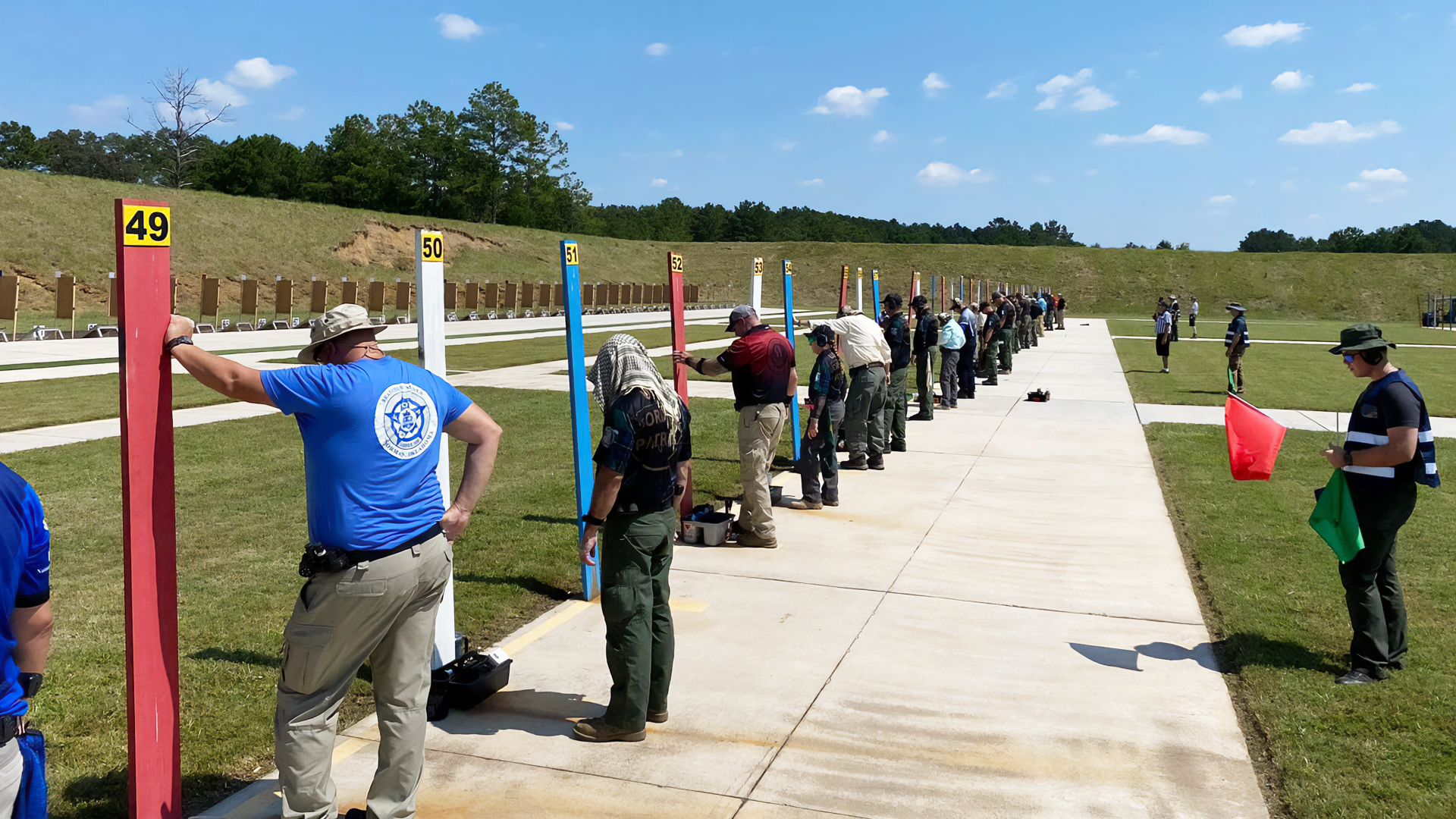 2022 NPSC
This year at NPSC the NRA switched to a two-day format instead of the four-day competition schedule that was used in past years. The faster pace did not seem to affect Vadasz or the rest of the 85-competitor field in the Open 3000 aggregate championship, as several of the championships came down to the X-count. Neither did the fact that he only started training a few days before the match began.
Vadasz had an 11-point advantage over Brett Sullivan, this year's aggregate runner-up and a fellow Border Patrol Agent. He also topped the Open Revolver Championship leaderboard, triumphing by three points over the Border Patrol National Pistol Team's Nathan Frederickson. Another Border Patrol Agent, Tony Simmons, bested Vadasz in the Open Semi-Automatic Pistol Championship, tied at 1493, but the former with a nine-X margin.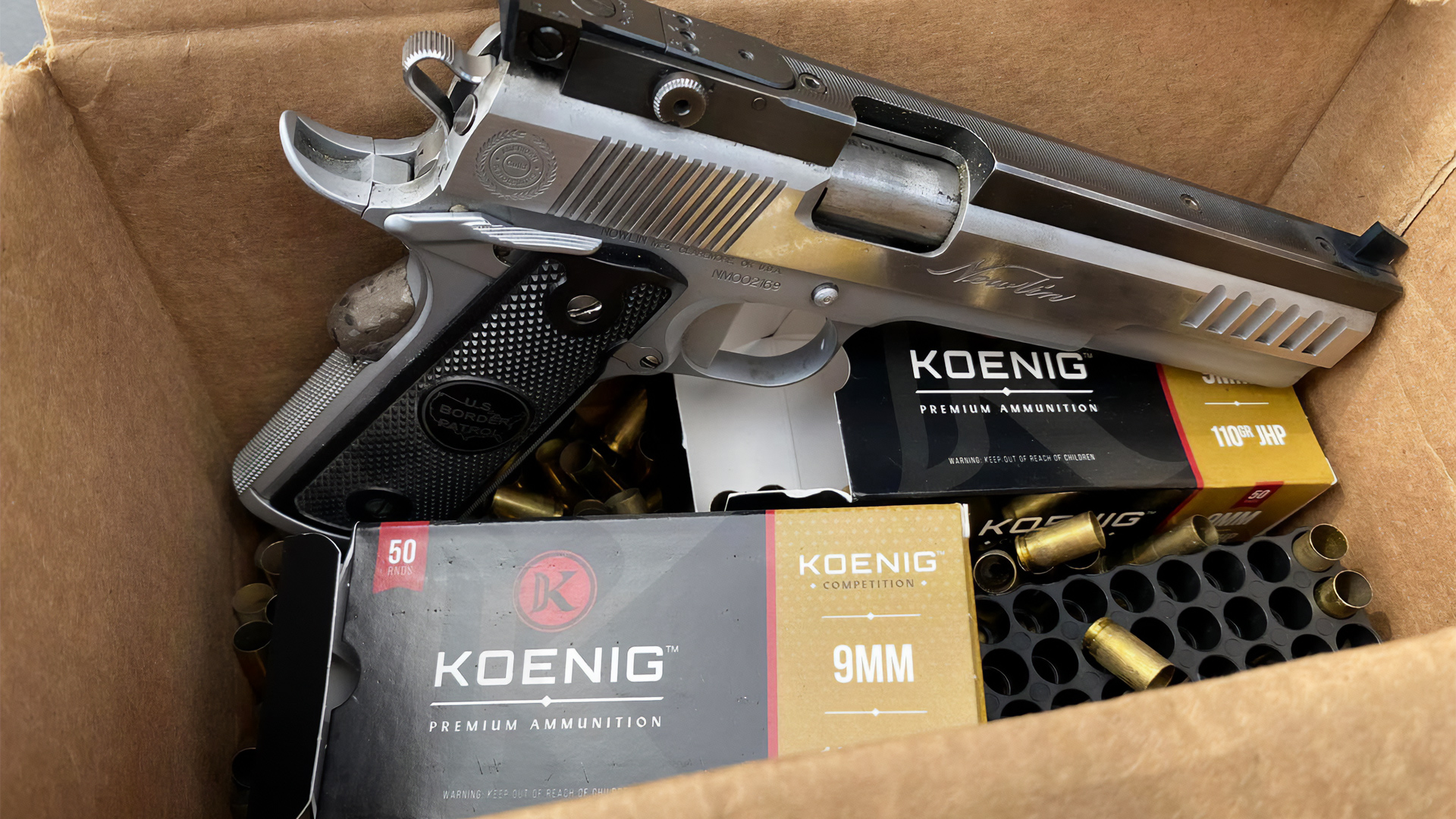 His setup for NPSC remains largely unchanged. Vadasz has been using the same two guns for 21 years, a Bob Jones revolver and his Nowlin shrouded semi-automatic long slide with a full rib, which is now on its fourth 1911 barrel. "I'm a creature of habit," he said. "Both guns have served me well and are phenomenal tools." Besides the familiarity, Vadasz uses the same guns every year because he wants to pass them on to his sons after he retires.
As for ammunition, in semi-automatic Vadasz this year made the switch to a 9 mm 110-grain jacketed hollow-point match load from Koenig Premium Ammunition. He was impressed by how consistent these loads were, as well as the lower recoil impulse from lighter bullets compared to the 115-grains he's used before. The attention to detail that Koenig puts into his successful shooting career is equaled by the quality control he put into his namesake ammo, which has been out for a few years now. "For my ammunition, one thing I always want is consistency. When something goes wrong, I will know that it's because of me and not because of my ammo," Vadasz said. "Doug Koenig knocked it out of the park with this 9 mm load. It's Doug's specific design for a lighter bullet, and worked really well for me. As you start to get older, every little bit helps."
Vadasz is not only a talented competitive shooter, he also sits on two NRA committees, including the Law Enforcement Assistance Committee. His work, both on and off the firing line, maintains the close association between the NRA, the CBP National Marksmanship Unit (and the Border Patrol National Pistol Team) and competitive shooting in general.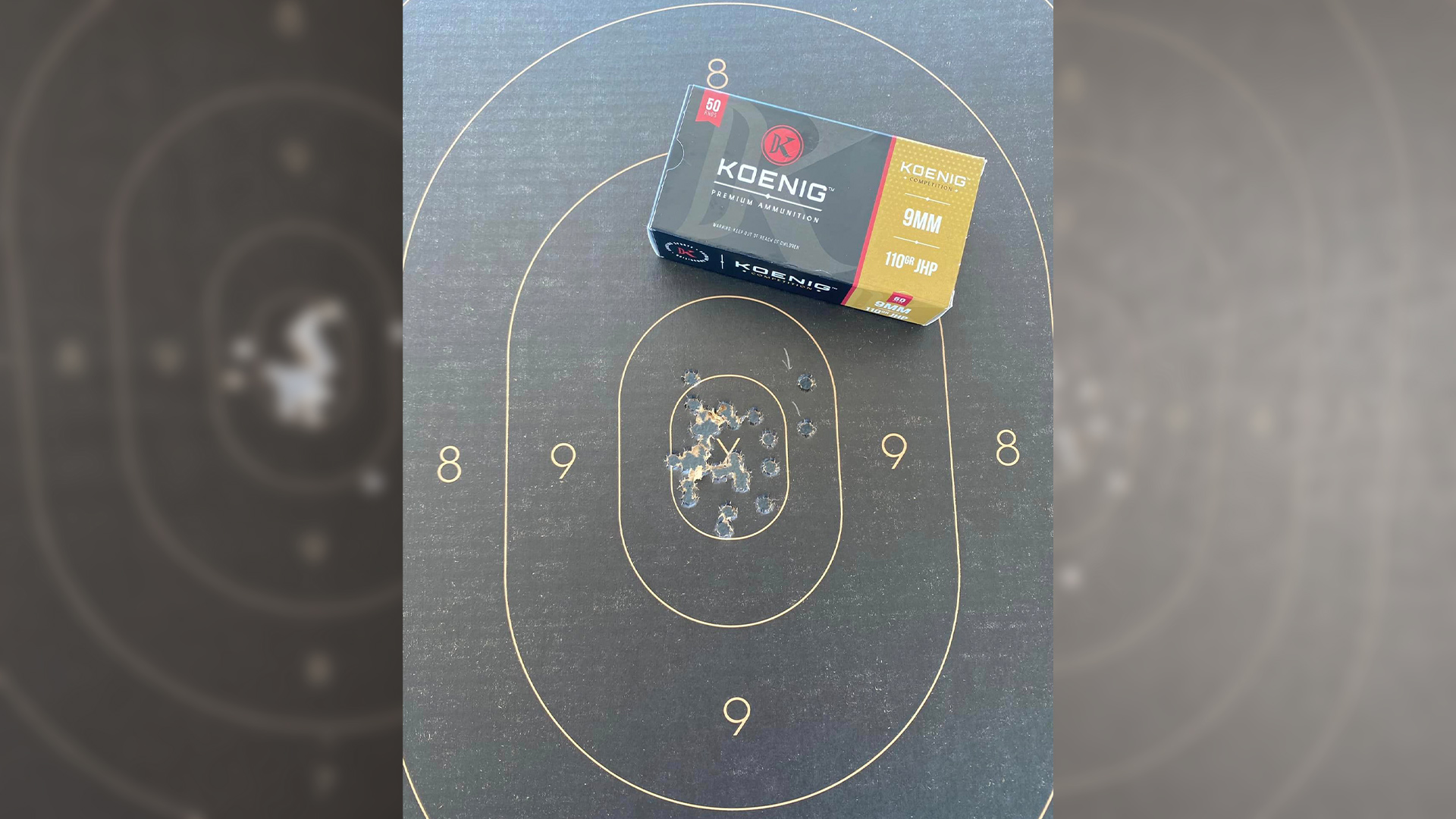 CBP NATIONAL MARKSMANSHIP UNIT
After two decades in competitive shooting, Vadasz has become more introspective. He is interested in his place in the game. He wants to disseminate what he's learned over his career. Which helps explain why he has moved from the Border Patrol National Pistol Team to the broader scope of the U.S. Customs and Border Protection National Marksmanship Unit.
With 45,000 sworn agents and officers in total securing our nation's borders, U.S. Customs and Border Protection is the largest federal law enforcement agency in the country. Vadasz believed that he could make a bigger impact after making the switch. After spending more time training folks from different agencies at the CBP Law Enforcement Safety and Compliance Force Modernization Branch in West Virginia, he realized he could do more to help. "I chose to leave the Border Patrol National Pistol Team in 2020," he said. "By transitioning to the CBP National Marksmanship Unit, I can represent more people, build the shooting sports and help all CBP personnel become championship-caliber shooters."
For years, Vadasz dominated the competition as a Border Patrol National Pistol Team shooter at both NPSC and the Bianchi Cup. His passion for the shooting sports stems from his belief that competitive shooting is the most effective training tool available to all law enforcement personnel. "It's difficult to generate anxiety and stress in real-life training situations. One effective way to do that is competition. [It] helps us drive our performance to a higher level," Vadasz said. "When you are confident with your firearm, that's one less thing you have to worry about while on duty. Healthy competition between officers is also a great motivator."
On the CBP National Marksmanship Unit, there are 22 competitors drawn from CBP's major components—Border Patrol, Field Operations and Air and Marine Operations. With a deep bench of distinguished shooters, spanning disciplines such as Police Pistol Combat, Action Pistol, USPSA, Multi-Gun and more, it's not just Vadasz displaying marksmanship prowess at major matches.
Case in point: B.J. Norris, a Border Patrol Agent and shooting under the CBP National Marksmanship Unit umbrella, won the 2022 Steel Challenge National Championship in Limited division with a Glock G47, the Border Patrol's standard duty sidearm. You have to be seriously talented to win a national-level steel match with a duty gun, especially a Glock.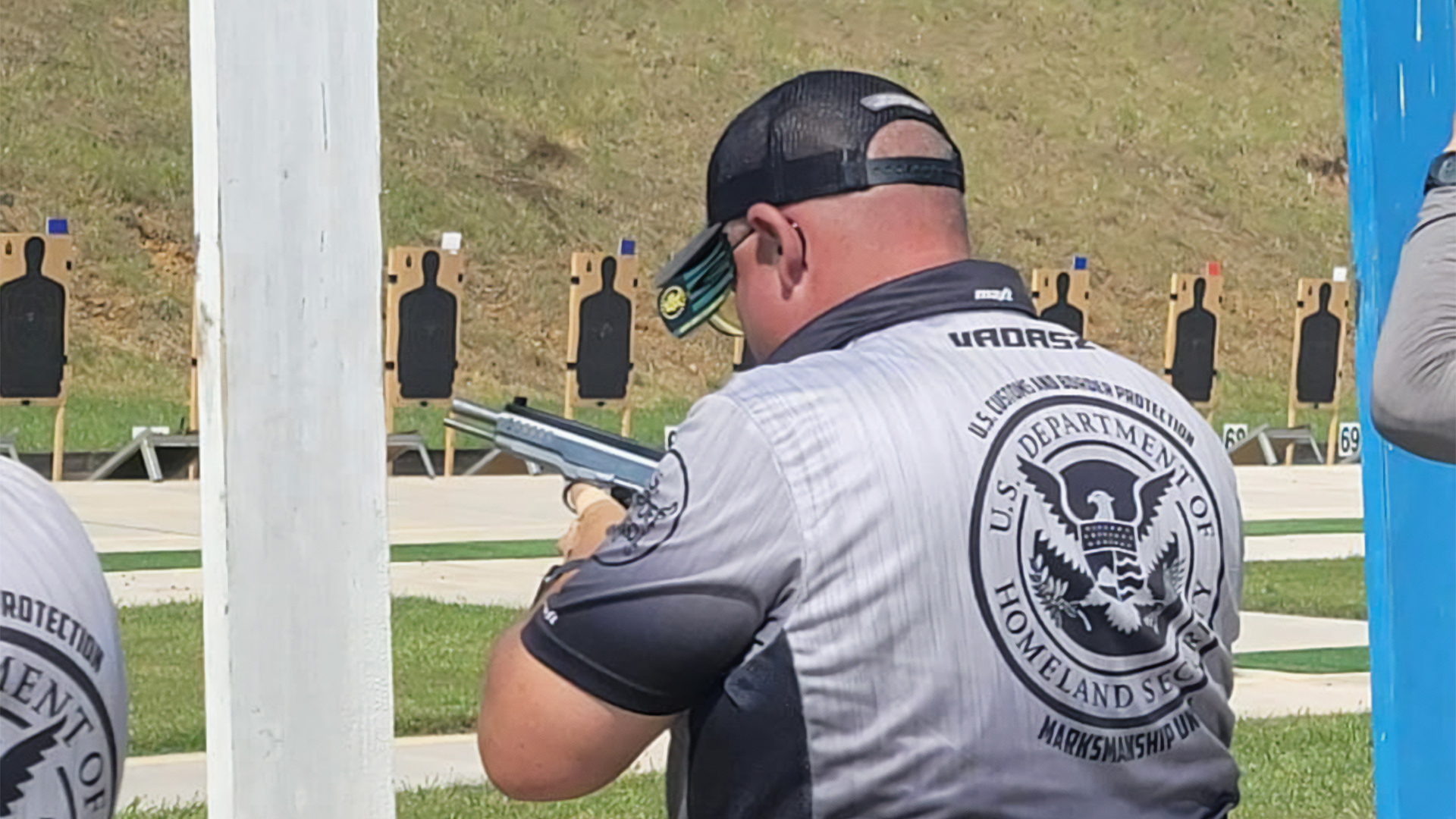 Another function of the CBP National Marksmanship Unit—members assist LESC Force Modernization by testing and evaluating firearms, plus other gear that CBP agencies use on a daily basis. The LESC Force Modernization Branch works with industry partners to develop tools they need, and by extension, what all of law enforcement needs. And when CBP likes something, the industry and everyone else notices.
"If you look at the CBP 'toolbox,' we have the best use-of-force tools in the world," Vadasz said. "We try to guide improvement from the LESC Force Modernization Branch (which oversees the CBP NMU) to companies vying for our contracts. As a result of our approach, several federal agencies are buying off our contracts. Since we hold companies to such a high standard, our work not only helps improve our own toolbox, but also for law enforcement agencies across the country looking to CBP for guidance."
Although the CBP National Marksmanship Unit is his main focus now, the Border Patrol Pistol Team—where he began his competitive shooting career—is still important to Vadasz. For more than 20 years with that team, Vadasz not only won NPSC titles, but also shined in NRA Action Pistol with big Metallic division wins at the Bianchi Cup, continuing a legacy of excellence in competition stretching back nearly a century. "People should understand the Border Patrol Pistol Team has history going back to 1935 that should be respected," he said. "It's where I got my start, and some of the finest shooters in the world have been on that team, and are on that team right now."
It is hard to imagine that Vadasz won't finish his shooting career as one of the best competitors of his generation. With 12 NPSC titles and seven more in the Bianchi Cup Metallic division under his belt, he's in the same league as top shooters such as Doug Koenig and Bruce Piatt, along with past Border Patrol Pistol Team greats such as Charles Askins, Elmer Hilden, Joe White and Bill Toney. But it's all the work Vadasz is doing to improve the firearms proficiency of the brave men and women protecting our nation's borders that will define his true legacy.
ROB VADASZ AT NPSC
Rob Vadasz has a record 12 NPSC wins, including 11 consecutive victories from 2010 to this year.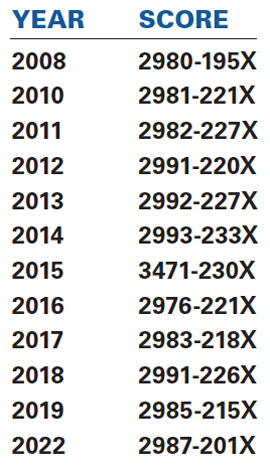 2022 NRA NATIONAL POLICE SHOOTING CHAMPIONSHIPS LEADERBOARD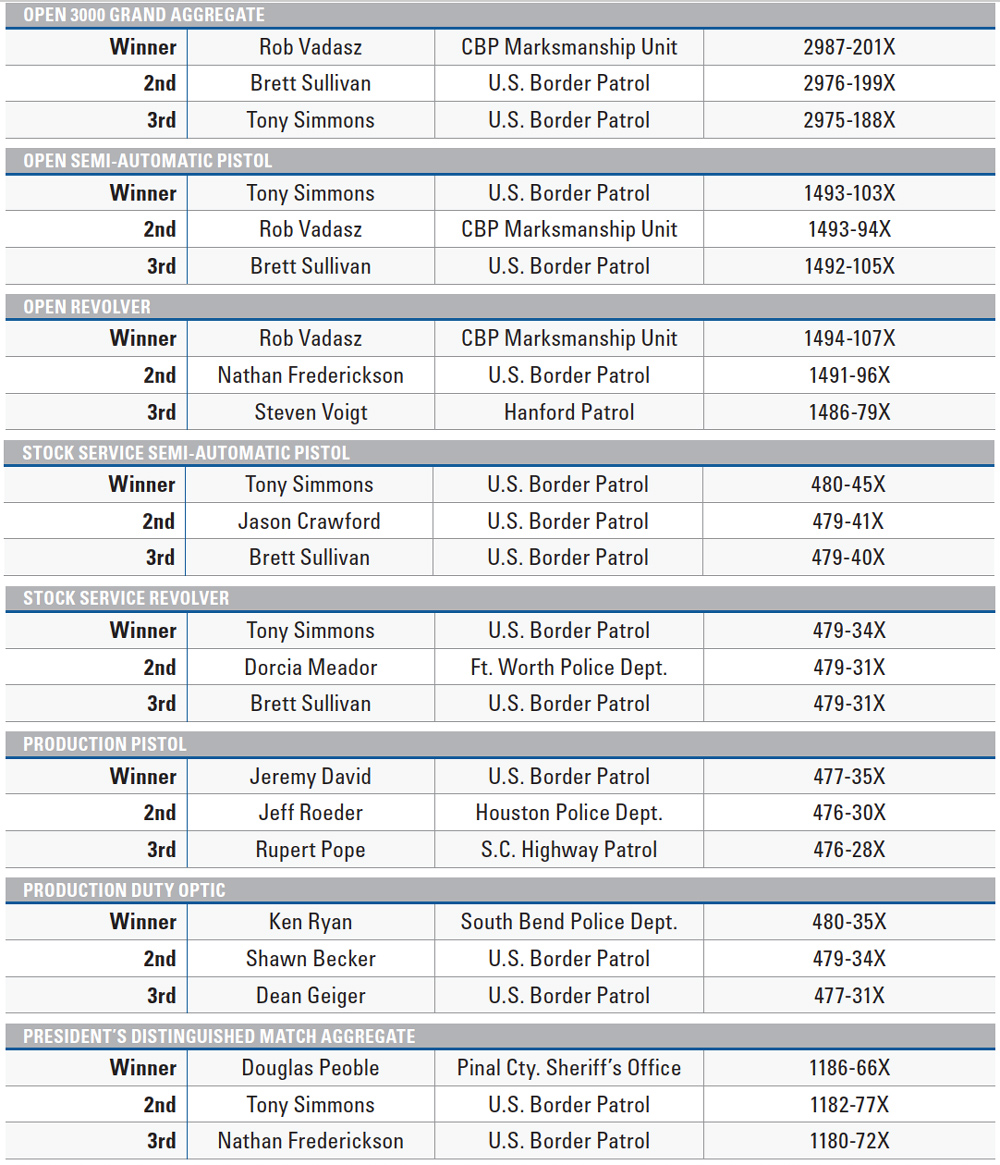 While the NPSC Postal element was added to the program this year, NPSC National Champions are determined by scores fired at the Mississippi Law Enforcement Officers' Training Academy in Pearl, Miss. Go to lecompetitions.nra.org to view the full results.