In September at the 2022 NRA National Police Shooting Championships, held at the Mississippi Law Enforcement Officers Training Academy in Pearl, Miss., United States Border Patrol Agent Rob Vadasz captured his 12th overall title with an aggregate score of 2987-201X. I spoke with Vadasz not long after the victory about the match, which marked his first big win as part of the U.S. Customs and Border Protection National Marksmanship Unit—a new team similar to the powerhouse U.S. Army Marksmanship Unit. This elite squad, encompassing all the agencies that work under CBP, serves as a home for the best competitive shooters in their ranks to thrive, as well as training and evaluating duty gear for the brave men and women protecting our nation's borders. Read my article (page 22) to learn more.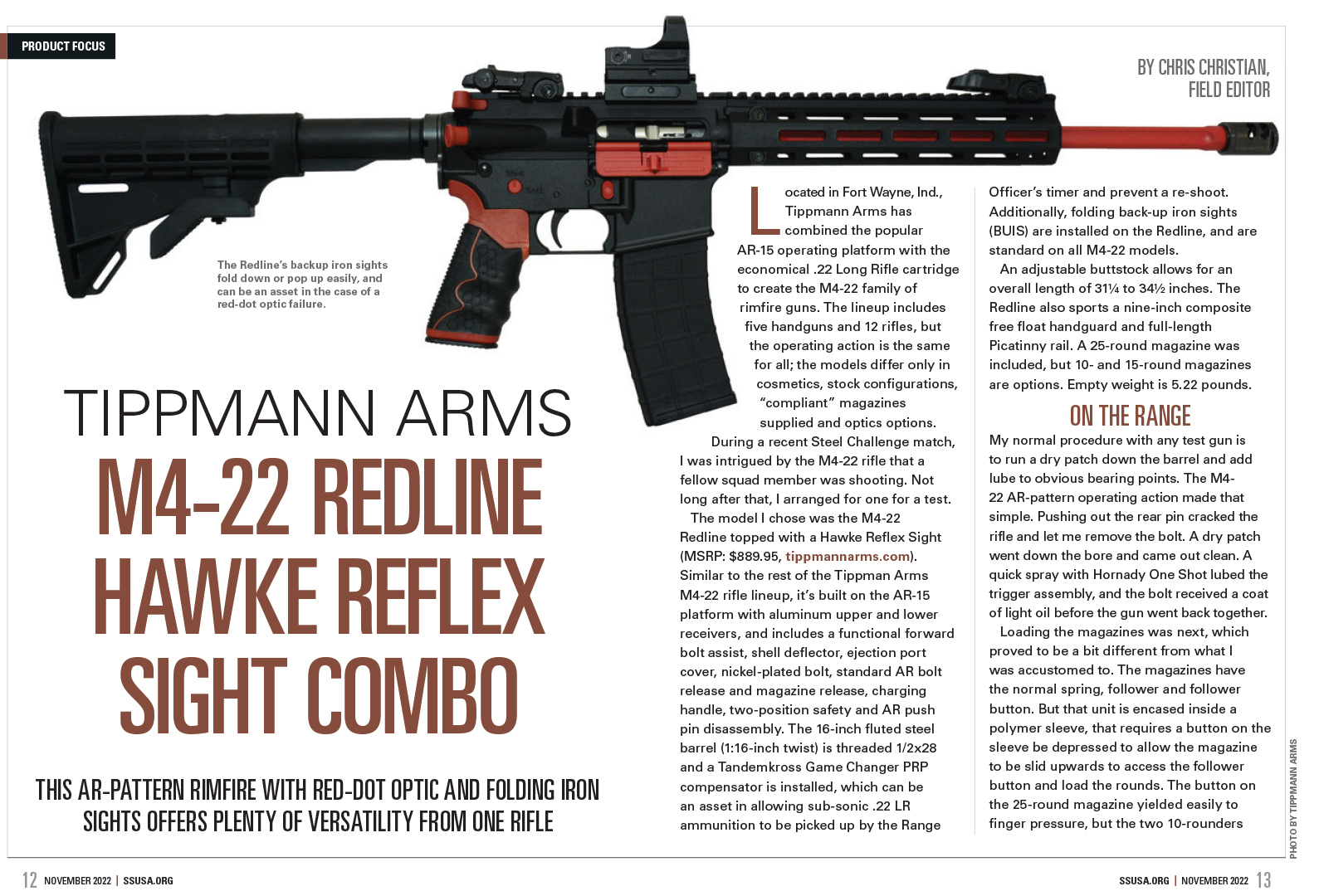 This month's Product Focus features the Tippmann Arms M4-22 Redline, a competition-ready, AR-15-style rimfire rifle. Perfect for Steel Challenge and similar disciplines, the M4-22 Redline is ready to shred out of the box with a Tandemkross compensator and grips, along with folding backup iron sights and an adjustable stock. Paired with a Hawke Optics Wide View red-dot optic, Field Editor Chris Christian put the M4-22 Redline through its paces during six stages at a Steel Challenge match, finding it to be a solid shooting rifle. Don't miss his review (page 12).
If you're searching for the perfect holiday gift for everyone on your list this year, look no further. Our annual Holiday Gift Guide (page 28) has plenty of unique gift ideas for everyone, no matter your budget. One tip on finding the perfect stand-out gift for the hard-to-shop-for competitive shooter in your life—buy something that he or she definitely needs, but probably wouldn't buy for themselves.
Also in this issue is Serena Juchnowski's match report from the 2022 Rocky Mountain Airgun Challenge, a big tournament in Utah that is considered by some to be the de facto airgun world championship. This unique competition has stages that are inspired by the courses of fire from traditional rifle matches. There were more than 200 competitors that attended the match this year from across the United States, and also countries as far away as Norway and South Africa, along with an even larger contingent of spectators. Learn more about the 2022 RMAC competition (page 34).
Author Brad Miller closes out this month's issue with his guide to developing light .380 Auto handloads for blowback pistols (page 40). With lighter .380 Auto handloads cycling in your handgun, you can reduce the felt recoil by half that of factory ammunition, to something more like that of a .32 Auto cartridge. Be sure to read Miller's article to bring the fun back to shooting your .380 Auto blowback pistol.
John Parker
Editor-in-Chief, Shooting Sports USA
Are you a subscriber?
Not receiving the monthly digital magazine announcement in your inbox? Become a subscriber. Not only is it completely free, it only takes a minute to sign up and it guarantees you'll never miss a single issue of the NRA's competitive shooting journal. Subscribe here.