It is with great sadness to announce that the competitive shooting community has lost one of its foremost historians. Shooting Sports USA author and Distinguished rifleman Harold "Hap" Rocketto sadly passed away on Thursday, July 8, 2021, at the age of 74.
Hap's involvement in competitive shooting is long and broad. He began shooting in 1961 as a freshman on the New London, Conn., high school smallbore rifle team. Since that time, he honed his skills to become an accomplished rifle shooter. Hap was not only a Distinguished rifleman for both service and smallbore rifle, he was also a member of the Presidents Hundred and the National Guard Chief's 50. He was a National Smallbore Record holder, NRA 1600 Club member and was inducted into the Connecticut Shooters' Hall of Fame. Additionally, Hap was the 2002 NRA Intermediate Senior Three-Position National Smallbore Rifle Champion, 2012 Senior Three-Position National Smallbore Rifle Champion and a member of the 2007 and 2012 National Four-Position Indoor Championship team. He was also awarded an International Distinguished badge in smallbore rifle.
Hap worked tirelessly to ensure the sport continues. For over 40 years, he was a coach to juniors and new shooters. He coached juniors at the Quaker Hill Rod and Gun Club for so long that children and grandchildren of his original junior students have participated in the Quaker Hill junior rifle program. Many of these juniors moved on to compete alongside him in the local (Eastern Connecticut) adult indoor Three-Position rifle league. He volunteered as an assistant coach for seven seasons at the U.S. Coast Guard Academy. Hap was certified by the National Rifle Association as a Level Two Coach in Smallbore Rifle, High Power Rifle and Pistol. In addition, he was certified as a High Performance Coach—one of only six ever certified by USA Shooting.
At the International level, Hap won 10 medals in two Maccabiah Games. He served several years as the captain and coach of the U.S. Dewar International Postal Team, captain, coach and adjutant of the U.S. Drew Cup International Postal Team Coach and adjutant of the U.S. Wakefield International Postal Team. Hap has also been adjutant of the 2009 U.S. Roberts Team, 2013 U.S. Pershing Team, 2017 U.S. Roberts Team and appointed adjutant of the 2022 (2021) Pershing Team.
Putting pen to paper, Hap documented regional, national and international rifle matches. Known as a historian of the shooting sports, his work appears in Shooting Sports USA, American Rifleman, Precision Shooting magazine, The Outdoor Message, the Civilian Marksmanship Program's website and at pronematch.com. In addition, Hap researched and authored the book "A Short History of the Black Hawk Rifle Club: The First 75 Years." He was also a key contributor to the smallbore portion of the NRA book "The National Matches 1903-2003 The First 100 Years."
In addition, Hap, along with his brother Steve, cofounded The Corporal Digby Hand Schützenverein Club. Known as the club of the light-hearted shooters, it is a reminder that this sport is about having fun and enjoying the sport.
We are diminished.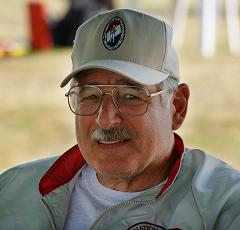 Legends: Harold "Hap" Rocketto