SIG Sauer has been leading the charge in innovation in handguns with the P365 and P320 handguns when it comes to modularity. Now the company is doing the same thing with optics. SIG Electro-Optics, based in Portland, Oregon, has been bringing new products to the market at a rapid pace, offering advanced technology, superior HD glass and design to achieve maximum clarity, accuracy and performance. Across a lineup of riflescopes, rangefinders, binoculars, lights, lasers, magnifiers and even thermal and night-vision products, SIG Electro-Optics has been winning military contracts and meeting the needs of law enforcement, hunters, personal protection, sport and competitive shooting.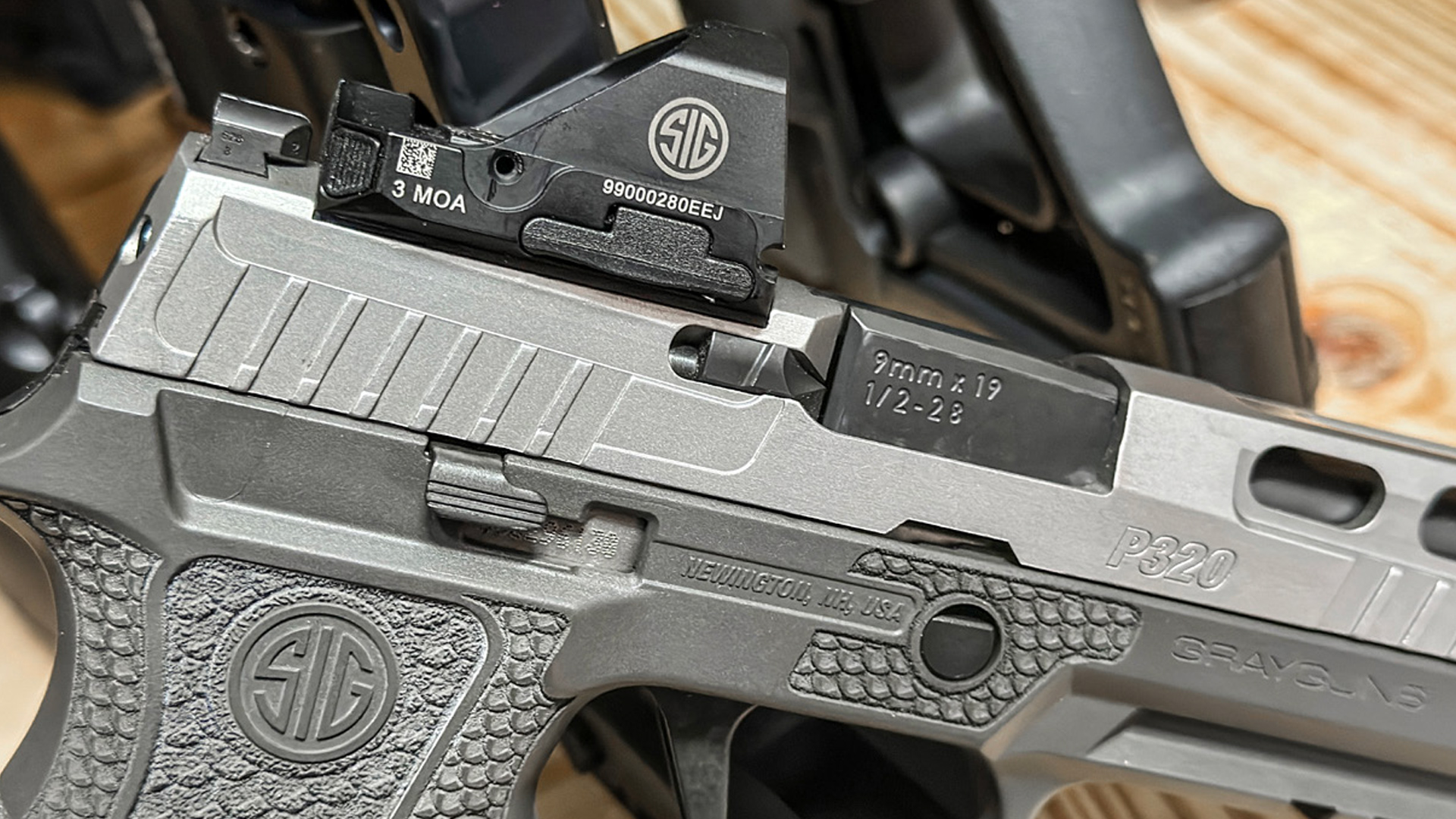 I had the chance to check out the SIG Sauer Romeo2 (MSRP starts at $768.99, sigsauer.com) about a year ago at a range day event, where SIG had its full line of handguns and optics on display. At first glance, it may look similar to the Romeo1Pro—however, there are several differences. Let's first cover the big question, a modular red dot. The red dots that many of us are used are an open-emitter style of optic. These will have a single lens that the red dot is displayed on from the emitter diode that is in the open rear section of the optic. A closed-emitter style of optic will have a box shape with two lenses, and the emitter diode is inside of the housing. There are pros and cons to both styles. Surely an online forum out there somewhere will have threads about it.
The easy ones to distinguish are that an open emitter can have objects get in the way and block the emitter diode—debris, or other elements such as rain, dirt, snow or even lint like from a garment while carrying a firearm. The closed-emitter style is designed to not allow these types of things be able to block the emitter diode. But you can still get all the other things on the glass, and the closed-style optics are usually much larger.
The SIG Sauer Romeo2 addresses this by offering a modular red-dot sight with either open- or closed-emitter styles. The optic includes two steel shrouds that allow for three different options for your optic configuration. You can choose from the traditional fully open, ½ enclosed or fully enclosed and sealed with a polycarbonate rear window. The unit comes with all of the necessary tools and accessories to install it in any of the three configurations directly to any SIG pistol with the newer Pro Cut or R2 slides. In addition, the Romeo2 shares the same footprint as the Romeo1Pro.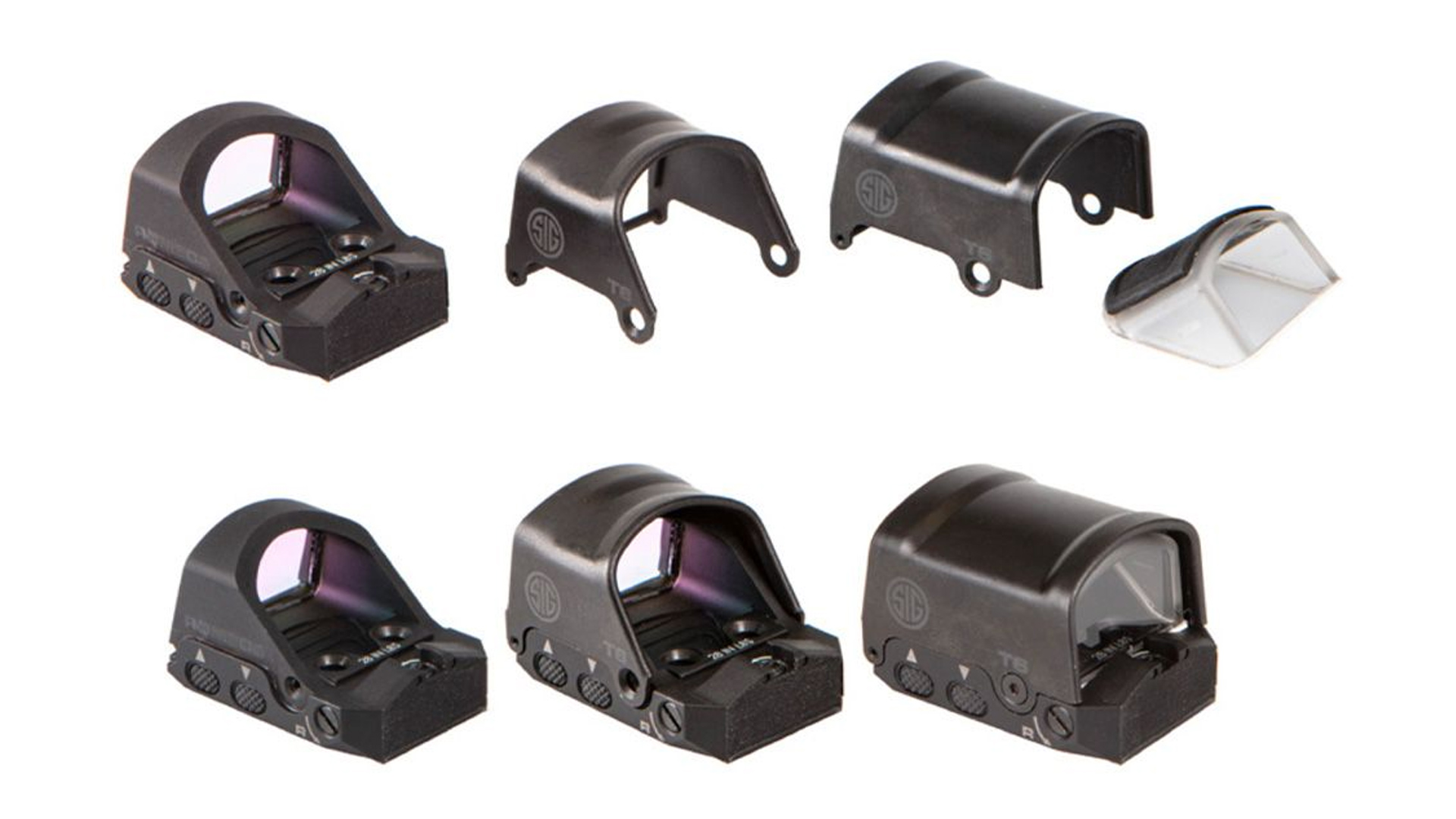 Other features are a high-efficiency, point sourced LED emitter and molded aspheric glass lens. According to the SIG Sauer website, the company uses a high-performance red notch reflector coating for brightness and light transmittance with zero distortion. As for the red dot, it is super crisp and clear. The housing is made from 7075 aluminum with a ruggedized steel shroud to protect the optic from impacts. Additionally, the Romeo2 is rated for 25,000 hours of battery life (medium setting).
Something new is the spring-loaded battery tray, which is released by a push button and can be activated without tools. I have the Romeo3Max, and it requires the use of a tiny wrench to get to the tiny screws to replace the battery, which can make doing that at a makeshift safe table at the range interesting. Another feature is the MOTAC motion-activated illumination system that powers up when it senses motions and shuts down when it doesn't. There is also MAGNETAC—magnetic activation—that will automatically shut the optic off when holstered in a compatible holster, and instantly turns the optic on when drawn. Plus, D.A.R.C. (dark adaptive reticles and coatings) will provide ideal reticle brightness and target clarity while using a GEN3+ Night Vision Device.
Three models are available of the Romeo2 in three-MOA (MSRP: $768.99) and six-MOA (MSRP: $768.99), and one with a Circle Dot Dual Reticle (MSRP: $878.99). Each model has 12 daylight settings and three night vision for illumination. Textured buttons for the illumination control are a solid feature with a positive feel. Regarding the windage and elevation controls, they are simple and easy to use, with no need to lock and unlock them for adjustments.
I have spoken with Jack Lapham, product line manager at SIG Optics and a USPSA competitor, several times over the last couple of years. The first meeting was at SHOT Show, getting a first look at the soon-to-be-released Romeo3Max optic. Jack explained the torture testing the new Romeo2 went through which included tens of thousands of rounds of 10 mm through the P320-XTEN. The optic just looks "beefy" and rock-solid.
Learn more at sigsauer.com.
Article from the November/December 2022 issue of USPSA's magazine.