In previous articles we have covered the guns and the ammo, so how about the SIG lineup of optics? I have a Romeo1 red dot on the SIG MPX PCC and reviewed one last year that was on a P320RX. The Romeo1 has been rock solid, without any issues. At SHOT Show earlier this year, Max Michel introduced me to the guys behind the SIG electro-optics revolution. Here again, SIG decided that they were going to get into this business as part of the complete systems provider—they went out into the industry and hired the best in this field.
The team that they have assembled has fused together advanced electronic technologies, superior HD glass and military-inspired designs to achieve maximum clarity, accuracy and performance. They have also put these products into the hand of Daniel Horner, Lena Miculek and SIG Team Captain Max Michel to use and abuse. With input from Team SIG, top law enforcement agencies and the military's elite have developed truly gamechanging optics for all types of shooters.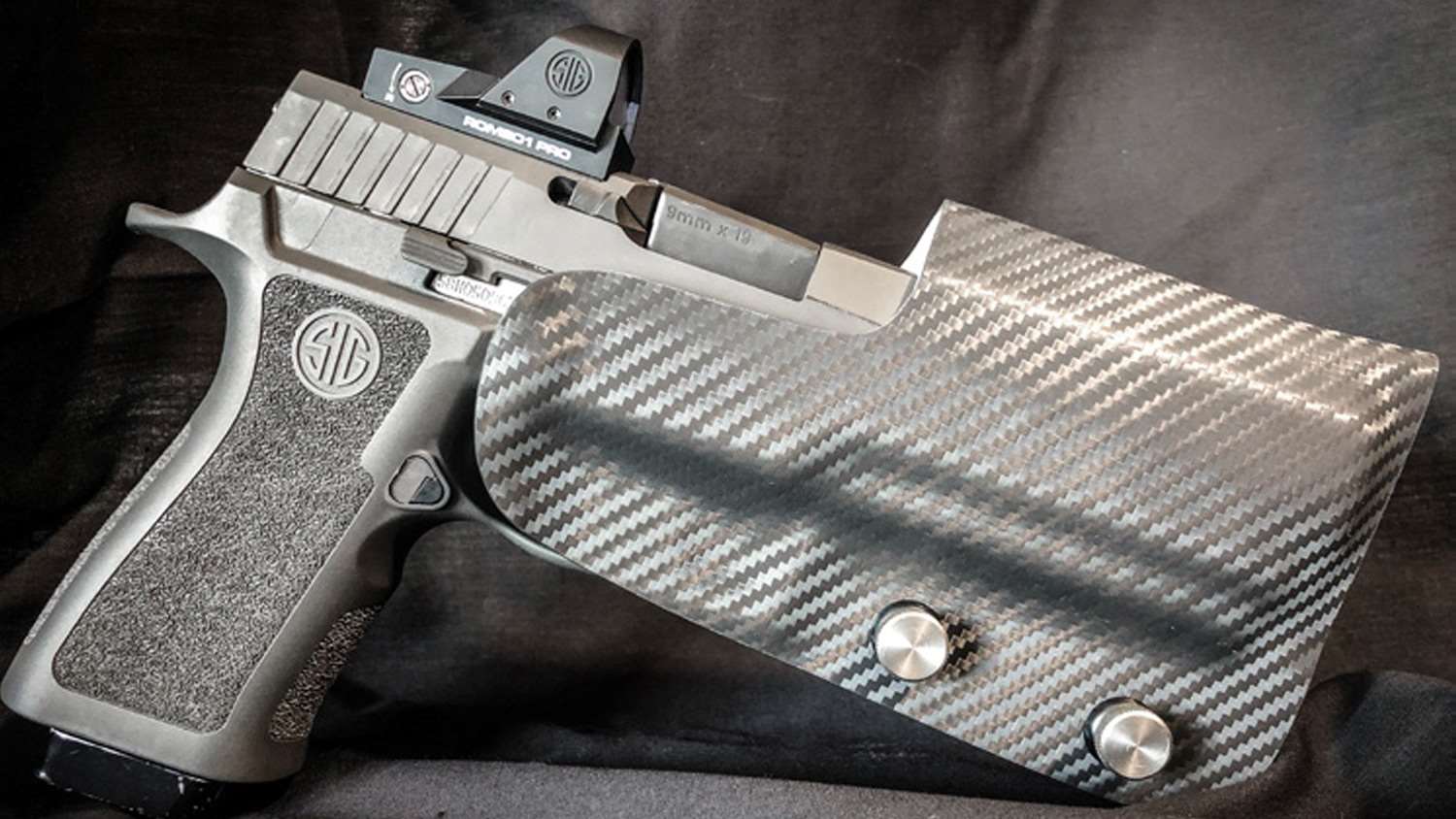 According to SIG, their design approach sets them apart from their competition by integrating platforms designed to work as complete systems. Everything in their line has been thoroughly thought out, from the anti-reflective coatings, ballistic reticles, and custom calibrated adjustment turret systems, to the motion-activated illumination control systems—everything to ensure maximized performance and accuracy.
Two features that are found on the red dots are MOTAC, their motion activated illumination system. Activated through motion-sensing technology, the MOTAC immediately powers up illumination when it senses motion and powers down when it does not. This is in order to extend the battery life. The other, something very important to competitors, is TRUHOLD. TRUHOLD is a lockless zeroing system utilizing twin adjustment springs designed and torture-tested to endure handgun recoil and return to zero shot after shot.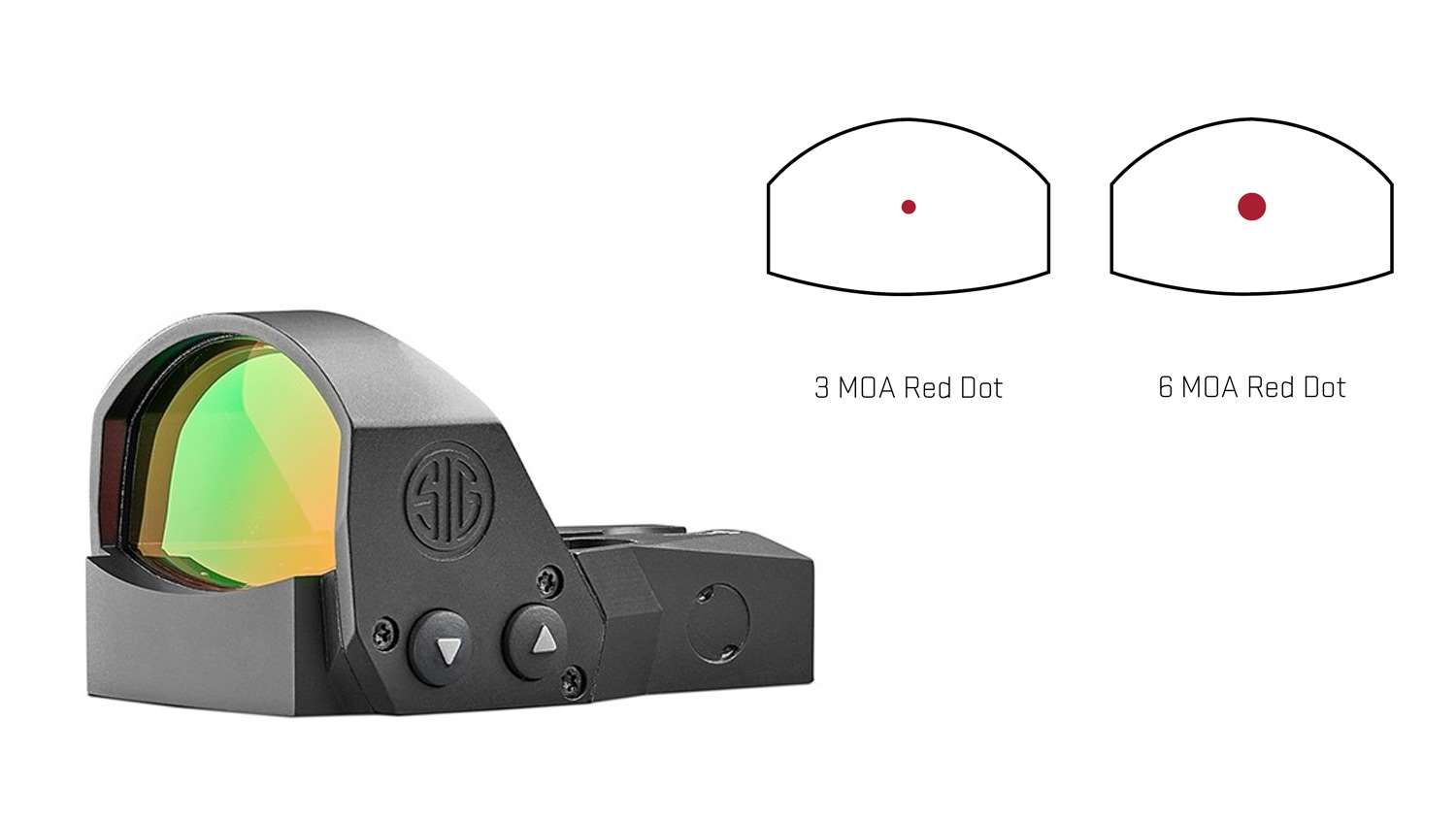 First up is the SIG Romeo1 Pro in 3 MOA. The Romeo1 Pro (No. SOR1P100, $479.99) has an upgraded emitter for superior brightness and better battery life. The P320 X-Five Legion optics-ready slide allows for the Romeo1 Pro to mount directly to the slide with no adapter plate needed. You simply remove the plate and mount the red dot with the supplied screws. This model features a molded glass aspheric lens with high-performance coating for better light transmitting and to help eliminate distortion. It is available in 3 or 6 MOA, although the three through the glass was very bright with zero distortion. The model does feature TRUHOLD and MOTAC technology, and the new point-source emitter with 12 settings was rated at 20,000-plus hours of operation. The body of the Romeo1 Pro is aircraft-grade CNC aluminum that makes up the housing, and a rugged protective steel shroud is supplied if you wish to add it for extreme durability. It is also IPX-7 rated for complete water immersion up to 1 meter.
We popped this on top of the Legion and got to work zeroing it, which was very easy to do with the TRUHOLD system. Twenty or so rounds later, we were easily putting rounds into the upper A zone at 10 yards with the 147-grain Match Elite ammunition from SIG. We set up two USPSA targets and two 8-inch plates in a paper, steel, paper, steel arrangement and shot that for a couple hundred rounds. The combination of the heavy Legion and bright dot and clear view through the glass made this drill rather simple. I would mix it up and draw into the upper A zone with two rounds and then into the plate, and vice versa with no problems. The glass is clear, the dot is easy to track and this would make for a very good Carry Optics combination or even a good red dot for a personal carry gun.

Next up was the one that I was most excited about, the Romeo3 Max (No. SOR32003, $719.99) that was developed with Max Michel. Michel has been winning Open and Carry Optics matches with a variety of optics over the years, so when given the opportunity to help design the ultimate in competition red dots he is the guy to go to—it's a good thing he already works for SIG. Everything that we like about the Romeo1 and Romeo1 Pro is now taken to the Max (did you catch that?). No kidding, this thing has a massive round lens to look through with a special high-transmittance red notch reflector for incredible brightness, light transmittance and zero distortion. It uses one CR2032 battery and is side loading. The door is now secured into place with a brace that has to be unscrewed with the supplied Allen wrench to replace the battery. That door is not going to move or slide out during shooting. The Romeo3 Max also features the TRUHOLD and MOTAC technologies and is available in 3 and 6 MOA. This one is a 6 MOA, and we used the included low-profile M1913 Picatinny mount and put in on the MPX.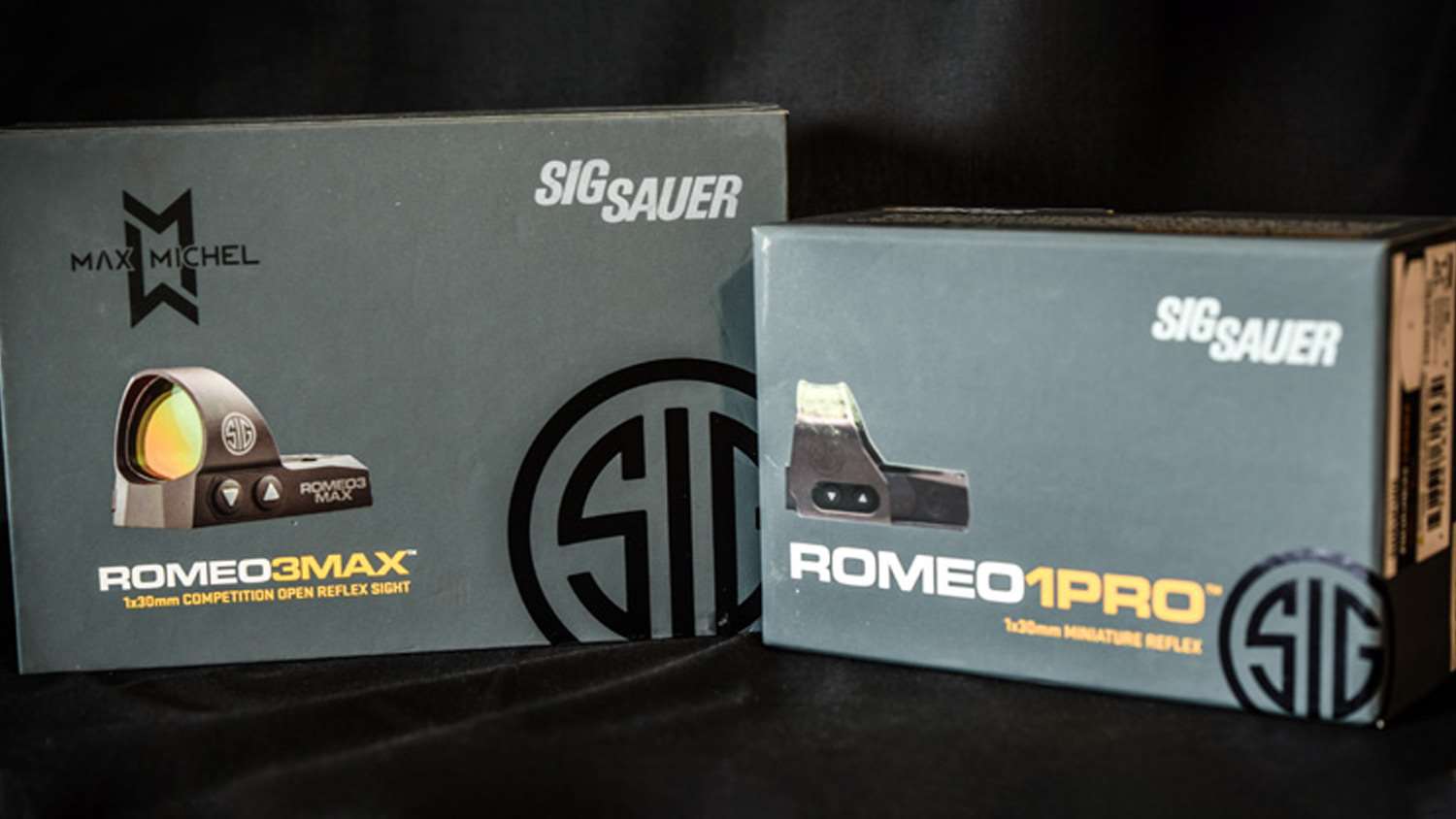 It is very easy to sight-in with the TRUHOLD lockless feature and we were running a plate like Max Michel in no time. Of, course, using a PCC, we were still slower than Max—but that wasn't because of the red dot. The footprint is the same as the C-More RTS2; however, the housing is longer so you are going to need to make sure that it fits your optics cut or that you get the correct mounting plate for it. I have been impressed with all the SIG products that I have been able to test over the last two years. They are definitely standing behind their "game-changing" claims with new and innovative firearms, ammunition and their optics.
Article from the September/October 2019 issue of USPSA's FrontSight magazine.
---
Read more articles by Jake Martens: