There was a time when a .32 ACP pistol could stop crime. Or maybe it was a place, Europe, where Fabrique Nationale in Belgium birthed the cartridge as the 7.65 Browning in John Browning's then-new Model 1900 pistol. That crime-stopping time lasted up to the present, if a recent turn-in of law enforcement pistols is the example.
Recently, several U.S. surplus arms houses have put LE turn-in 7.65 Browning Beretta Model 81 pistols, a.k.a. "Cheetahs" on sale at a price that shooters can't refuse. Online buyers snapped up all the best ones virtually overnight, leaving early-to-bed-early-to-rise folks like me settling for a more well-used pistol over morning coffee.
"Cat gun" appeal?
The medium frame-size Beretta Series 80 pistols include models 81, 84, 85, 86, 87 and 89; the name, "Cheetah" generally applies to all of them. In the past, Beretta has manufactured Series 80 pistols in .22 LR, .32 ACP and .380 ACP; today the factory catalog lists only the models 81FS (.32 ACP) and 84FS (.380 ACP). Like Colt "snake guns," Beretta has a feline name theme going for its smaller non-polymer pistols, with the Model 21A Bobcat (.22 LR or .25 ACP) and Model 3032 Tomcat (.32 ACP), both tip-up barrel designs, also still in production along with the Cheetah.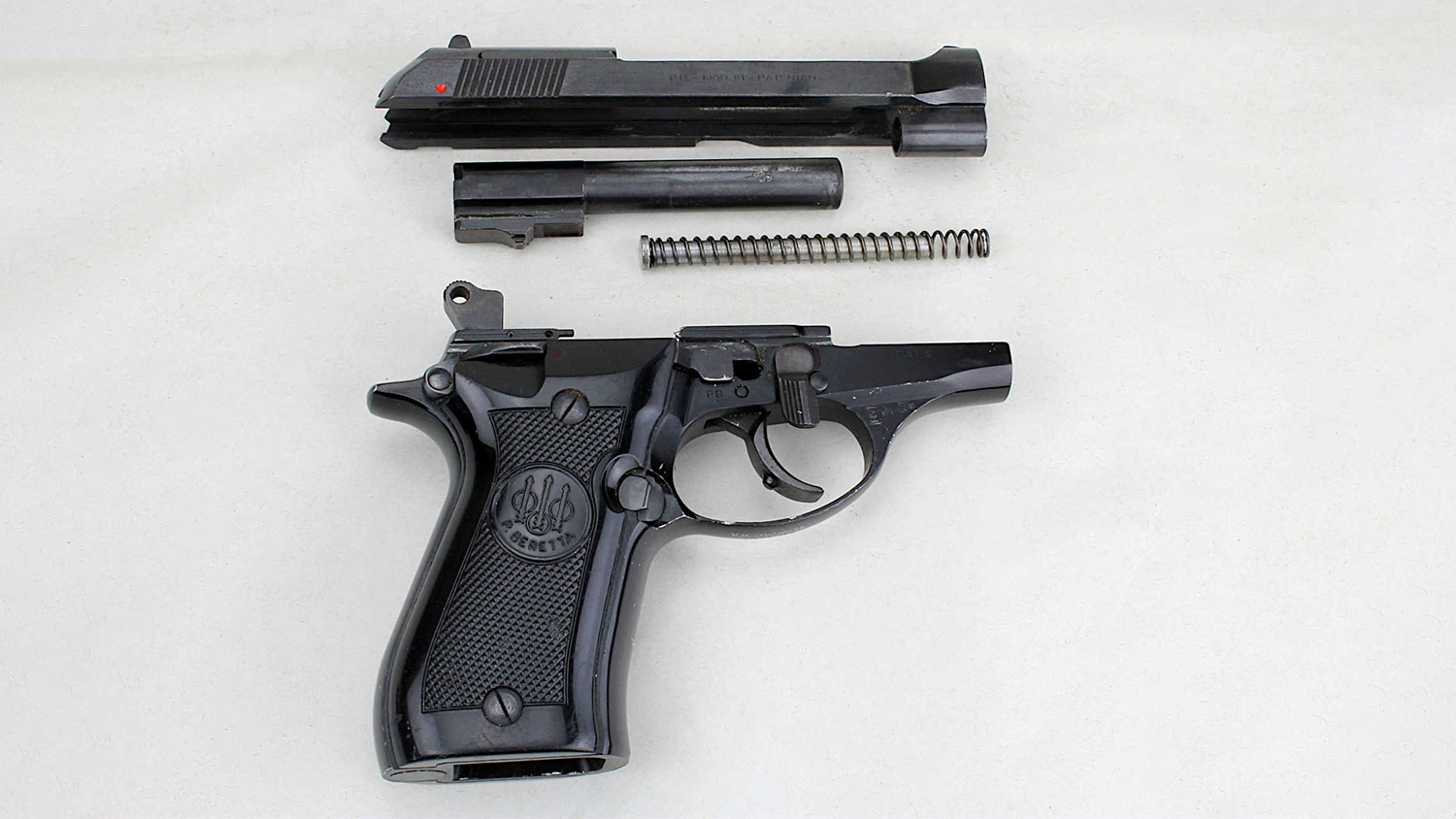 A new Beretta Model 81FS Cheetah in .32 ACP sells in the neighborhood of $650-$700, while these older, essentially-the-same-gun Model 81 turn-ins at surplus dealers are flying out the doors at around $220 to $280. What's the appeal? In a philosophical sense, the 7.65 Browning cartridge is perhaps the most devastating cartridge in history, as Gavrilo Princip used it in a Browning FN Model 1910 pistol to assassinate Archduke Franz Ferdinand in 1914, sparking the world's first global war that slaughtered 37 million people. More objectively, today there are better choices in law enforcement and self-defense cartridges, so it's a fair bet that most buyers (myself included) are simply attracted to a good deal on an interesting throwback plinker.
And to "interesting" we can add "quality." Beretta is apparently the oldest manufacturing company—not just oldest gun maker, but oldest manufacturing company, period—in the world, having started business nearly 500 years ago producing arquebus barrels for the arsenal at Venice. That kind of longevity is a pretty good indicator the company knows a thing or two about making firearms. The Model 81, while chambering a comparatively humble cartridge, has the same attention to quality as Beretta's M9 pistols, adopted as America's service pistol back in 1985.
Unlike Browning's early 7.65 pocket pistols, the Model 81 isn't exactly diminutive. Weighing about 24 ounces empty, the Model 81 takes a double-stack 12-round magazine and so fills the hand pretty much like a full-size handgun; if not for the alloy frame, it would certainly weigh noticeably more. While such a largish package seems illogical given the pocket pistol intent of the little cartridge, consider that in the Model 81 we witness the European transformation of a sidearm from its original purpose—combat—to a more ceremonial one—a badge of rank or authority.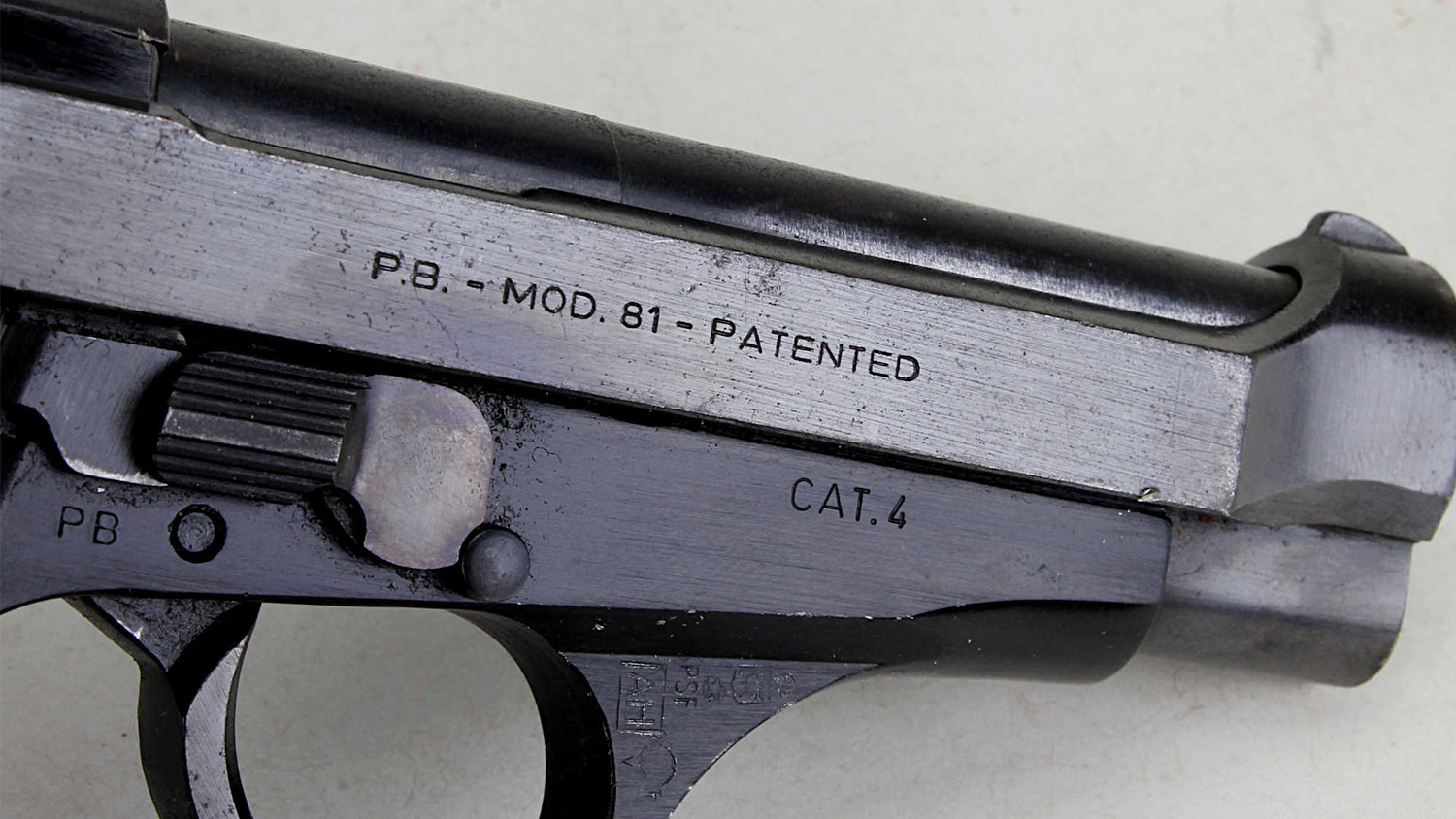 Details
The Model 81 here, lacking a letter suffix (e.g. 81BB, 81FS), is the basic model, which began production in 1976. Recent users include countries such as Namibia and Slovenia. Beretta calls their Model 81 a double-action, but in American parlance it is a kind of DA/SA action in that it can be fired from the hammer-down position on a chambered cartridge with a long, hammer-cocking pull on the trigger, and then after semi-automatic re-cocking of the hammer subsequent shots are fired single-action with a short trigger pull. There is no decocker.
Every semi-automatic pistol shooter will recognize the typical controls: slide lock/release, magazine release, ambidextrous thumb safety, and a disassembly latch lever on the right side of the frame for field stripping. As an additional safety, a mechanical block prevents forward movement of the hammer unless the trigger travels fully backward. The external extractor protrudes slightly when a round is chambered, serving as a loaded chamber indicator; a red mark on top of the extractor serves as a visual indicator, while the protruding extractor itself is a tactile reference in dim light.
Sights are quite small, though the original owner's manual (you can download a free PDF from the Beretta website) says they "… are designed for swift location of the target and for bringing it into alignment with the greatest possible facility." Hmm. The rear sight is windage drift adjustable, the front sight machined integral to the slide. Barrel length is 3¾ inches (97mm). Takedown is ridiculously simple: push in on the disassembly latch release button on the left side of the frame, rotate the latch lever "anticlockwise" and pull the slide assembly from the frame. No fumbling with tiny, stiff catches or lining up slide notches, no pulling triggers, cocking or using a pin punch to get started. Maybe after 500 years of experience other gun manufacturers will figure that out, too.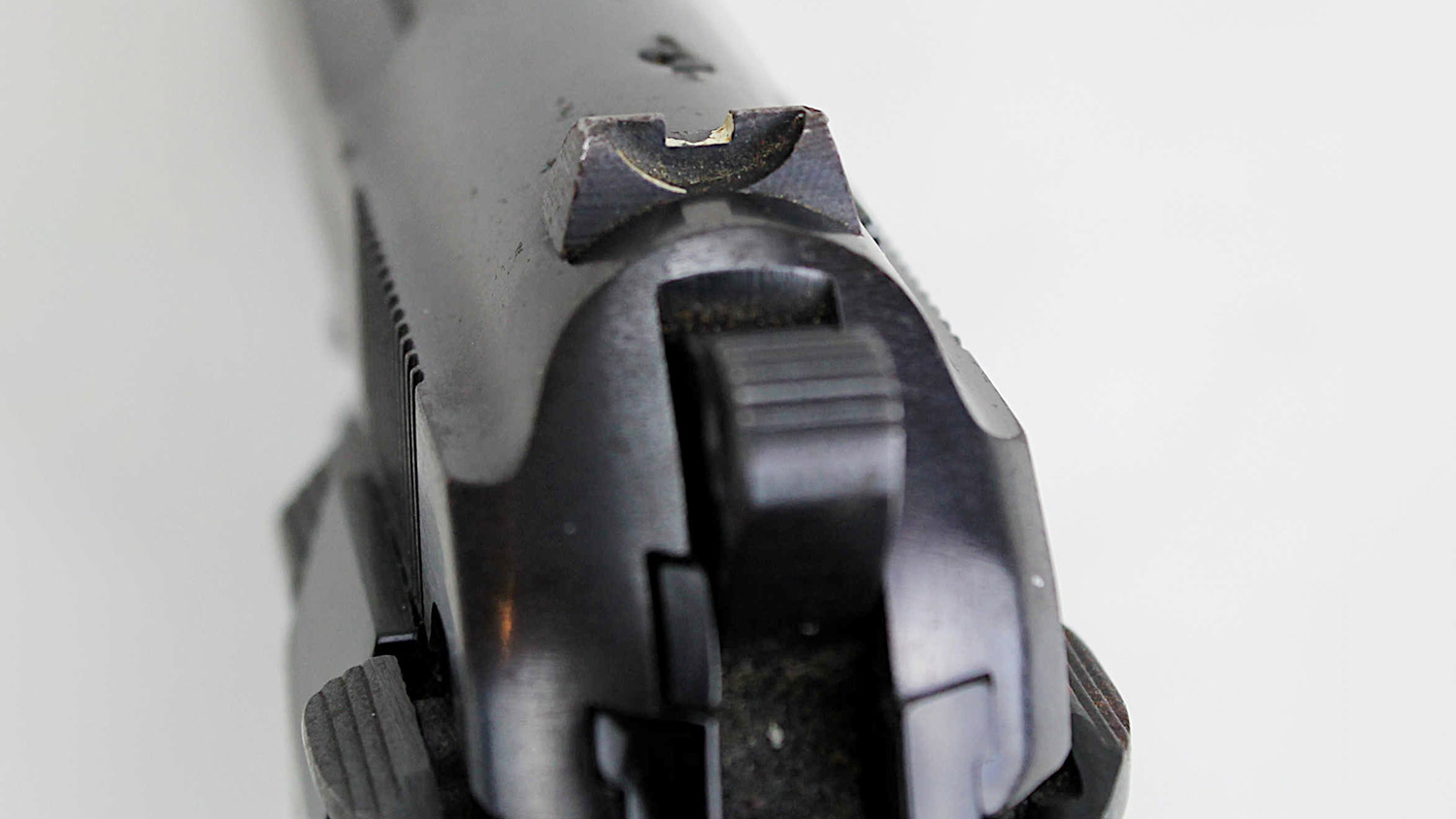 It's a three-inch reach from the trigger face to the backstrap; with my medium-size hand I can just place the joint of my first knuckle perfectly on the trigger in its forward-most DA position. Pull is long, of course, but very smooth without a single bump, grind or hitch, though there is an audible click as the half-cock notch engages in passing. Single action, the trigger breaks with just a hint of creep at a consistent four pounds after take-up.
The magazine release appears to be reversible, from left-hand to right-hand, to compliment the ambidextrous safety, but it is not, though Beretta says it is reversible on the similar .380 ACP Model 84F. Still, I tried it to satisfy curiosity, but indeed could not coax it into final reversed position. Grips are plastic, and the screws have those very slim slots that Europeans seem to like. If you intend to remove them, as I did to experiment with reversing the mag release, be sure to use the proper size screwdriver.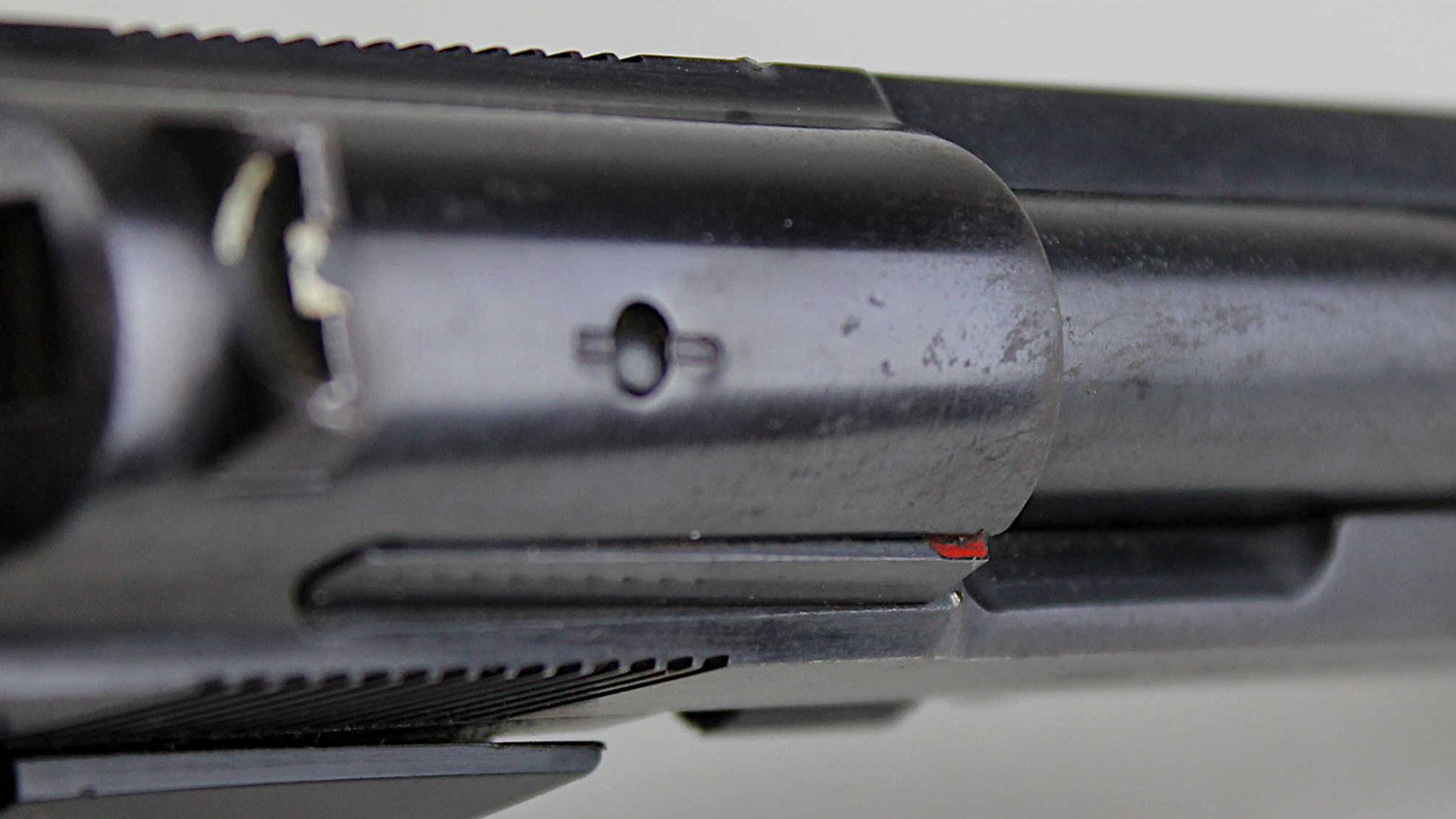 Good shooter
Shooting, as you'd expect, is downright pleasant with the mild .32 ACP cartridge generating little recoil in what feels like a full-size handgun. The Beretta functioned flawlessly with jacketed hollow point (JHP) ammunition, tossing empties well clear to the right and slightly forward. With a 6 o'clock hold on the center Q of an FBI low contrast "Q" target 25 feet away, all shots from a full magazine landed in a two-inch cluster at 11 o'clock about three inches from point of hold, with a single flyer. The thumb safety is smallish, appropriate to the pistol size, but adequate; engagement is positive but not heavy.
Discussion about cartridge power aside, overall impression is that given the quality of workmanship and ergonomics, the Model 81 is well made for the purpose of a show of readiness in carry, as some foreign law enforcement agency has utilized it. It operates as it should, is a pleasure to shoot and simple to maintain. What more can we reasonably expect from a $230 handgun?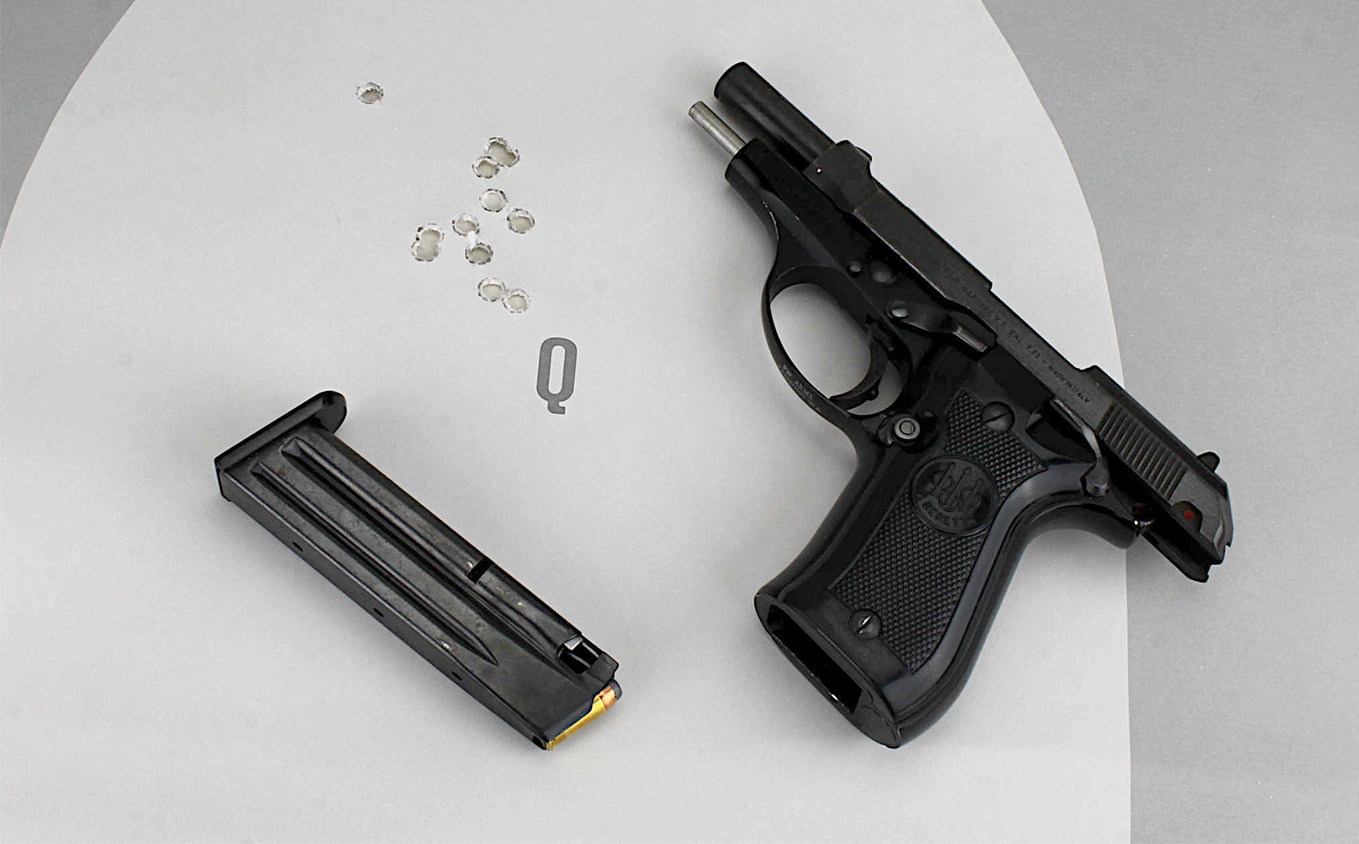 Guns, etc.
At this writing, these Model 81 LE turn-ins are still available from DK Firearms, Classic Firearms and AIM Surplus in a variety of conditions, running from $217 and up. Some parts and a schematic are available from Numrich Gun Parts, and Midwest Gun Parts has a few parts as well.
Extra magazines aren't exactly cheap, but any semi-automatic is pretty much useless without a mag and they can fail, so two are a minimum and more is better. All magazines in the .32 ACP Series 81 pistols (Models 81, 81B, 81BB, 81F and 81FS) are interchangeable. Beretta asks $48.50 for a factory new mag, and new ones from other sources are comparably priced. Used mags at online auction sites are in the $35 range.
There is no lack of comparatively inexpensive factory FMJ ammunition for plinking, of course, and modern advances in bullet technology is producing expanding and frangible bullet ammunition arguably suitable for self-defense. Competition shooting? Maybe not.
Exceptional deals on older, quality handguns don't come every day, and this is one I'm glad I got in on, even if it was a day late. If you're interested in a bargain on a neat, shootable throwback—you might want to do some online shopping for a surplus Model 81 over tomorrow morning's coffee.
---
See more:
First Look: Beretta 694 Sporting