by
Chris Christian, Field Editor
posted on November 9, 2016
Support NRA Shooting Sports USA
DONATE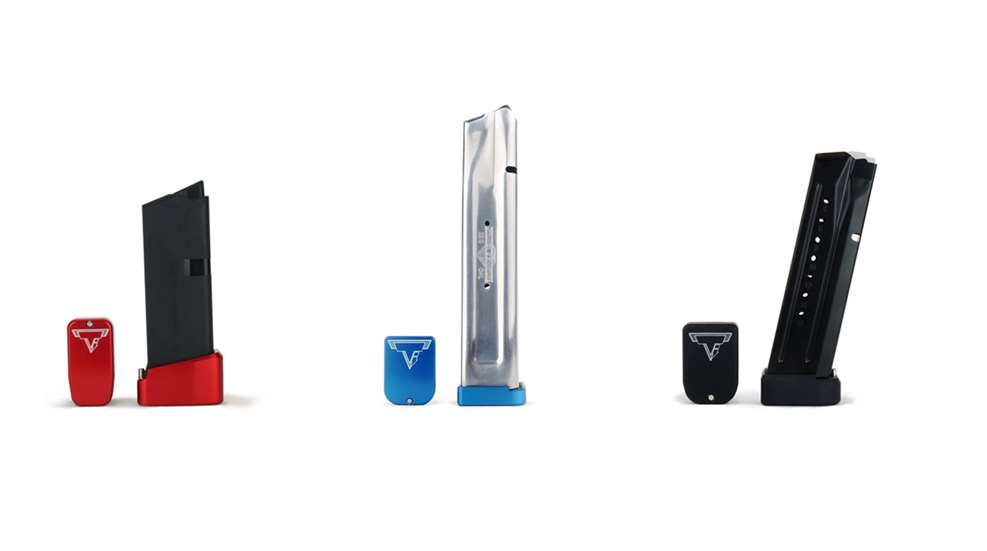 Having "more bullets" is never a bad thing. That's why many semi-auto handguns popular for both competition and self-defense are offered with magazine capacities of up to 17 rounds, depending upon the caliber. Sometimes, however, more can be better. For those occasions, the Taran Tactical Innovations (TTI) magazine extensions kits are a reliable way to provide that.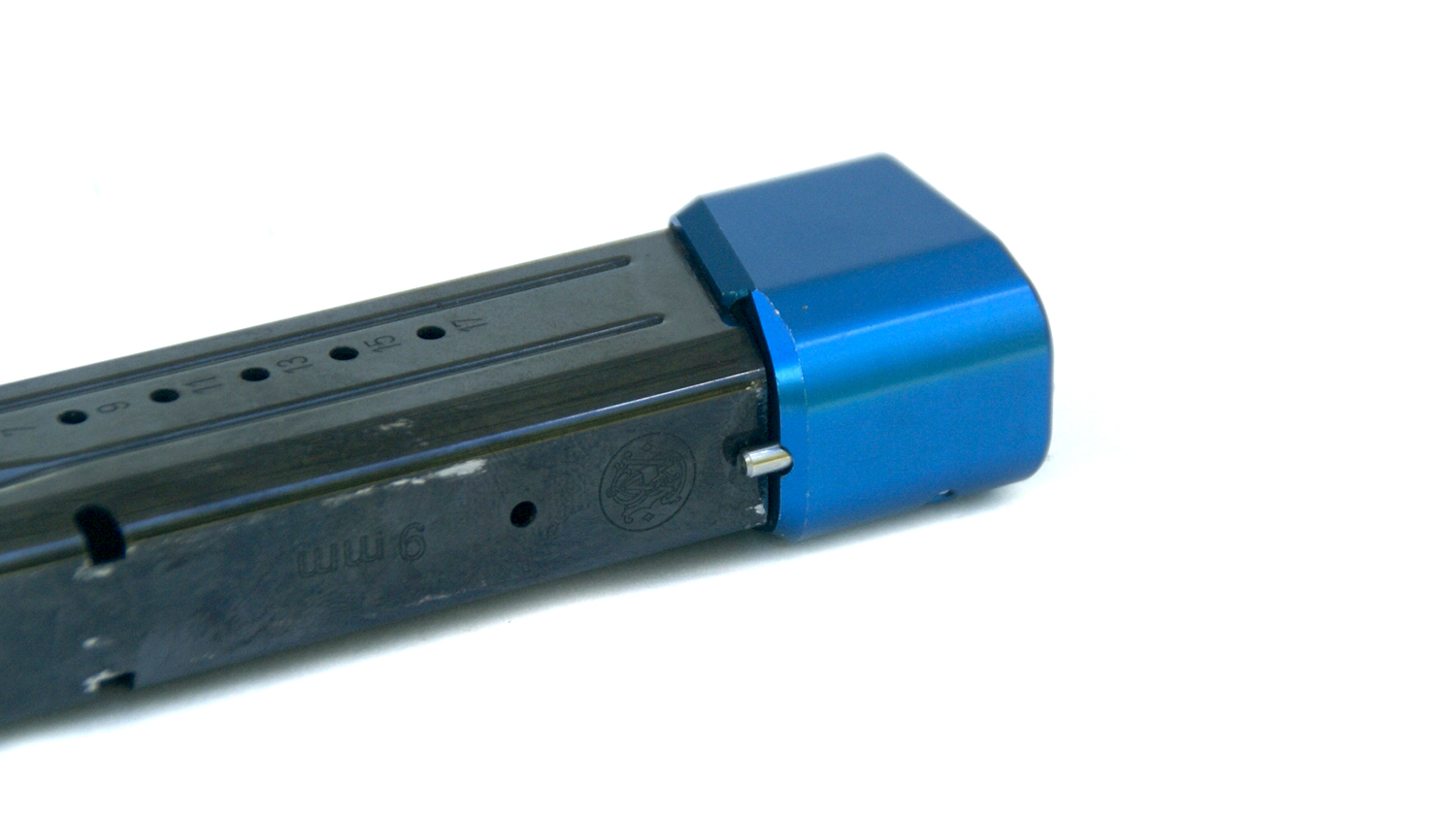 The TTI extension kit consists of an extra length magazine spring and a base plate that is CNC machined from billet aluminum and hard-anodized. The base plate and spring replace those components on existing high-capacity magazines to increase their capacity. The base plate is nicely rounded and prevents any type of palm pinch with even the most vigorous reload. A sturdy and readily visible retaining pin confirms at a glance that the base pad is properly seated. This is one extension base plate that you won't see popping off and spewing rounds out of the magazine bottom. I've found it's a solid product and will take any level of abuse. And, it is a legal addition in several USPSA, Steel Challenge, and various Multi-Gun (2- or 3-Gun) divisions.

There are two versions available: a +3 (three round capacity increase) and a +5 (five additional rounds). The latter is most popular with competitive shooters and fits the USPSA 140mm length gauge.

With either version the installation is simple: remove the base plate from the existing hi-cap magazine and pull the entire spring/follower assembly out. The TTI extension kit does not include a follower. One can remove the follower from the existing magazine and install it on the TTI spring, but an easier solution is to purchase a follower (inexpensively available from parts supply houses like Brownells) and put that on the TTI spring. That leaves the original magazine spring assembly intact, and easy to re-install to return the magazine to original capacity if required.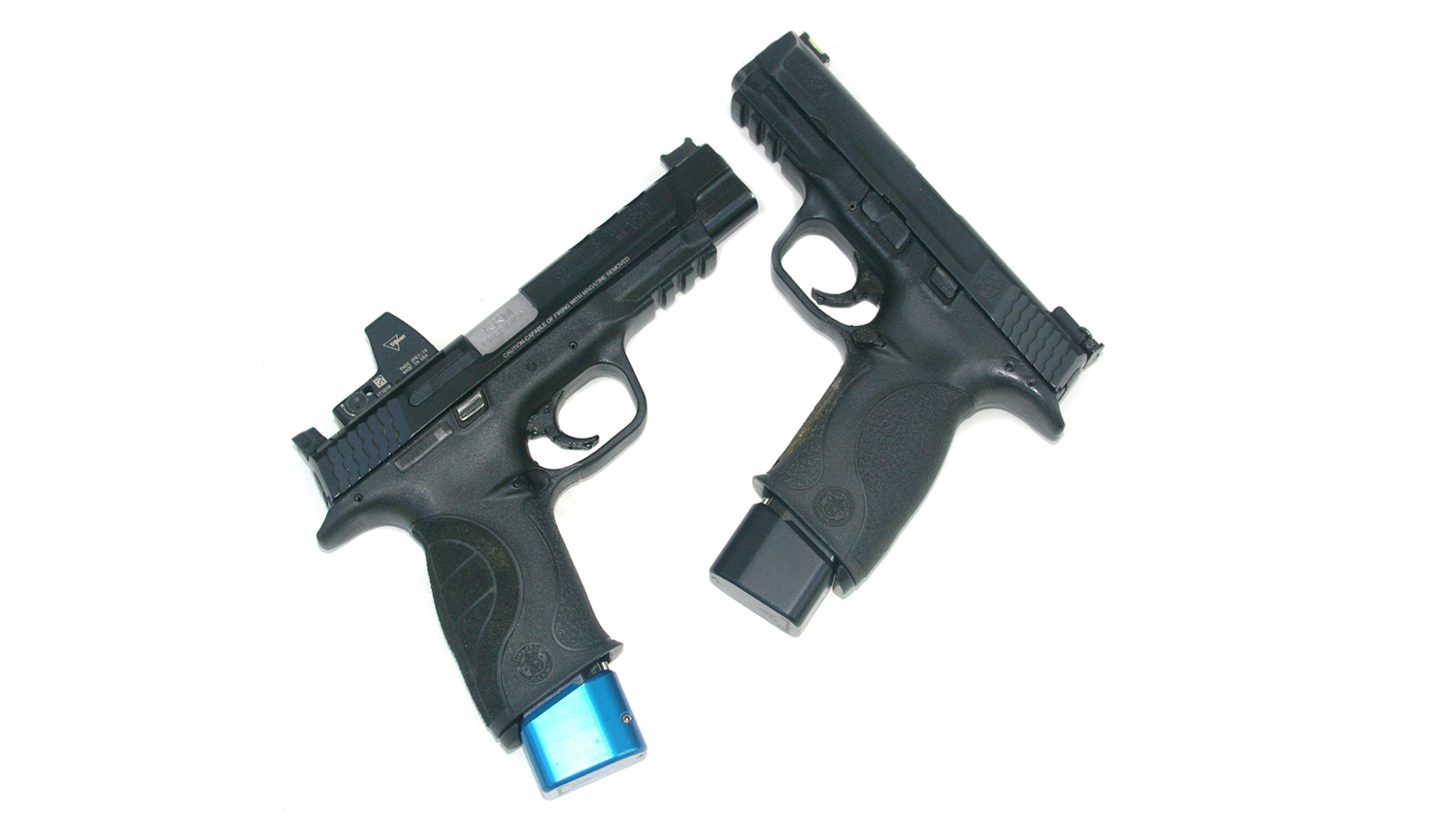 Once that's done insert the TTI spring into the TTI base plate. Do not use any bottom plates that may come with the original magazine. All that's required is the TTI spring, base pad, and follower. Push the retention pin down to protrude from the bottom of the base plate and leave it flush with the top of the base plate. Insert the spring into the magazine, slide the base pad on from the rear of the magazine, then push the pin back up to lock the base pad in place.

The TTI magazine extensions are available for many popular sport and service handguns including: Glock 9mm, .40 S&W and .45 ACP double stack magazines and the G42 and G43; the Springfield Armory XDM in 9mm and .40; the Walther PPQ; and the S&W M&P 9mm and .40 S&W. Base plate colors are available in flat or gloss back, blue, red, purple, gray, and OD green. The brighter colors make ejected magazines easier to find after completing a USPSA field course, but with the increased capacity one won't have to spend much time hunting for their magazines.

If I'm running a 32 round USPSA field course in Limited (Minor) or Open (Minor) the standard hi-cap 17 round magazines on my various 9mm M&Ps let me start with 17+1 and reload 17—a three round cushion if I want to save time by making only one reload. That's not much of a cushion; especially if the course designer throws in multiple steel targets or a Texas Star. That 17+1 also dictates just where on the course I have to make that one reload; regardless of whether I want to do it there or not.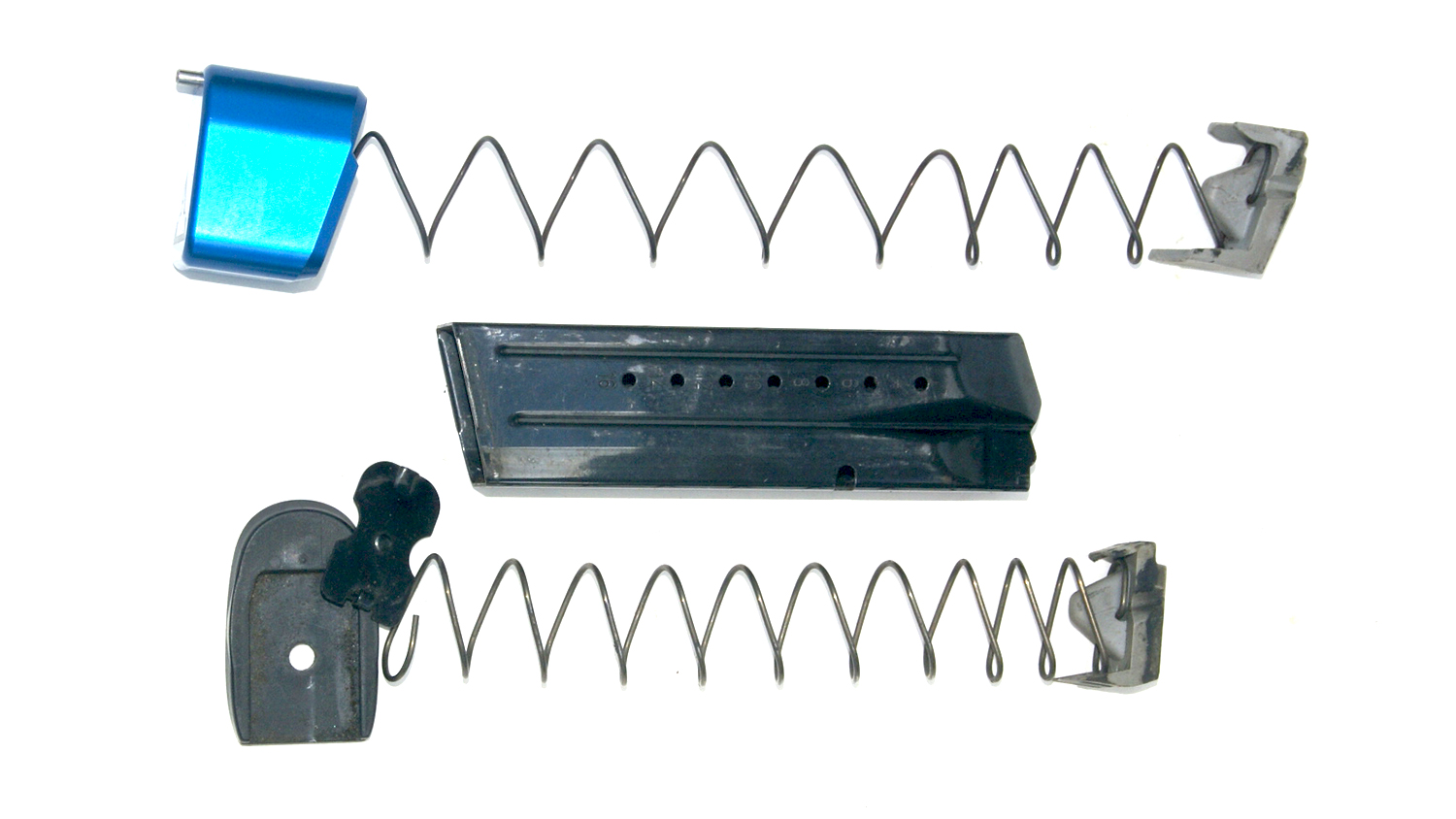 Five rounds may not seem like a major boost, but with a pair of TTI magazines I start with 22+1 and reload with 22. I now have a 13 round cushion, and increased freedom to choose where I reload on the course. That makes a significant difference in how I "stage plan" a course, and results in a better score. And that pair of TTI extensions cost less that $100—about the same as driving to a few matches. That's an advantage.

Those shooting Major calibers (.40 S&W and .45 ACP) can get the same five round increase and reloading point options that will help their score.

The added weight of the TTI extensions can be another advantage. The machined aluminum base plate adds a couple of ounces of weight to the magazine, which promotes a speedy and positive ejection. That additional gun weight also helps reduce recoil for those Action Pistol shooters ripping off rounds at high speed. Extra gun weight also helps steady the sights for those shooters in the various NRA Pistol competitions who are operating at a slower, but more accurate pace, and have no need for increased magazine capacity.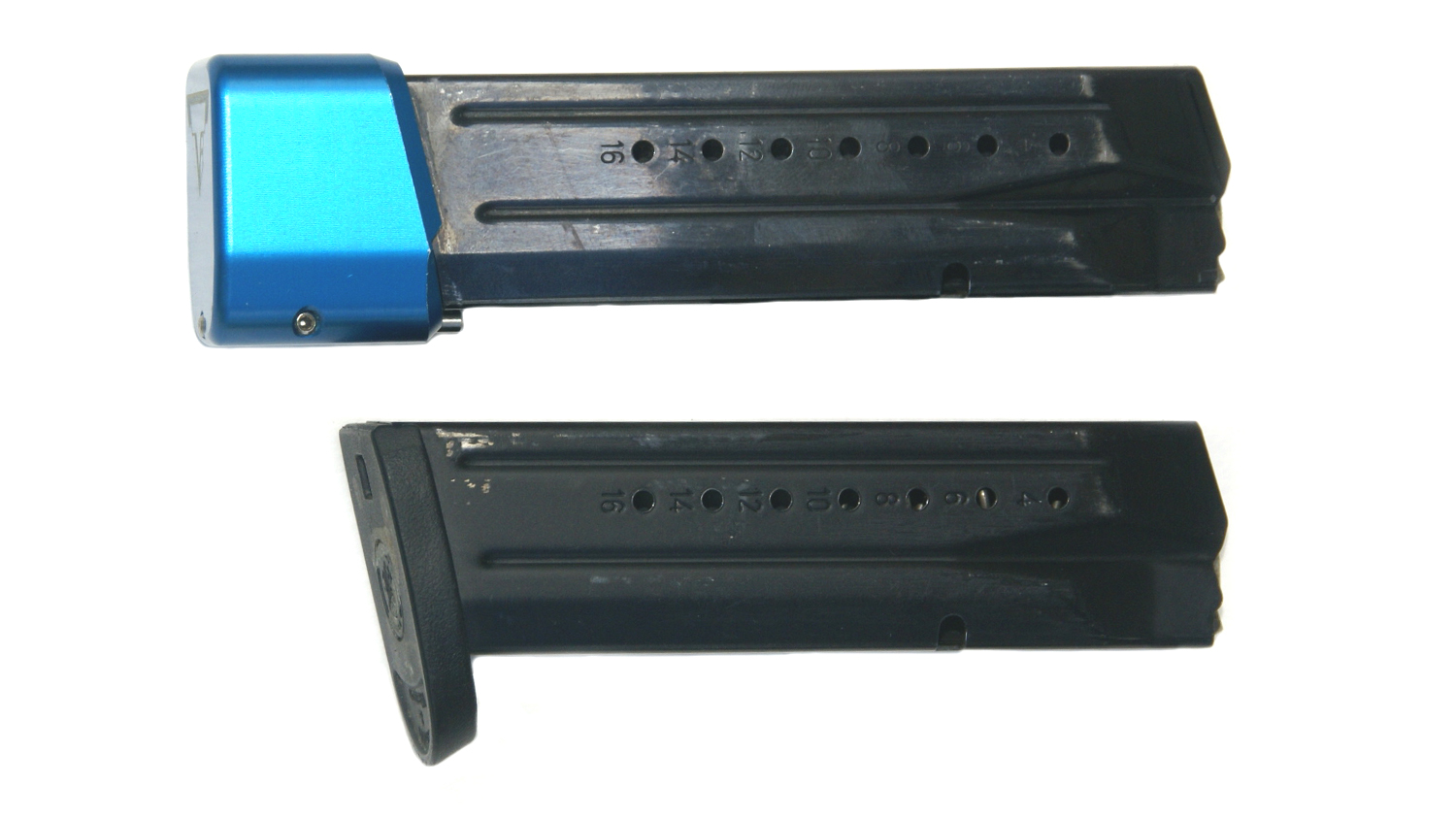 But, some shooters take it further than that. The new USPSA Carry Optics (CO) division limits gun weight to 45-ounces and allows 140mm magazines, but mandates only 10 rounds be loaded in them. That leaves plenty of space in the TTI base plate and some shooters with lighter polymer-framed handguns have found that there's room in that base extension for three or four ounces of lead shot (mixed with JB Weld to create a solid weighted insert). It's a quick way to legally add gun weight. For NRA shooters, the TTI extensions create an instant "weighted magazine" that can help steady the gun for precise X-ring hits.

With a MSRP of $41.99, it's an economical way to improve scores.