by
posted on August 11, 2016
Support NRA Shooting Sports USA
DONATE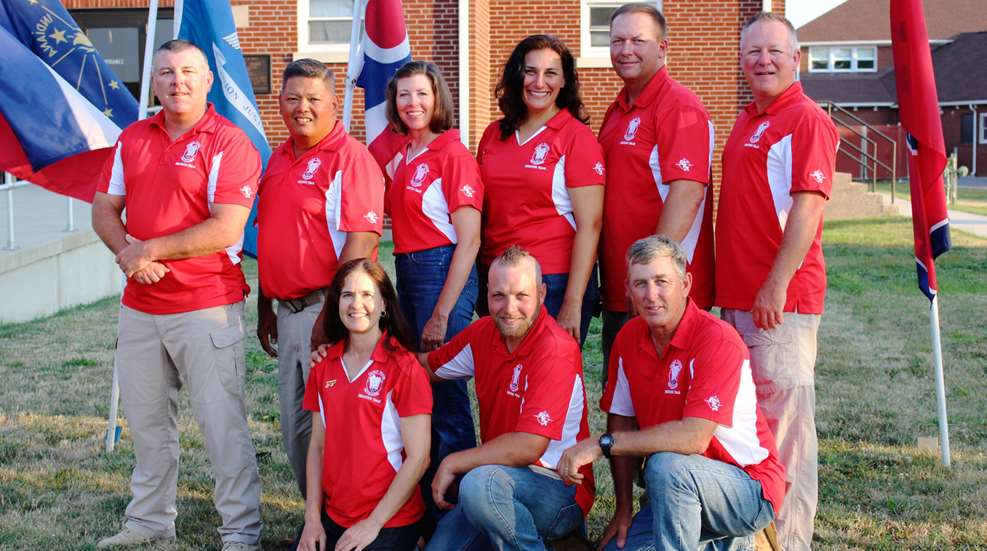 Above: Team CVO at the 2016 National High Power Rifle Championships: (from left to right, back row, then front row) Aaron Perkins, Jim Orille, Denise Loring, Laura Root, Dwayne Lewis, John Schwent, Yvonne Roberts, Jake Stalder, and Bill Walter.

Camp Valor Outdoors (CVO) is an exciting organization whose goal is simple: improving the lives of veterans and their families through various outdoor activities, including competitive shooting. The organization has a high power rifle shooting team (Team CVO) that participates in matches at the local, state, regional and national levels. Unlike other groups of this type, no one at CVO draws a salary—all staff are volunteers and all donations are tax deductible and are directed to support the mission.

For the second consecutive year, Team CVO traveled to the National High Power Rifle Championships at Camp Perry with help from the NRA Foundation.

Dennis Willing, director of NRA Competitive Shooting elaborated on the NRA's involvement.

"In 2015 the NRA Foundation provided the NRA Competitive Shooting Division with funding to assist disabled competitors. This year the Foundation increased the amount substantially, allowing for more team members to make the trip to Camp Perry. The money from the grant is used to pay for all the needs of the team, such as entry fees, housing, and travel costs."

When I met John Schwent, executive director of CVO at Viale Range during the High Power Championships this year, I could tell that he was dedicated to making a difference in the lives of veterans.

Schwent, a retired Marine, told me with a wide smile, "Our entire team is thrilled to be here at the National Matches, thanks to Dennis Willing and the NRA Foundation. One of our team members shot a personal best today—his first time ever at Camp Perry."

The Team CVO member Mr. Schwent told me about, Jake Stalder, definitely had a memorable first trip to Camp Perry this year. Beaming with pride, he told me, "Today at Camp Perry I shot a 758-14X, my best score ever."

As we sat and chatted under a shade tree at the ready line, Jake, or "Shaky Jake" as his friends call him added, "I am having such a great time here at Camp Perry with my teammates from Camp Valor Outdoors. Shooting a personal best score while at the National Matches is a dream come true for me!"

CVO Chief Operating Officer (and SSUSA contributor) Denise Loring said, "Bringing new shooters to Camp Perry reinforces what they learn on their local range through local matches.  We strengthen the bonds between wounded, injured, and ill veterans across all generations to increase the sense of camaraderie." Denise is also a shooter on Team CVO.

Want to help support Camp Valor Outdoors in their mission? Consider making a tax-deductible contribution and help make a difference in the lives of ill, injured, and wounded veterans. Learn more at www.campvaloroutdoors.org.