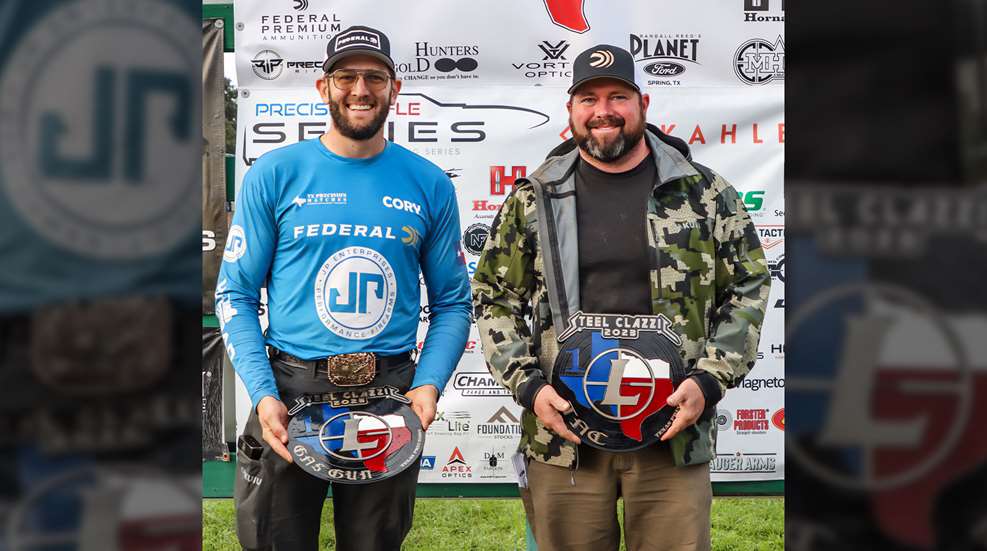 Team Federal competitors Cory Klemashevich and Greg Bell topped their respective leaderboards at the 2023 Leupold Steel Classic Texas Precision Match, held January 27-29 at the CCC Shooting Complex in Navasota, Texas.
At this Precision Rifle Series competition—the first of the 2023 season—Klemashevich won first place in the Gas Gun division, while his teammate Bell captured the top spot in the Tactical division. There were 224 competitors in total at the match.
Klemashevich won the Gas Gun title with a final score of 132.00, triumphing over the three other shooters competing in the division. He also finished 157th in the combined overall field of shooters.
As for Bell, not only did he win his division, he also fared better than his Federal Ammunition teammate in the overall standings. His Tactical division-winning score of 165.00 gave him a top-30 finish in the combined leaderboard. There were 14 total shooters competing in the Tactical division at the match.
For PRS Gas Gun competition, such as the Texas match last month, Klemashevich shoots Federal Premium Gold Medal Match 109-grain Berger Hybrid 6 mm Creedmoor rifle ammunition.
"Conditions at this match were rainy, muddy and windy," Klemashevich said. "Having accurate ammo that performs reliably is always a massive advantage in any competition. Rifles will get water and grime in the chamber especially in the Gas Gun division, where pressure and dwell times can affect point of impact, and bolt velocity can affect reliability. There is no question that the Gold Medal Match product line is the most consistent precision ammo available. I certainly relied upon it during this match, and I am happy with the results."
In addition, Klemashevich is not just a competitor, he also helped to organize and run the 2023 Leupold Steel Classic Texas Precision Match.
"We build a match that we ourselves would want to shoot, we show folks true southern hospitality, and feed them the best food we can. The rest takes care of itself," he said. "This year, we had shooters from three other countries including Norway, Mexico and Canada. Plus, many shooters from within the United States, from as far away as Washington, Florida, Michigan, California and Maine. Seeing old friends and meeting new ones, really makes for a fun event."
See the full results of the 2023 Steel Classic Texas Precision Match at the Practiscore website.
Learn more about Federal Ammunition at federalpremium.com.