Team Federal Precision Rifle Series shooter Buck Holly continues to impress after winning the Gas Gun division at the 2021 MPA Fall Shootout, held December 4-5, 2021 at Cool Acres Sporting Camp in Swainsboro, Georgia. Holly was also a PRS Skills Stage winner at the match, with more than 110 shooters in attendance.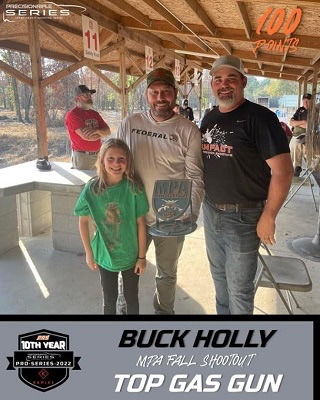 For his PRS Skills Stage victory, Holly's impressive time of 33.91 seconds included scoring eight out of eight hits from four positions at a 10-inch plate target at 400 yards. 
At the match, Holly, who hails from Richmond Hill, Georgia, was shooting Federal Gold Medal 6 mm Creedmoor factory ammunition loaded with 105-grain Berger Hybrid bullets at the match. For competition, his rifle is a GA Precision MSR-style one.
Holly is enthusiastic about the future of the Precision Rifle Series and precision long-range competition. Here is what he said about his Gas Gun win at the 2021 MPA Fall Shootout.
The PRS is experiencing incredible growth and I'm proud to be part of an inclusive organization that supports all shooters. My personal success stems from my family and the support they provide me along with extraordinary support provided by my sponsors.
Although conducted in the last month of 2021, the match is the first of the 2022 PRS season, and scores posted are counted towards PRS Series Points. From the MPA website:
This match will test your ability to accurately engage targets out to extended distances. It will feature stages consisting of various shooting positions and target types. This is designed to be a true test of a shooter and their equipment. Bring what you think you will need, equipment will not be limited. All stages will be able to be completed successfully with standard equipment; no extra equipment is necessary but is allowed. This is a Rifles-only Match. No Pistol required.
To view the full results of the 2021 MPA Fall Shootout, go to the Practiscore website. Learn more about Team Federal and Federal Ammunition at federalpremium.com.
---
Read more: 
Federal Adds Monthly Ammunition Subscription Service