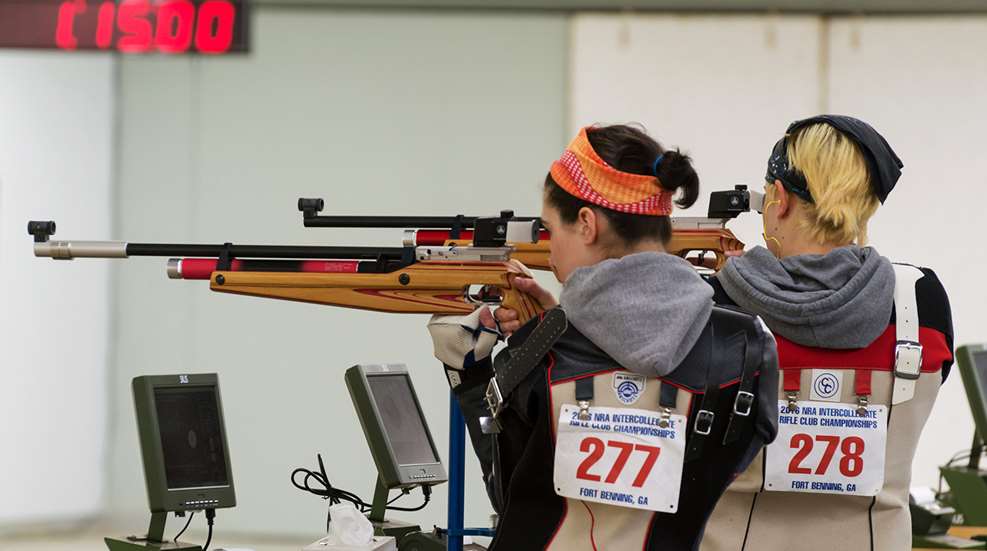 Above: Lauren Aldoroty (left) and Anna Carter (right) on practice day at the 2016 NRA Rifle Club Championship at Ft. Benning, GA. The two physics majors from Johns Hopkins University competed at the match for the first time this year.

In 2013, Lauren Aldoroty was a freshman at Johns Hopkins University (JHU) looking for a place to practice rifle shooting in Baltimore, MD. Aldoroty, a New York City native, is used to the difficulties of finding a place to practice her favorite sport and being in an unfriendly place for a prospective competitive shooter. However, she was determined to have an active group of JHU students out to the range a few times a month to practice, and maybe even start a university shooting club.
Aldoroty, a physics major, had learned to shoot at Brown Ledge Camp in Vermont back in 2008, eventually becoming a rifle range counselor. She loved her experiences at summer camp so much she decided to do it at home, driving out to Long Island with her dad from their home in Manhattan every Saturday morning to go shooting.

Resolute in starting the club and finding a friendly range to practice in Baltimore, Aldoroty first approached the Homewood Rifle and Pistol Club (HRPC), which is one of the charter clubs of the Associated Gun Clubs of Baltimore (AGC), for assistance.

According to the HRPC website, "Founded in the early 1940s by faculty from the Homewood Campus of Johns Hopkins University, Homewood Rifle and Pistol Club is one of the 15 original member clubs that established the Associated Gun Clubs of Baltimore. We are a recreational shooting club for people interested in casual shooting on their own time."

The club president of HRPC pointed Aldoroty in the direction of local clubs with junior programs, leading her to Bryant and Mary Anne Cramer of the Monumental Rifle and Pistol Club (MRPC). The MRPC was the NRA Outstanding Club of 2010, and Bryant Cramer is in charge of their extensive junior programs.

Aldoroty first made contact with the Cramers in October 2013. Aldoroty told them about JHU student interest in competitive shooting, and that faculty members were even backing the idea of a marksmanship club. By now, a fellow student Kevin Pfau had joined Aldoroty in her quest to find a range. The Cramer's agreed to help the two shooters and this was the genesis of the JHU Marksmanship Club, with Aldoroty and Pfau as charter members. Finally, the club was approved by university faculty as a special interest and hobby program, and in 2017 is slated to be rolled into the university's athletic department as a full-fledged sports club.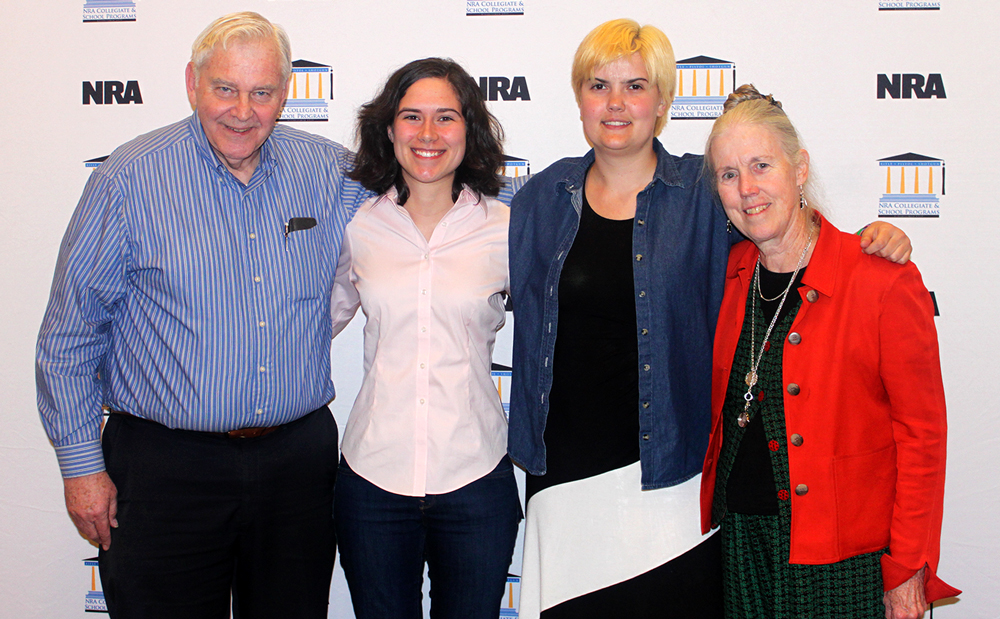 Aldoroty's next step was setting up more range time for the club, which was beginning to expand even more due to the additions of fellow JHU students, Calvin Pollard and Anna Carter. Cramer allowed the students to borrow MRPC's guns, and at times picked up the young shooters with her own vehicle to take them to and from practice. The JHU club was thus able to practice a few times each month at the Cramer's range, which Mary Anne described to me as "possibly the largest shooting range in the State of Maryland."

After a while, Mary Anne Cramer "adopted" the fledgling JHU Marksmanship Club, acting as a coach, supervisor and mentor while on the range; Cramer was eager to guide the young student-athletes in the right direction. After much training the club members were ready for competition and asked Cramer if she would be willing to sponsor an NRA Intercollegiate Sectional at her range. Her response? "Yes!"

The NRA Collegiate Programs staff was happy to help, and the JHU Marksmanship Club was able to get a sectional match sanctioned. As a direct result, Aldoroty and Carter qualified for this year's NRA Rifle Club Championship at Ft. Benning, GA. Aldoroty finished the championship with a personal high score of 569, and Carter scored a 488—a very respectable score for someone shooting her second competition ever. The two young competitors shot the match with Feinwerkbau P70 Junior air rifles.

Overall, Lauren Aldoroty and Anna Carter have some interesting stories to tell. For one, they told me that, "As an official Johns Hopkins University club, the members can check out a van in order to gain transportation to the range for practice." Not exactly what you would expect from a school in Baltimore but exciting nonetheless. SSUSA wishes the JHU Marksmanship Club all the best in their endeavors.