The Ruger Mark IV 22/45 .22 LR pistol is an excellent choice for anyone who wants to get into shooting a handgun. The pistol is also a great choice to start in Steel Challenge. The .22 Long Rifle cartridge is easy for teaching the sport to beginners, since it has little recoil and is also the least expensive round of ammunition to shoot.
The 22/45 platform is a workhorse in Steel Challenge competition. The Mark IV model, with its simple one-button takedown for quick and easy field stripping, also has a precision molded polymer grip frame that sports the same grip angles of a 1911. The 22/45 uses 1911-style grip panels and has a magazine release in the same position as 1911, along with ambidextrous controls. It also includes a lightweight ventilated aluminum receiver with a stainless-steel barrel. The Ruger 22/45 is great from the box to get out and start banging on some steel. But what if you want to build up a more custom .22 LR pistol for Steel Challenge?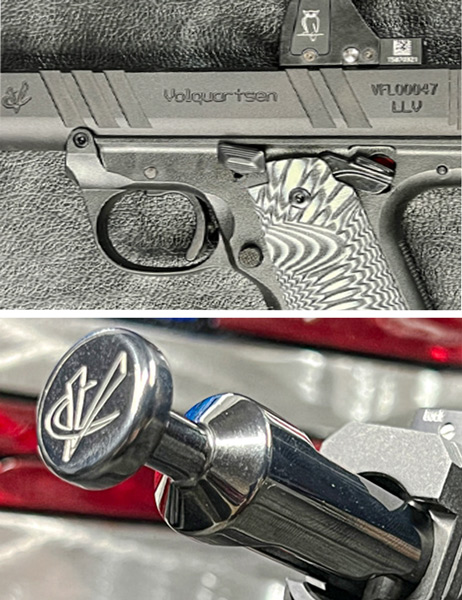 Thus, with a pair of Ruger 22/45s, I wanted to see what it takes to customize them with Volquarsten parts. This started out at first with simple trigger upgrades. Volquartsen offers a Pistol Competition Kit for the Ruger Mark II, Mark III and the 22/45 with four different trigger options starting at $173 (black and silver aluminum), $183.50 for stainless and $197 for the gold trigger. I went with a pair of the black kits which come with their Accurizing Kit, Bolt Tuneup Kit and the CNC Machined Disconnector. This kit is designed to produce a 2.25-pound trigger pull that has a crisp break and short reset. On the Wheeler Digital trigger gauge, I averaged 2.11 pounds.
The Accurizing Kit comes complete with drop-in target hammer, target sear, target trigger, extended bolt release and trigger return spring with a polished plunger. The trigger includes adjustable pretravel and overtravel screws. The extended bolt release and the sear spring are not used on the Ruger 22/45 model.
The Bolt Tuneup Kit has one of Volquartsen's most popular items that they produce, the Exact Edge extractor. The Volquartsen Exact Edge extractor is an EDM manufactured piece from A2 tool steel. This extractor includes a precise hook point, hardened to RC 58-60 to withstand years of use and still maintain its edge. It will not lose its edge under impact—other extractors made from stamped steel or titanium can have their edges roll over and actually cause extraction problems after a short period of use.
The hook is 0.005-inch closer to the rim of the cartridge to allow for the most positive extraction available. One of the biggest issues you can run into with rimfire firearms is with extraction of the spent case. This part helps to eliminate that possibility.
Light hits on rimfire ammunition represent another failure point, and Volquartsen addresses this with the SureStrike firing pin. This is also an EDM precision machined part from A2 tool steel and is hardened to RC 56-58 to prevent any excessive wear and deformation that you can experience with a factory firing pin. The impact section of the firing pin is also surface ground and is 0.004-inch wider than the factory firing pin. These features help eliminate side-to-side movement and create the optimal "SureStrike" with each pull of the trigger.
The last part of the Pistol Competition Kit is the disconnector that is CNC machined from 416 stainless steel. Volquartsen incorporated design changes which help the way this piece functions, increasing the rigidity with added materials that improve the trigger pull, but also eliminate any binding or interference over the factory design. The disconnector is designed with an integral pin without the step found in the factory design. This part that comes in contact with the trigger plunger, which is machined round to reduce friction as it moves over the plunger.
The kit will also help to eliminate failures commonly found in rimfire pistols. Plus, the gun will fire more consistently with the firing pin and will also extract spent cases better. If nothing else this is what I would consider a must-have upgrade to your rimfire pistol.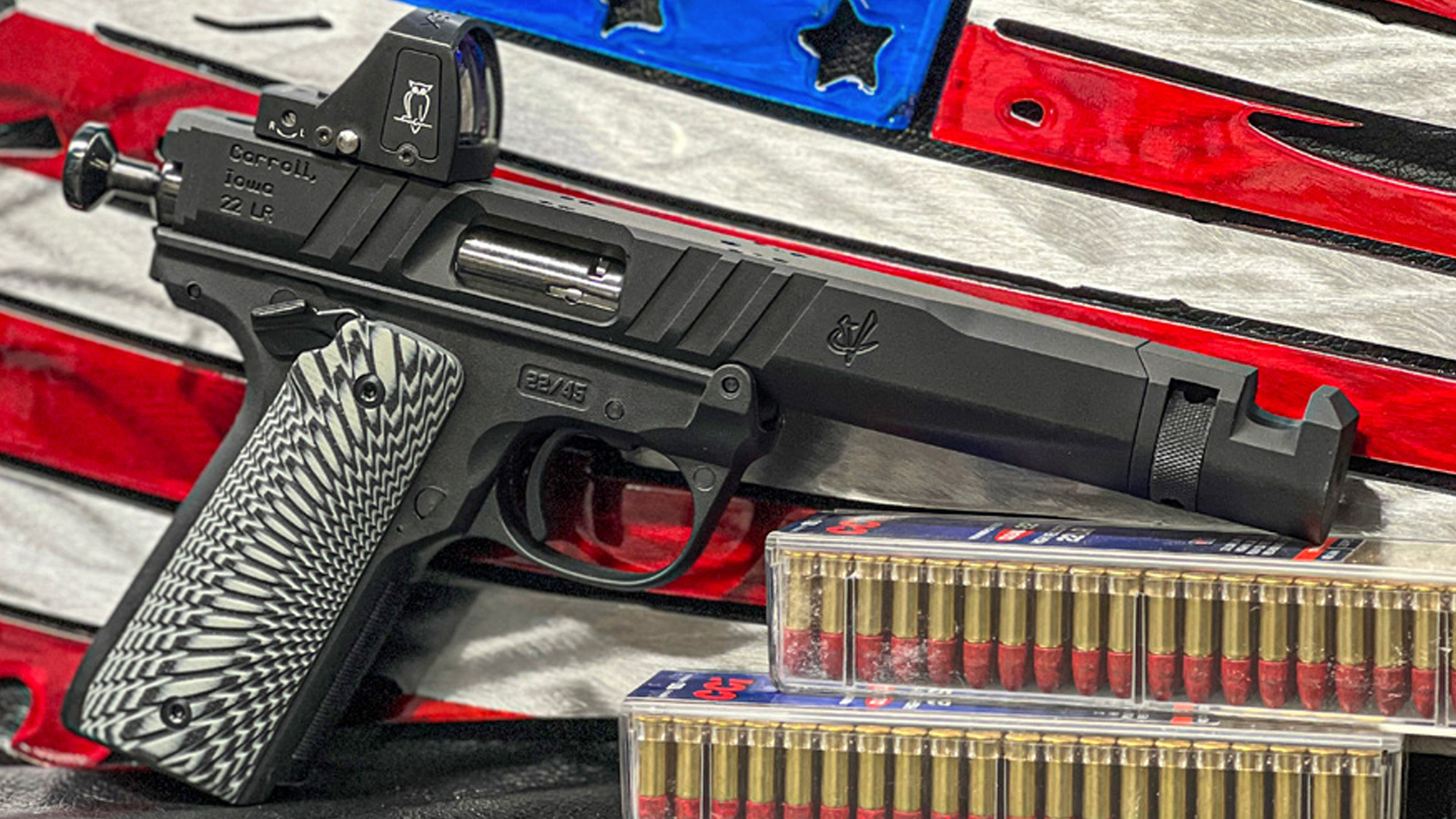 To take your competition rimfire to the next level, there are a few other upgrades you can do to your already existing Ruger. Introduced at the beginning of the year was the Mamba-X, an extension of the Mamba line of pistols. The Mamba comes with a rail for mounting optics, along with iron sights. The Mamba-X is designed to be an optic-sighted pistol only and comes with multiple hole mounting locations that accept 13 different of the most popular red-dot optics. Why direct mount to the top of the upper? Having a red dot mounted as low to the bore axis as possible allows for faster sight acquisition. Speed is the name of the game in Steel Challenge, and this is a feature that can allow for fractions of seconds faster for finding your dot. That adds up with 32 low-ready starts over the course of an eight-stage match.
You can purchase the Mamba-X as an upper to add to your Ruger 22/45. Sold as the LLV-4X 4.5 Competition Upper ($489), you are getting a 4.5-inch lightweight and well-balanced upper that is extremely accurate. A Type III hard-anodized, machined aluminum receiver reduces weight and is fit to a stainless steel, match-grade barrel. The upper also includes the stainless-steel breech that is designed to withstand the abuse of competition shooting and helps your firearm last longer. The upper comes with the Volquartsen black anodized aluminum single port compensator that is attached to the 1/2x28 threaded barrel.
The Mamba-X upper can use the factory bolt, but if you are going all in, you might as well get the Competition Bolt ($282). The bolt comes with Exact Edge extractor and the SureFire firing pin; it is CNC-machined and ground for superior fit and finish. It also has the distinguishable Volquartsen extended bolt racker for improved manual cycling of the bolt to eliminate pinched fingers. The bolt is case-hardened and treated with a diamond-like carbon (DLC) finish. This increases hardness, low residual stress, increases lubricity, lowers coefficient of friction and improves wear resistance.
If you already have a Ruger and are looking to upgrade everything installed, you will have yourself a true customized Ruger Mark IV 22/45 that is ready to take on Steel Challenge stages for years to come. Learn more here.
Article from the November/December 2021 issue of USPSA's magazine. Photos by Isabel Martens.
---
Read more:
New: CZ Shadow 2 Orange