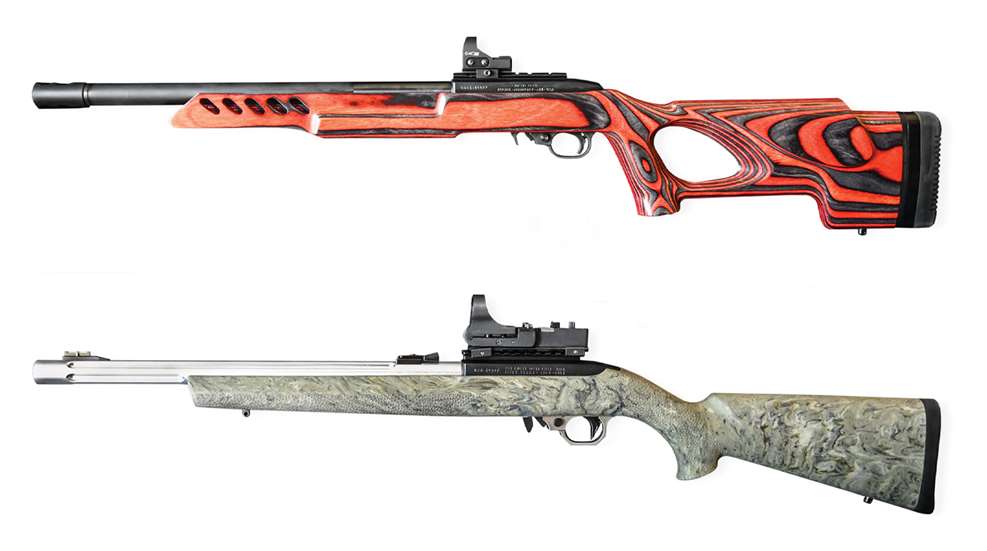 The line from the Charles Dickens classic 
A Tale of Two Cities
 seems fitting when talking about Steel Challenge and the firearms dedicated to it. Steel Challenge has exploded over the last two years, with more matches and more clubs to choose from. This is great for people who just shoot steel
—
"the best of times." However, I have to choose now between USPSA and Steel Challenge
—
"the worst of times". I want to shoot both, but no one likes to have to choose which match to go to.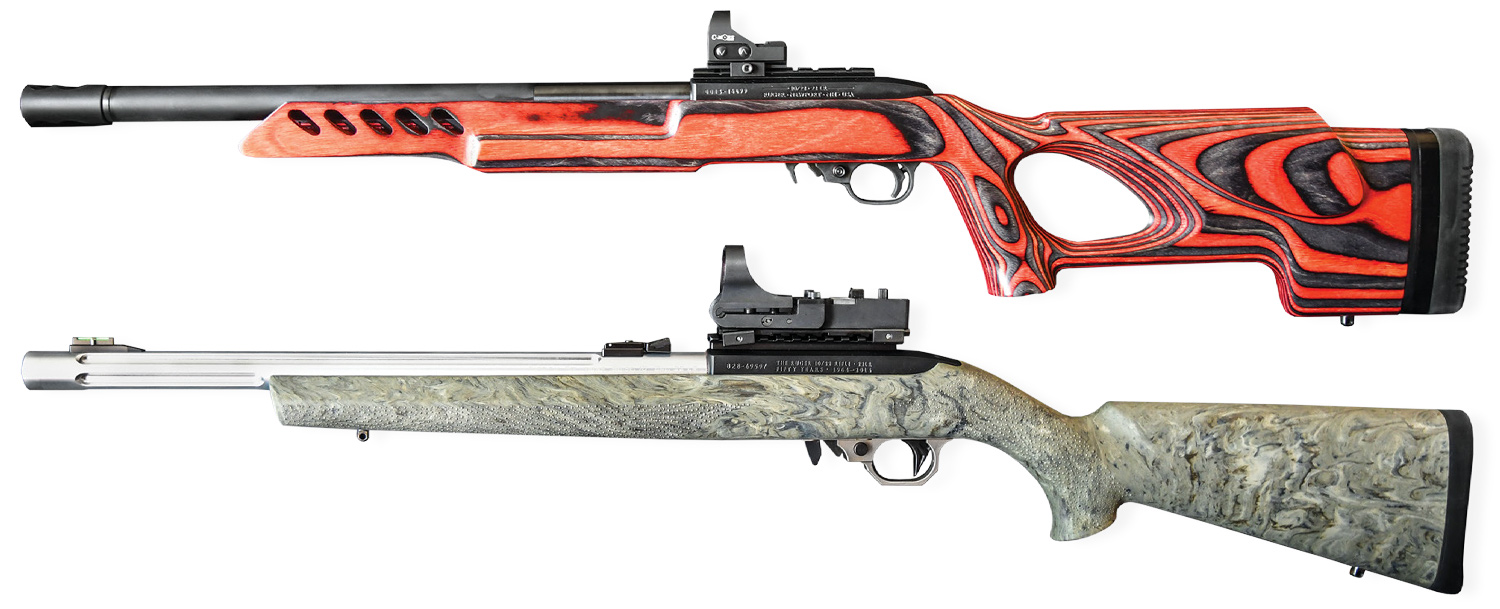 It is also the best of times when it comes to firearms dedicated to Steel Challenge, specifically rimfire. If you are in the market, the possibilities are endless, from off-the-shelf choices to full-blown custom race guns. If you are wise over being foolish, and know and believe in your own abilities and skill level, you will be able to make the right choices when it comes to your next
rimfire
for Steel Challenge. (Bet you didn't think I could make this connection out of that quote!)
10/22 upgrades
Two years ago, I bought a used Ruger 10/22 for $160 and went to the Area 5 Steel Challenge match
—
and shot a 119.95, B class in Rimfire Rifle Irons. The gun was stock with factory sights, trigger and the plastic stock. I took the rifle home and tucked it away. This past year I dug it back out and decided to see what it would take to fix 'er up. Asking a couple of questions of the more knowledgeable rimfire racers out there, I had my list of needed parts to upgrade the Ruger. My California Ninja, Michael Brooks, was in need of a barrel for his limited gun, and I was in need of the Volquartsen trigger kit he had
—
and I had my first necessary part for the project.
If you have followed along, you know that I am not one of those competition guys who does his own work on guns. My mechanical abilities stop at righty tighty, lefty loosey. However, I was able to install the Volquartsen TG2000 into the Ruger with no issues. The TG2000 is CNC-machined from aluminum billet with precision wire EDM-cut internal parts, and has a clean 2.25-pound trigger pull. The drop-in part has pre-travel and over-travel adjustments so you can set it to your preference. The trigger is reset internally to eliminate any dragging or inconsistencies caused by a conventional trigger plunger. It comes with automatic bolt release and extended magazine release. I am not a trigger snob, but this is a damn good trigger, and just adding this made the Ruger a hundred times more shootable.
The stock had to go. It was the cheap black plastic model, and you can't put that trigger kit in there. It just isn't right. So, I reached out to Art Leach at Hogue Pro Shop to see what options were available. The Hogue OverMolded rubber rifle stocks use a durable synthetic rubber that is neither spongy nor tacky, yet provides a soft recoil-absorbing feel without affecting accuracy. Choices for the 10/22 are the standard style rifle stock or thumbhole, I went standard in the Ghillie green color. I received it a few days later and was very impressed with the color option, more greys, khaki and pale green in color than I was expecting, and it looked great.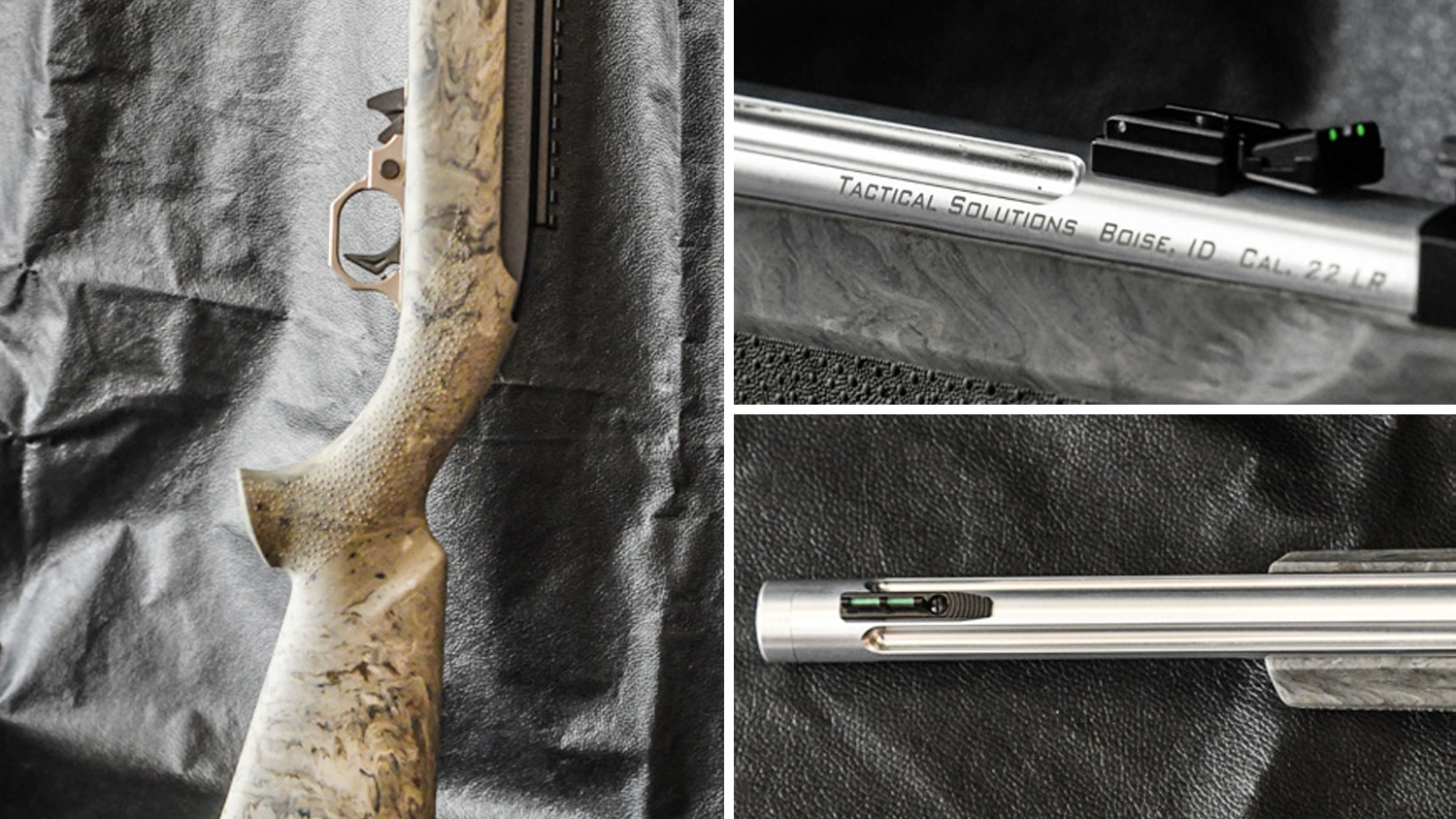 The only problem was it was for the .92-inch diameter barrel, and I only had the stock barrel. On my list of must-have parts was a TacSol barrel from Tactical Solutions. Based in Boise, ID, TacSol is a pioneer in the innovation of lightweight firearms and firearm barrels capable of precision accuracy. Since 2002, TacSol have been producing complete firearms and barrels, as well as suppressors, accessories and caliber conversions that are all USA-manufactured. If it is rimfire, then TacSol has your solutions for upgrading it, or you can select one of their X-Ring VR rifles available in several different configurations. I was overwhelmed with options as I clicked through their
website
but landed on their rifle page that had an X-Ring VR Open Sight Rifle with Hogue Stock, the same stock I had already received. BOOM! This is what I want to turn this Ruger into.
I clicked on the barrel selection and found the Open Sight X-Ring, machined from 6061-T6 aluminum with a rifled chromoly steel liner and a polished 11-degree crown for enhanced accuracy. The barrels are designed to make the 10/22 lighter, and the 16.5-inch barrel only weighs 18 ounces with an outside diameter of .920 inch. The open sight comes with ½-inch x 28 threads and a fully-adjustable rear sight with green fiber optics. There is a matching Gen2 green fiber optic front sight. The barrels fit all Ruger 10/22 receivers and most aftermarket-style receivers. There may be some fitting required. TacSol includes information on how to do this in the form of a video on their website. Using sandpaper and taking a little material off, depending on your receiver you may end up removing some of the anodizing, but you will be able to get a nice fit. I had my friend, world-class gunsmith George Huening work on it. He took a few passes on the barrel and had it fit into the receiver in a few short minutes. I was ready to head to my range with a race-ready Ruger. The overall weight with barrel now installed is 4.6 pounds and the overall length 34.16 inches.
I had been stocking up on Federal's 550 bulk pack of 36-grain .22 LR ammunition that you can get from Walmart for $20. This ammunition has run fine in the Ruger before the new parts had been added and I was confident that it would be fine after the upgrades. I loaded up all the 10-round mags and the 25 rounders, and went to work getting sighted in on the 50-yard bay. I started with the iron sights and with a few adjustments was easily tearing a ragged hole in X-ring of the target. The gun ran fine with no issues with the bulk pack ammunition. I took the Ruger to the
WSSC (World Speed Shooting Championship)
, where Eric Leach and I both shot it. Leach ran Rimfire Rifle Open (RFRO) in 84.46 time on the eight stages. We will not talk about my match; however, I will tell you that four of the times used for my classification in RFRO were used shooting this rifle.
Including the used Ruger, it was $160 for the rifle, $273 MSRP for the Volquartsen TG2000, $99.95 MSRP for the Hogue stock, $305 MSRP for the TacSol X-Ring Open Sight barrel for a total cost of $837.95. If you compare that to the X-Ring VR Open Sight Rifle from TacSol that is listed at $985, which comes with the TacSol premium receiver with stainless steel bolt and charging handles, the dual guide rod system, Picatinny rail, Ruger BX-Trigger and extended magazine release
—
you can see where the extra $150 is well spent.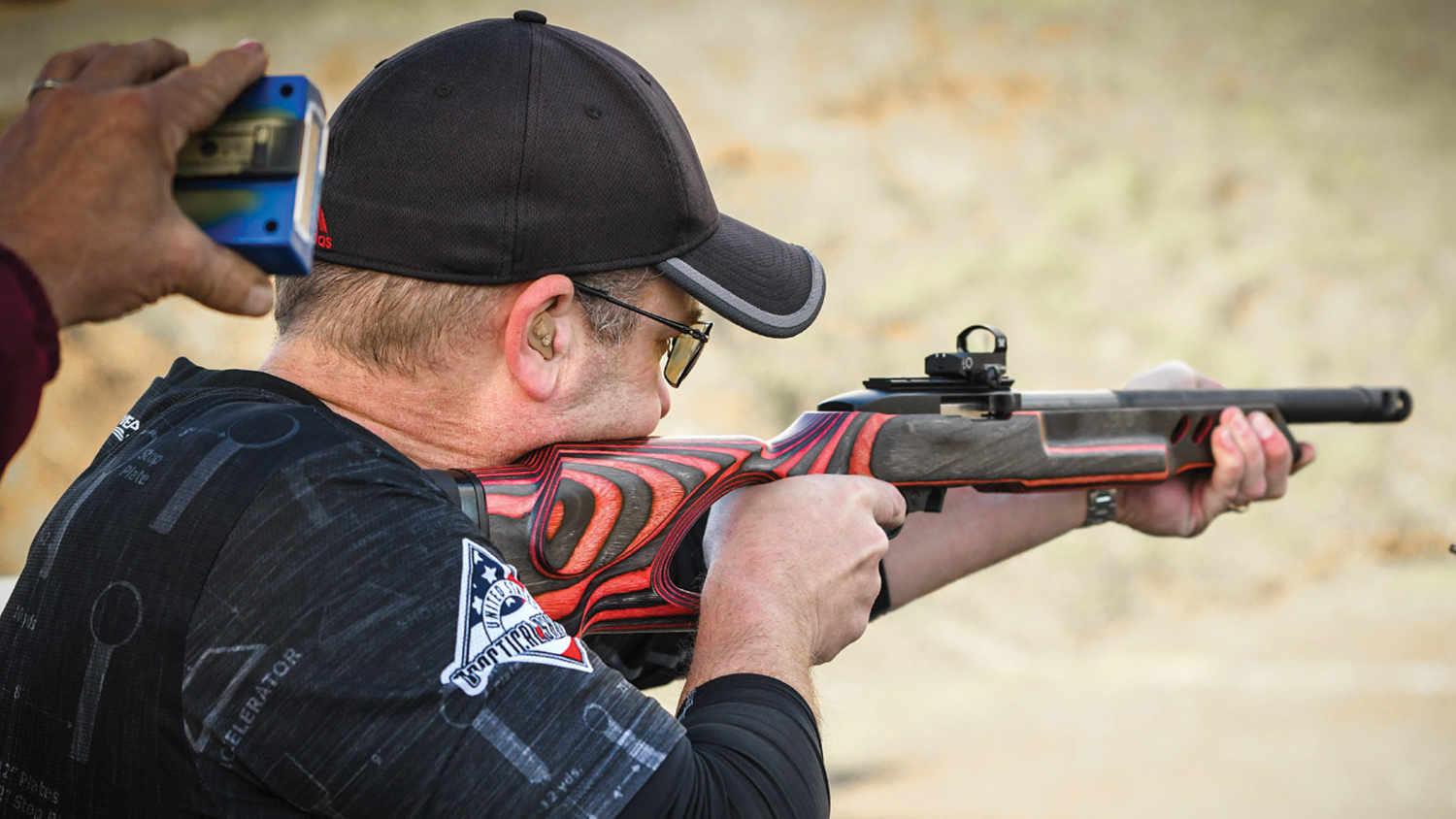 When it comes to rimfire, the
Ruger 10/22
has been the go-to model that has been in continuous production since it was introduced in 1964. It resonated with shooters upon release with its easy handling and simplified maintenance thanks to the construction and parts. The little carbine has been offered in so many different variations over the years that there are dozens of clones out there. This past year Ruger introduced their
Target Lite
, available in two different laminate stock color options, red/grey or black/grey. The spec page for the "from the box" racer is impressive with an adjustable length of pull laminate stock with thumbhole. The test model with the red stock is just sexy. Other features include the BX-Trigger with a crisp 2.5-pound pull with minimal overtravel and positive reset. The trigger is in a heat-stabilized, glass filled, polymer trigger housing assembly. According to Ruger, the design is impact- and abrasion-resistant.
This is a very good trigger for an off-the-shelf model, with a positive, push-button, cross-bolt manual safety and easy-to-use extended magazine release. This Target Lite comes with a cold hammer-forged barrel tensioned in aluminum alloy barrel sleeve and a ½-inch x 28 threaded muzzle. The barrel sports a 1:16-inch right-hand twist with six grooves and is 16.13 inches long. There are no iron sights; this model comes with a combination scope base adapter for both Weaver-style and .22 LR tip-off scope mounts. The overall length is 35.25 inches and the weight is right at 5.6 pounds. This model is made in Ruger's Newport, NH, facility.
Match shooting
I received this
Ruger
right before leaving for the Area 2 Steel Challenge Match, so I grabbed a red dot, screwed it on and headed out to California for the match. Once I arrived at the range I had about an hour before shooting the afternoon flight. I headed over to the sight-in bay, dialed in the red dot and ran a couple of magazines through the rifle with no issues. Steve Wright was running stats for the match and wasn't planning on shooting, but I handed him the rifle bag and some mags and told him to give it a try. He headed down to the sight-in bay and ran a couple of magazines of the Federal 36-grain ammunition I had brought. John Allchin was at the match and he handed me one of his rimfire rifle compensators. These are machined from solid bar-stock T6 aluminum and ready to fit any .920-inch barrel with ½-inch x 28 threads. We were set to shoot the match.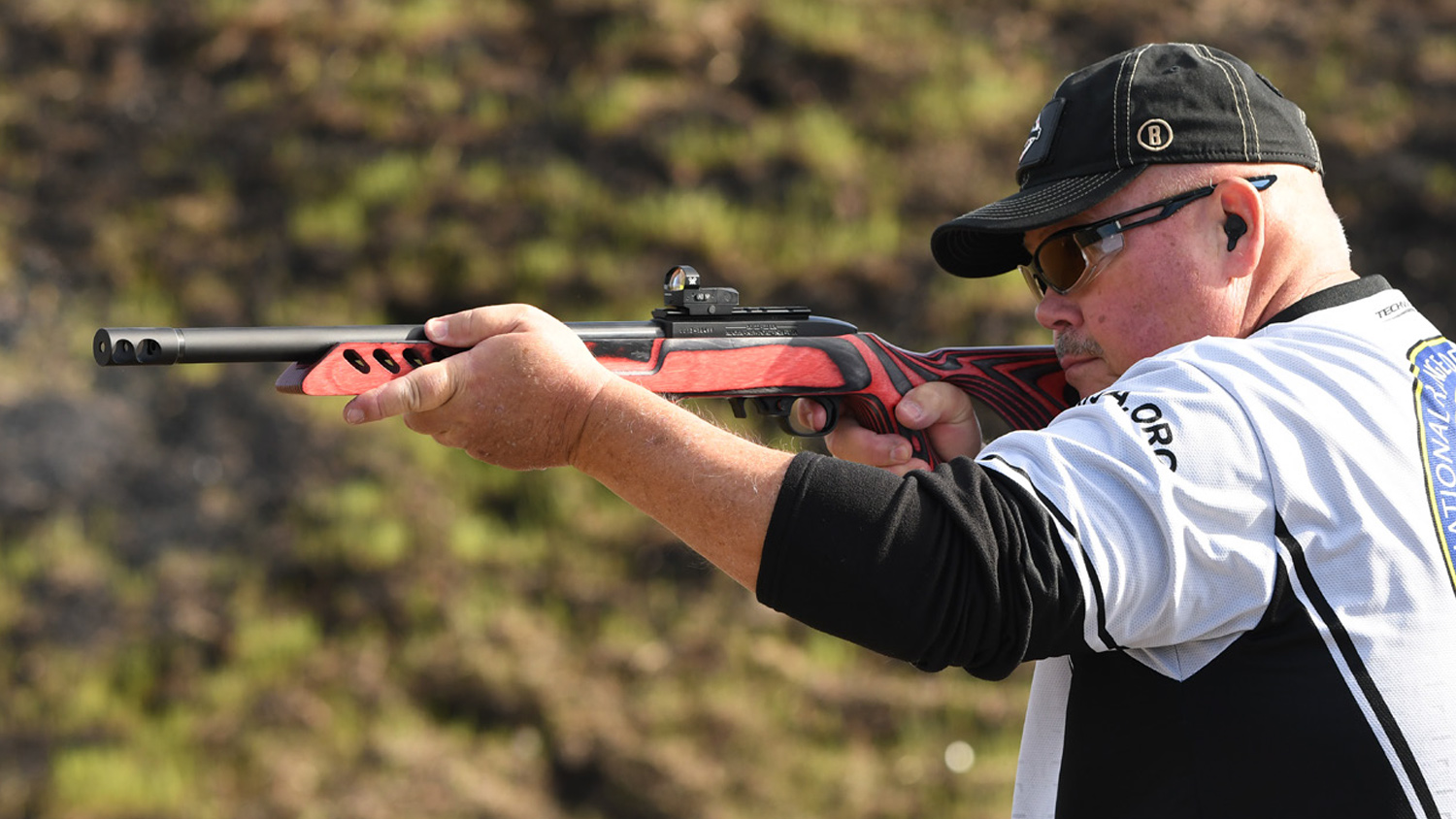 I had no issues for the first half of the eight stages that afternoon. Steve, on the other hand was having problems with extraction by his second stage. By the sixth stage, both of us were experiencing failures with it, and that was also using different ammo that other competitors offered to see if this was the source of our problems. Steve asked me if I had been having any problems before the match, and to his shock I explained that this was the first time it had been shot. This was a "from the box to the range" break-in. After I received my lecture about not using a match to break in a gun, and that apparently you should put some lubrication on the bolt before shooting it we headed down to the sight-in bay again to do just that. We made it through the match and four of my times are used for my classification in RFRO. Steve is a Master in RFRO but none of his times from the A2 match were used.
More testing
After getting back home from the Area 2 match,
Aron Bright
and I met up to do some additional testing. Before our range trip I ran a bore snake down the barrel and added some WeaponShield to the bolt. We tested the Ruger 10/22 on some Steel Challenge stages at an indoor facility. While testing we continued to use the 36-grain copper-plated Federal ammunition used at the Area 2 match. The gun ran well on this date with the sole malfunction being a failure to eject. Before we set up the courses of fire each of us ran several magazines through the gun. In total, we shot a little over 250 rounds.
The first course of fire was narrow version of Smoke and Hope. Our version of the stage was a little narrow due to space restrictions indoors. My times for the stage were 2.18, 2.17, 2.09, 2.18 and 2.03 seconds without a single miss. Aron's times were 2.19, 1.81, 2.03, 1.89 and 1.88 seconds with the correct number of hits. The second stage for the evening was a slightly condensed version of Five to Go. This stage required a bit more aiming. I ran it in 3.04, 3.18, 2.86, 2.84 and 2.84 seconds. Aron's times were 2.74, 2.69, 2.76, 2.56 and 2.95 seconds. The third stage of the evening was a home-grown stage with two steel plates set up on opposite sides of the range about 20 yards apart. We set up a USPSA target in the middle of the stage to serve as the stop plate. The distance to the targets from the shooting position was at least 15 yards. This small three-shot stage would be a great shooting test requiring long transitions. Aron's times were 2.21, 1.91, 1.74, 1.52, and 2.08 seconds. Mine were 2.26, 1.89, 1.78, 1.89 and 1.89 seconds.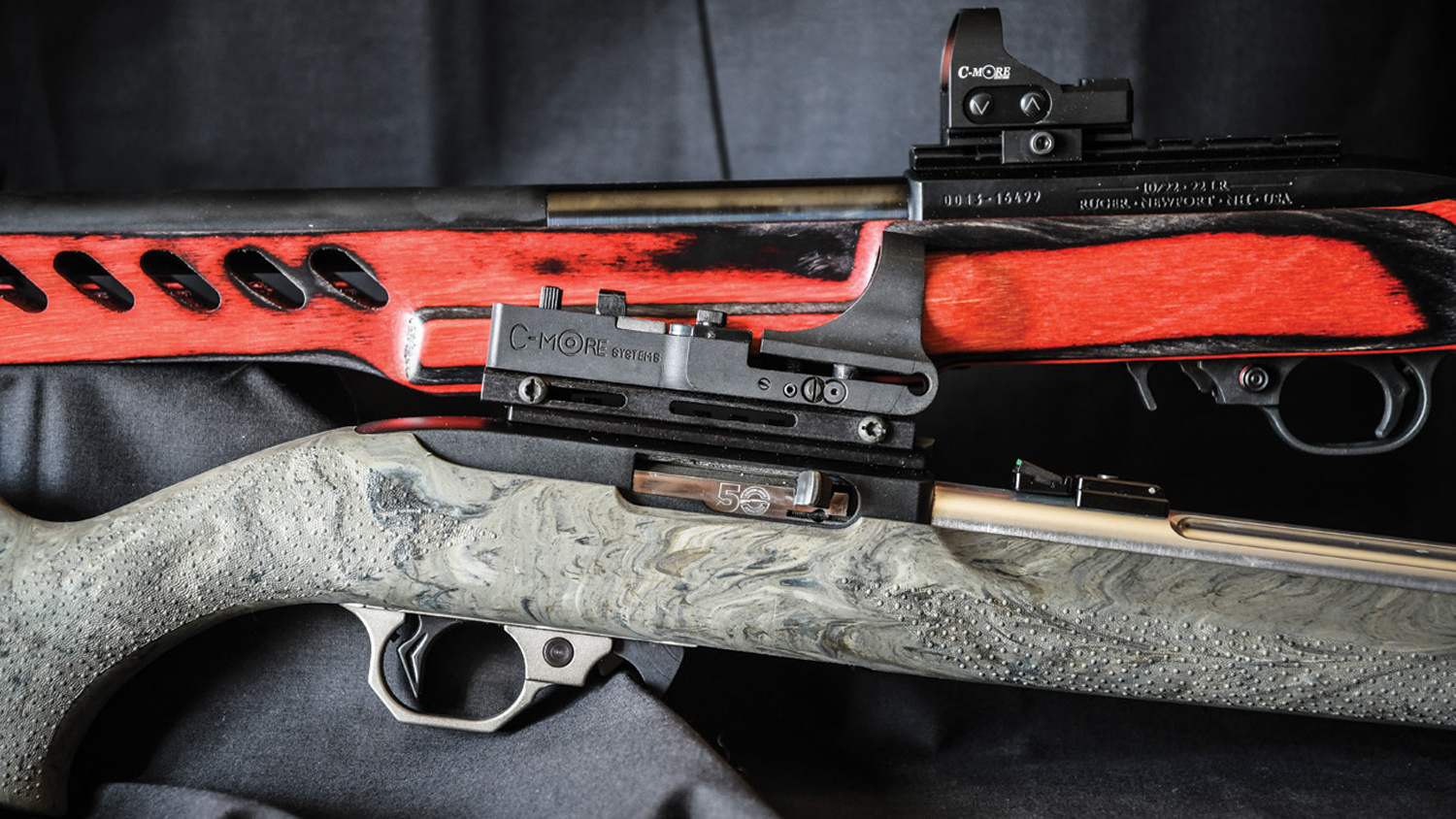 The MSRP for the Ruger is $649, but a quick search can find these as low as $502 (
www.budsgunshop.com
). Make sure that you are looking for the
Ruger Target Lite
because there is a
Take Down Lite
—
and new from the Ruger Custom Shop is a
10/22 Competition model
with a MSRP of $899.
From a street price of $500 to just under a grand, you can find off-the-shelf competition-ready models. Dig that old 10/22 out of the back of the safe and build your own, or the sky's the limit with custom builds. It is absolutely "the best of times" for rimfire rifle and
Steel Challenge
.
Article from the March/April 2019 issue of USPSA's FrontSight

 

magazine.