Steel Challenge is a game of speed. In order to be fast, you need a firearm that is fast-handling and quick to shoot. And you need a trigger that you can run fast—that means a quick break and short reset. This isn't something that you will find on most off-the-rack firearms, but luckily for us there is an aftermarket dedicated to better triggers, especially when it comes to the most popular rifle for Steel Challenge—the Ruger 10/22.
There is nothing quite like having a good trigger on a firearm. It could be an old, busted-up, worn-out hunk of wood and pitted metal, but stick a good trigger in that sucker and it changes everything. The old saying "You can't polish a turd" might apply to outward appearances, but a good trigger with a clean break and slick reset sure doesn't hurt shooting that old pile of parts.
I started collecting used 10/22s off the local "for sale" gun forum last year, and found myself with some downtime here recently, thanks to the world shutting down. So I decided to start doing some "polishing" on them by adding some new triggers.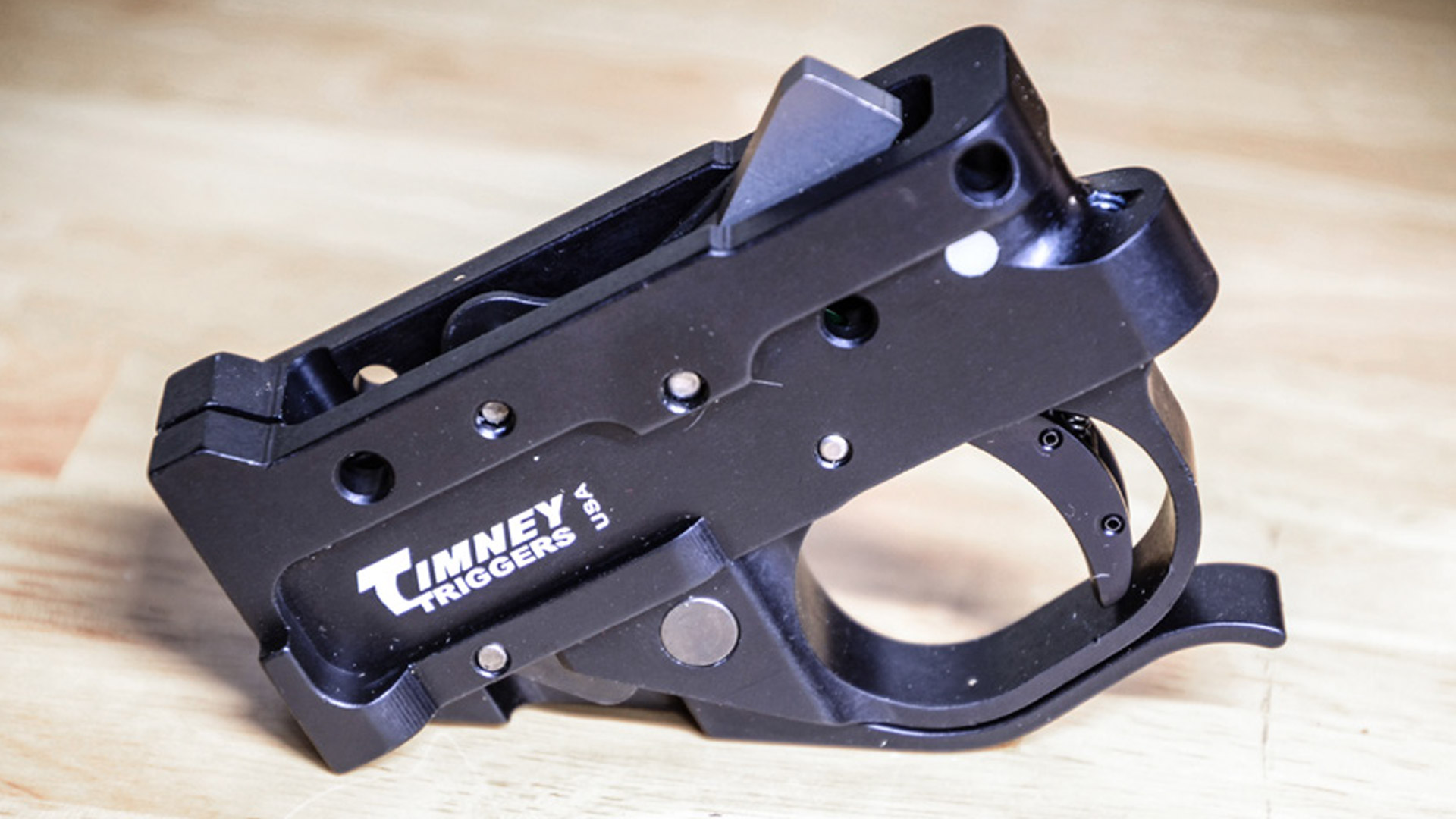 A Timney Trigger drop-in kit went into a Ruger 10/22 Target Lite, replacing the factory BX Trigger. Timney, building triggers since 1946, has been a family-owned business for two generations. The company offers this standard drop-in kit and also the Calvin Elite. I went with the standard model with a trigger pull factory-set at 2.75 pounds with no creep. The housing is machined from 6061-T6 billet aluminum, and the trigger as well as the sear and hammer are crafted from heat-treated steel that are WEDM cut. The Timney Trigger is made in the USA with a MSRP of $244.99, and is available with a black or silver housing and a variety of trigger colors. Each action is hand-assembled, calibrated and tested.
The Timney unit features an auto-bolt release, and the extended magazine release can be operated with one finger. On the Wheeler gauge, the average 10 pulls were 2 pounds, 12.8 ounces. The reset is positive, with minimal travel. The Calvin Elite trigger is listed on the website as having a 1.5- to 2-pound trigger pull, with an adjustable trigger shoe for length-of-pull, cast and height that allows for easy customization.
The next trigger I tried was from KIDD, and it went into an old beat-up Ruger 10/22 action that was in an Adaptive Tactical stock and barrel setup. KIDD offers a two-stage, single-stage and a trigger job kit. I went with the single-stage drop-in unit. The history of the development of the KIDD Two-Stage Trigger for the Ruger 10/22 is interesting. It started in 1996, while Tony Kidd was the Chief Pistolsmith for the U.S. Army Marksmanship Unit, where he served from 1990 to 1998. The initial prototype of the trigger was put into action, and Troy Lawton was the first person ever to win the Smallbore Silhouette Nationals with an autoloader, much less a 10/22. Over the next several years, Kidd went to work on developing the trigger housing and parts, eventually leading to a patent on the KIDD trigger.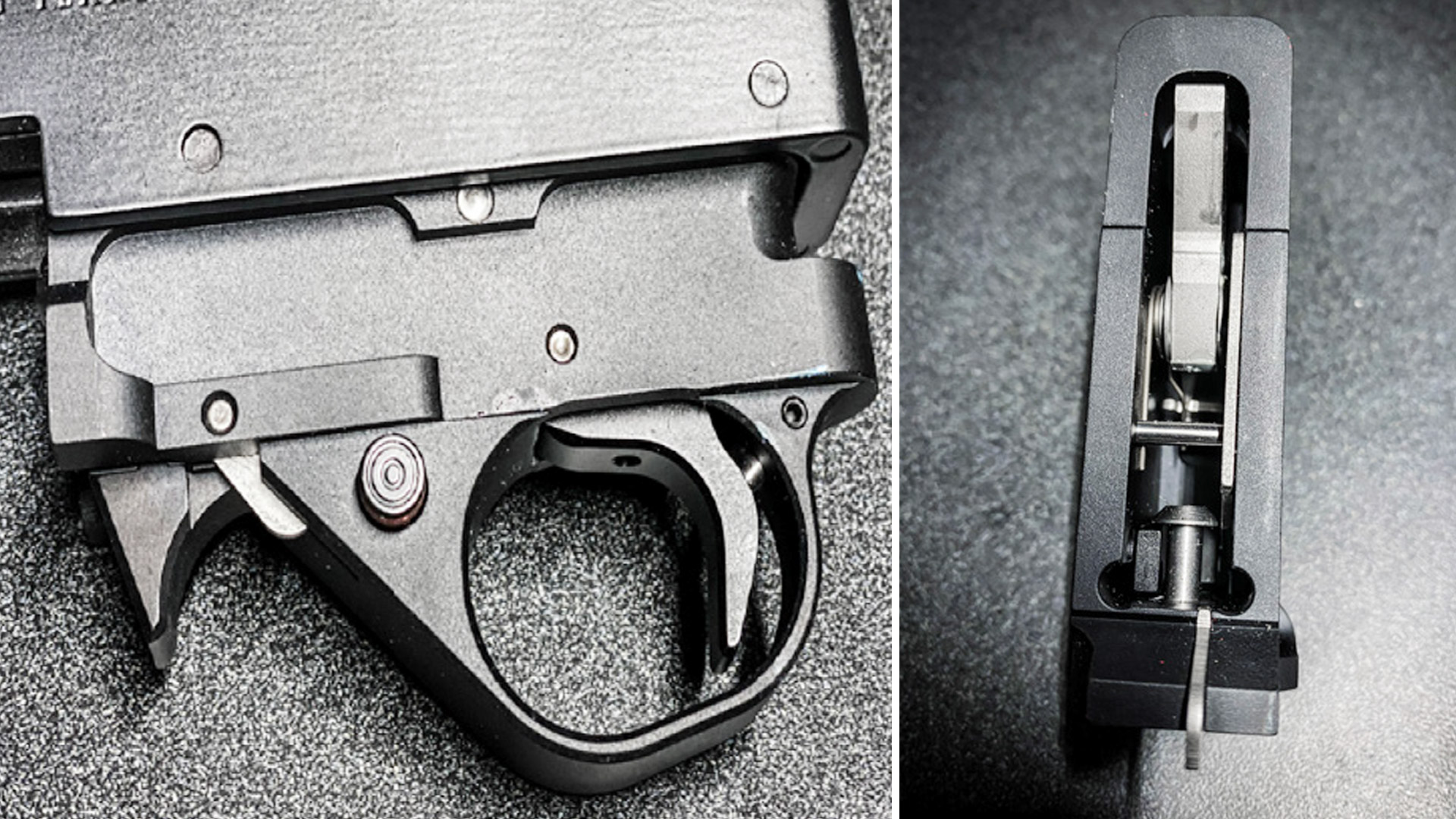 The drop-in kit is CNC-machined from billet to Kidd's specifications and is designed to adjust from 1.5 to five pounds with the turn of a screw. The unit features a redesigned laser-cut steel auto-bolt release and the interchangeable magazine release system. The extended medium comes with the drop-in unit, but there is a speed  long lever available. While there are a few machines that cut the parts, everything is assembled by hand at Kidd's manufacturing facility in Texas.
You can order the unit from weights ranging from 1.5 to five pounds and add the speed long lever as well. The trigger shape feels exactly right on your finger and sits at the perfect angle. One pound, five ounces was the average of 10 trigger pulls on the Wheeler gauge. There is only a hint of takeup before the crisp break, and even less movement for a positive reset. There was nothing that I would change or didn't like about this trigger. It hit everything just right for me. The MSRP is $235 with an additional $15 for get the speed long lever.
The Volquartsen TG2000 is designed to be a drop-in and not require any modifications. That was the case in putting the silver-colored trigger group into the Ruger. The trigger pull is factory-set and not adjustable by the end user, outside of pre-travel and over-travel. The website lists the trigger pull at 2.25 pounds, while on the Wheeler Engineering trigger gauge, the average of 10 pulls was two pounds, 2.4 ounces. The TG2000 trigger is wide with a flat surface, and the reset is a positive click with minimum travel. MSRP: $273.
Finally, I had my longtime friend and shooting buddy Bill DeZarn with me at the range when I was shooting these upgraded rimfires, and with each one he would smile as he was cranking off my ammunition. DeZarn said, "You know, a guy can get spoiled by a really nice trigger." He then asked me which rifle I was going to sell him.
Article from the September/October 2020 issue of USPSA's FrontSight magazine.
---
See more:
KC Eusebio Becomes 1st Competitor To Break 60-Second Barrier In Rimfire Pistol