by
at
USA Shooting
posted on July 19, 2023
Support NRA Shooting Sports USA
DONATE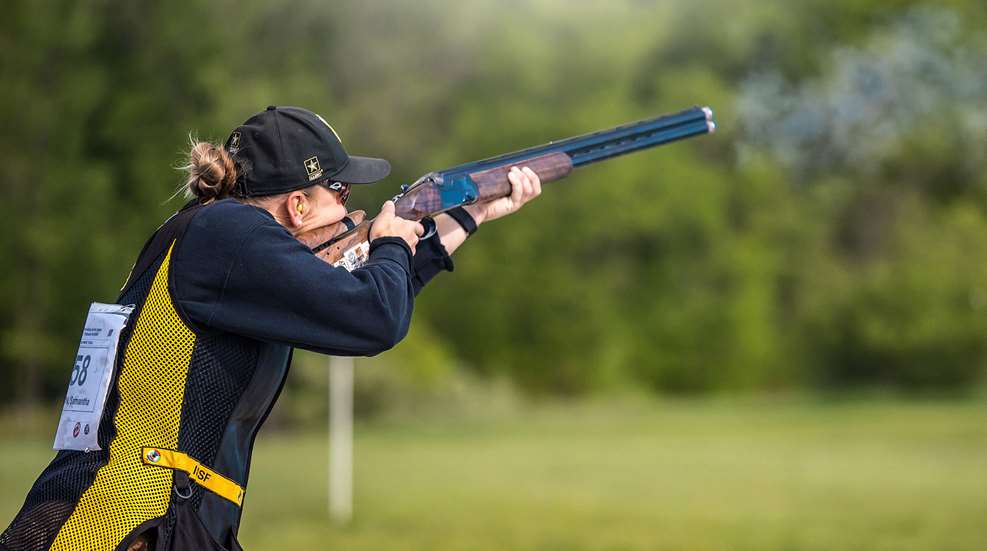 With only about a year to go until the 2024 Paris Olympic and Paralympic Games, USA Shooting athletes are hard at work training with the dream of representing America on one of the most important podiums around the world. 
The opening ceremony for the Olympics Games will take place July 26, 2024, and the Paralympic Games kick off their ceremony August 28, 2024. Our pistol, rifle, shotgun and Paralympic athletes are focused on securing quotas and winning medals in the crucial competitions leading up to the Games during their Path to Paris.
The road to Paris has been a unique one. Normally athletes have a full quad, or four years, in between the Games. This quad has been cut to three years due to the Tokyo Games being pushed back to 2021 because of the COVID-19 pandemic. 
Despite the challenges of training and competing during a global pandemic, USA Shooting athletes earned an impressive total of six Olympic medals in Tokyo. Vincent Hancock and Amber English earned gold in Men's and Women's Skeet. Will Shaner captured gold in Men's 10m Air Rifle. Kayle Browning earned silver in Women's Trap. Lucas Kozeniesky and Mary Tucker landed silver in Mixed Team 10m Air Rifle, while Brian Burrows and Madelyn Bernau earned bronze in Mixed Skeet Team. 
The medals earned in Tokyo brought USA Shooting's Olympic and Paralympic medal count to a whopping total of 121—58 gold, 32 silver and 31 bronze. USA Shooting also currently holds the most shooting sports Olympic gold medals of any country.
U.S. athletes came back from Tokyo hitting the ground running to prepare for Paris. Even with the stress of having less time to prepare for the Paris Games, our athletes have had incredible international performances in the last two years.
In 2022 alone, U.S. athletes earned 44 medals at the Championship of the Americas Games (CAT), 19 medals at the International Shooting Sports Federation (ISSF) World Championship, and more than 30 ISSF World Cup medals.
So far in 2023, the shotgun team has had incredible performances internationally and has racked up over 30 medals at ISSF World Cups. The Paralympic team had a great showing at the 2023 Changwon World Shooting Para Sport (WSPS) World Cup where they brought home two bronze medals.
USA Shooting has also secured 15 quotas for Paris. Each country is eligible for two quotas in each event. To date, the U.S. has earned quotas in the following events:
Pistol
Women's 10m Air Pistol: earned by Suman Sanghera at the CAT Games
Women's 25m Pistol: earned by Katelyn Abeln at the CAT Games
Rifle
Men's 10 Air Rifle: earned by Brandon Muske at the CAT Games
Women's 10m Air Rifle: earned by Mary Tucker at the CAT Games
Women's 10m Air Rifle: earned by Alison Weisz at the World Championship
Women's 50m Rifle 3 Positions: earned by Katie Zaun at the CAT Games
Women's 50m Rifle 3 Positions: earned by Sagen Maddalena at the World Championship
Men's 50m Rifle 3 Positions: earned by Ivan Roe at the CAT Games
Shotgun
Men's Trap: earned by William Hinton at the CAT Games
Men's Trap: earned by Derrick Mein at the World Championship
Men's Skeet: earned by Dustan Taylor at the CAT Games
Men's Skeet: earned by Vincent Hancock at the World Championship
Women's Trap: earned by Aeriel Skinner at the 2022 CAT Games 
Women's Skeet: earned by Dania Vizzi at the CAT Games
Women's Skeet: earned by Samantha Simonton at the World Championship
USA Shooting also has a Paralympic quota earned by Jazmin Almlie-Ryan in Mixed 10m Air Rifle Prone SH2. 
When an athlete earns a quota for the U.S. in a specific event, the U.S. then becomes eligible to have an athlete compete in said event at the Olympic Games. Athletes are only eligible to earn one event quota in a four-year Olympic cycle.
Athletes have a few more opportunities to earn quotas for Paris. The next chances will be at the 2023 ISSF World Championship in Baku, Azerbaijan, August 14 to September 1, and then at the 2023 Pan American Games in Santiago, Chile, October 20 to November 5.
More big events on the Path to Paris are the Olympic and Paralympic trials. Pistol, rifle, shotgun, and Paralympic disciplines all have their own trials procedures. 
Shotgun held part one of their trials earlier this year in Hillsdale, Michigan, at the John A. Halter Shooting Sports and Education Center. Their second part of the trials will tentatively take place in the Spring 2024 in Tucson, Arizona, at the Tucson Trap and Skeet Club. 
Rifle and pistol will be having part one of their Olympic trials at Fort Moore, Georgia, at the U.S. Army Marksmanship Unit range this September 28 to October 3. Part two for their trials will coincide with the 2023 Winter Air Gun Championship at the U.S. Olympic and Paralympic Training Center in Colorado Springs, Colorado. Part three will take place in the spring of 2024.
The Paralympic rifle and pistol trials part one will also coincide with the 2023 Winter Air Gun Championship this December. Their second and third parts of the trials will take place next spring.
Supporting our athletes during this critical time leading up to the Paris 2024 Games is essential for their success. Most folks are surprised to learn that USA Shooting, and the rest of Team USA, are nonprofit organizations and receive no government funding. In fact, the U.S. is one of the few countries that receives no government funding for their Olympic and Paralympic governing bodies. 
Learn how to support USA Shooting and our talented athletes at usashooting.org.