by
at
USA Shooting
posted on June 6, 2023
Support NRA Shooting Sports USA
DONATE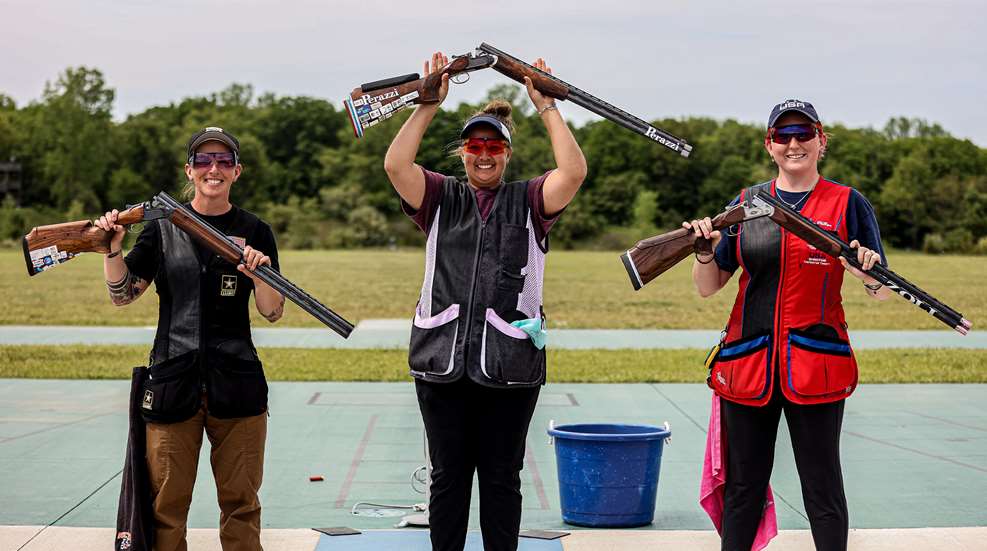 Ashley Carroll of Solvang, California, and Derrick Mein of Paola, Kansas, are the 2023 USA Shooting National Men's and Women's Trap Champions.
The competition was also part one of the U.S. Olympic Trials for the Paris 2024 Summer Games. The match was held May 23-28 at the John A. Halter Shooting Sports Education Center at Hillsdale College, Hillsdale, Michigan.
Carroll, who returned to competition after taking two years off, claimed gold with a score of 226. Carroll, the 2019 World Champion in Women's Trap, outshot Rachel Tozier of Pattonsburg, Missouri, who finished second with 223. Ryann Phillips of Gail, Texas, finished third overall with a score of 221.
Derrick Mein, the 2022 Men's Trap World Champion, was first place in the finals, securing additional points to his overall score of 237. He won first place overall for open men, edging out Seth Inman of Lexington, Missouri, the runner-up with 233. Logan Lucas of Pacific, Missouri, finished third overall after beating Derek Haldeman in a shoot-off.
Junior National Champions were also crowned at the annual competition. Phillips not only took third in the open women's category, but she also won the title of Junior Women's National Trap Champion. Phillips took first after besting Carey Garrison of Crossville, Tennessee, who placed second overall. Ava Downs of Muskego, Wisconsin, earned third place overall for junior women.
Ramsey Bodeen of Eagle River, Alaska, claimed the Junior Men's National Trap Championship title. Bodeen outshot Cole Prince of Sweetwater, Tennessee, who placed second overall. Matthew Kutz of Goliad, Texas, finished third overall after winning a shoot-off against Emilio Carvalho.
The 2023 Pan American Games team and 2023 Junior World Championships team were also named based on scores from this competition and a previous match earlier this year. Athletes will represent America at the following competitions.
Pan American Games
Alicia Gough
Rachel Tozier
Derrick Mein
William Hinton
Junior World Championships Team
Kaleigh Castillo
Taylor Dale
Carey Garrison
Ryann Phillips
Ava Downs
Matthew Kutz
Ramsey Bodeen
Caleb Cutler
Owen Bin
William Browning
The following categories were also awarded medals.
Men 18 and under
Connor Lynn, gold
Kaleb Horinek, silver
Max Hatfield, bronze
Women 18 and under
Taylor Dale, gold
Lucy Myers, silver
Micaela Velasquez, bronze
Men 15 and under
Ajay Jarrett, gold
Mason Myers, silver
Ethan Hemsath, bronze
Women 15 under
Allison Fisher, gold
Anne Tichotsky, silver
Men collegiate
Emilio Carvalho, gold
Lance Thompson, silver
Thommy Brown, (Columbia), bronze
Women collegiate
Aiko Coloso, gold
Ida Brown, silver
Marian Zerby, bronze
PARALYMPIC
Standing Lower
Seated
Upper Ladies
Upper Men
Senior
Scott Miller, gold
Dave Senter, silver
Jerry Hopp, bronze
International
Alessandro De Souza Ferreira, gold
Cynthia Meyer, silver
James Dedman, bronze
See the full results of the match at this link.
Learn more about USA Shooting at usashooting.org.