by
at
USA Shooting
posted on October 23, 2023
Support NRA Shooting Sports USA
DONATE
Sagen Maddalena earned the title of 2023 Pan American Games Champion in Women's 10m Air Rifle and set a new Pan American Games finals record and qualification score record in Santiago, Chile, on October 22.
"During the final shot, my heart rate was going about a thousand beats per minute, but I came down on the target and held," Maddalena, a Groveland, California, native and 2023 World Championship bronze medalist, said.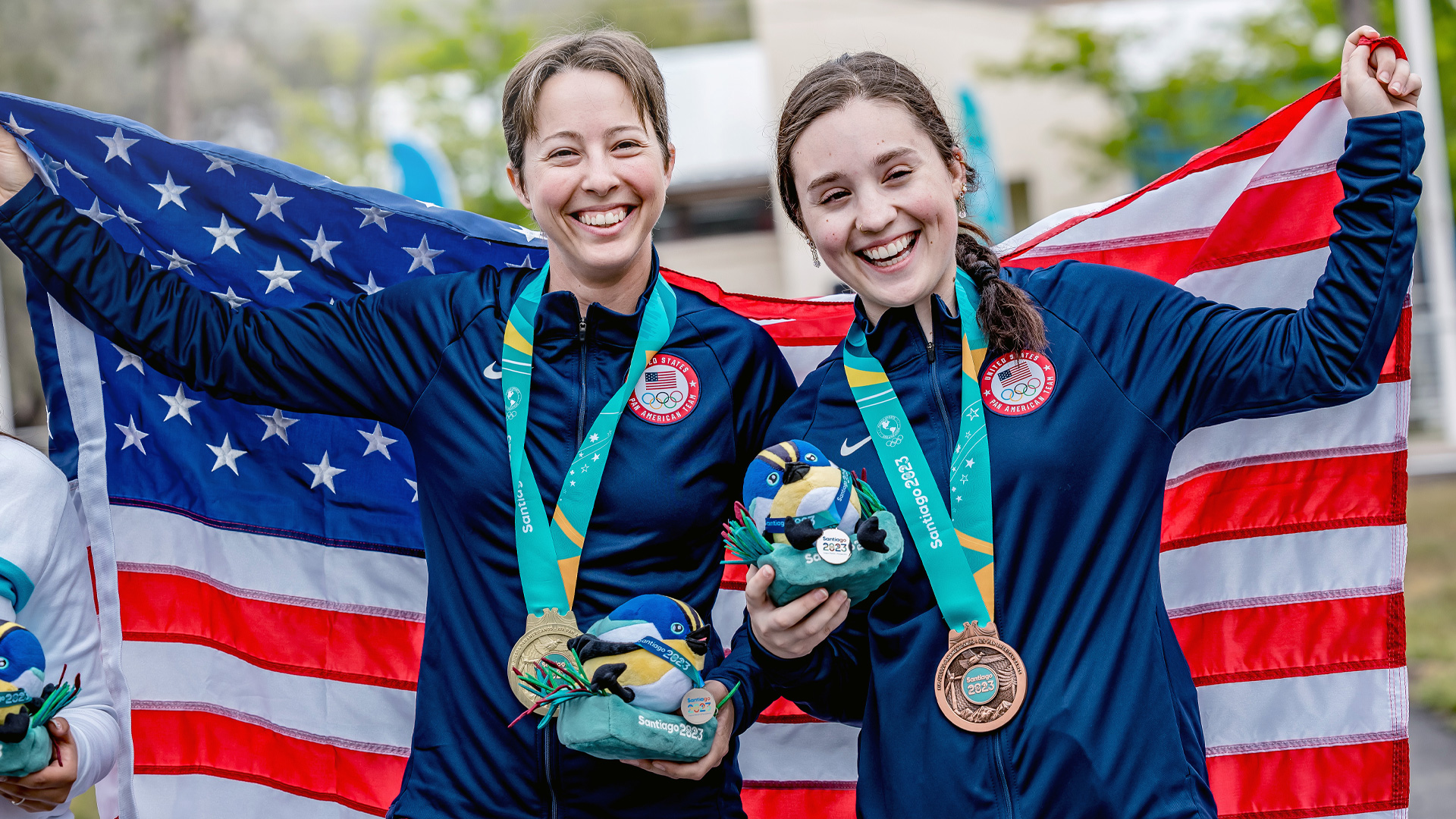 Maddalena, who made her Pan American Games debut in Santiago, shot a final score of 249.5, capturing the gold medal by besting Fernanda Russo of Argentina who shot a score of 248. Russo was closely followed by Mary Tucker who placed third in the final, joining Maddalena on the podium.
"Humbly saying this, we are the best team in the world, and we have all put up some amazing scores, so this is huge," Maddalena said. "I was talking to Lucas Kozeniesky before I got ready for the final and I said, 'this is going to be a hard final, it will be tough.' It is never walking in and just shooting. You have to put a lot of work into it."
Tucker also made her Pan American Games debut in Santiago. Tucker, the 2020 Tokyo Olympic silver medalist, qualified for the Pan American Games by winning gold at the 2021 Junior Pan American Games in Women's 10m Air Rifle.
"This means a lot to me," Tucker said when asked about the importance of her medal. "I was not sure what to expect coming into this but being here and seeing how much it means to all the other countries and knowing how big of a delegation the United States has is crazy."
Alison Weisz, a 2020 Tokyo Olympian, qualified for the final alongside Maddalena and Tucker. The entire American Women's Air Rifle team competed in the finals, taking three of the eight slots. Weisz finished fourth overall, triumphing over Goretti Zumaya of Mexico.
Rylan Kissell earned the United States a third shooting medal by finishing second overall in the Men's 10m Air Rifle. Kissel won his silver medal by ousting Christian Morales of Peru, who finished third.
Kissell, a Denver, Colorado native, also qualified for the Games by winning gold at the 2021 Junior Pan American Games.
Gavin Barnick shot alongside Kissell in the final after securing his spot through the qualification round. Barnick, who is a Mora, Minnesota, native, finished fifth overall.
USA Shooting athletes will be competing in rifle, pistol and shotgun events at the 2023 Pan American Games through October 27. You can view live scores at this link.
Learn more about USA Shooting at usashooting.org.