Pat Farmer hadn't felt the weight in his hands in almost 60 years. After five decades, the memories flooded back as his fingertips grazed the wood of the stock and gripped it tightly. It was a piece of his personal history, and the history of his country, that his eyes hadn't seen since he was a teen—and now, it's a relic he'll be able to keep for the rest of his life.

The 74 year old from Jacksonville, NC, is retired military who served 26 years in the U.S. Marine Corps. He was raised on a farm in Nebraska where he became familiar with guns at an early age, but his first true rifle range experience wasn't until he joined the armed services.

As a teen, Pat became impressed by the Marines and enlisted his senior year on a delay program. On August 30, 1960, he officially left for the Marine Corps Recruit Depot in San Diego, CA, to attend boot camp—where he celebrated his 18th birthday. Upon arrival, he was issued M1 Garand #4305638. The firearm soon became a close companion as he spent countless hours with it on the "Grinder"—a Marine Corps term for a deck or parade ground used for drill and formations.

Pat was eventually selected for aviation school after infantry training and shot on the rifle team while attached to a Reserve unit. He went on to shoot expert rifle at the Camp Mathews rifle range, and he also shot competitively at a local club.

"It was some of the best and most rewarding years of my life," he said.

Many years later, Pat one day went through an old locker box and found his custody receipt from January 27, 1961, when he turned in his boot camp rifle before transferring to aviation school. Curiosity set in as he wondered whatever became of M1 Garand #4305638—and the idea of finding it overcame him.

"I had purchased a few rifles from the old DCM, so on a whim I decided to contact CMP to see if my old M1 had ever passed through their system," he explained.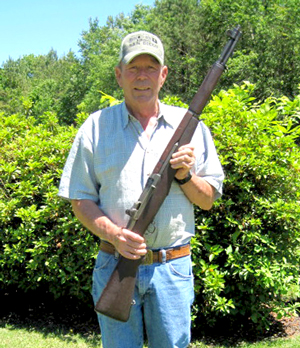 In October 2013, he contacted customer service and was put in touch with Jennifer Smith, the serial number/inventory clerk. To Pat's amazement, he learned that the very same rifle he used in boot camp was stored at the CMP facility and was still Army property. Unable to distribute the rifle until the Army formally turned it over, Jennifer informed Pat that it may take some time until he's able to see his rifle again.

Individuals often are looking for rifles that they or a family member carried during a time of military service. Unfortunately, with thousands of them around the world and heavy restrictions, success in locating specific rifles is rare.

"I have been in the serial number/inventory department for approximately eight years, and there have only been about five rifles that have been reunited," Jennifer said. "If we do not find the rifle in our current inventory when we are contacted, we keep the serial numbers and periodically will search again in case it has been received in new shipments."

Rifles can be tagged for an individual if in inventory. At that point, it's still a waiting game until the day the Army releases the item. After being released, staff members are able to verify the serial number, inspect and grade the rifle, then send it off for purchase.

Unfortunately, as in the case of Mr. Farmer, it can take years for the process to carry out, depending on how deep the crate is buried in the warehouse.

Pat was in contact with Jennifer about every six months to see if anything had changed—if his rifle had been released. Then, a little over three years later on March 20, 2017, Jennifer contacted Pat and told him the Army had released more rifles—including his. After 56 years, Pat was reunited with M1 Garand #4305638.

"Fifty-six years ago, we drilled and did the manual of arms with M1s as if they were matchsticks. It seems much heavier now!" he said with a laugh.

Bringing it back to life, Pat began to fieldstrip the rifle. As he got to the trigger housing of the gun, he found something that he couldn't believe—tape with his name and markings on it. It read, "Farmer 20/8L." Pat believes it was his 500-yard dope—twenty clicks elevation, eight clicks left windage.

The visible inscription is proof of the rifle's limited use after it was issued to Pat. And now that it is back in his hands, he intends to give it a couple of nostalgic trigger pulls, then put it in a place where its history can be admired for years to come.

"I'm going to shoot a few rounds, clean it and put it in the safe," he said. "I'll take it out occasionally, and try to do the manual of arms correctly. One of my grandsons will eventually get it."

Think a certain rifle you are looking for may be in a CMP warehouse? Contact Jennifer Smith at [email protected], or call at 256-835-8455 ext. 137.