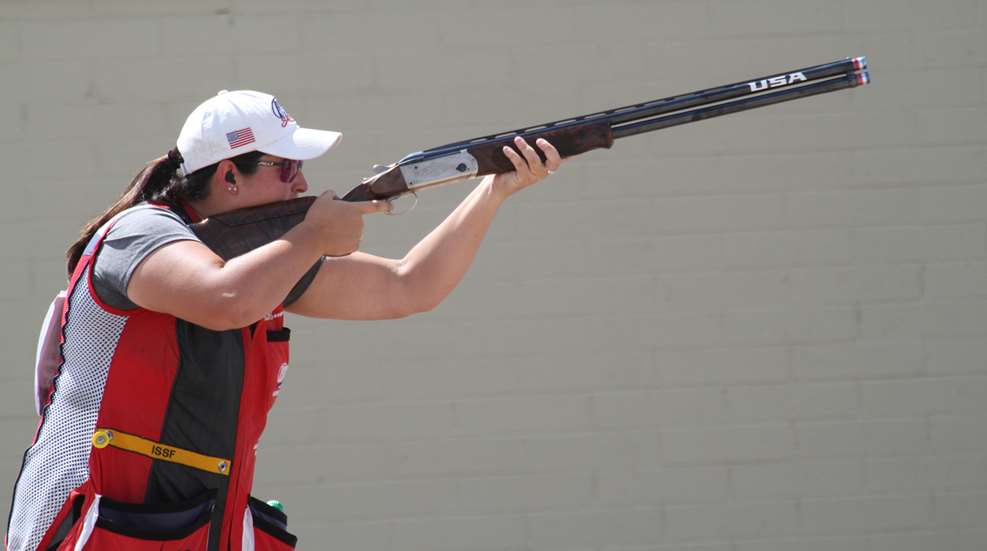 International Skeet
 (pictured above) is a demanding discipline, much more difficult than the American game. The field is the same as that for American Skeet; seven stations on a semi-circular course between two target throwing houses and an eighth station at the mid point between the houses. Each round of skeet is 25 clay targets, but the similarity ends there. International targets are thrown faster and farther than American targets. Doubles are shot from stations three, four and five, and a delay of up to three seconds from the time the target is called for until it is thrown is permitted. Even more challenging, the shooter must call for the target with the gun butt held below waist level.
American Skeet
has been a popular shotgun sport since its origination in the 1920s as a means of practicing wing shooting. As with International Skeet, the fields are physically identical. Two target throwing stations are used, in houses behind the first and seventh stations, to throw targets that meet at a point midway between the houses and 18 feet in front of the number eight station. Competitors shoot singles and doubles from stations one, two, six, and seven, and singles from stations three, four, five, and eight. A shooter repeats the first target missed as an option bird for a total of 25.
American Trap
is the oldest shotgun game, having originated in England before the American Revolution. Its present form developed after the invention of the clay target by George Ligowski about 1880. In American Trap, a single target throwing machine is located at a point 16 yards ahead of an arc on which have five shooting stations. The thrower, or trap, propels birds at a variety of angles up to 22 degrees on either side of a line between the center of the trap and the center of station three and at a maximum height of about 17 feet. A regulation target travels some 50 yards at a starting velocity a little under 60 mph. Shooters fire on five targets from each station, for a total of 125 targets for the squad in each round.
International Trap,
is a variation on the true international sport that uses a single trap, variable for height as well as for horizontal angle. The game is called Automatic Trap or Wobble Trap. The target thrower in Wobble Trap can throw targets within 45 degrees from the center line between the trap and station three and at heights that vary from 40 inches to 13 feet above the trap house roof. Like International Skeet targets, International Trap targets are thrown faster and farther than American targets. However, unlike American Trap, an International competitor may fire two shots at each target thrown.
Photo by USA Shooting