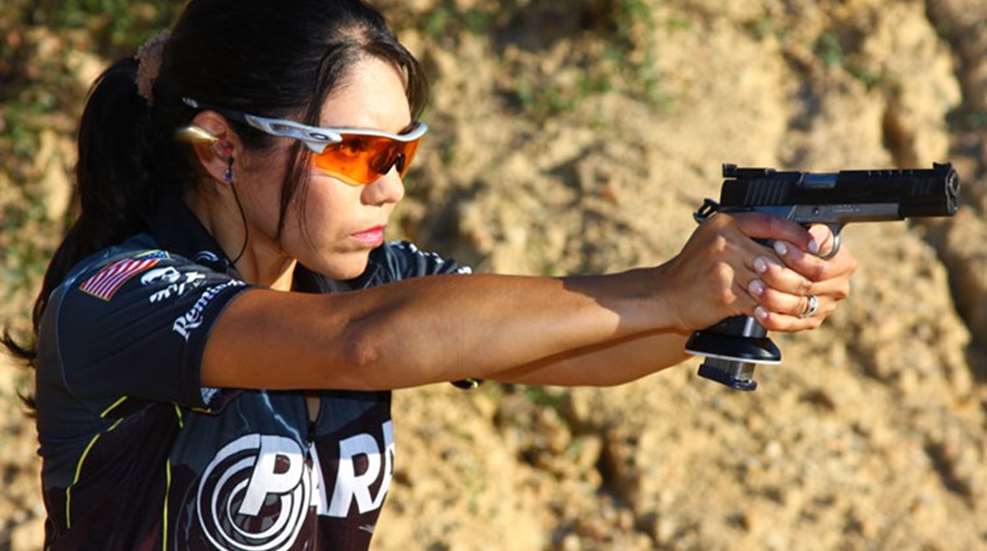 Both eye and ear protection are required in most shooting facilities, and where they are not, are highly encouraged at all times. An individual's eyes are vulnerable to a number of potential hazards, such as flying parts or particles, while shooting, handling or cleaning a firearm.

There are many different types of eye protection on the market today. Even though prescription glasses do provide some a barrier between hazards and the eyes of the wearer, they do not provide the best protection available. Safety glasses or goggles with tempered glass or synthetic lenses that are specifically designed for shooting or industrial-type work are recommended. For the best protection, purchase a model that wraps around the eyes, providing coverage on the sides of the face as well.

There are also various shades and tints available for different lighting conditions. Although these do help shooters see better under different conditions, they do not provide any better protection than a clear lens.

Just like the eyes, ears are just as important to protect. Research has shown that exposing an unprotected ear to a single gunshot can cause a degree of permanent hearing loss. Therefore, it is important to wear hearing protection when participating in, or within the proximity of shooting.

Most hearing protection comes in two forms―earplugs or earmuffs. Earplugs tend to be made of flexible material that fit in the auditory canal and reduce the strength of sound waves. Some models of earplugs can be molded to fit an individual's ear by a professional. Earmuffs cover each ear with a cup filled with foam or other sound-reducing material and are held together by a band that goes over or behind the shooter's head.

Both plugs and muffs come in electronic versions with circuitry that allow normal sound waves to pass through the device, such as conversations, but dampen high-intensity sounds able to damage hearing. Electronic versions are excellent for competitive shooting, especially when range commands can sometimes be difficult to hear, however the prices will be somewhat higher than traditional models.

For best results, choose hearing protection that has a Noise Reduction Rating (NRR) of at least 22, or wear both plugs and muffs together.

Do you have a question about competitive shooting or equipment? Email your questions to [email protected], or leave us a comment in the section below. We look forward to hearing from you.