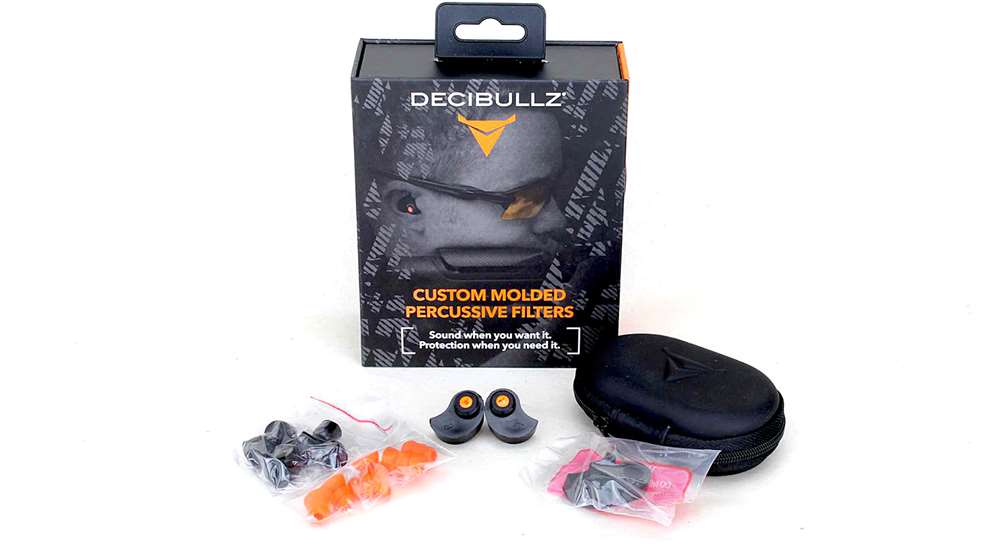 Custom-fit earplugs that block the sound of gunshots while permitting normal hearing are not confined to the world of expensive microelectronics. You can mold the affordable Decibullz to your ears by yourself with nothing more than a cup of hot water, and the percussive filters need no batteries. Here's one less chance for Mr. Murphy to accompany you to the firing line.

Hearing protection devices that dampen gunshots while still permitting normal conversation aren't new, and neither are custom molded earplugs, but Decibullz has put those two features together in a package with two more trumps: you can custom fit the earplugs yourself, and they include no electronics. And when you want electronics, you can accessorize the Decibullz Custom Molded Earplugs to accept Bluetooth wireless, or wired earphones for other activities off the shooting range.

And here's another option: you can buy the Decibullz with or without the percussive filter. Without it, after molding the outer portion to fit your ear, install the provided plastic plugs and the Decibullz act as ordinary molded earplugs that dampen all sound with a noise reduction rating (NRR) of about 31 dB. To install the percussive filter, simply pop out the plastic plug and pop in the filter; now you can hear range commands and ordinary conversation while the filter reacts to dampen gunshots.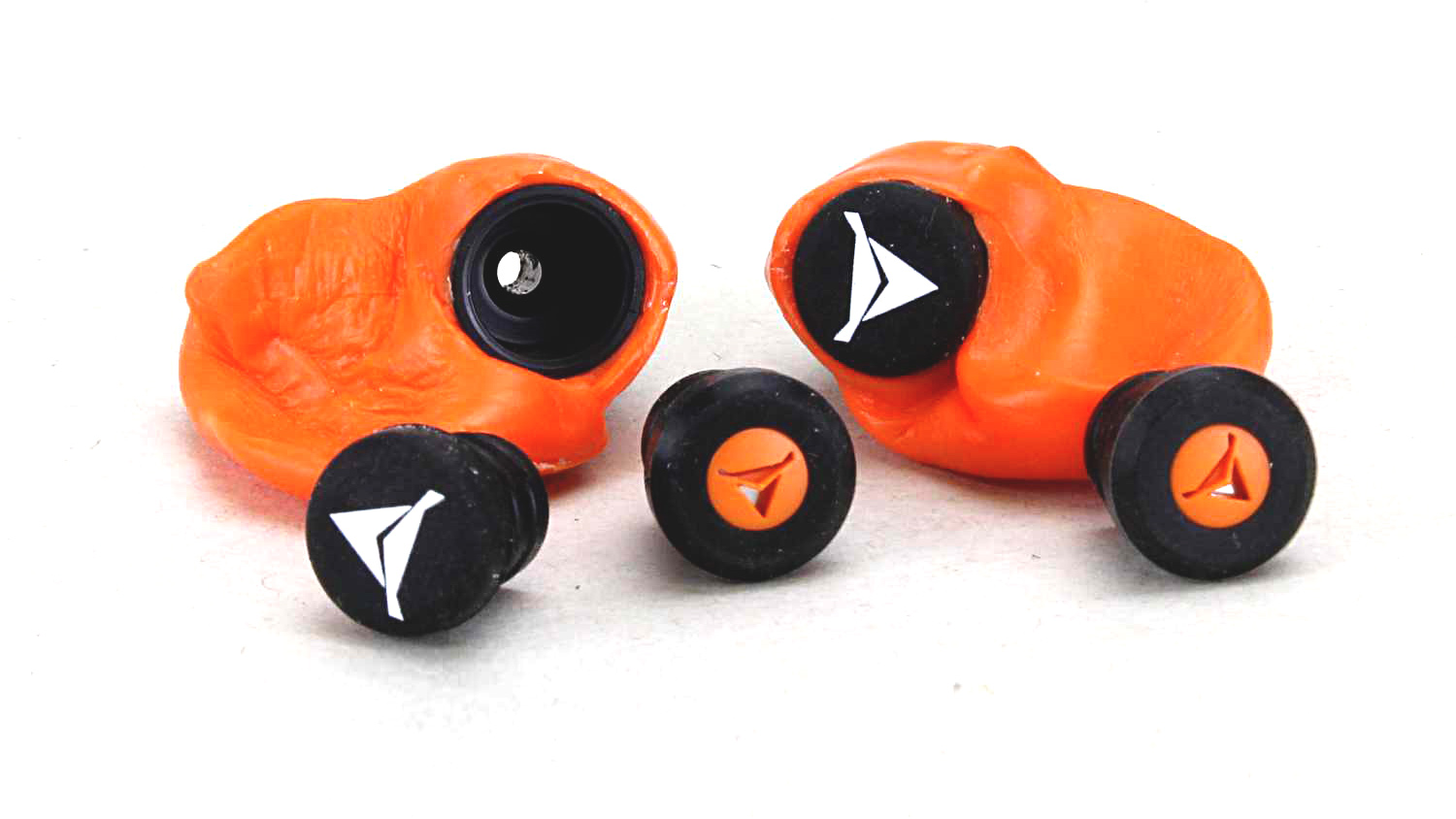 Easy fit
The tiny Decibullz percussive filter physically moves in response to the increase in air pressure created by sound. Simplified, think of the Decibullz percussive filter as a valve that stays open until a loud noise such as a gunshot strikes it, whereupon it slams shut. While that may sound unsophisticated, it's actually rather hi-tech and—two thumbs up here—the Decibullz needs no batteries and has no electronics for Mr. Murphy to get into.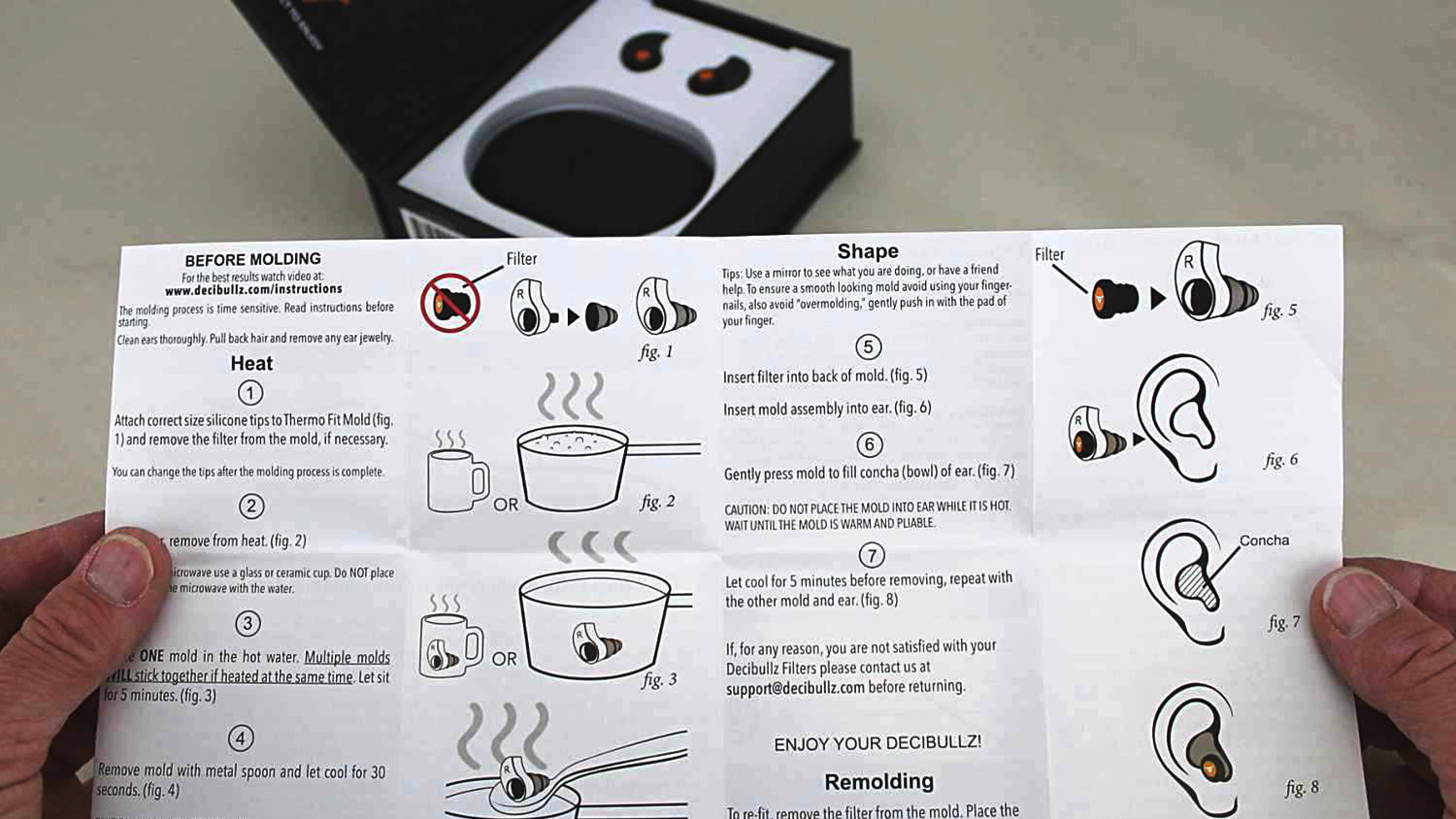 The Decibullz Custom Molded Percussive Filters package comes with a pair of moldable units already approximately shaped to the left and right ear conchas (bowls); a pair of filters; three pairs of replaceable silicon tips and a like number of rubber tips; a zippered carrying case; and an extra pair of moldable units to fit for a friend (though they'll have to purchase the plugs or filters separately).

Molding is simple enough that you can do it yourself with the aid of a mirror. Basically, drop the moldable unit in hot water for a few minutes, remove and let cool just enough to not be uncomfortable to handle, then insert it into your ear and mold it with your fingertips to fit. You've got a few minutes to work with it before it cools and hardens. Now you can pop in either the plastic plug or the percussive filter.

The really nice thing about the setup is that if you fumble in fitting the moldable unit, just drop it in hot water to re-soften it, and try again. The hardened material is washable, but pop out the percussive filters first.

All day play
Comfort is as subjective as pain; sure, we each have our own pain limit, but how do we quantify comfort? We can illustrate it in the subjective experience: I find the Decibullz comfortable enough for a full day at the range, and they perform as well pulling targets in the pits where the dominant sounds are bullets snapping overhead and old guy "I been there" conversation, as they do on the firing line. Though I haven't yet tried it, there seems no reason why the Decibullz percussive filters wouldn't work for some field applications such as duck hunting, varminting or dove shooting, as well. They allow directional hearing at pretty much normal levels, and because air circulates through them to the ear canal, they maintain their comfort level for extended periods. Also, of course, they don't interfere with mounting the buttstock of a rifle or shotgun.

If you've been casting about in search of the perfect reactive hearing protection device, it's tough to beat something with the comfort of custom fitting, works as well with long guns as with handguns, and is uncomplicated by failure-prone electronics. If that sounds good, then check out Decibullz.

Decibullz Custom Molded Percussive Filter sets are available at www.decibullz.com for $74.99; with plugs instead of filters, $25.99.