While writing is her first love, it wasn't long after starting in Precision Rifle Series competition that Lara Spanic discovered her true calling. Now, she is an accomplished precision, 3-position and air rifle competitor. Find out what she keeps in her range bag.
What are your first memories of handling a firearm?
My first rifle was a Ruger 10/22, the 50th Anniversary edition. I enjoyed shooting it just for fun. However, it wasn't until Jim Kauber at The Site let me shoot his scoped precision rifle—an Accuracy International AX308, at 300 yards—that I truly became hooked.
Tell us how you began in competitive shooting?
I began competing in the Precision Rifle Series in 2017, both because it was fun and I realized that when I shot, everything else in the world just faded away. In 2019, I started shooting 3-position and air rifle. I wanted to expand my horizons with a different challenge—PRS requires precision because of the distance, but 3-position and air rifle are in a whole different ballpark. For 3-position, the bullseye is 10.4 mm at 50 meters. In air rifle the bullseye is 0.5 mm at 10 meters. That's the size of a period in 12-point font.
Please share with us some of your recent shooting accomplishments.
This year I won the ASSA National Intercollegiate Club Smallbore and Air Rifle Championship, which was a big deal for me. I was the Wisconsin State Smallbore Position champion twice in a row—also the first woman to ever win that award. Since July of this year, I have been a nationally ranked competitor in 3-position. I'm also a member of the Forster Pro Staff and have represented the company at SHOT Show in Las Vegas. In addition, I've been a precision rifle instructor at The Site since 2021.
What firearms and other gear do you use for competition?
For long-range, I shoot a rifle built by TS Customs chambered in 6XC with a MasterPiece Arms BA Competition chassis, Benchmark barrel, Defiance Deviant action and TriggerTech trigger. I load my own ammunition for longrange as well, using Alpha Munitions brass. All of these companies sponsor me. Without their help, it would be much more difficult to compete. For my other disciplines, I shoot a Walther KK500 for smallbore and a Pardini GPR1 air rifle.
My favorite accessory for long-range is the Area 419 RailChanger. Area 419 has helped me a lot since I started competing. They actually gave me the first RailChanger ever produced— serial number 0001. It's a plate that attaches to the front of the stock and holds an Armageddon Gear Game Changer bag. It made movement from position to position in PRS matches much easier. In For 3-position and air rifle, I enjoy using the MEC 3D Grip, which is light 3D-printed plastic that wicks moisture and is moldable to your hand with just a little heat.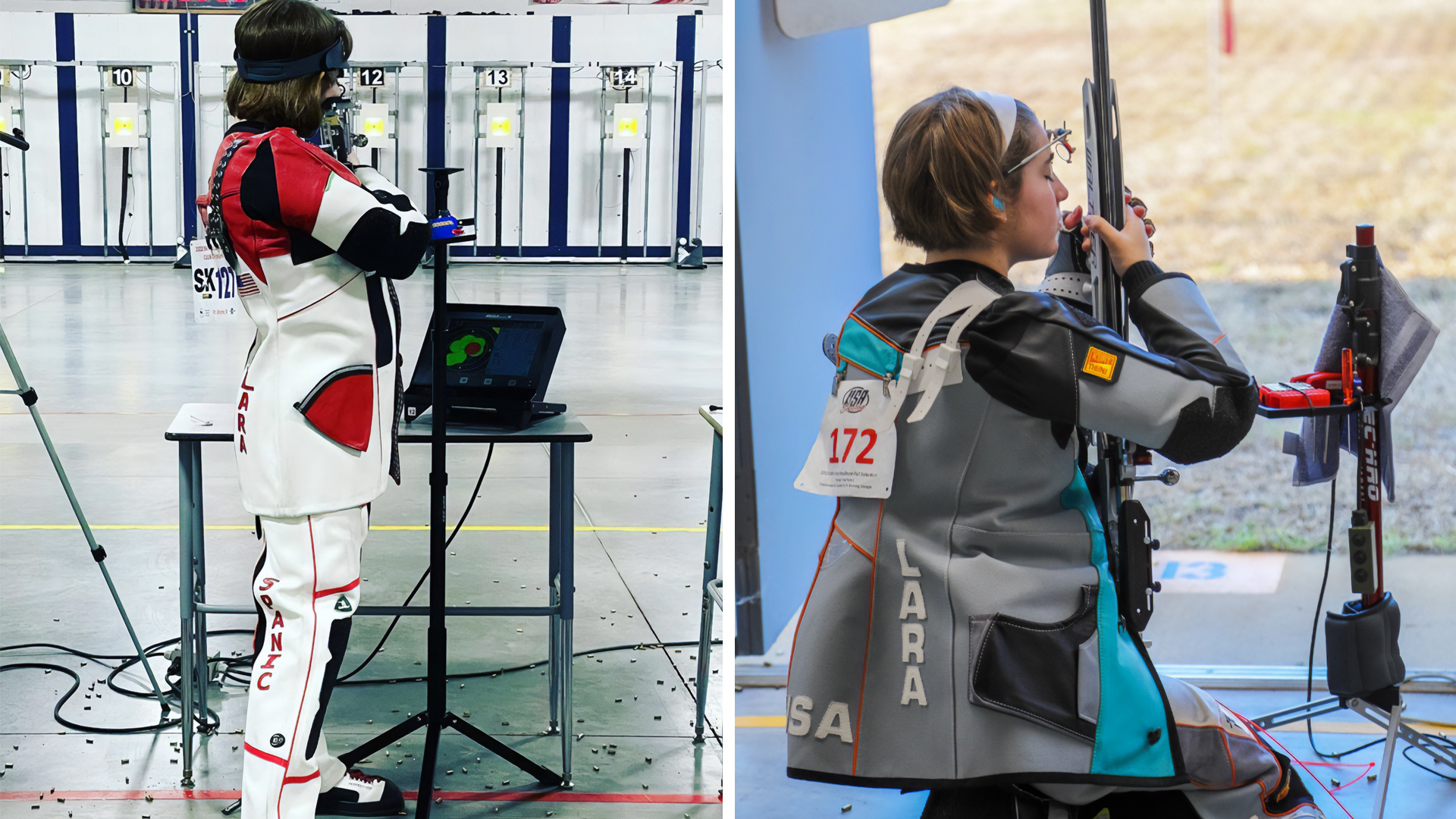 Tell us about your range bag and what you carry in it besides your firearms?
I use an Ogio for 3-position and air rifle, and an Eberlestock backpack for long-range. The Ogio carries tons of equipment. I'm able to fit everything in it—and trust me, that's a lot of stuff—with room to spare. The Eberlestock has a scabbard to carry my rifle at matches, and space to fit loads of gear. There's also a metal support rack at the bottom to help with load-bearing with a full pack.
I store my rifles in separate cases, but in my Ogio, I carry my shooting suit, kneeling roll, boots, shooting stand, ammunition, wrenches and other tools, shooting gloves, spare parts and other accessories. Usually, I also keep a washcloth or two with me, in case I'm shooting in the heat and need to wipe sweat away, paint markers to mark any adjustments, snacks for longer matches or if I need a quick refill before I shoot, plus my notebooks. In my backpack I keep my support bags, such as my Armageddon Gear Game Changer, magazines, ammunition, knee pads, hand warmers for cold matches, Kestrel 5700 wind and weather meter, data book, a thin rain jacket, rain pants and a cover for my gun (rain gear came in handy while I was shooting a match in Florida during a tropical storm), snacks and water.
Regardless of the discipline, if I'm shooting outside in the summer, I also carry sunscreen, bug spray, tick repellant and a cooling cloth. A bout with heat exhaustion once at a match taught me that lesson.
What would you tell someone interested in finding out more about your sport?
If you're interested in learning more about long-range shooting, I recommend taking a precision rifle course at The Site. For 3-position and air rifle, USA Shooting's website has information about rules, procedures and competitions. Also visit YouTube, where you will find many recorded Olympic and World Cup final matches to watch and learn from.
Any tips for new shooters?
Focus on the shooting and remember your basics. Trigger pull, natural point of aim, follow-through and focusing on the front sight—not the target. If you pay attention to the fundamentals, everything else will be so much easier.