A meaningful tradition began on
Max Michel's
fifth birthday when he rece
ived a .22LR rifle. From there, his shooting passion quickly progressed. But that's no surprise. As a youngster, Max's father was involved in competition shooting and Max really just wanted to hang out with him. When his dad competed, Max would be the "range boy." After a while, he wanted to do what his dad did. So, at just nine-years-old he started competing in man-on-man steel plate matches every Friday night in New Orleans, LA. Not only was it a great way to bond with his dad—it also kept Max out of trouble.


Being a young shooter has a way of maturing a person rather quickly. Perhaps it's being around older people so often, or maybe it's the responsibility that shooting involves. Max shot to be able to spend time with his dad and because he simply loved it!


Max primarily runs the 9 mm
SIG Sauer P320
along with the SIG Romeo 1 and Romeo 3 optics. He believes this platform is amazing and truly a versatile pistol that can be used in so many different ways. Max is honored to have played a role in marketing this pistol which was selected to be the
new sidearm
of the U.S. Army.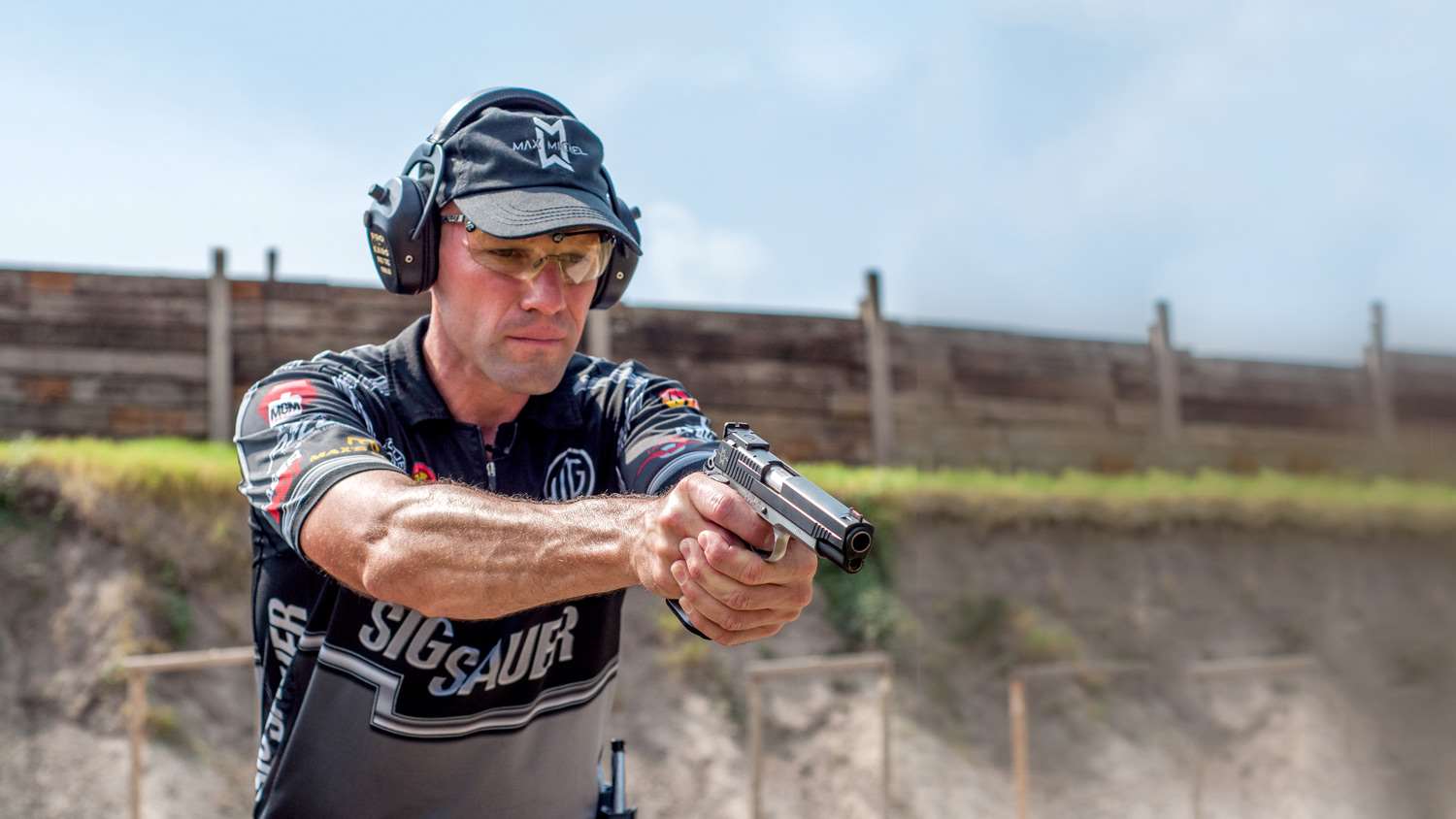 The P320 with the red dot optic, Romeo 1 and Romeo 3 are Max's favorite accessories. He has always shot optics, but the
P320
is fairly new to the general public. If you haven't shot a red dot optic in the past, Max highly recommends it. The dot is a self-correcting tool and will teach the shooter so much about what the gun is doing and why. It simply makes a shooter better for so many reasons and it's a ton of fun!


For his range bag, he uses the DAA/CED Medium Range Pack. The backpack allows him to carry much of his gear in specific pouches for organizational purposes but also weight isn't an issue. The straps allow him to distribute the weight on his shoulders and not his lower back. This DAA/CED Medium Range Pack was designed specifically by shooters and has everything one would need to store their gear.


As one might imagine, Max typically tries to keep his range bag relatively clean with gear that is important.
Pilla performance eyewear and Pro Ears Pro Tac Gold hearing protection 
Uplula mag loader
Otis 3-Gun cleaning kit and Otis ripcord
Hogue knife
Spare optic batteries
Mag cleaning brush
Tool kit and small spare parts that could potentially break down in the gun or mags
Sunscreen
Lip balm
Hand sanitizer
Lead wipes
Medical tape, Band-Aids, and Medical kit
If someone is interested in getting involved in competition shooting Max suggests that they visit
SSUSA's
Coming Events
or
USPSA.org
to gather more info and find matches in their area, then visit a local match and ask as many questions as possible. Everyone will be willing to help—the shooting sports are a family with really good people willing to help in every way.
Be sure to get training early. There is a lot of info available on YouTube and social media these days—but nothing beats training with a true professional instructor to speed up your learning curve. Max offers training all around the world through his
"Max Michel Training Academy"
and the Max Michel Pro Shooter Experience, a VIP Shooting Camp held in Las Vegas each year.
Max spent just over 10 years in the U.S. Army with the Army Marksmanship Unit. It was a true honor for him to serve his country and his service made him the man he is today. Max continues to live by the Army values and instills them into his children as well. In his free time he hangs out with his wife and children. His boys are 11 and nine, and his little girl is five. They are very active kids and he's involved in all of their extra-curricular activities. Max enjoys coaching their sports teams more than anything!
Oh, if you're wondering if Max continues the fifth birthday tradition the answer is, "Yes!" His children have also each received a firearm on their birthdays.