L
ike most kids Tony Holmes got
started with a BB gun and a .22 rifle plinking can
s. He spent many days behind his grandparents' barn setting up bottles and cans to shoot. He'd position himself up in the hay loft, kick open the door and shoot the rats and snakes crawling through the garbage pit. His first actual hunting experience was with his Dad when they started with squirrel, then progressed to rabbit, pheasant, deer and coyote. Eventually, he moved on to competitive shooting.
Tony began to compete in 1974 at the age of 13 in NRA
High Power
and
Smallbore Rifle
matches. Coached as a youngster by his father, a law enforcement officer and competitive shooter himself, he introduced Tony to handgun shooting. Encouraging his son with many long hours of practice on the range, led to Tony competing at multiple local and state matches. Tony's first out of state
match was in 1983 at the Second Chance Bowling Pin Shoot in Central Lake, MI. Finishing in the top 10 at the revolver event, Tony won his first gun. This win was the catalyst to what has now become not only Tony's passion to compete, but an on-going love for the shooting sports.


Accomplishments:
2016 2nd place Midsouth Shooters Supply Crawfish Cup
2015 4th place Trijicon World Challenge
2015 2nd place Fallen Brethren 3-Gun
2014 3rd place 3-Gun World Championship Open
2014 Overall Champion Superstition Mystery Mountain 3-Gun 
2011, 2006 2nd place Bianchi Cup Open/Metallic Aggregate
2010, 2001, 1997, 1996 Bianchi Cup Team Champion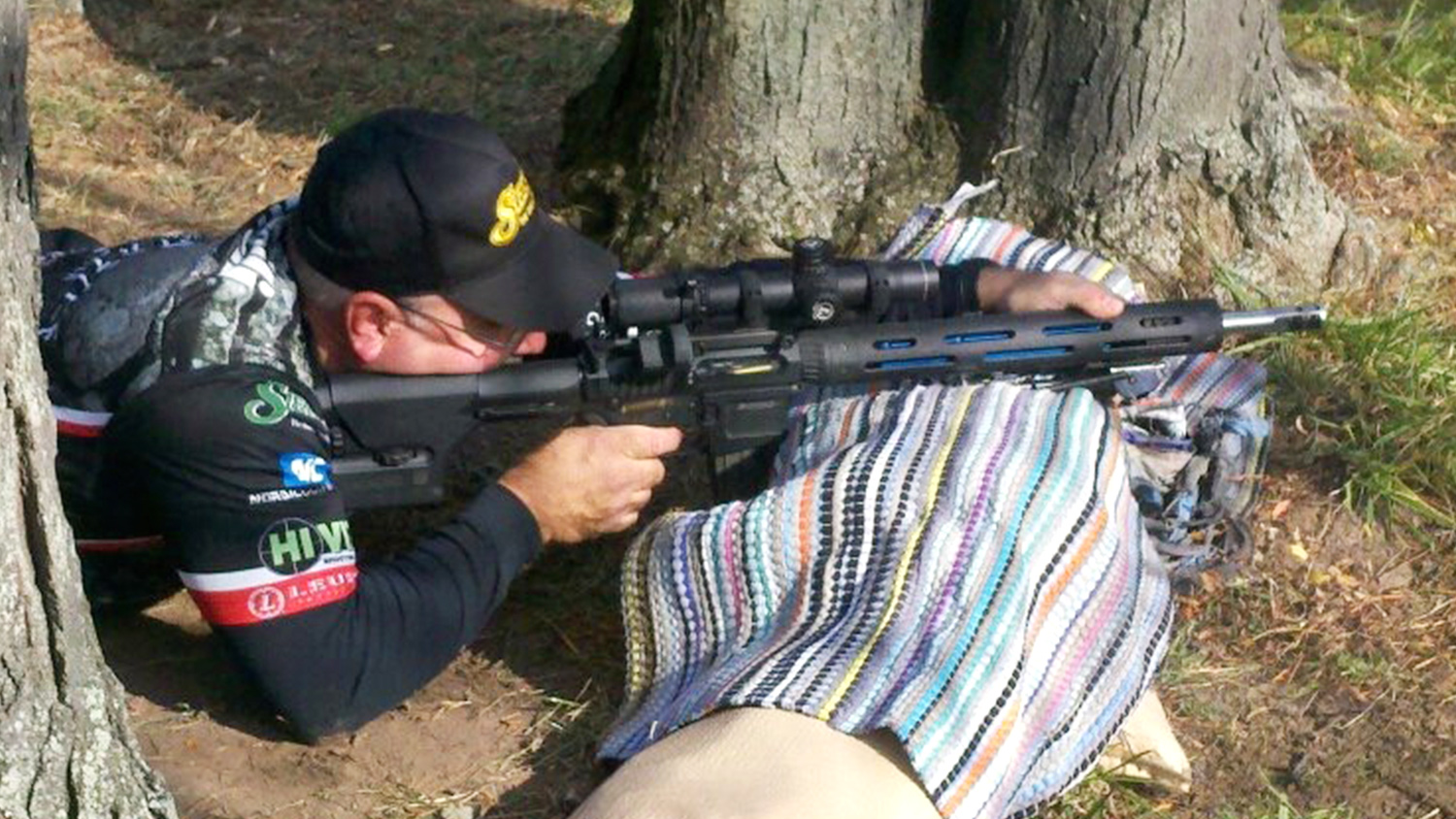 When Tony competes in 3-Gun he shoots a STI 2011 in .38 Super for his pistol. His rifle is the JP Enterprises CTR-02, .223 Rem. with a Leupold Mk6 1x6 along with Delta Point Pro red dot, and finally for shotgun the Remington Versamax 12-gauge by RCI XRail. He wears a Safariland 014 holster for open division or 578 for tactical division, with ELS belt system and 773 mag pouches.
For IPSC, Tony competes in a few different divisions. He uses a STI in .38 Super with a Leupold Delta Point Pro for open division or a STI in .40 S&W for limited. The Caspian 1911, .40 S&W or .45 ACP for single stack division. For Production division he prefers a GLOCK 34 in 9 mm, and the Smith & Wesson 625 .45 ACP for revolver division.
For
NRA Action Pistol
, Tony shoots a Caspian 1911 in .38 Super with an Aimpoint red dot sight in open division. And for ICORE Revolver, he shoots a Smith & Wesson 627 8-shot in .38 Special with Hartco moonclips and a CR Speed revolver holster.
For a
range bag
Tony carries the Vertx Range Bags which come in different sizes. For long gun he uses the Safariland 3-Gun bag. Tony carries extra magazines, small spare parts for all the guns, extra mag pouches, tools, earplugs, ear muffs, shooting glasses, lens cleaner, a cleaning rag, choke tubes, elbow pads, range finder, batteries for sights and enough ammo to go through a stage twice, in case of a reshoot.
For those interested in
getting started
in any of the shooting disciplines, Tony points out that you don't have to break the bank. Any stock firearm can get you started. Add a holster, a couple of mag pouches, some extra mags, ammo and you are ready. Find someone that's involved at your local range to walk you through the safety aspects and equipment needed for the match. You'll need to walk before you run, just like most things in life. Good gun handling and safety come first. Speed will come in time. Learn to be accurate and hit what you aim at. As his father once told him, "Don't wish one down range, you can't bring it back because now it becomes only a wish." Getting better gear or custom firearms can come later if you decide to raise your game. Practice, practice, and then practice some more! You get what you put into it when it comes to shooting.