From the August 2013 issue of
Shooting Sports USA
.
Vera Koo has been shooting competitively for over 20 years in IPSC, Steel Challenge, Colorado Man-on-Man Shoot-Offs, Master's 3-Guns, Bullseye and Action Pistol. Sponsored by Aimpoint, Vihtavuori, Lapua, Caspian and Briley, she has specialized in Action Pistol for over a decade, claiming the Bianchi women's title eight times. Her cool demeanor, combined with her West Coast/Bay Area charm and Zen-like personality, make her an icon in the shooting world.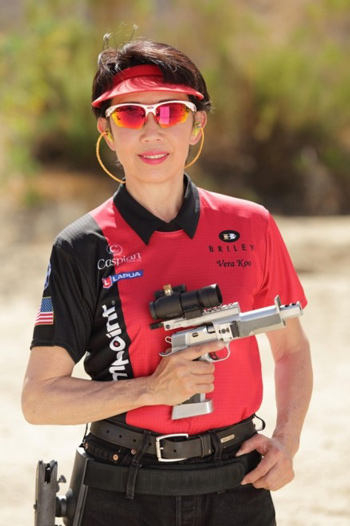 Her open-class Bianchi pistols have been built around a Caspian 1911 frame by Don Golembieski (Kodiak Precision), Garth Peterson (Nowlin Custom Guns), and former Indy race car crew chief George Huening. She uses custom loads from Atlanta Arms and Ammo and Load-X Company with Vihtavuori N320 powder, Hornady 115-grain XTP HP bullets, Federal small pistol primers and Starline brass. Vera's shooting accessories include an Aimpoint CompC3 red dot, Warren Moore mover mount and a Gilmore shroud with wings.
And for the big question—What do you carry in that Tuff Products' range bag, Vera?
Match gun and ammo.
MSA Sordin earmuffs and ear plugs by Cathy Ergovich of "What-Ya-Say" ear protection.
Bianchi belt and holster.
Prescription shooting glasses, knee pads and hat.
Small towel, snack food, pens, magic markers and note cards.
Emergency rain gear.
Proud of her Chinese heritage, she wears a jade piece with a red rope around her neck for good luck. She added, "Sometimes I carry something made by my granddaughters for good luck at the Cup. Visit
www.verakoo.com
where guests may read content in four languages: English, Japanese and two versions of Chinese.