When asked to describe himself, Will Brown said, "I'm just a guy from Idaho who has been blessed with a loving family, great friends, and an awesome opportunity to represent my country at something I enjoy so much. When I'm not training, I'm working for my dad or grandpa, doing anything from running a tractor to swinging a hammer. I try to spend my time off in the outdoors with the ones that I love." In fact, the whole Brown family–Will, along with his mom, dad and brother–can be found on firing lines at USA Shooting matches across the country.  
Will has been shooting competitively since 2006, in International Slow Fire pistol events, 50 Meter Free Pistol and 10 Meter Air Pistol. He shoots a Morini CM 84 E with Eley Tenex ammunition for Free Pistol. For Air Pistol, he chooses a Steyr LP10 E, matched with RWS R10 pellets. "My range bag is more of a box," said Will. "I use a big Storm case. It keeps all my guns and gear protected on those long international expeditions. So far, everything has always showed up to my destination in one piece and fully functional."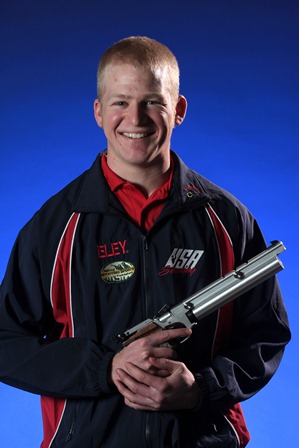 Here's what he packs in his range box:
Aforementioned firearms and ammo.
LP10 as a backup.
Champion shooting glasses.
Visor, for ranges with bright overhead light, because a ball cap doesn't sit down over the glasses very well.
Howard Leight earplugs–the red, white and blue ones, of course. "Because–'Merica!"
Gun permits if needed for international travel. "Don't show up without them!"
Cleaning supplies, tools, and a few small parts.
Batteries! "My guns have electronic trigger groups. Dead batteries=no bang!"
When asked to describe himself in three words, he said, "Disciplined, hardworking, and humble." One of Will's favorite quotes is a passage from the Bible, "I can do all things through Christ who strengthens me (Philippians 4:13)." When he's not shooting, Will more than likely can be found outdoors somewhere. "I love to hunt, hike, fish, and spend time on my horse. And those things are always made better when I can share them with someone else." The young shooter believes in the adage that practice doesn't make perfect. Only perfect practice makes perfect. He says it's important to "be smart, disciplined and methodical in your training. Keep it simple at the match; you've already done all the hard work!"
Learn more about Will Brown at
USA Shooting
.